🐝70+ Bee Tattoo Meaning Designs and Ideas
publish time:
Bee tattoos have grown in popularity in recent years, despite their rarity or unfamiliarity. Bees are essential to human survival. They can be designed on their own as tattoos, but they are frequently depicted with flowers, either in a cartoon form or in a realistic form.

We'll talk about its distinctive design in this article. Learn about the meanings of the tattoos, as well as the symbolism behind them, and receive inspiration for your next tattoo.
🐝

The Symbolism of the Bee
Bees, like spiders, are among the most misunderstood insects on the earth. Bees are essential for the proper care and reproduction of various trees, plants, and foods essential for human survival. We wouldn't have coffee or chocolate if it weren't for them; therefore, the importance of the worker bee as a comrade to humankind cannot be stressed. Even the tiniest honey bee is required for the efficient survival and spread of flowers and plants vital to the natural world.
We are beginning to see the impacts of a world without this magnificent creature now, with many bumble bee populations on the decline due to climate change and harmful chemicals. As a result, it's become critical to acknowledge the symbolism and imminent need for these species, and there's no better way to show your support than by getting a bee tattoo.
Related Knowledge: Want to know what tattoo designs look good on you? Temporary tattoos 🔗 are appealing because it lets you try out body art without the permanent commitment. It is also a fun way to change your appearance or experiment with different placements before taking the plunge and getting inked for real. This is an excellent choice for anyone thinking about getting a tattoo but wants to see how it would look first, or for someone who cannot get inked for whatever reason, including pain tolerance or health problems. The temporary tattoo is also cheap, easy to apply, and lets you express yourself without hassle. Choose from a wide range of symbolic designs or something simple or cute. The choice is yours, so have fun with it. 
🐝

What Does A Bee Tattoo Mean?
Bees are incredibly social creatures, as they spend their entire lives in a hive. As a result, they are all related somehow, and they all look out for one another till the end of their lives. Bee tattoos are perfect for those with gregarious attitudes and who want to serve others, as they reflect the personal aptitude and empathy that can only be found in helpful people.
Aside from the teamwork that bees achieve, they also have individual perseverance that demonstrates their tenacity. Workers will frequently wander far from the hive to collect pollen to aid plant growth and return with food to feed the hive. These bees don't always return; thus, they represent someone who never gives up until the very end. This type of symbolism can have a lot of importance for parents because they would do everything for their children, even if it hurt them.
The bee also represents the sun's strength, as bees require the sun to aid in the growth of the plants they fertilize. Those drawn to bees frequently have a cheerful, upbeat demeanor, but they can also be hardworking and stubborn. There is almost always a part of the bee that you can reconcile with, no matter what kind of person you are.
Because the bee is a good symbol, the majority of its connotations are also positive. But keep in mind that your tattoo should represent what you want it to. The following are some of the more prevalent meanings of the bee tattoos
Teamwork

Honey
Family
Structure
Routine
Sweetness
Unity
Intelligence
Protection
Honor
Duty
Loyalty
Royalty
🐝

What Does A Honey Bee Tattoo Mean?
Honey bees have become associated with environmental preservation due to the critical role they play in the environment and agriculture. They also represent perseverance and teamwork. Because the honey bee will defend its home even if it means sacrificing its own life, it can also represent loyalty and bravery.
🐝

What Does a Queen Bee Mean?
The queen bee may not appear to be much in and of herself, but she is privileged since her worker bees supply her and her children with shelter and food, ensuring that the hive works well while she relaxes. However, she is much more than that, as she represents the entire community of bees under her care, a community in which everyone has to do and selflessly provides for one another.
A queen bee tattoo signifies that you appreciate and are glad for the help you receive in your life and that you are grateful each time it helps you get out of a difficult circumstance. Instead of seeing it as self-serving, this kind of gratitude makes personal successes all the sweeter when they come. No one should be fearful of receiving help; instead, we should be guided by it to better provide for ourselves. The queen bee is a source of inspiration and safety for her workers in all she does, so they will follow her wherever she goes to build a supportive hive around her. This results in friendships that last even in the face of adversity and always end up better than before.
🐝

The Mythology of the Bee
In ancient Rome and Greece, bees were renowned for their ability to transform barren landscapes into productive agricultural areas. The action of bees enriching flowers and crops was characterized by Virgil, an ancient Roman poet, as almost magical as if they were designed for existing in harmony with one another. Our forefathers never underestimated the ability of bees to collaborate and produce something beautiful, even though we now take it for granted.
Bees were seen as emblems of the sun, goddesses and a celebration of community and festivals centered on Celtic Druids' natural order of things. Because bees could only be found in healthy and prosperous locations, the ancients regarded them as symbols of both good luck and good fortune.
🐝

Bee Tattoo Designs
The bee's nature is gratifying and accessible in and of itself, having the ability to live in harmony with others as well as the determination to get things done on their own. Our tattoos are a primitive method to display your passion for this fantastic insect while also appearing more organic and natural. Darker, heavier hues may make even the most innocent honey bee appear threatening and challenging, which isn't always negative. For bees to operate and guard their colony, some intimidation is required. Bee stingers are an example of this type of defense, as they serve as a warning to individuals who try to harm the hive. This can be used to protect family and friends, even if the person is ordinarily shy and not prone to fights.
Bee tattoos in bright colors help prevent the rough-around-the-edges image of these insects. The sprightly character of the bee goes both ways, whether you want a small tattoo with just a dab of color or a more significant piece that pops. People can appreciate how vital these animals are to the natural flow and order of the world because of their varied nature.
The numerous distinct bee tattoo designs—whether natural and carefree or harsh and spirited—each portray the person who wears the art. Bees aren't always kind, and they're not always harsh, and it's only by recognizing this that we'll be able to comprehend better how these creatures and other people coexist.
🐝

Bee Tattoo Ideas
Queen Bee Tattoo
A tattoo featuring the queen bee carries significant meaning. This choice honors feminine energy and power and is excellent for both men and women. It also has a connection to fertility. Given its meaning, it is simple to understand why someone could be drawn to this painting. Your tattoo may remind you of your strength or be a tribute to the essential ladies in your life. A lone bee and a crown, denoting royalty, are frequently shown in this pattern. To be creative with your artwork, you might even put numerous bees, with the queen seeming more significant and influential.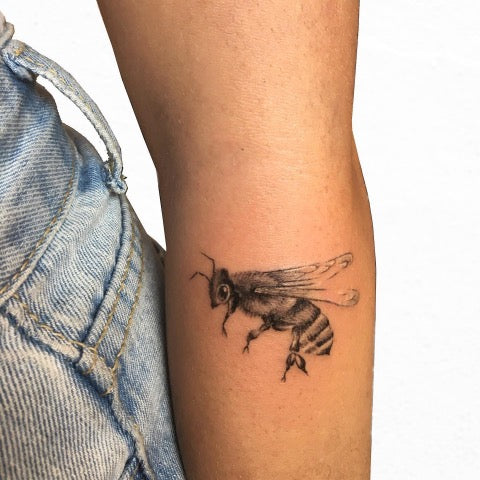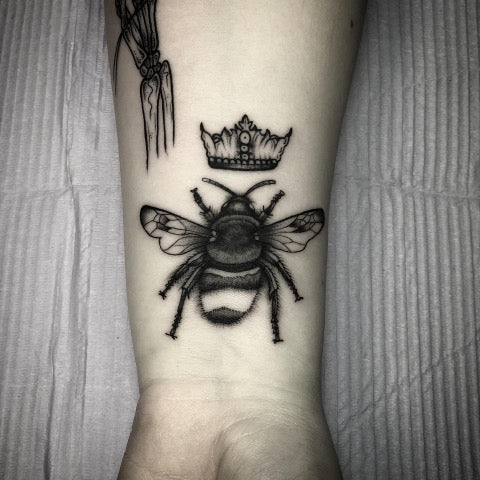 Vintage Bee Tattoo
Use this as inspiration for your bee tattoo if you like an old-school appearance. Maintain a subdued color scheme or vintage-inspired accents. You may choose a retro style by making your ink in sepia tones to imitate old images. A Victorian-era brooch with a bee pattern can be an alternative source of inspiration. Your love of vintage and bees may be combined in various ways. You can collaborate with your tattoo artist to create a design that best represents you.
Traditional Bee Tattoo
Bright, vibrant, and sure to draw attention, the American Traditional tattoo style is a must-have. The method is rebellious because it is popular with muscular guys and people outside society. Still, this is now part of what makes it appealing to many people. The unique nature of this piece of art is another appealing feature. It is characterized by thick, bold lines, a vibrant red, green, yellow, and blue color scheme, and slight shading. The bee is a good pick because these items all have a similar theme, which includes animals. Consider obtaining body art that can be viewed readily if you want to draw attention. Why else would you like to display your bee creation? After all, it is a creature linked to fidelity, tenacity, devotion, and focus.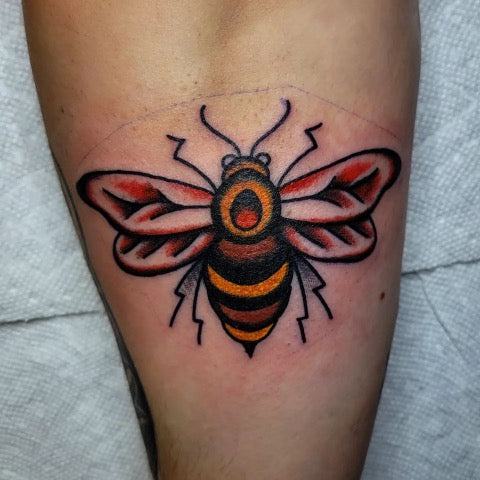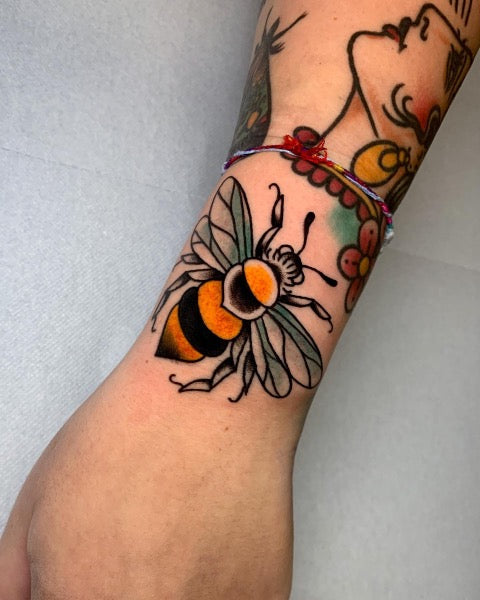 Minimalist Bee Tattoo
Because minimalist tattoos streamline your preferred design, they are growing in popularity. The end effect is straightforward yet calm, emphasizing the content over the aesthetic. This strategy is frequently tiny and has little to no shading or color. The neat, clear lines are attractive because they look fantastic and can be finished fast. With a competent tattoo artist, everything from flowers to animals can be created, so there are no restrictions on what you can or cannot ink. The attention will be on the meaning of your tattoo rather than its aesthetic, and a bee looks fantastic in this design.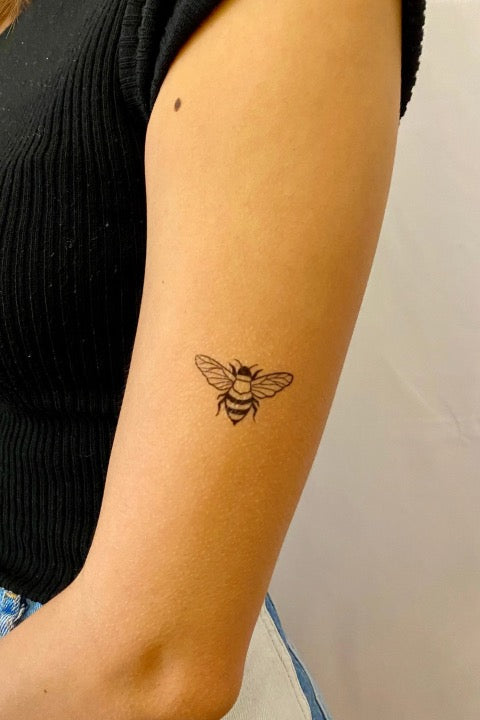 Small Bee Tattoo
Small tattoos may be equally as attractive as more elaborate, bigger ones. These sections typically concentrate on the fundamental components of the image you've chosen, such as a little bee outline. The wonderful thing with tiny inking is that there are no geographical restrictions, so that you may select locations like behind the ear or the finger. For individuals who want something to be more subtle and apparent, your ink will also be coverable and unobtrusive, making it ideal. The price and the speedy completion time are further benefits. This is an excellent method to ease into body art if you're experimenting with it and if this is your first tattoo.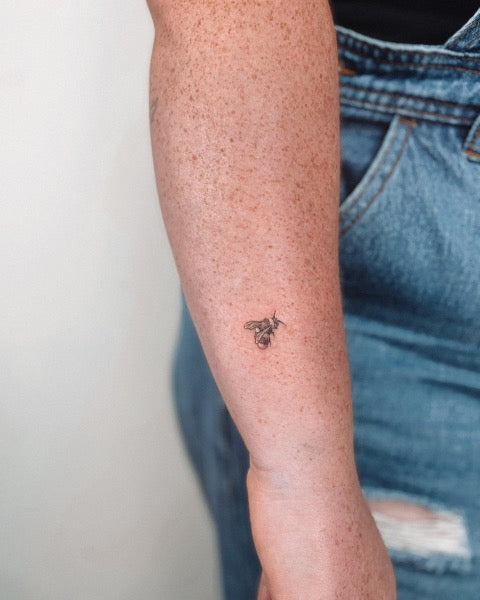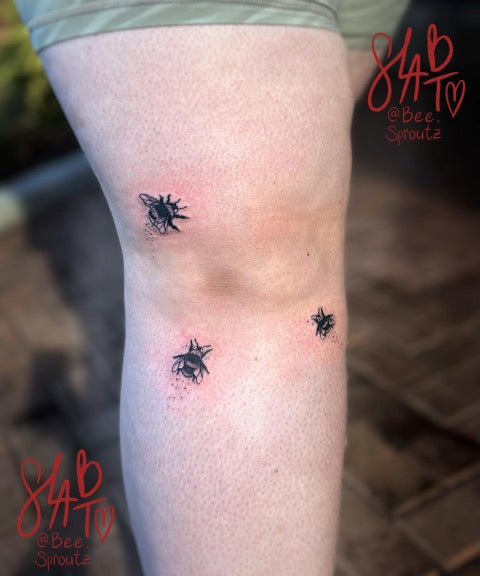 Simple Bee Tattoo
Simple tattoos are usually simple with minimal color or shading and concentrate on the fundamental shape of your design. This strategy offers a clear advantage and conveys the same idea as something more specific. Suppose you want to start getting tattoos and want something finished fast and with little discomfort. This is an excellent option for someone with a more straightforward style. Simple inking's advantage of being less costly and frequently more covert is another plus.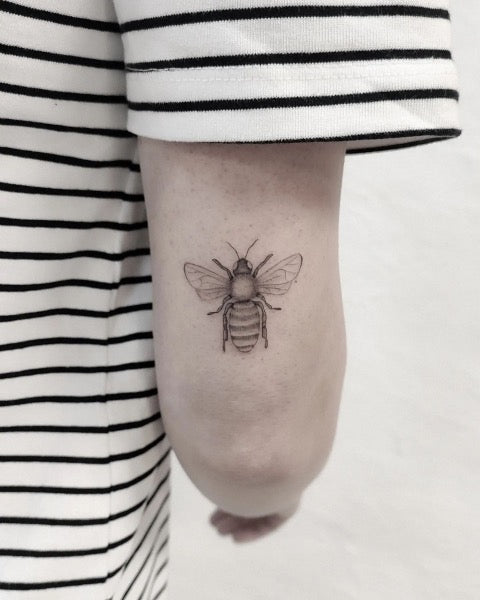 Geometric Bee Tattoo
The honeycomb already features a geometric aspect, and the bee looks lovely as a geometric tattoo design. The method seems quite contemporary and may be either straightforward or intricate, depending on your preferences. This type of tattooing emphasizes forms and outlines and frequently employs minimal shading. Nevertheless, it is simple to combine it with other methods. For instance, using a geometric technique, you may make half the bee and leave the other half as-is. The contrast will be startling. When deciding where to position your design, consider the level of detail.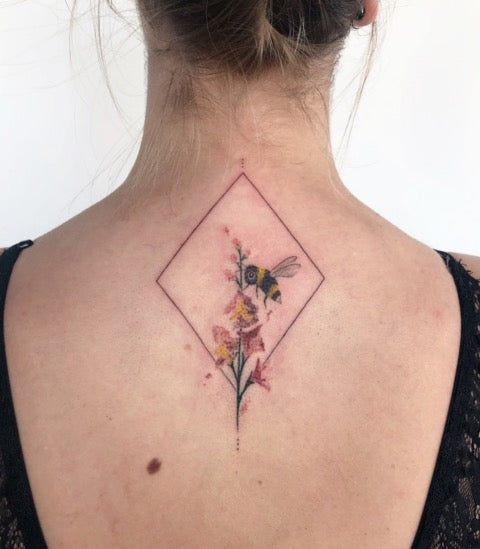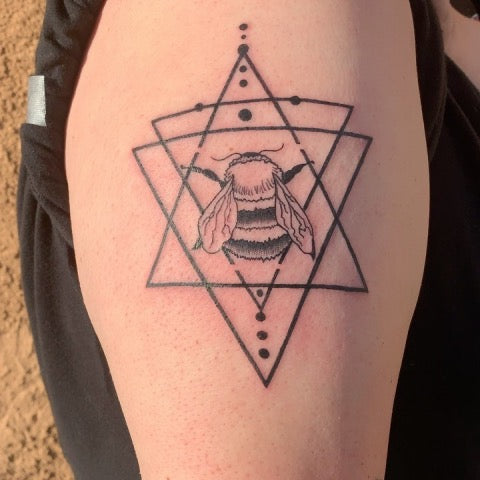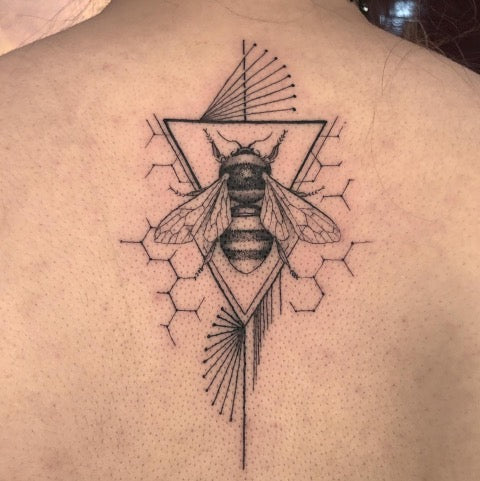 Realistic Bee Tattoo
The bee is adaptable to many styles, giving you complete control over how it should appear. While some people choose a more fanciful depiction of the bug, others prefer colorful, vibrant artwork like American Traditional or Japanese tattoos. Beautiful realistic tattoos give the impression that you have a photograph imprinted onto your flesh. For the most outstanding results, it's critical to do your homework and locate a tattoo artist specializing in this style. Because it may be challenging to create flawless photographic photos, they frequently take longer and cost more money.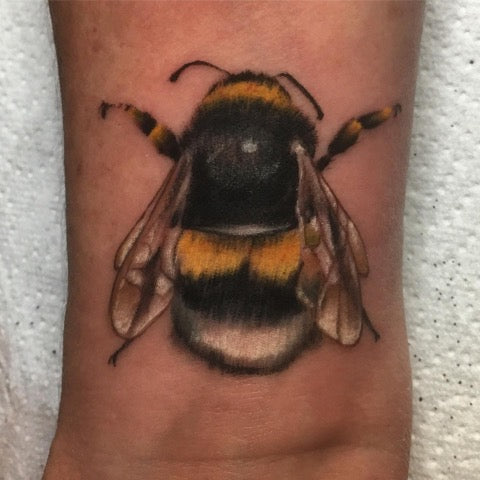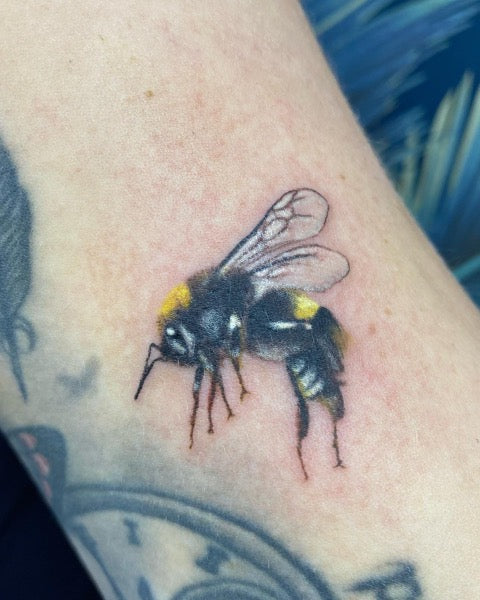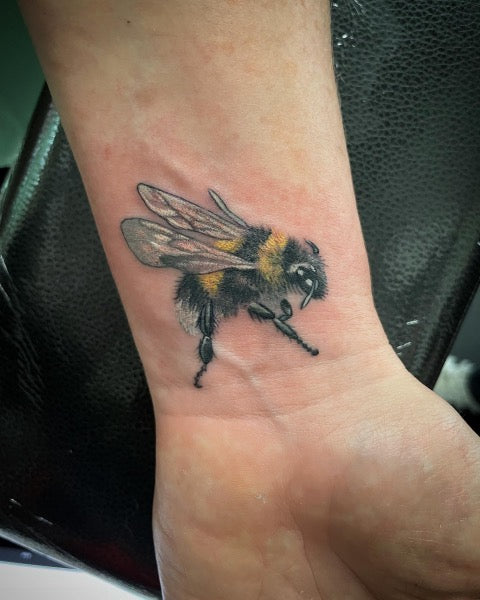 Ankle Bee Tattoo
Consider getting an ankle tattoo if you search for a cover-up location for your bee design. In this case, the attractiveness of ink is that it may be displayed while simultaneously being simple to cover up. The bee is the ideal subject since the space is limited and lends itself well to minimalist or straightforward art. The ankle is one of the body regions that women frequently view as the most feminine and may even be attractive. Due to the thin skin and close closeness to the bone, ankle tattoos have the drawback that they will hurt. Additionally, there is no muscle or fat to act as a cushion. However, the soreness will only last for a while because your ink in this location isn't considerable.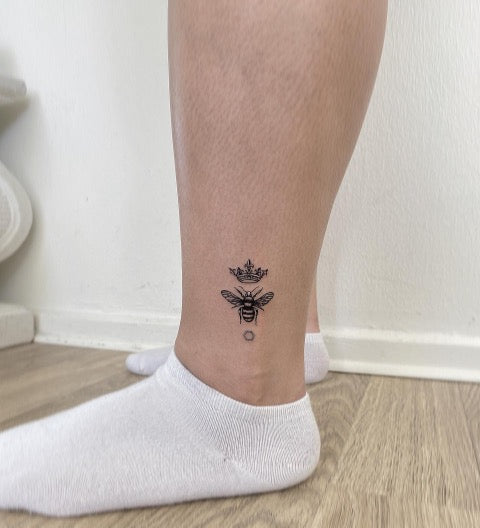 Arm Bee Tattoo
Because of its adaptability, there is no disputing that an arm tattoo is the best location. You may reveal or conceal your design as you like. This makes it an excellent venue for people who wish to hide their body art or work in business situations. Because of its thick skin, fat, and muscle, the arm has a low pain threshold for tattoos, and its size allows you to employ other tattoo patterns besides bees. This might be a massive item that covers the entire upper arm, or it could be something modest and straightforward yet has a lot of meaning. Your bee tattoo will look fantastic on your arm and won't spread out. It won't fade as quickly, unlike other places, like the finger or hand.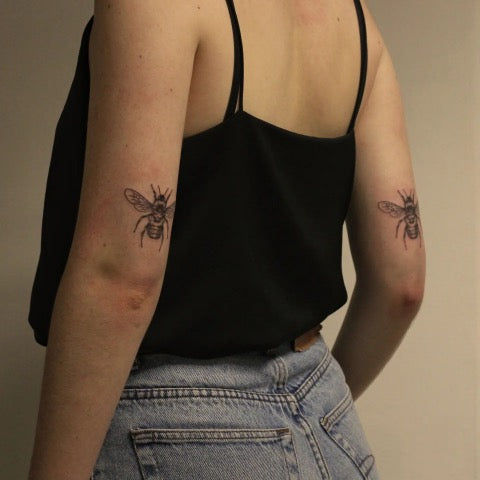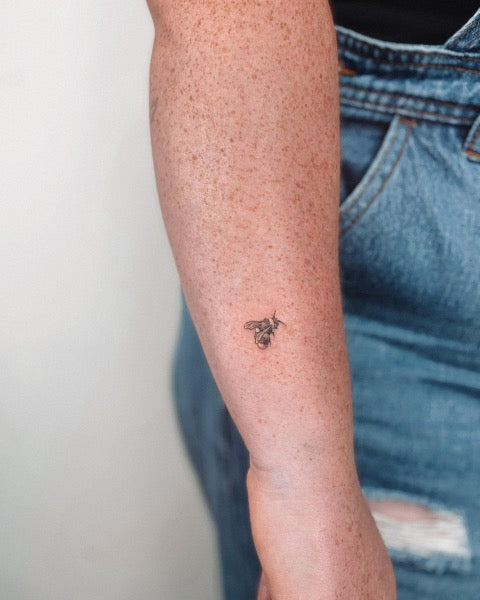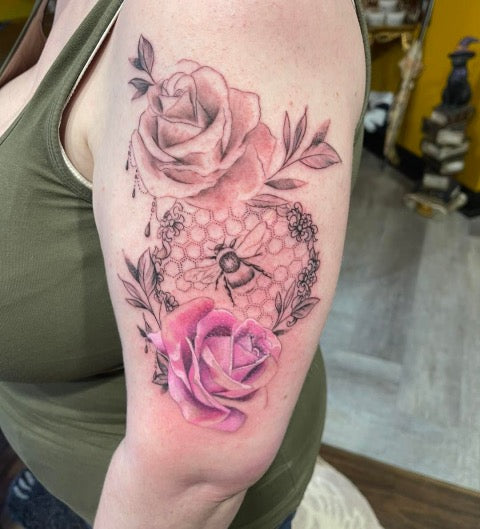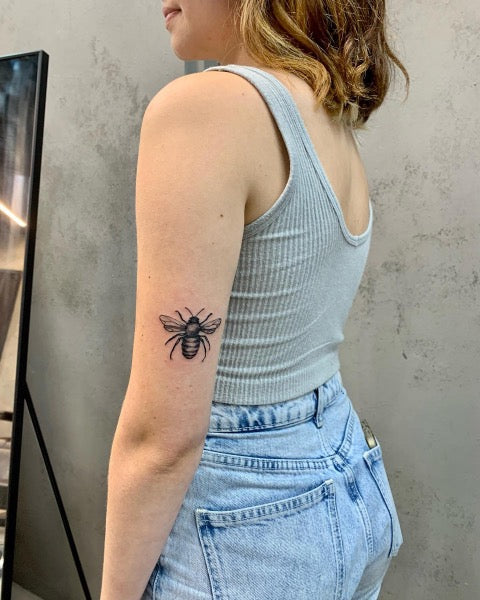 Bee Hand Tattoo
Understanding why someone could be attracted to a bee design is simple. This symbolic decision stands for fidelity, honor, dedication, and commitment. The hand is a great area to display this particular tattoo if you're looking for a place to do so. The fact that hand tattoos are visible makes them debatable. They are difficult to conceal, challenging to miss, and disobedient. Because of the stigma attached to tattoos, your ink may affect how society perceives you or your ability to get a job. But why not be tattooed here if you appreciate being unconventional or believe the hand is the ideal site since it is hip and edgy?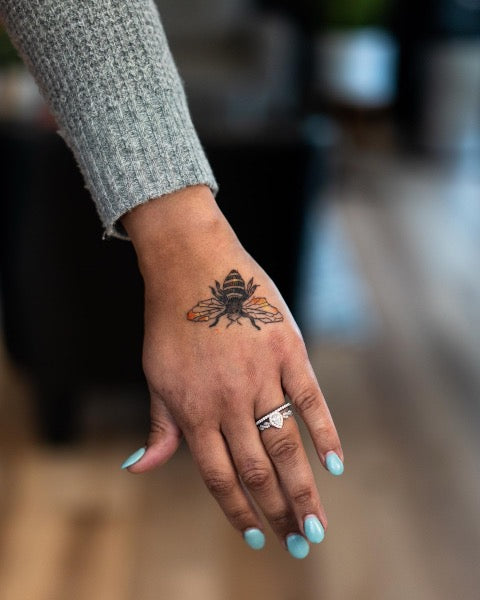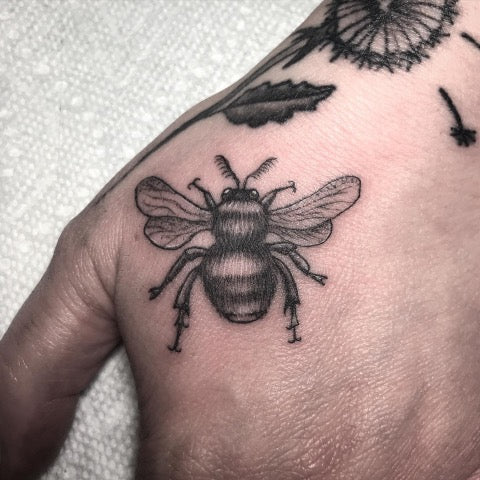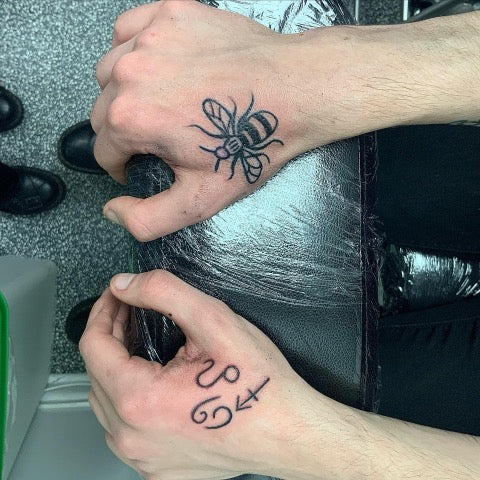 Bee and Honeycomb Tattoo
The honeycomb is a byproduct of the bee's laborious job. Both of these things can be tattooed to symbolize commitment and the benefits it brings. You may be reminded that success is possible for those who put in the necessary effort and persevere. It may also represent the goodness and sweetness of life. The symbol of the honeycomb represents collaboration, friendliness, and teamwork. Your tattoo will not only have significance and be one-of-a-kind, but it will also look beautiful. The honeycomb and the bee might be drawn in a geometric tattoo style to add a geometric aspect to your tattoo.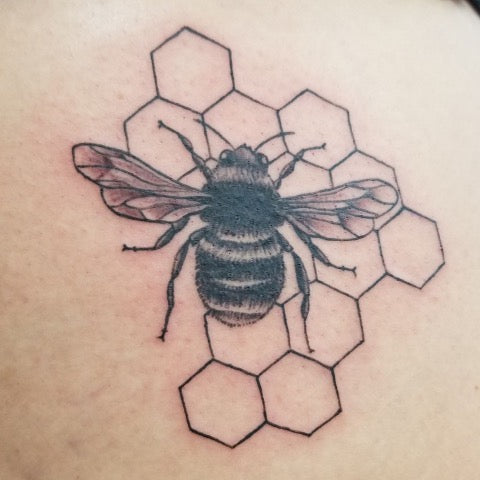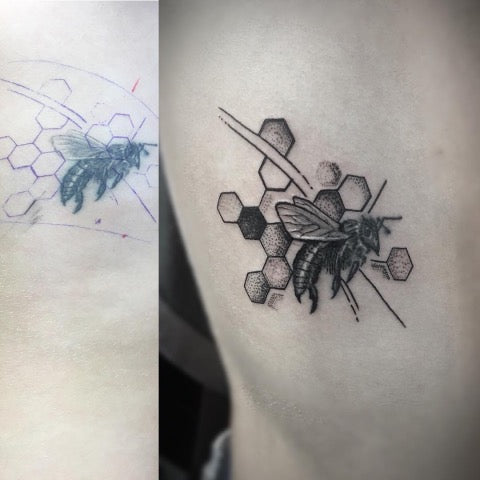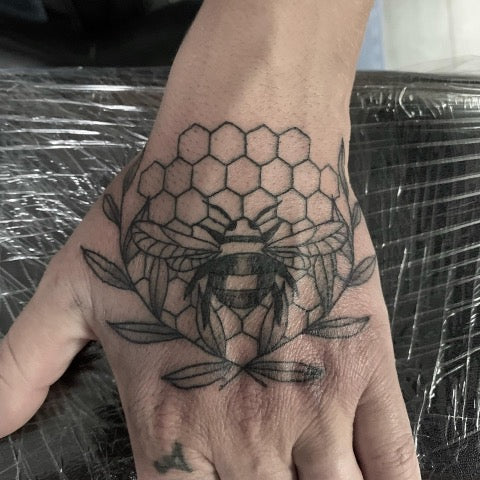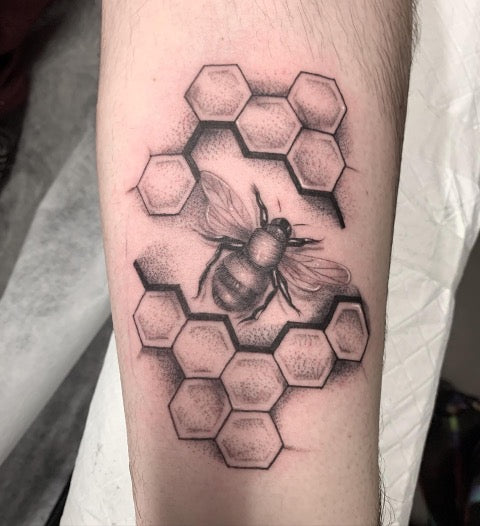 Bee Finger Tattoo
For individuals who prefer delicate patterns, finger tattoos are popular. A bee will look fantastic here since it works well with primary and minimalistic designs. The finger is a little space, so your options are somewhat restricted. The visibility of finger-inking may be both an advantage and a disadvantage, so you should weigh the benefits and drawbacks of getting one. For people who work in conservative surroundings, getting their tattoos placed covertly can be advisable. The inner finger, however, offers a covert substitute. The thin skin, close closeness to the bone, and lack of muscle and fat in the region all contribute to the discomfort. As adorable or unique as finger tattoos, they fade more quickly than in other places and do not endure very long. This is a result of exposure and usage patterns.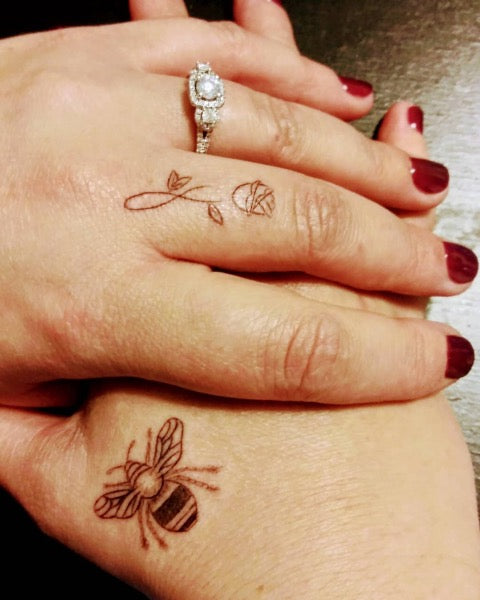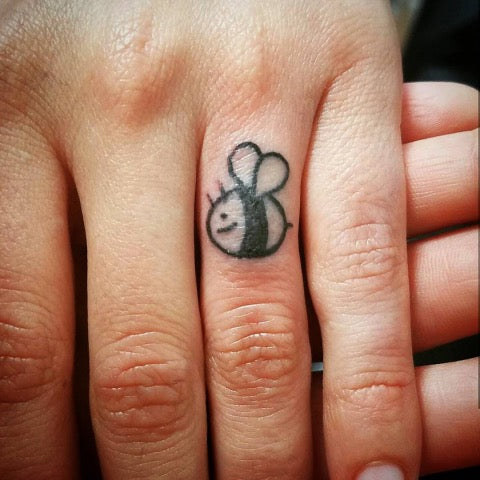 Bee Flower Tattoo
Along with a bee, a flower is one of the most often inked symbols. Because they both benefit, bees and flowers enjoy a mutualistic connection. It's also a terrific method to add color or complexity to your design. Each particular bloom has its symbolism, and flower tattoos are linked to growth, love, and life. Including your favorite flower while selecting the ideal flower for your ink is a fantastic idea. Alternatively, include the flower that best resonates with you in terms of significance or color. Opt for a more stylized approach if you want flowers to be more of a filler for your design.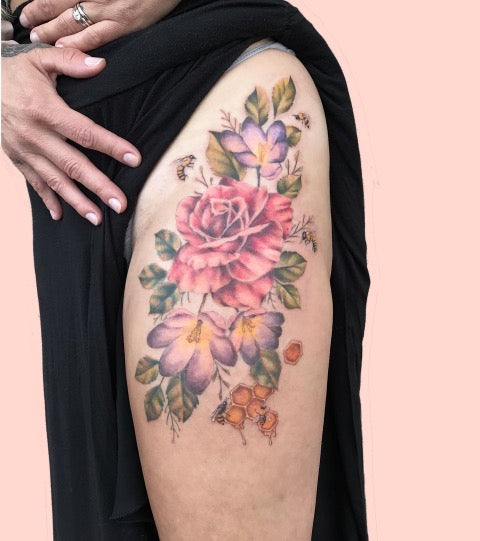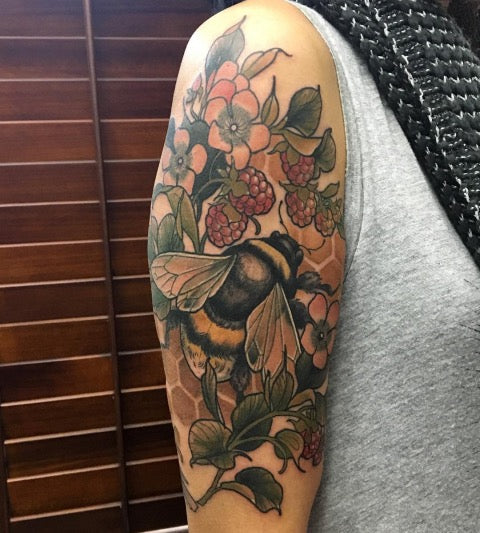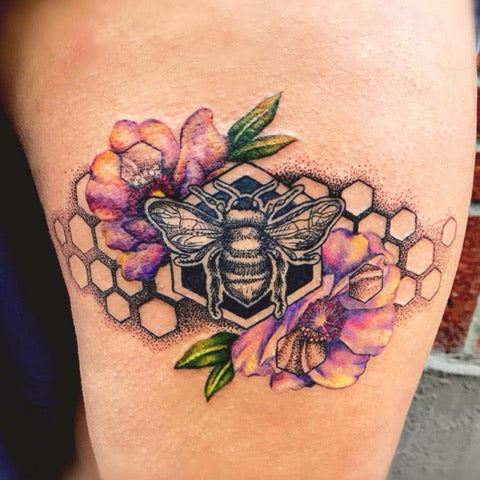 Bee Forearm Tattoo
A forearm tattoo is perfect for a design you want to see every day. The most appealing aspect of this location is how noticeable it is. It lets you see your tattoo and remember why you originally got it inked. It is easy to understand why someone would want to get a bee tattoo because they are both meaningful and attractive. The forearm is flexible since it can be easily covered up and is big enough to accommodate detailing. It is also one of the minor uncomfortable locations for body art. This is a result of muscle, fat, and thick skin.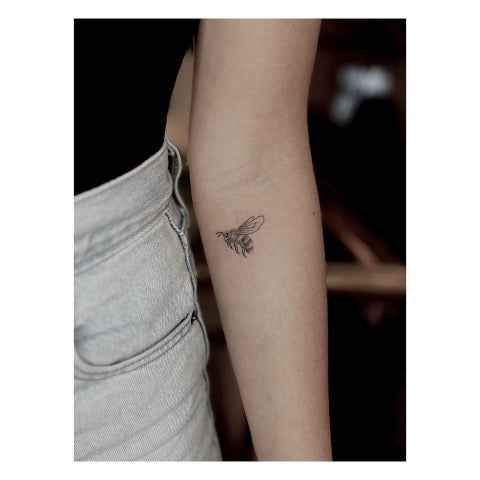 Bee Line Art Tattoo
You may select a tattoo from various styles to get the one most accurately captures your preferences. A bee design may be made in multiple ways, from photorealistic to simple. Line art might be complex or straightforward, but it only utilizes color and uses shading. You might concentrate on your inking's basic shape if you want a straighter appearance. Additionally, it can be less expensive and take less time to finish.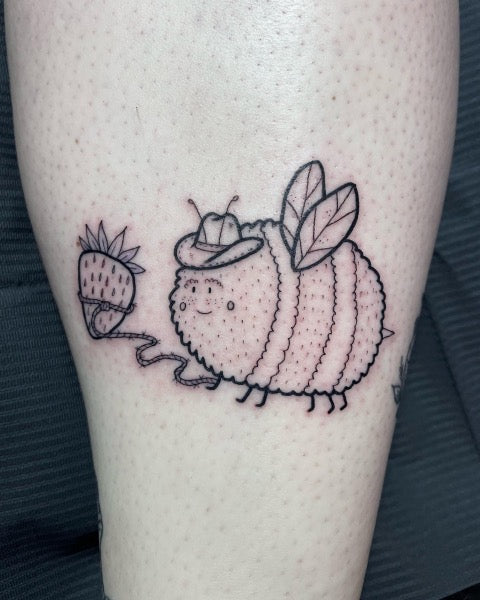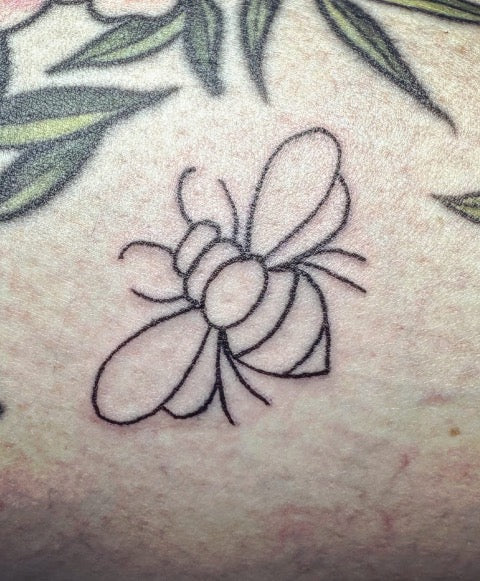 Bee Neck Tattoo
Neck tattoos are edgy and provocative. It would be beneficial if you carefully considered this positioning before inking because it is difficult to conceal and quite noticeable. However, it might affect your employment prospects or how society regards you; for some people, that draws them to this sector. This is due to the stigma still associated with tattoos and criminals and gang members frequently select this area. Despite this, you may experiment with other positions, such as to the side or covering the entire neck. The neck is a very adaptable area for body art.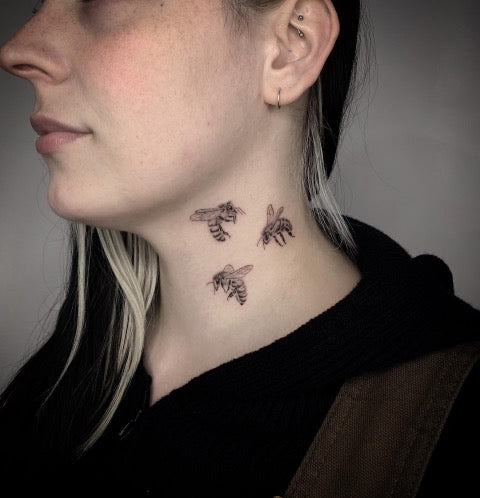 Bee Shoulder Tattoo
One of the most incredible places for body art is the shoulder. It is attractive on both a man's and a woman's bodies. The shoulder is a symbol of strength for males, while it can be delicate or display the power of the female form for women. Shoulder tattoos are readily concealable, large enough to include intricacy, and resistant to stretching. Additionally, the ink will not fade as rapidly here because it is not continually exposed as it would be on the foot or hand. Although tattooing on the shoulder blade will hurt, it is not too painful because of the thick skin and muscle.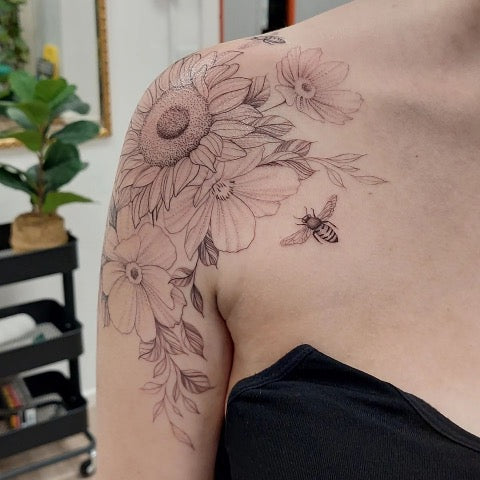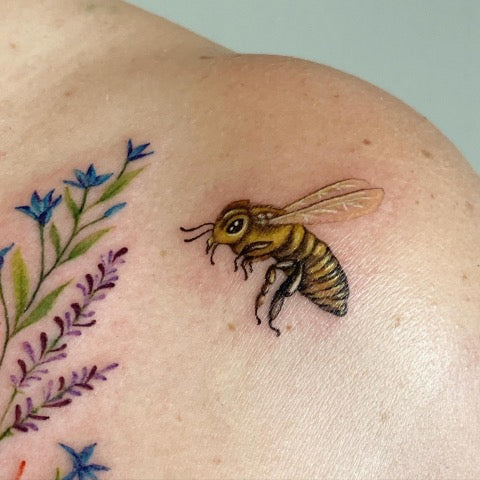 Bee Star Tattoo
Star tattoos are linked to guidance, hope, and direction. You have many design options that may make your inking basic or intricate. The best part about star body art is that it blends nicely with other images. Although moons and suns are frequently used, you may add bees for a distinct look. Your artwork may have a dreamlike appearance, connote mystery and freedom, or be primarily concerned with family. While the bee symbolizes family, the nautical star is supposed to be a method to find your way back home. Therefore, matching these photographs might be a lovely and kind approach to remembering your loved ones.
Bee Sunflower Tattoo
A sunflower tattoo conveys hope and optimism. Depending on how you choose to use it in your body art, the flower can signify a variety of things, such as dedication, admiration, and eternal love. Some individuals want the blossom to symbolize their relationship with God, and they could compare themselves to the bee because they are diligent, devoted, and hardworking. You might also write about goodness and how you like to see the positive side of things. Additionally, it might pay tribute to a dearly departed relative or friend and convey your gratitude for their presence in your life. Several design alternatives exist, but using colored ink to highlight the piece's vivid yellow would give it even more significance.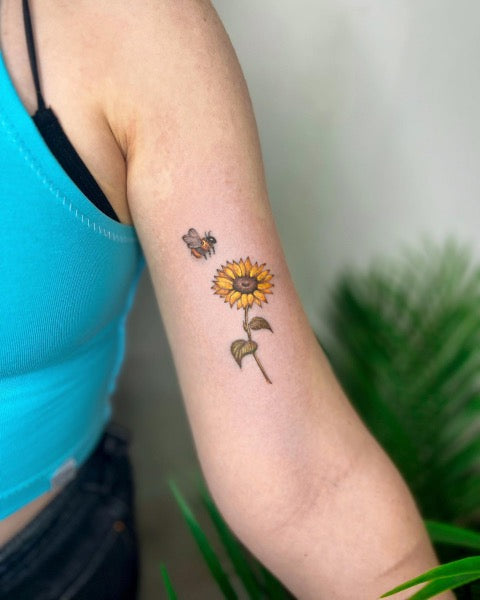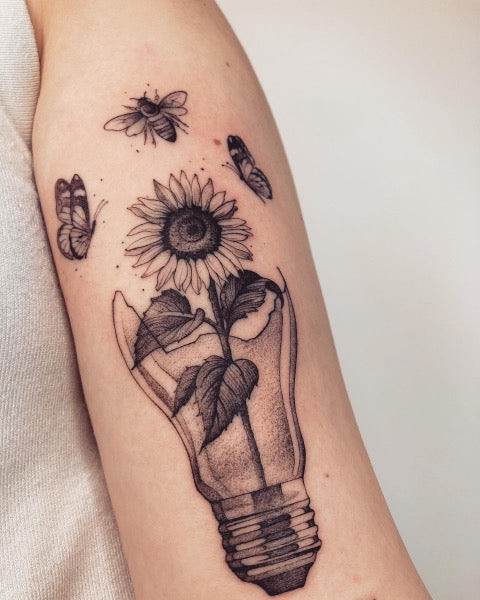 Bee Wrist Tattoo
The wrist is an excellent place for a tattoo that you want to see every day. The exposure of this location is appealing, and you may display your artwork whenever you choose. It can also be unnoticeable if you select a minor or adorable design, mainly if it is inked on the inside of the wrist. Getting a bee tattooed here may remind you of the value of being devoted or loyal to the people you love. It could also motivate you to make the necessary effort to realize your goals. Because of the thin skin and close closeness to the bone, getting a wrist tattoo will hurt. However, as the artwork is often lower in scale here, your pain should pass soon.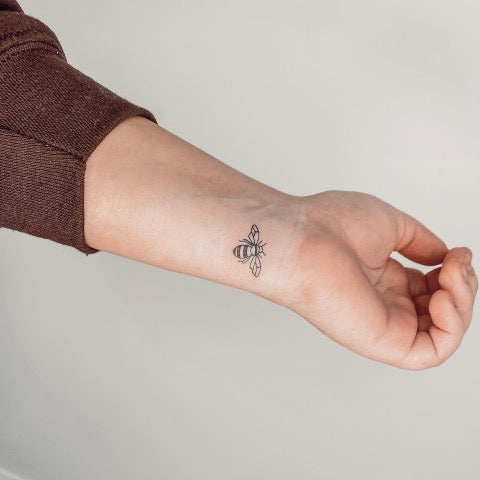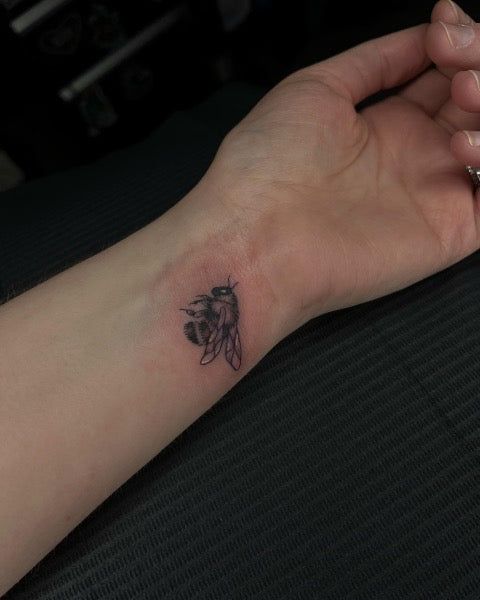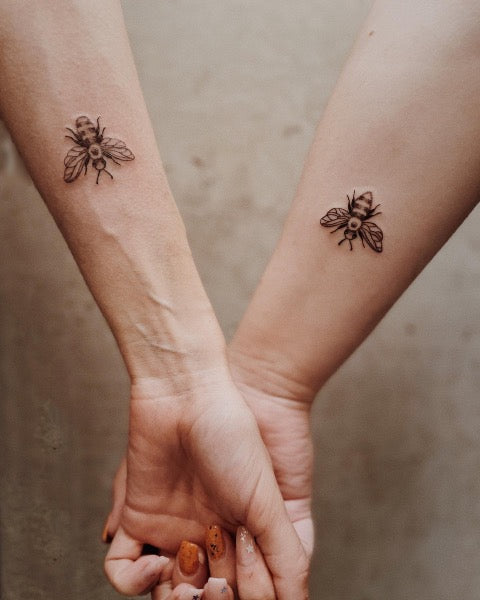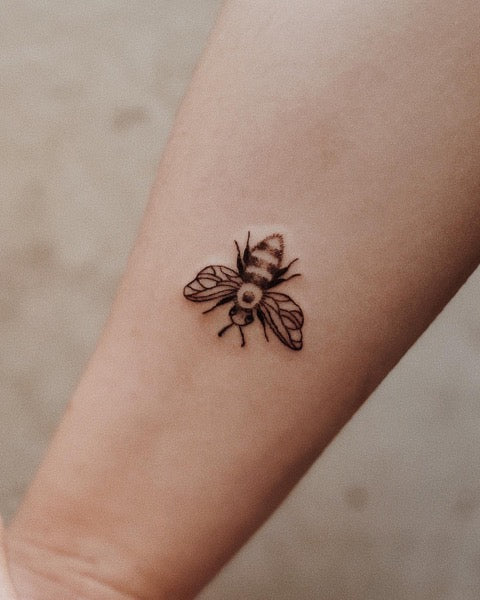 Bee Behind The Ear Tattoo
The behind-the-ear is an excellent choice if you want a small, covert tattoo. A bee is a great option since it can be easily simplified because the setting is so tiny, and only simplistic designs work well here. This makes the area much less noticeable and is simple to conceal if you have long hair. The spot's accompanying soreness is the sole drawback. The electric tattoo machine's vibrations can be uncomfortable in addition to hurting.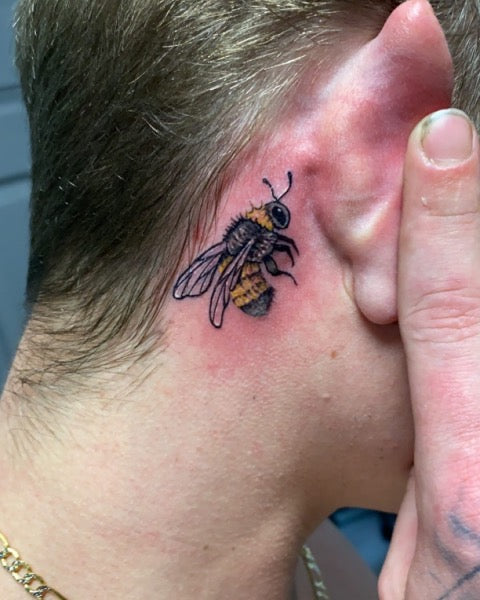 Colorful Bee Tattoo
Colored tattoos enhance some designs. This is the best option if you want vivid and striking ink or have a plan that would benefit from color. Although it may stand out more against your skin, specific colors have symbolic meanings. Yellow, for instance, stands for happiness and optimism. A shade is a fantastic option for bee body art since it attracts attention. It is also excellent if you embellish your tattoo with various flowers. The drawbacks of colored ink include a higher possibility of allergic responses, as well as the potential for increased cost and workload. Additionally, a tattoo with color will fade more quickly than one with black ink.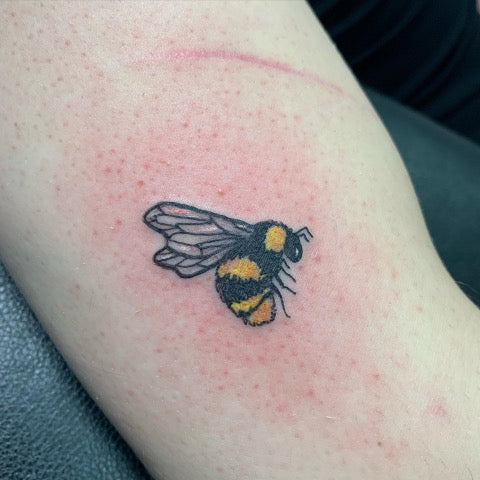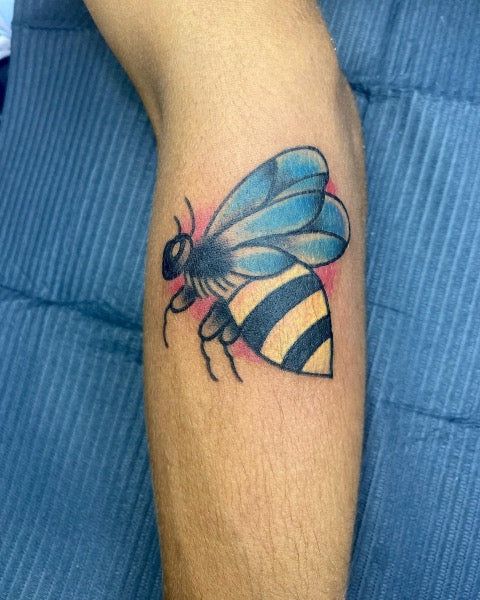 Neo-Traditional Bee Tattoo
Look only as far as a neo-traditional tattoo if you want a distinctive design that will draw attention. The design has strong, vivid lines that are all black. It resembles Traditional American tattoos in look. While the American Traditional frequently has a constrained color palette of blue, green, red, yellow, and black, it is nonetheless more complex and uses more colors. A bee design is an excellent option for this approach. You can experiment with other color schemes; it's not necessary to stick to the traditional black and yellow color scheme; you can also use blue or red.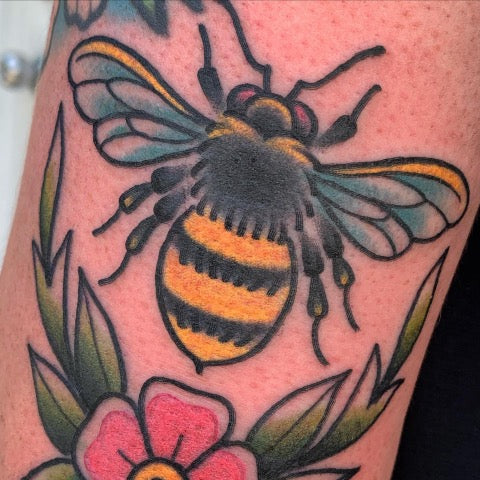 The bee tattoo is a small yet essential insect with a particular position in many people's lives. A bee tattoo may always create a fantastic tattoo, whether you have a personal connection to these black and yellow insects or you admire their contributions to our ecosystem. Besides bee tattoo stickers, we have many other insect tattoo stickers, you can browse our temporary tattoo shop, and you will indeed find the temporary tattoo sticker you are like!
FAQ

 🐝
Why are bee tattoos popular in pop culture?
We see bee tattoos in pop culture everywhere - from the music industry to movies. The symbol of the bee has been used for a variety of purposes, but it is mostly associated with hard work and perseverance. It is also a symbol of togetherness and a reminder that we are all connected to each other.
What is the history of bee tattoos?
Bee tattoos are a popular tattoo design. The history of these tattoos is not clear, but it is believed that they were first used to symbolize the hardworking nature of bees.
What is the significance of the bee tattoo?
The bee tattoo is significant because it symbolizes the importance of hard work and the pursuit of knowledge. It also symbolizes a person's love for their home, family, and friends.