30+ Stunning Butterfly Tattoo Behind Ear 🦋
publish time:
Butterfly tattoo behind ear have grown in popularity recently since they are discrete yet stylish.
That's because delicate and feminine patterns appear especially lovely in this setting.
It's also the ideal location for a tattoo that symbolizes the most significant aspects of your life.
If you're seeking inspiration for a new bodily part in the form of butterflies, you've come to the perfect place.
The butterfly tattoo behind ear are incredibly private, delicate, and exposed to the public.
While tattoos on the face and neck can be described as strong and hard-edged, those behind the ear are far more subdued.
The butterfly is a stunning, delicate creature. Therefore, tattooing it behind your ear is a fantastic choice.
But before you get your butterfly tattoo behind the ear, let us offer advice on picking the ideal design.
The most distinctive, fashionable, and aesthetically pleasing butterfly tattoo behind ear are displayed below.
You'll undoubtedly find the perfect inspiration for your upcoming tattoo.
Related Knowledge: Want to know what tattoo designs look good on you? Temporary tattoos 🔗 are appealing because it lets you try out body art without the permanent commitment. It is also a fun way to change your appearance or experiment with different placements before taking the plunge and getting inked for real. This is an excellent choice for anyone thinking about getting a tattoo but wants to see how it would look first, or for someone who cannot get inked for whatever reason, including pain tolerance or health problems. The temporary tattoo is also cheap, easy to apply, and lets you express yourself without hassle. Choose from a wide range of Butterfly Temporary Tattoos or something simple or cute. The choice is yours, so have fun with it. 
Butterfly Tattoo Behind Ear Meaning
In their most exquisite forms, butterflies represent the essence of femininity and beauty, and this is what butterfly tattoos are meant to represent. The butterfly's life span is short, as it is for most insects.
In certain cultures, a butterfly tattoo is a memorial to a departed family member or friend. In the same manner as butterflies undergo a transformation during their lives, certain humans may also be seen to change dramatically throughout the course of their existence. Butterfly tattoos represent a time of immense growth and transformation.
Something that moves you enough to warrant a permanent reminder via tattoo. To many peoples, butterflies represent prosperity and good fortune. As a symbol of transformation and rebirth, butterflies provide good fortune to those who encounter them, and a butterfly tattoo may bring the wearer continued success throughout their lives.
Butterfly Tattoo Behind Ear Designs
Small butterfly tattoo behind ear
A small butterfly tattoo is a popular type of tattoo design. It can represent the stages of life, freedom, or even the ability to fly away from problems. It can also symbolize change and growth. Suppose you're considering getting a tattoo but can't decide what you want. In that case, a small butterfly design may be a good compromise. They are very popular among women and girls. Tattoos are not just for the rebellious, tattooed people anymore. They are now seen as a form of art and expression.
red butterfly tattoo behind ear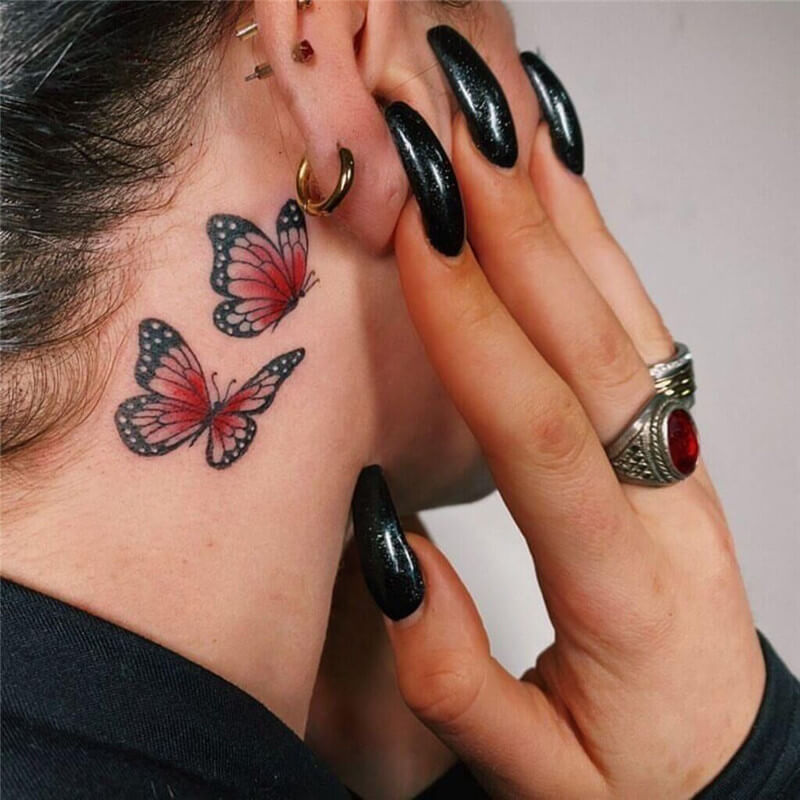 The red butterfly tattoo is a symbol of transformation. It is a sign that someone has been through some personal growth. The red butterfly tattoo is a common emblem in many cultures, and its meaning can vary depending on where in the globe you find yourself. For example, the red butterfly tattoo in China represents courage and determination.
3 butterflies tattoo behind ear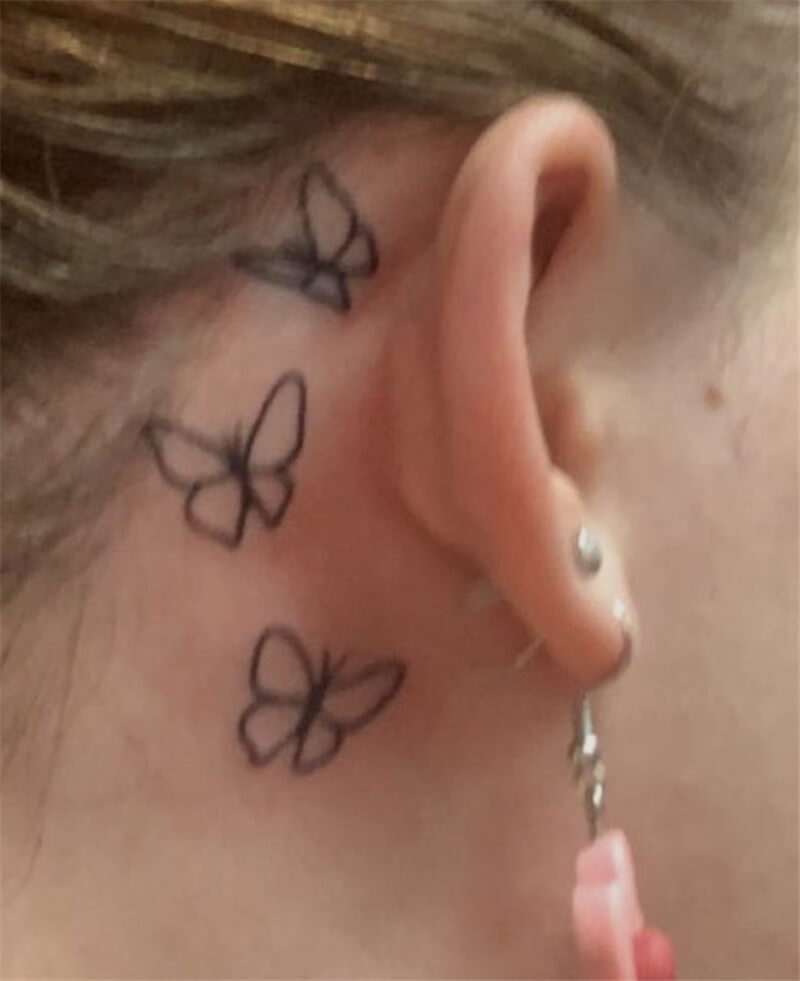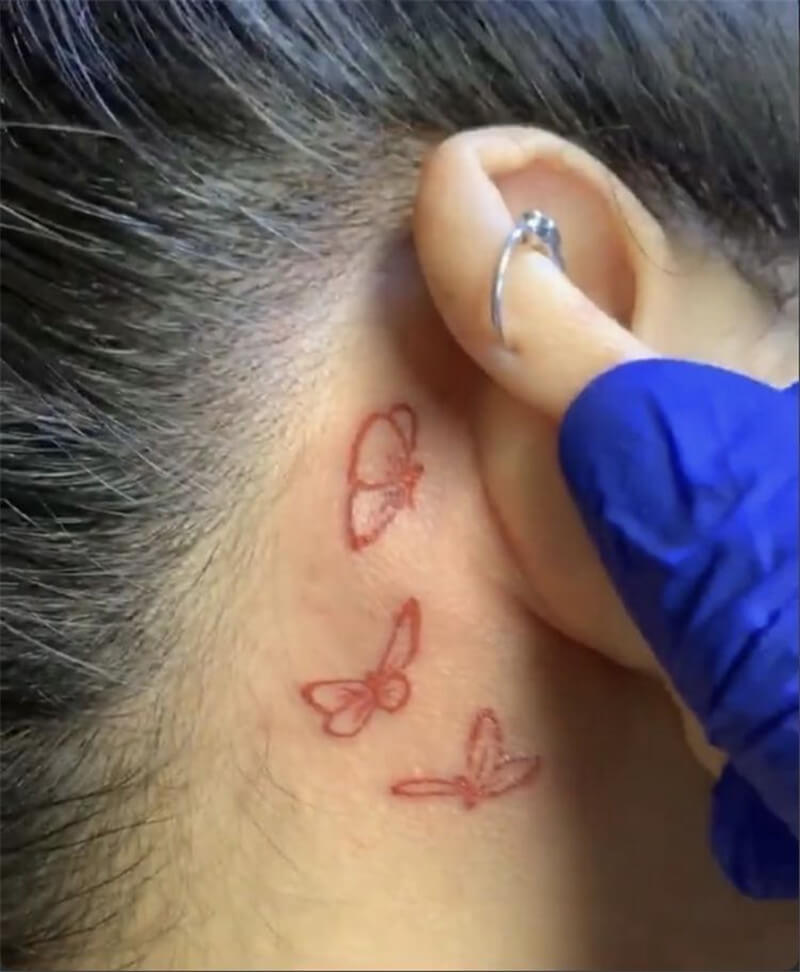 The 3 butterfly tattoo is a very popular design for women and has been around for a while. It is usually made up of three butterflies connected. There are many variations of the 3 butterfly tattoo, but they all have the same meaning - progression, growth, and change.
3d butterfly behind ear tattoo 
3D tattoos are very lifelike and lifelike. The 3d effect is achieved by shading and highlighting the tattoo to make it look like it is coming out of the skin. 3D tattoos give you the illusion of depth and dimension while they're still inked on your skin. This tattoo trend has grown in popularity recently, and it's easy to see why.
Black butterfly tattoo behind ear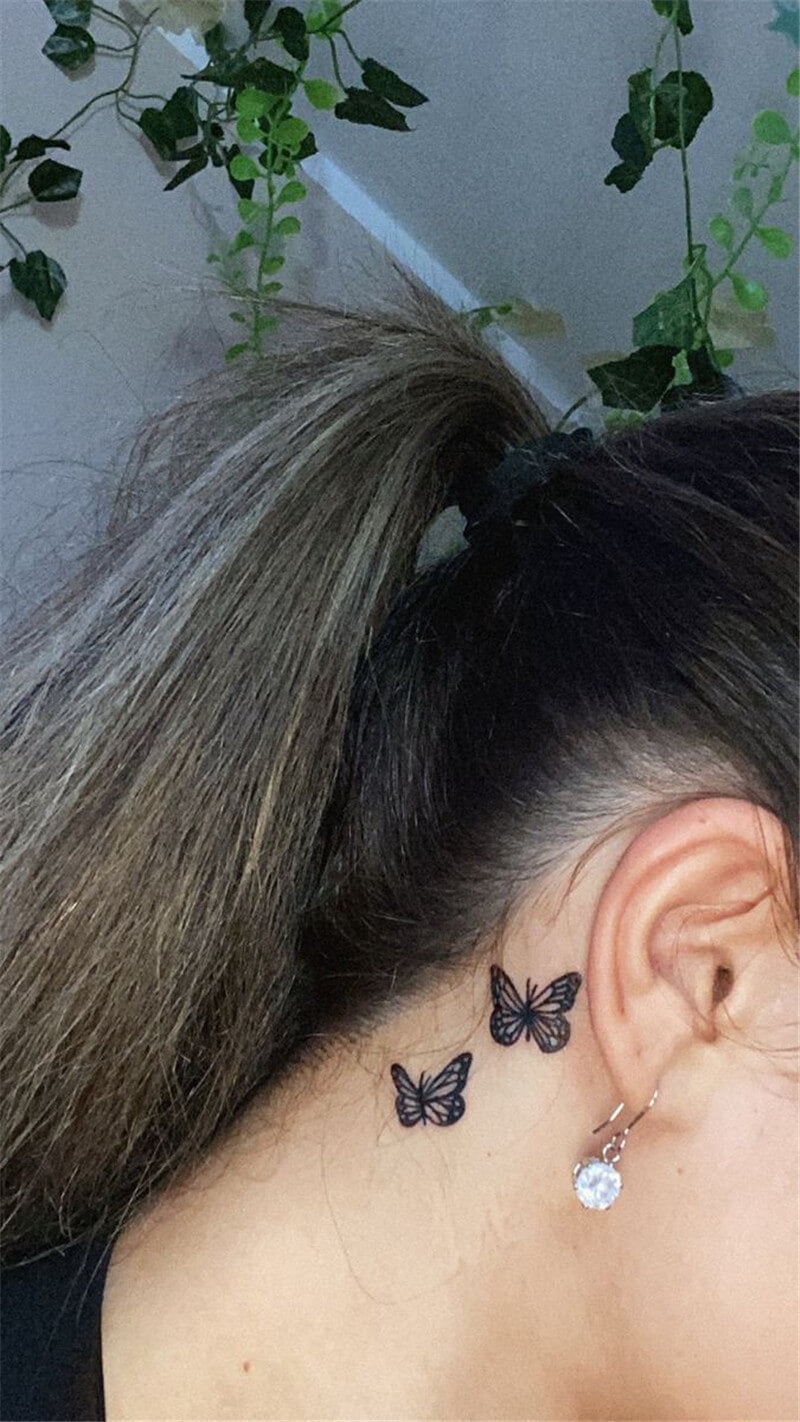 The black butterfly tattoo is a symbol of transformation and change. The black butterfly is often associated with the Greek goddess Psyche.
Blue butterfly tattoo behind ear
The blue butterfly tattoo is popular for people who want to show their appreciation for nature. The blue butterfly is a symbol of hope, joy, and beauty. It is also a symbol of growth and change.
semicolon butterfly tattoo behind ear
The semicolon butterfly tattoo represents perseverance, strength, and recovery. It represents the idea that life can go on after a traumatic event, and people can heal. The semicolon tattoo also symbolizes the need for mental health awareness.
two butterflies behind ear tattoo
The 2 butterflies tattoo is a symbol of love and friendship. It also can be interpreted as a sign that the couple will always remain faithful to one another or that they will have hope in their relationship no matter what happens.
butterfly wing tattoo behind ear tattoo
The butterfly wings represent change and progression, while the body represents stability and strength. This tattoo design also symbolizes freedom and liberation.
small colorful butterfly tattoos behind the ear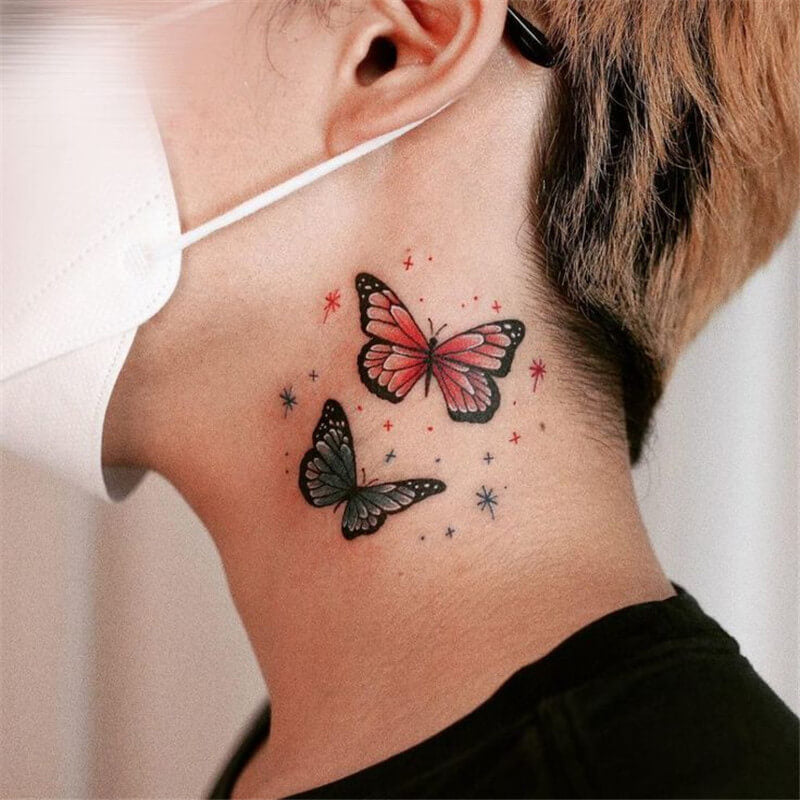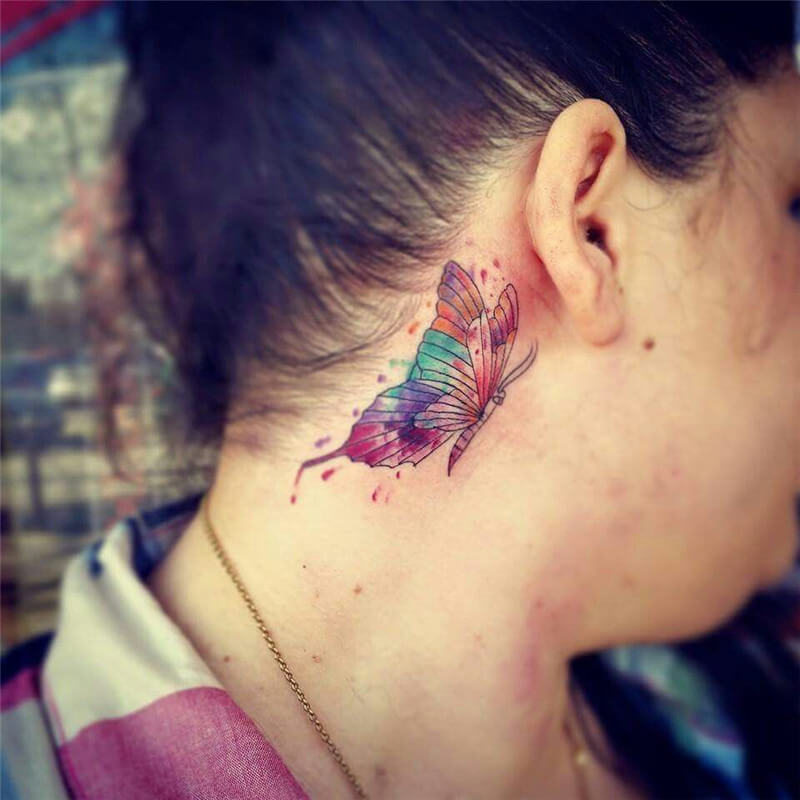 Colorful butterfly tattoos are a popular design choice for many people because they symbolize beauty, freedom, and happiness. Colorful butterflies also represent the colorful lives we all should live as they flutter from flower to flower in search of nectar.1
half butterfly tattoo behind ear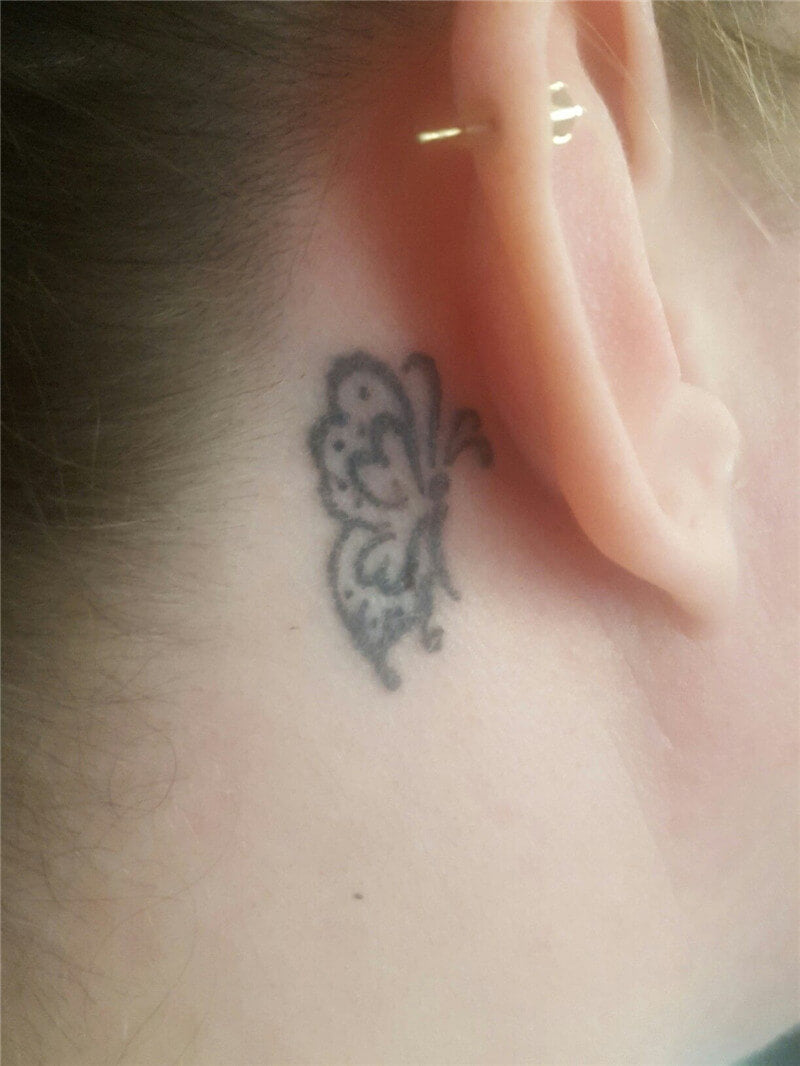 Half-butterfly tattoos are often seen as a symbol of overcoming obstacles and taking risks in life. They can also represent someone who has been through tough times but has come out stronger than before.
monarch butterfly tattoo behind ear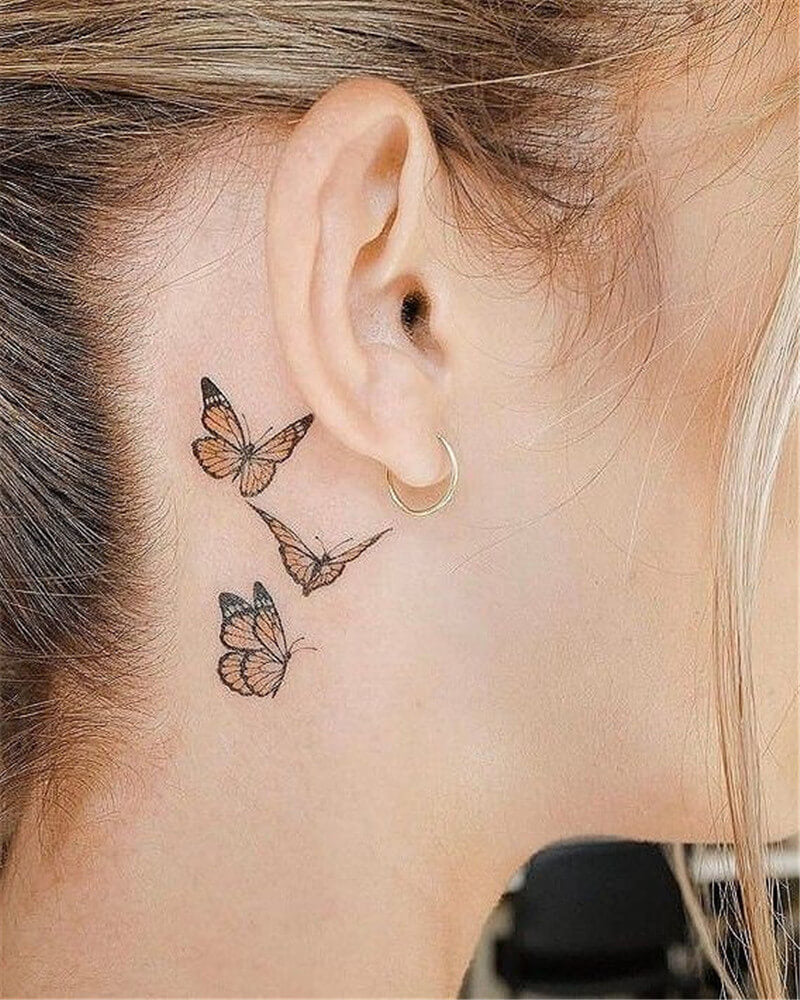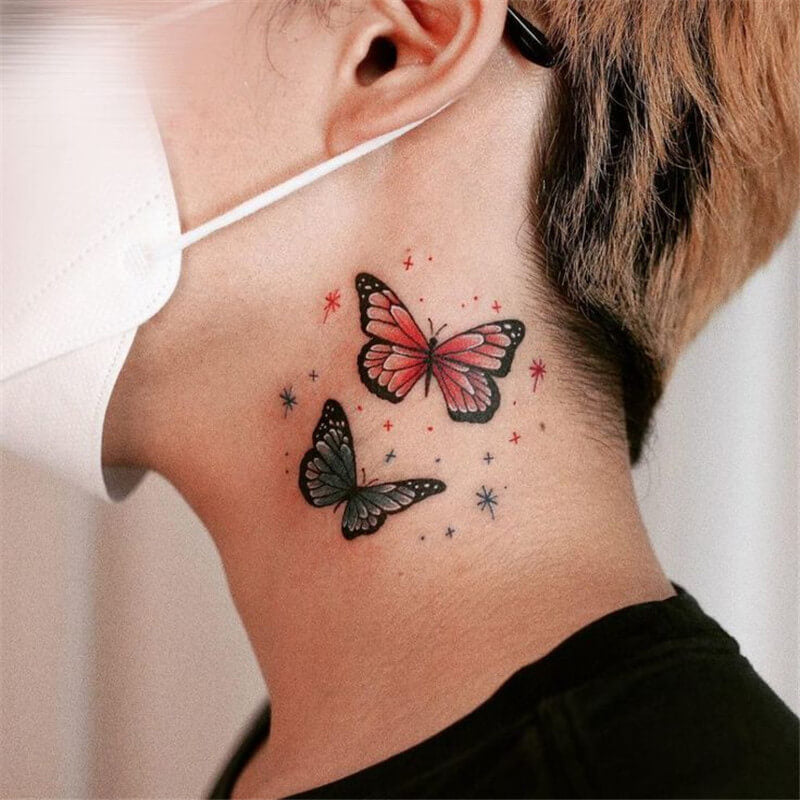 The monarch butterfly tattoo is one of the most recognizable insects in the world. The monarch migrates in search of warmth and year-round food sources. It is both a beautiful and fascinating creature.
purple butterfly tattoo behind ear 
The purple butterfly tattoo is a symbol of freedom and spiritual awakening. They are a sign of change, transformation, and renewal. The butterfly symbolizes the transformation from one form to another, from caterpillar to butterfly. It is also a sign of the soul's journey in life.
simple butterfly tattoo Behind Ear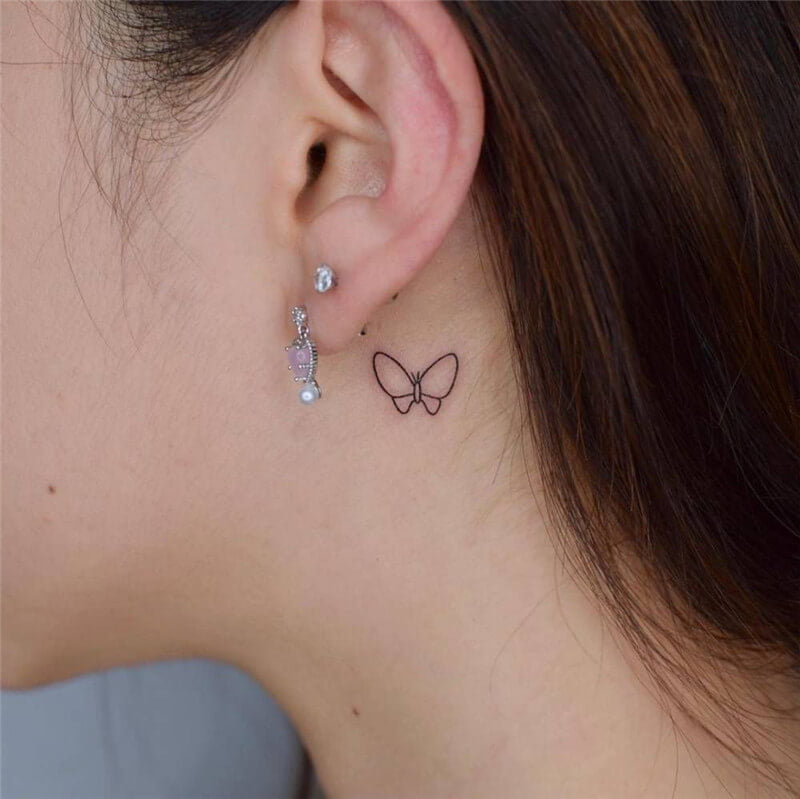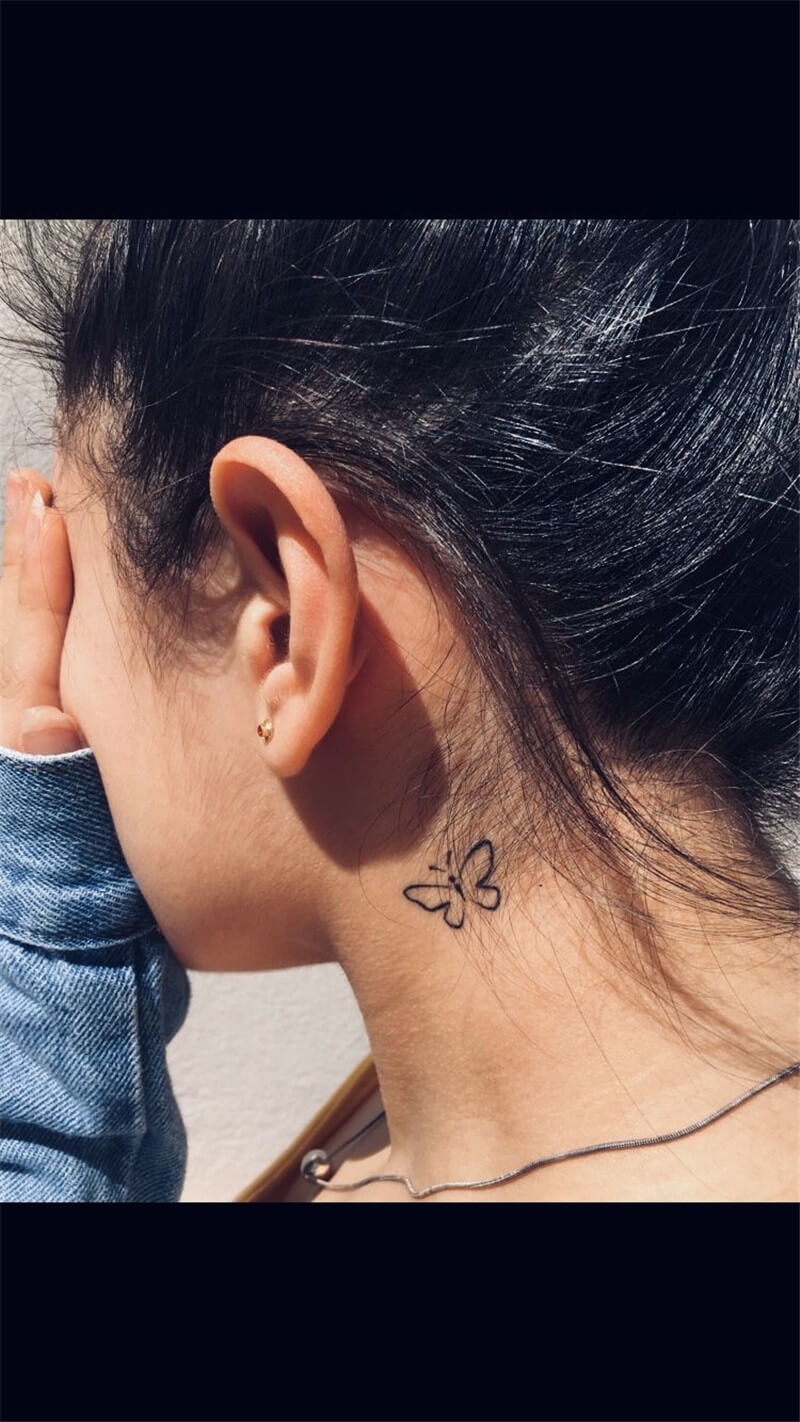 If you don't have enough space for a full tattoo, then you may only need part of one, such as an outline. It is said that only a few lines are required in order to draw a perfect shape, symbolizing a straightforward approach to life.
tiny butterfly tattoo behind ear
Tiny butterfly tattoos are a great way to show your love for nature. They can be worn by both men and women and can be drawn in small sizes. Some people choose to have them on their ear, ankle, wrist, or foot. There are many different types of tiny butterfly tattoos that you can get. The most popular is the outline of the shape with some colors in it. Other popular designs include wings and antennae and a full-color design with shading and further details like flowers or leaves around the branches.
red outline butterfly tattoo behind ear
A lovely butterfly is depicted by the use of only a few lines of crimson ink, which expresses a desire for a warm existence while retaining a pure and compassionate heart. Do not pass up getting a tattoo like this if you appreciate both simplicity and butterflies.
FAQ
🦋 What are the benefits of a butterfly tattoo behind the ear?
A butterfly tattoo behind the ear is a great way to show your love for the natural world. But it also has other benefits. For one, it's a very discreet tattoo that can be hidden with your hair or even a headband. It's also one of the few tattoos that you can get done if you're underage and still want to show off your ink.
🦋 What does a butterfly tattoo behind the ear mean?
A butterfly tattoo behind the ear is a popular tattoo design. This design is often chosen by people who want to represent their transformation. It symbolizes how they have gone through something and are now a different person on the other side. There are many different meanings of butterfly tattoos, but this one is the most popular amongst women. It's also common for women to get the tattoo if they are going through some kind of transformation in their life.
🦋 What are some popular butterfly tattoo behind ear designs?
There are many design ideas, among which you will definitely find something close to yourself. For example, butterfly tattoo behind ear, 3D butterfly tattoo behind the ear, small butterfly tattoo behind the ear.