60+ Chrysanthemum Tattoo Meanings Designs and Ideas
publish time:
The chrysanthemum tattoo is a lovely symbol in body art. It stands for beauty and long life. This flower is loved in many cultures, especially in Asia. People in Japan and China really like it. It has won hearts all over the world. Simple designs are elegant. Colorful designs are bright and bold. A chrysanthemum tattoo is more than a flower. It tells a story of personal growth. It shows a love for life. Many people who get tattoos choose this flower.
Mums and chrysanths are other names for chrysanthemums, which are blooming plants in the Asteraceae family. They are indigenous to North-Eastern Europe and East Asia. The arrangement of the ray and disk florets determines the classification of the chrysanthemum flower. It is grown in nutrient-rich, well-drained soil. The chrysanthemum requires full sunlight for germination, and inadequate light may cause the plant to flower only weakly.
🤩 Good News 🤩 : If you're not quite ready for a permanent chrysanthemum tattoo, don't worry! Our online store, Neartattoos, offers a fantastic collection of bulk temporary tattoos, including various flower temporary tattoos designs. These fake tattoos are real looking, and they're an excellent way to try out a tattoo design before making it permanent.

Tattoo stickers are a fun and commitment-free way to express your style. You can switch up your designs as often as you like, testing different placements and styles without the permanence of real tattoos. They're also great for special events or photoshoots when you want to make a bold statement.

Neartattoos is a wholesale center that offers low prices, even if you're buying just one piece. It's the perfect place to get your hands on high-quality, affordable temporary tattoos. The best part? The more you buy, the more discounts you get! Explore our collection today and bring home the charm of chrysanthemum tattoos without the commitment.
Chrysanthemum Tattoo Meaning
Chrysanthemum tattoos carry deep and rich symbolism. When choosing this flower for your tattoo, you may connect with one or more of these common meanings:
Joy

: Chrysanthemums often symbolize happiness and positivity.

Love

: The flower also represents love, making it a heartfelt choice for a tattoo.

Longevity

: Given its hardy nature and long bloom time, the chrysanthemum is also associated with longevity.

Rebirth

: As a flower that blooms in the fall, chrysanthemums symbolize rebirth and the start of a new season or chapter in life.

Royalty

: In Japanese culture, the chrysanthemum is associated with the emperor and the imperial family, symbolizing royalty.

Perfection

: The unfolding petals of the chrysanthemum, which resemble the sun, is seen as a symbol of perfection in certain cultures.
Every chrysanthemum tattoo has a unique meaning to its wearer. Still, these common associations give you a starting point for understanding its universal symbolism.
Japanese Chrysanthemum Tattoo
Japanese chrysanthemum tattoos are rich in symbolism and traditional aesthetics. In Japan, the chrysanthemum, or "Kiku," symbolizes the emperor and the imperial family, representing longevity, rejuvenation, and nobility. It's also associated with perfection due to its beautifully unfolding petals, much like the sun.
These tattoos often feature bright colors and intricate designs, with the chrysanthemum often paired with other traditional Japanese symbols. It could be a dragon, symbolizing strength and wisdom, or waves and clouds, representing change and movement.
Here are some key points about Japanese chrysanthemum tattoos:
They often have bold and vibrant colors, making them stand out on the skin.

Japanese chrysanthemum tattoos are usually quite detailed, with every petal carefully inked to showcase the flower's beauty.

 

They frequently include other elements like waves, clouds, or traditional Japanese creatures.

These tattoos are steeped in symbolism, representing longevity, rejuvenation, nobility, and perfection.

 
Whether you have a deep connection to Japanese culture or appreciate the beauty and symbolism of the chrysanthemum, a Japanese chrysanthemum tattoo can be a meaningful and eye-catching choice.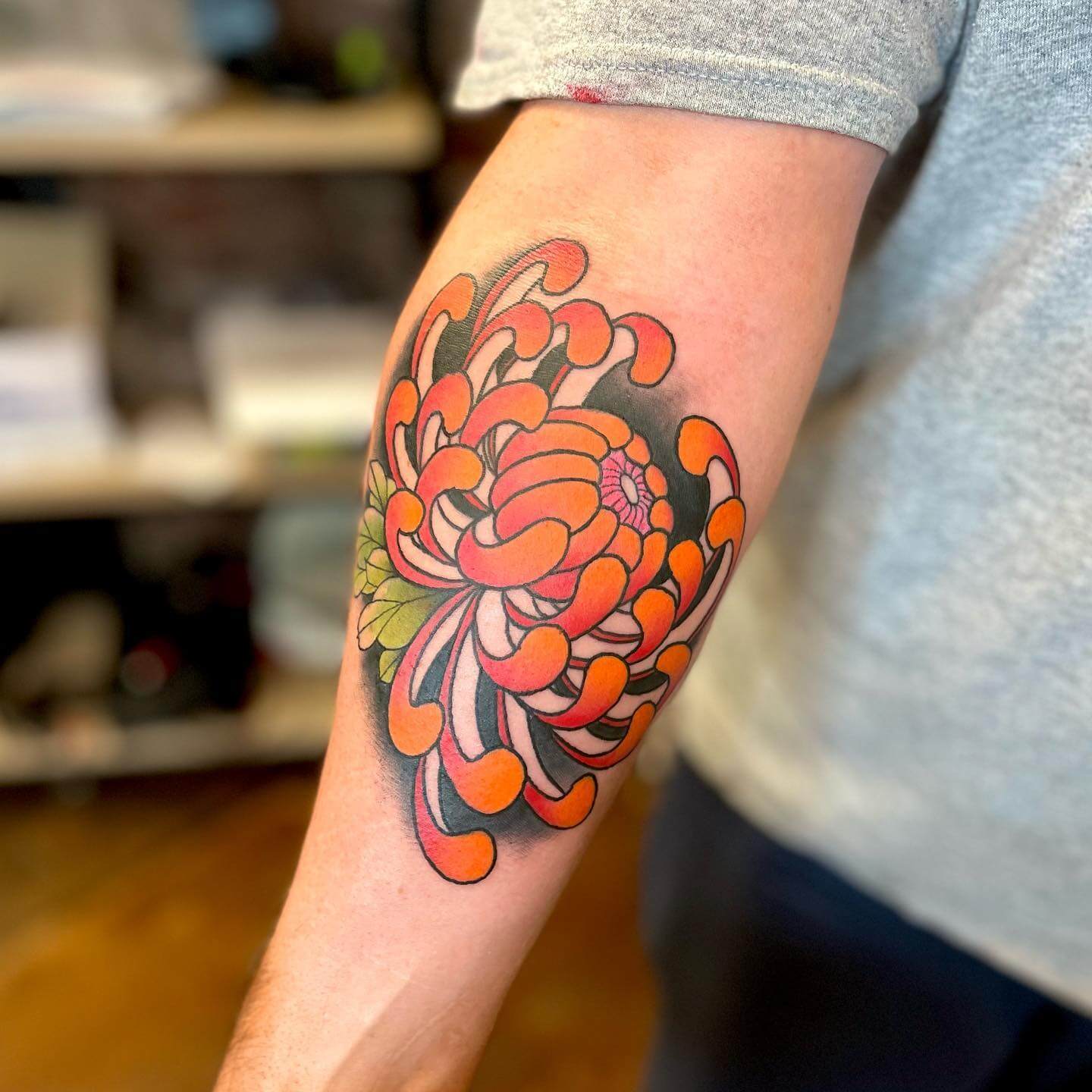 Japanese Chrysanthemum Sleeve Temporary Tattoo
Chinese Chrysanthemum Tattoo
The chrysanthemum flower represents long life and is a favorable omen in Chinese culture. Giving chrysanthemums to someone ill is thought to bring about their recovery. You can think about it for yourself or those you care about.
Chrysanthemum is a good option if you're looking for a flower that symbolizes rebirth, joy, love, positivism, peace, and vigor.
Chrysanthemum November Birth Flower Tattoo
The chrysanthemum, November's birth flower, is a popular choice for tattoos. Not only does it celebrate those born in November, but it also symbolizes love, longevity, and joy. So, a chrysanthemum tattoo can be a perfect way to show your love for this gorgeous flower or to celebrate your birth month.
Chrysanthemum Drawings Tattoos
Chrysanthemum drawing tattoos are another beautiful way to express your personality. These tattoos, with their intricate details and stunning designs, can truly bring the beauty of chrysanthemums to life on your skin. They can be a great choice if you appreciate art and want to carry a piece of it with you all the time.
Minimalist Chrysanthemum Tattoo
Minimalist chrysanthemum tattoos are all about simplicity and elegance. If you prefer a more understated look, these tattoos could be the ideal choice. They capture the essence of the chrysanthemum while keeping the design simple and neat. It's a subtle yet striking way to showcase your love for this flower.
Traditional Chrysanthemum Tattoo
Traditional chrysanthemum tattoos have roots in Asian cultures, especially Japan. In these designs, chrysanthemums often come in bright colors and include other elements, such as waves, clouds, or dragons. If you're a fan of bold and colorful art, you might find that a traditional chrysanthemum tattoo perfectly captures your style and spirit.
Chrysanthemum Shoulder Tattoo
A chrysanthemum shoulder tattoo can be an impressive choice. The shoulder provides a broad canvas for the artist, allowing them to capture the intricate details of the flower. Whether you opt for a small, subtle design or a large, detailed one, a chrysanthemum shoulder tattoo can make a strong statement.
Chrysanthemum Tattoo Black and White
If color isn't your style, don't worry. Black and white chrysanthemum tattoos are just as stunning. They bring out the flower's form and details in a striking way. It's all about contrast, making the design look bold and elegant. If you're a fan of monochrome art, a black and white chrysanthemum tattoo might be the perfect fit for you.
Chrysanthemum Tattoo Outline
An outline of a chrysanthemum tattoo could be the choice for you if you want something simple and neat. It's all about the sleek lines that follow the form of the flower. The beauty of this style lies in its simplicity and the ability to turn a complex flower into a minimalist design.
Delicate Chrysanthemum Tattoo
Delicate chrysanthemum tattoos offer a soft, feminine touch. They usually feature fine lines, subtle shading, and sometimes, soft colors. It's a graceful and elegant way to express your love for this beautiful flower.
American Traditional Chrysanthemum Tattoo
American traditional chrysanthemum tattoos offer a different approach to the flower. Bold outlines, solid colors, and simplified shapes are the hallmarks of this style. If you love vintage vibes and strong designs, this could be the tattoo for you.
Chrysanthemum Fine Line Tattoo
Fine line tattoos have gained popularity recently and chrysanthemum is no exception. This style focuses on delicate, thin lines to create a detailed and intricate design. A chrysanthemum fine line tattoo can be an elegant and stylish choice for anyone.
Chrysanthemum Hand Tattoo
Chrysanthemum hand tattoos can be a bold statement. Whether it's a small, simple design on the finger or a large, detailed flower that covers the back of your hand, it will surely catch the eye.
Chrysanthemum Neck Tattoo
A chrysanthemum neck tattoo can be a striking and personal choice. It can be easily covered or shown off depending on your mood. This location adds a touch of daring and intrigue to your chrysanthemum tattoo.
Chrysanthemum and Daffodil Tattoo
Pairing a chrysanthemum with a daffodil in a tattoo creates a beautiful floral scene. These two flowers complement each other well, with the chrysanthemum's intricate petals and the daffodil's trumpet-like shape.
Chrysanthemum and Daisy Tattoo
Combining a chrysanthemum with a daisy in a tattoo can symbolize innocence and purity (daisy), along with longevity and joy (chrysanthemum). It's a harmonious pairing that can create a lovely, meaningful design.
Chrysanthemum and Rose Tattoo
A chrysanthemum and rose tattoo can be a beautiful blend of East meets West. While roses are often linked with love and passion, chrysanthemums symbolize longevity and joy. Together, they can create a balanced and aesthetically pleasing tattoo.
Chrysanthemum Knee Tattoo
Daring and bold, a chrysanthemum knee tattoo can really stand out. With the knee's natural circular shape, it provides a perfect canvas for the rounded form of a chrysanthemum. Remember, this location can be quite sensitive, but the end result can be stunning.
Blue Chrysanthemum Tattoo
Blue chrysanthemums are rare in nature, but not in the world of tattoos. A blue chrysanthemum tattoo can symbolize mystery and the unknown, while adding a vibrant and unique color to your design.
Chrysanthemum and Peony Tattoo
Pairing a chrysanthemum with a peony can create a breathtaking tattoo. Both flowers have deep roots in Asian culture and symbolism, creating a design that's not only beautiful, but also rich in meaning.
Marigold and Chrysanthemum Tattoo
A marigold and chrysanthemum tattoo brings together two flowers with rich symbolism. Marigolds often represent the sun and its life-giving force, while chrysanthemums symbolize longevity and rejuvenation. Together, they create a vibrant, life-affirming design.
Tiny Chrysanthemum Tattoo
If you're looking for a small but meaningful tattoo, consider a tiny chrysanthemum. This design can fit anywhere, from behind the ear to the wrist, and still carries all the symbolism and beauty of larger tattoos. It's a perfect choice if you prefer understated designs or if you're getting your first tattoo.
Carnation and Chrysanthemum Tattoo
The combination of a carnation and chrysanthemum tattoo can be a great choice. Carnations symbolize love and admiration, while chrysanthemums represent longevity and joy. Together, they create a design that's both beautiful and rich in meaning.
Larkspur and Chrysanthemum Tattoo
A larkspur and chrysanthemum tattoo combines two flowers that have deep cultural and symbolic meanings. The larkspur represents love and positivity, while the chrysanthemum symbolizes life and rebirth. Their joint design can make for a striking and meaningful tattoo.
Lily and Chrysanthemum Tattoo
Merging a lily with a chrysanthemum in a tattoo design can create a wonderful balance. Lilies often represent purity and commitment, while chrysanthemums carry the message of longevity and joy. This blend can result in a striking and deeply symbolic tattoo.
Aster and Chrysanthemum Tattoo
The pairing of an aster and a chrysanthemum in a tattoo can produce a wonderful floral display. Asters symbolize wisdom and faith, while chrysanthemums stand for longevity and joy. The resulting design can be a vivid, symbolic, and beautiful piece of body art.
Chrysanthemum and Lily of the Valley Tattoo
A chrysanthemum and lily of the valley tattoo can create a beautiful and symbolic design. The lily of the valley often represents humility and purity, while the chrysanthemum is a symbol of life and rejuvenation. The combination of these two can result in a gentle and meaningful tattoo.
Chrysanthemum Bouquet Tattoo
A chrysanthemum bouquet tattoo can be an exquisite choice if you're a true flower lover. This design lets you showcase the beauty of the chrysanthemum in a lush, abundant way. It's like carrying a permanent bouquet with you, serving as a continuous source of joy and positivity.
Yellow Chrysanthemum Tattoo
Yellow is associated with the sun and flowers like sunflowers and is thought to represent happiness, hope, positivism, a bright future, and a young, active existence.
White Chrysanthemum Tattoo
White is made up of all the colors, much like a rainbow, but it appears colorless. The color white represents purity, innocence, fairness, and cleanliness since it is the most neutral and impartial color.
Orange Chrysanthemum Tattoos
The warmth of red and the joy of yellow are said to be manifested in the color orange, which is said to have the color combination of red and yellow.
Purple Chrysanthemum Tattoo
One of the most beloved colors, purple, is closely associated with monarchy. The color purple is associated with love, spirituality, warmth, majesty, calmness, and serenity.
Red Chrysanthemums Tattoo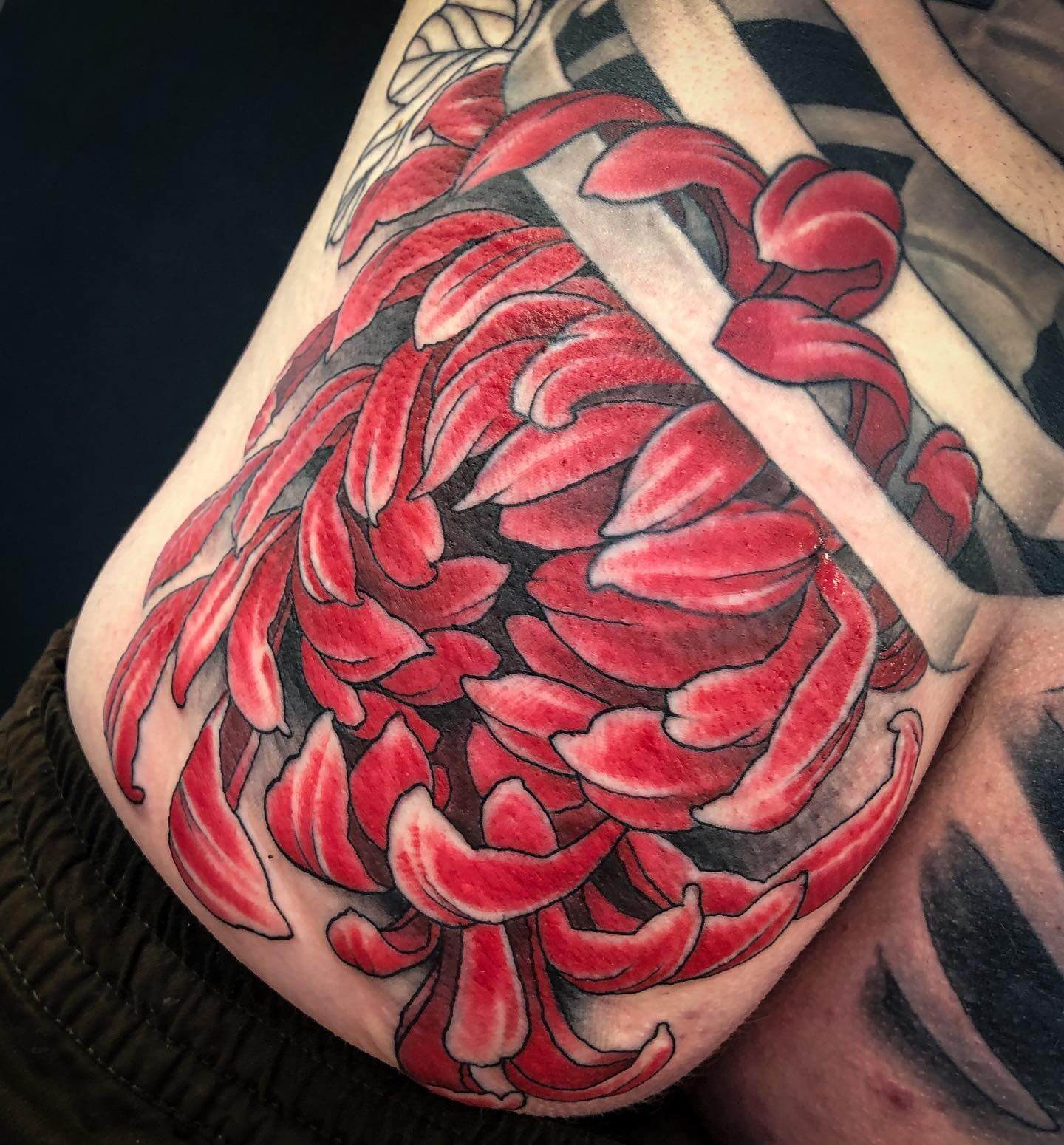 Red is regarded as a symbol of danger, aggression, love, strength, power, bravery, passion, and desire due to its strong associations with blood, fury, and love. Due to its enormous visibility, red is universally regarded as the deepest hue.
Black Chrysanthemum Tattoo
With its striking black patterns, blackwork tattooing is easily recognizable and has grown to be one of the coolest trends in the business. Blackwork employs a single hue to produce strong shapes, and any dimension is added by leaving gaps on the skin bare.
Chrysanthemum Flowers Tattoo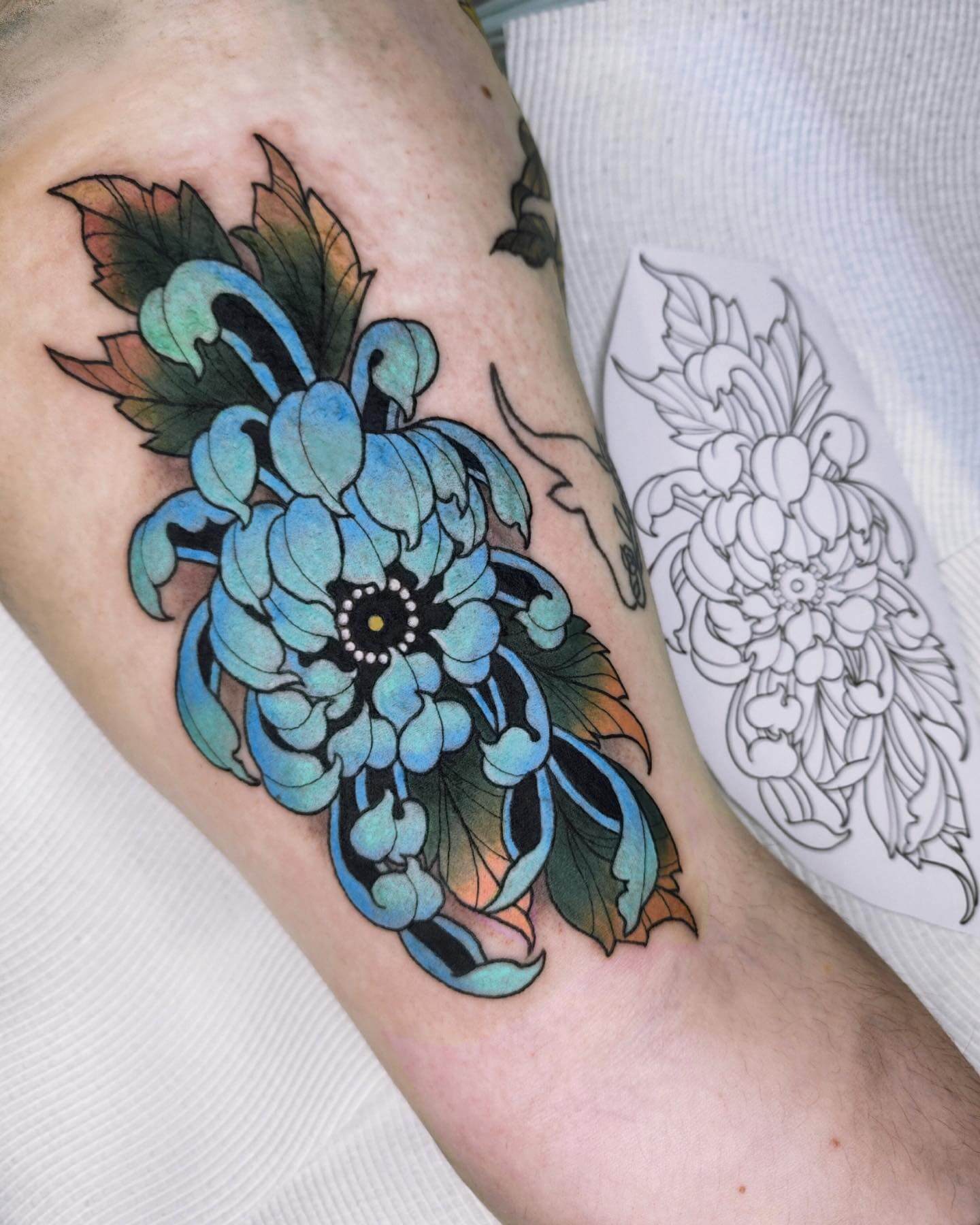 Chrysanthemums are a common symbol of joy and happiness. Flowers are frequently utilized as décor for significant occasions like weddings, birthdays, and baptisms. People present chrysanthemums as gifts to commemorate rebirth, peace, joy, and positive energy during these days of intense celebration.
Chrysanthemums come in various hues, including white, pink, orange, and red. Each color denotes a different meaning. Therefore, you must choose the appropriate color and know what the chrysanthemum tattoo signifies. Chrysanthemums come in two colors: yellow and white. The yellow one stands for unrequited love and the white one for suffering.
Because chrysanthemums are connected to the loss of life, many Western Christians have them tattooed on their bodies. Chrysanthemum tattoos are common due to their adaptability. These tattoos depict sensuality, fertility, and emotional states in exquisite detail.
Small Chrysanthemum Tattoo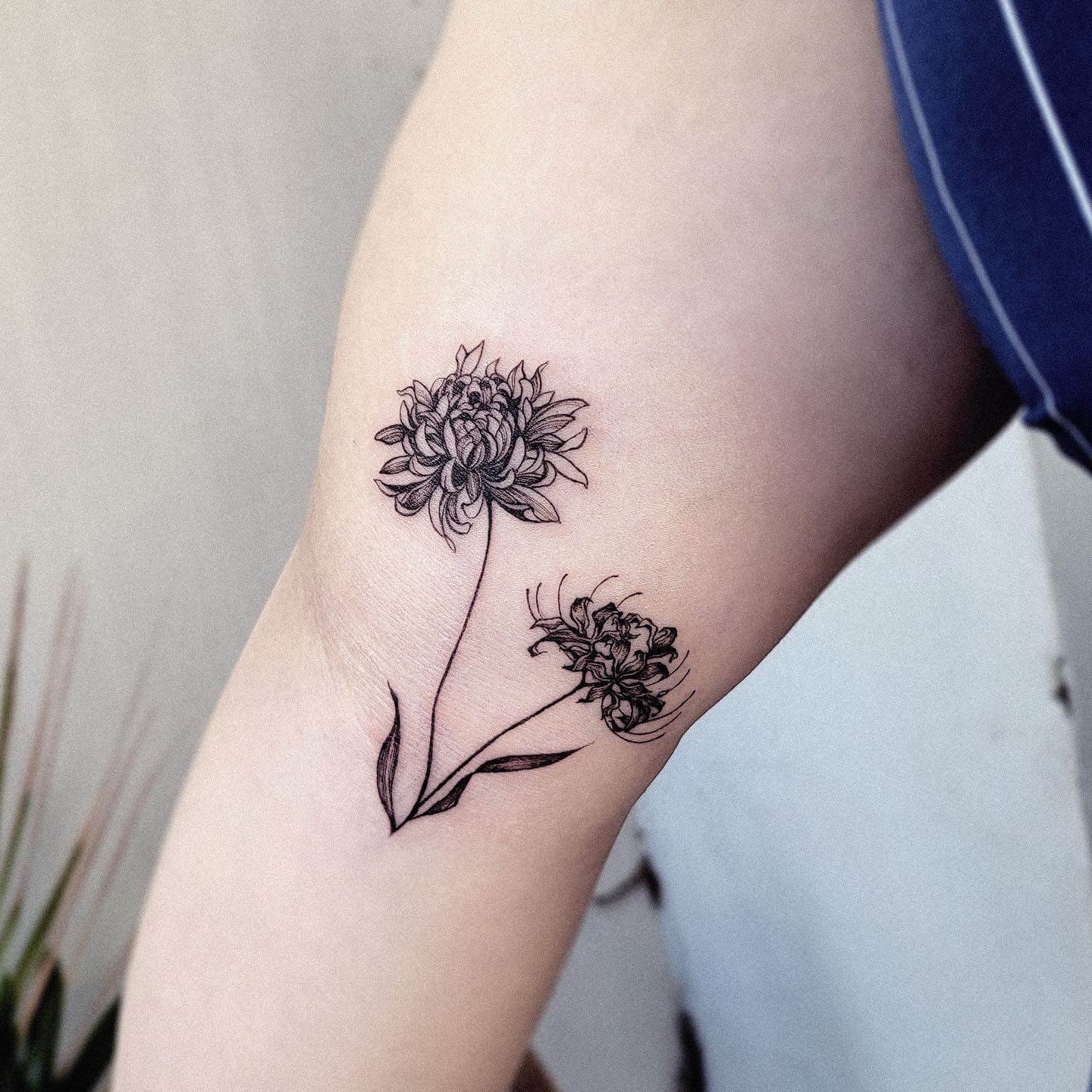 Tattoos of chrysanthemums don't have to be large or flashy. They might be tiny and delicate, inked with just one needle. Like this delicate take on the flower motif, beginners and those looking for something simpler to conceal. The soft yet unmistakable shape of the chrysanthemum is perfect for little tattoos.
Chrysanthemum Sleeve Tattoo 
Chrysanthemums can be combined into a larger design to create a distinctive tattoo. As an alternative, it can be used as a filler to ensure that there are no empty gaps between photos. Both men and women enjoy wearing sleeves with Chinese and Japanese designs. However, floral sleeves are also becoming more common.
Simple Chrysanthemum Tattoo 
Chrysanthemum tattoos in Japan stand for tenacity and resolve. The chrysanthemum flower symbolizes openness, joy, repose, and companionship in traditional tattoo meanings. Chrysanthemums are a symbol of fun and laughter. The chrysanthemum tattoo represents ease, solidity, resolve, and simplicity.
A well-known floral plant from the daisy family is the chrysanthemum. Several flower varieties, including the chrysanthemum, have been included in tattoo designs. There are several reasons why people adore chrysanthemum tattoos, which are growing in popularity.
Chrysanthemum and Skull Tattoo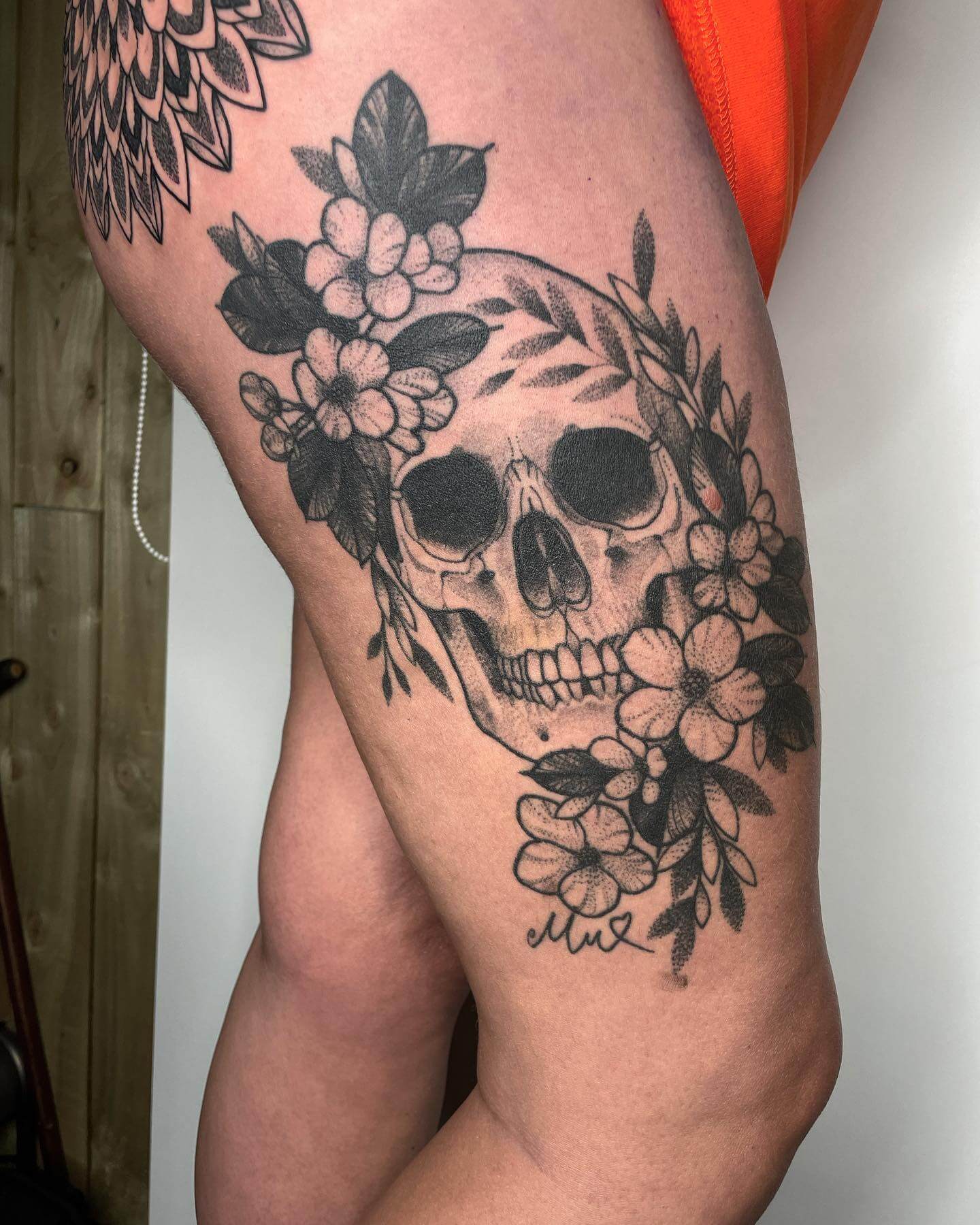 A dramatic and gritty tattoo design is a skull and chrysanthemums. This design approach merges life through details and contrasting patterns. Chrysanthemums stand for new birth, and skulls symbolize lose life. The practice functions as a protective amulet when worn together.
Chrysanthemum Snake Tattoo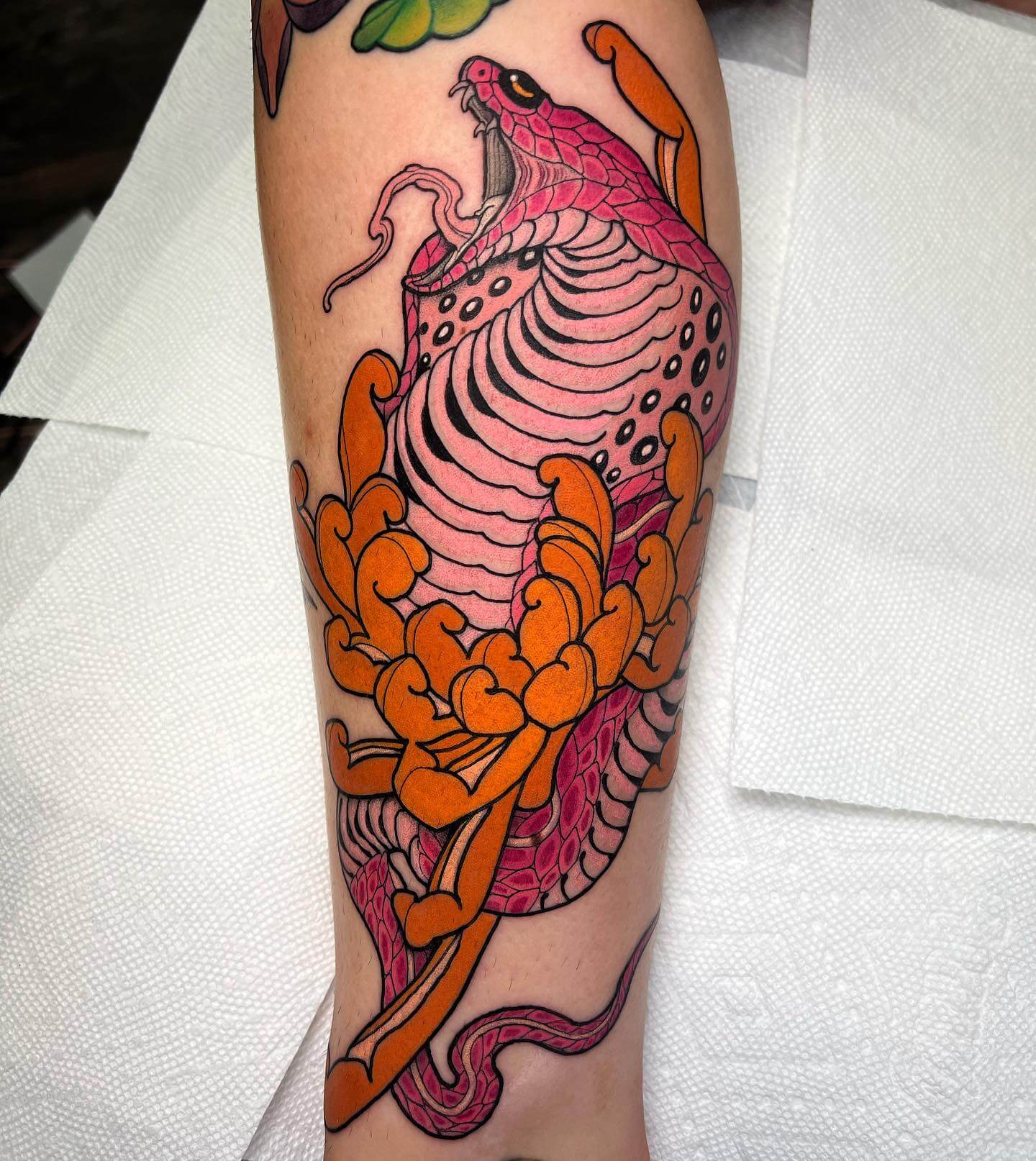 This chrysanthemum tattoo with a snake is one of the trendiest tattoo designs. This is your tattoo if you want a pretty chrysanthemum with a touch of wrath. The chrysanthemums in the tattoo have a bit of crimson accenting, and a snake is wrapped around them.
This snake looks pretty dramatic due to the additional dark shading. Since snakes are considered supernatural beings, chrysanthemum tattoos featuring snakes stand for safety and well-being. You can therefore feel comfortable and secure with the aid of these powers.
Chrysanthemum Dragon Tattoo
Another method to display your chrysanthemum tattoo is with the excellent and colorful chrysanthemum dragon ink. This tattoo has a grey dragon swirling throughout the pattern, some pink and blue petals, and a blue chrysanthemum. Dragons may use the eggs they hold as a defense, risking their own lives.
This tattoo, which is Japanese in design, is ideal if you want something with numerous components and a striking appearance. Chrysanthemum tattoos with dragons are very significant as a sign of bravery. Is there anyone out there who isn't willing to be brave? All of us ought to aim toward this trait.
Chrysanthemum Bird Tattoo
Enjoy this feminine chrysanthemum tattoo's elegant and intriguing appearance. Even if the chrysanthemum tattoo appears straightforward, adding all the intricacies makes it possible to create a distinctive tattoo. A white and gray sketched bird with flying wings is topped with a marine blue and green Chrysanthemum. The bird's wings include fine lines and crimson ink, giving it a swan-like appearance.
Such tattoos depict your personality or the person you hope to become by symbolizing vitality and independence. This tattoo represents your carefree lifestyle or serves as a reminder to live life to the fullest.
Final Words
Now that you have access to these incredible chrysanthemum tattoo designs, you can finally get the tattoo of your dreams and enjoy your body art to the fullest. Chrysanthemum tattoos enable you to sport a delicate floral tattoo appearance that everyone adores. One of your finest choices may have been to have this kind of tattoo. So utilize these tattoo ideas to hasten to getting yours. 
Chrysanthemum Tattoo FAQs
1. What does a chrysanthemum tattoo symbolize?
Chrysanthemum tattoos symbolize longevity, love, joy, and rebirth. They are also associated with royalty and perfection, particularly in Japanese culture. However, the specific meaning can depend on the design of the tattoo and the personal interpretation of the wearer.
2. Is a chrysanthemum tattoo right for me?
If you connect with the symbolism of the chrysanthemum - love, joy, longevity, rebirth, or royalty - it might be the right choice for you. Additionally, if you appreciate floral designs or have a connection to Asian cultures, particularly Japan, a chrysanthemum tattoo can be a great way to express that.
3. Where is the best place to get a chrysanthemum tattoo?
The location of your chrysanthemum tattoo depends on your personal preference and the design's size and detail. Smaller, simpler designs can look great on the wrist, ankle, or behind the ear. Larger, more detailed designs can fit well on the shoulder, back, or thigh.
4. Does a chrysanthemum tattoo hurt more than other tattoos?
The pain level of getting a tattoo largely depends on its location and your personal pain tolerance. Areas with thinner skin or closer to bones tend to be more sensitive. The complexity and size of the design can also influence the pain level. As a chrysanthemum tattoo can be intricate, it might take more time, which could result in more discomfort.
5. How should I care for my chrysanthemum tattoo?
After getting a chrysanthemum tattoo, it's important to follow your tattoo artist's aftercare instructions. Generally, this includes keeping the area clean, using a healing ointment, avoiding direct sunlight, and not swimming until the tattoo is healed. Remember, proper aftercare is crucial to maintain the vibrant colors and details of your chrysanthemum tattoo.