50 Forearm Tattoos for Men: Express Yourself Bravely
One of the most well-liked and adaptable places for tattoos is the forearm. You can easily see your tattoos daily and flaunt them to others or cover them up if necessary. The forearm is an excellent spot for a significant tattoo because it is so noticeable. There is a great inking for you, from simple drawings to intricate sleeve artwork. It's also one of the least painful places on your body to get a tattoo if this is your first one. Discover the most inspiring forearm tattoos by reading on.
Related Knowledge: Want to know what tattoo designs look good on you? Temporary tattoos 🔗 are appealing because it lets you try out body art without the permanent commitment. It is also a fun way to change your appearance or experiment with different placements before taking the plunge and getting inked for real. This is an excellent choice for anyone thinking about getting a tattoo but wants to see how it would look first, or for someone who cannot get inked for whatever reason, including pain tolerance or health problems. The temporary tattoo is also cheap, easy to apply, and lets you express yourself without hassle. Choose from a wide range of symbolic forearm temporary tattoos designs or something simple or cute. The choice is yours, so have fun with it. 
Forearm Sleeve Tattoo
Forearm sleeve tattoos are a bold choice in body art. Regardless of the design, you select, you will undoubtedly draw notice. Sleeve tattoos on the forearm are a terrific method to incorporate multiple art forms. Your tattoo artist can connect various tattoos using shading, florals, or other patterns. It's also a fantastic choice if you want to flaunt a sizable and elaborate tattoo like a tribal, religious, woodland, or portrait.
Cross Forearm Tattoo
The cross is the most revered emblem in Christianity. It stands for Jesus Christ and the sacrifice he made to save humanity. A cross tattoo is a means for people who share the Christian religion to declare their convictions publicly. In addition, it serves as a reminder that God is always with them. Cross tattoos can be any shape and placed anywhere on the body, but the forearm is a common location. Because of the cross, the wearer will constantly be reminded of their relationship with Jesus.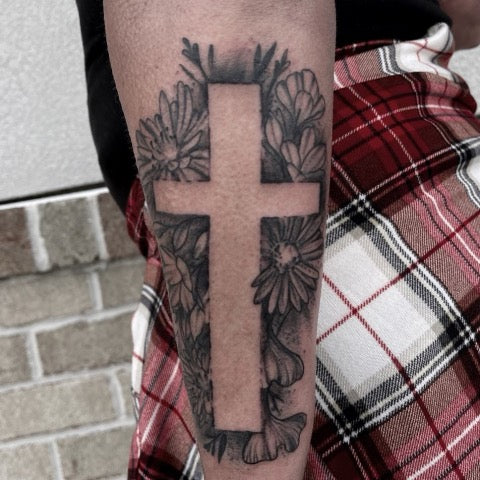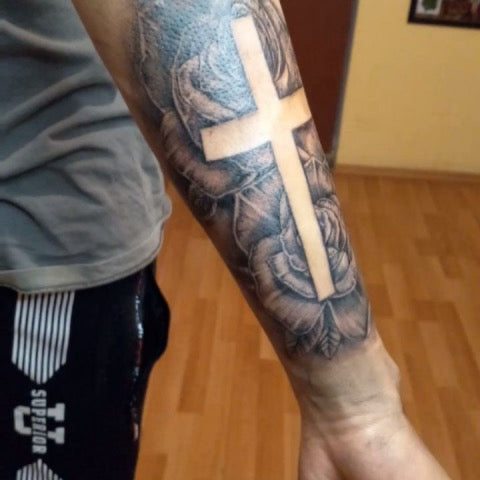 Rose Forearm Tattoo
Rose tattoos are a traditional motif. The flowers serve as a representation of nuanced feelings and ideas. Roses in bloom are symbolic of beauty and hope. In the past, sailors would get tattoos of flowers to remind them of the joy they would find back home. The rose's thorns, meanwhile, stand in for suffering and loss. Together, the rose stands for both the appealing and challenging aspects of life. White roses signify innocence and fresh starts, whereas red roses are associated with love and passion. A rose's hue can also alter its meaning. Black flowers are occasionally tattooed as a memorial to a lost love or the end of an era.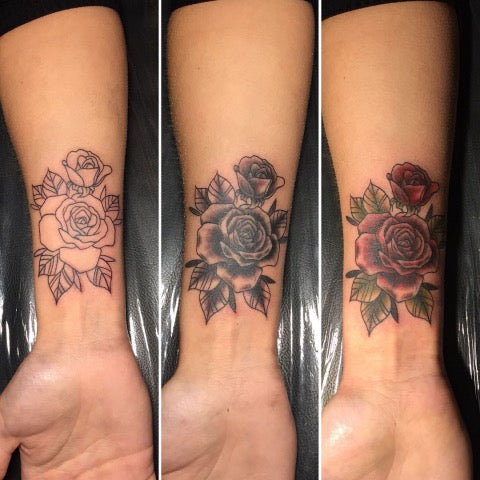 Lion Forearm Tattoo
Due to their regal and domineering attitude, lion tattoos have always been a popular design. The King of the Jungle is a symbol of power, assurance, and bravery. Therefore, those who identify with these qualities might consider getting a lion tattoo. A lion represents the astrological sign of Leo. That makes it a fantastic option for anyone who was born under this sign of the zodiac. The animal might appear imposing or hostile depending on how it is posed. While tranquil lions appear intelligent and powerful, roaring lions typically appear more menacing and aggressive. Consider the effect you want your tattoo to have on other people before getting a lion tattoo.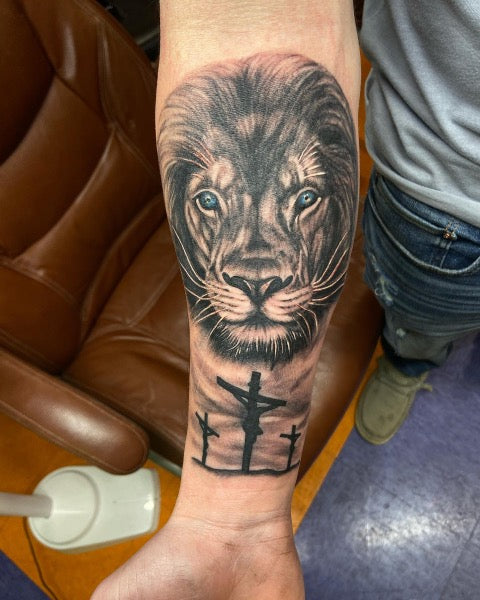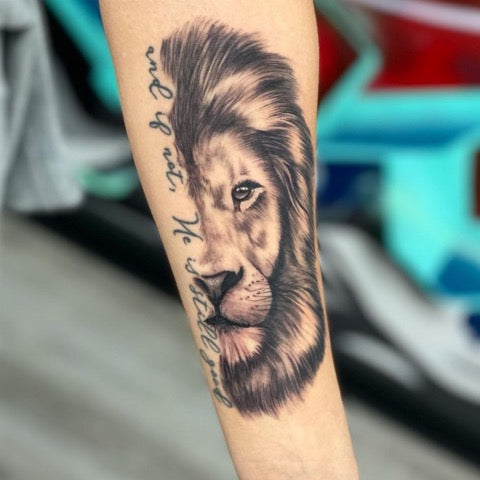 Dragon Forearm Tattoo
Because the design is adaptable and striking, dragon tattoos are popular. A dragon's curving body and wings look fantastic when positioned on the forearm. There are several options for the art style if you consider getting this tattoo. Dragons from China, Japan, and the Celts all have distinctive appearances but share a similar allure. The Year of the Dragon can also be a unique tattoo option if you were born that year.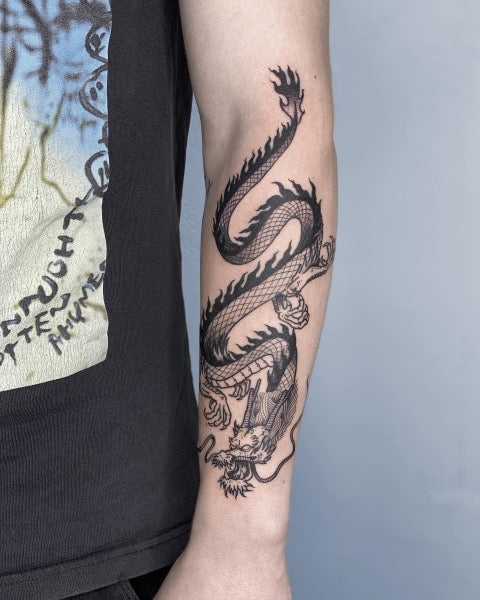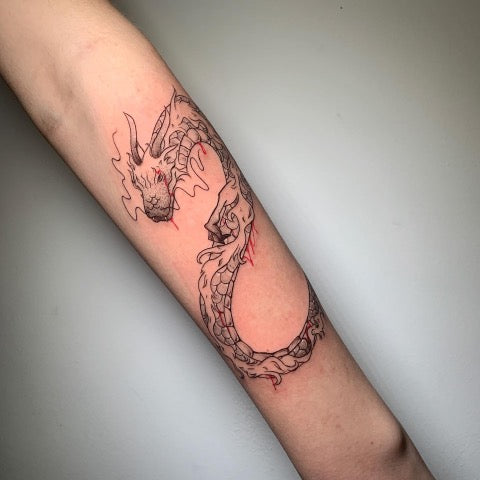 Name Forearm Tattoo
A name tattoo is a lovely way to honor the important people in your life. Many opt to get the name of a parent or grandparent tattooed on their body. In contrast, others get the names or initials of their children imprinted on them. Another choice is to get your significant other's name inked on your body. It is a well-liked option for newlyweds, expectant parents, and engaged couples. This is because a tattoo is a lasting commitment and serves as the ideal memento of a time when you and your spouse were incredibly close.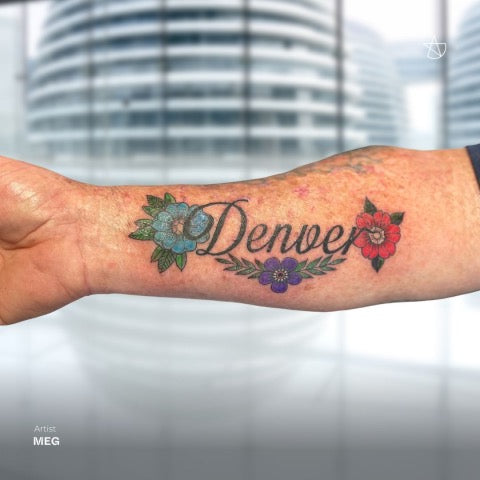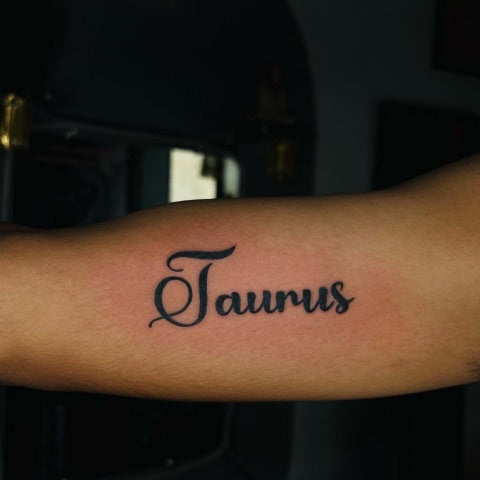 Inner forearm tattoo
Getting inked on the inner forearm is a terrific idea. With this positioning, a more delicate or small design looks terrific. While most people find the pain of inner forearm tattoos tolerable, there is one thing to keep in mind: the pain will increase as the needle approaches your elbow.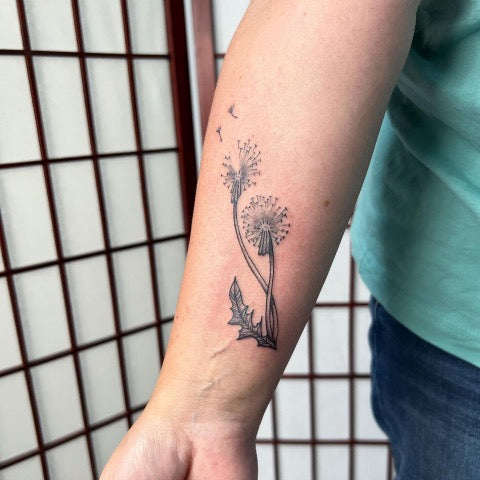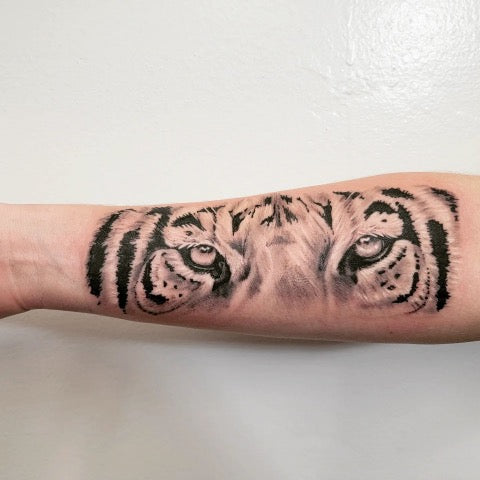 Simple Forearm Tattoo
Minimalists will adore simple tattoos even if these inkings complement all fashion trends. At the moment, plain body painting with black ink lines and minor shading is trendy. Select a simple, brief layout that employs only black ink or a limited number of colors. Initials and a word or short sentence are both excellent options.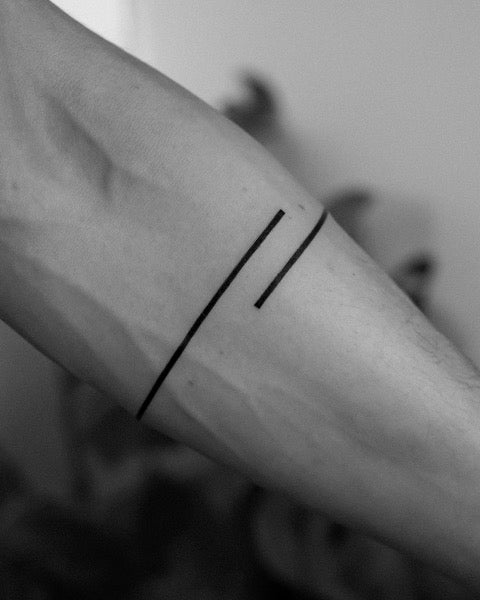 Small forearm tattoo
A little tattoo is appropriate if this is your first piece of body art or if you need clarification on your pain threshold. If you like a minimalist look or can't have massive tattoos at work, it's also an excellent option. Simpler is better when it comes to little tattoos. Consider getting a word, a group of initials, or a geometric tattoo. For little tattoos, people usually select geometric shapes like circles and triangles. That's because they're symbolic and still visually appealing in smaller sizes.
Snake forearm tattoo
Snake tattoos have been a strong and stable motif in the tattoo landscape. No matter if they are combined with floral, skulls, or anything else, these flexible tattoos deliver rich symbolism. Snakes stand for power and strength. They also possess venom, and that symbolizes danger. Shedding their skin is another thing of snakes that stands as a great symbol of rebirth and healing. Snakes are also a symbol of fertility, reincarnation, knowledge & wisdom in many cultures.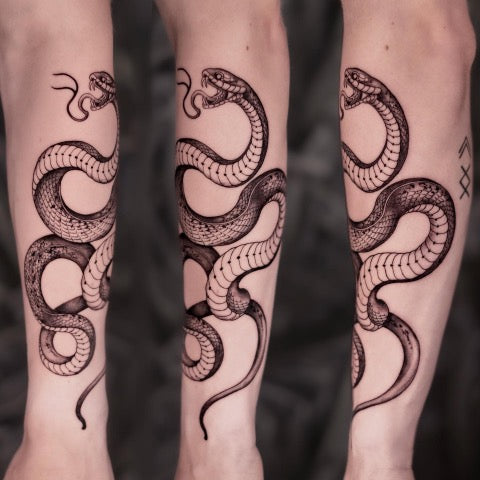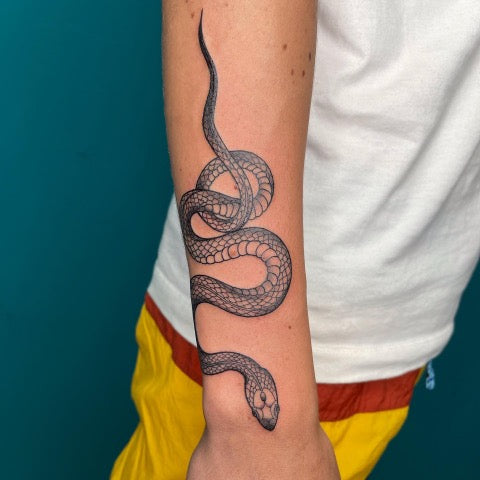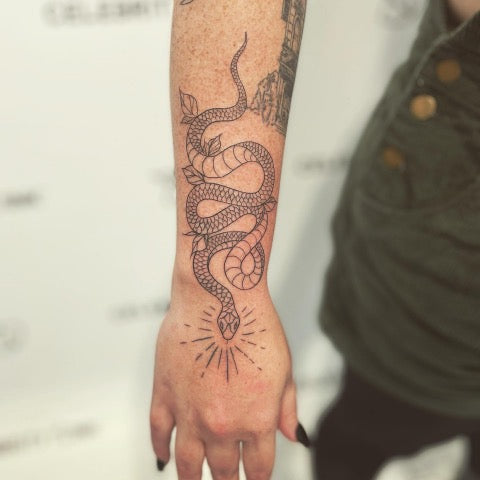 Wolf Forearm Tattoo
The wolf is one of the most potent tattoo motifs. These creatures have two distinct personalities. On the one hand, they are considered wild, ferocious predators. On the other hand, they establish close-knit families and are dedicated to their partners and cubs. Therefore, a wolf tattoo stands for loyalty, strength, and tenacity. Due to their ability to see in the dark, wolves are revered as guardian animals in many cultures. If you possess these traits, a wolf tattoo can be the ideal piece of body art for your forearm.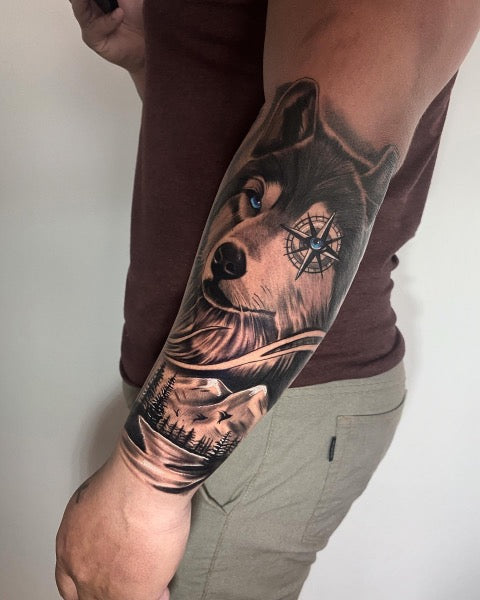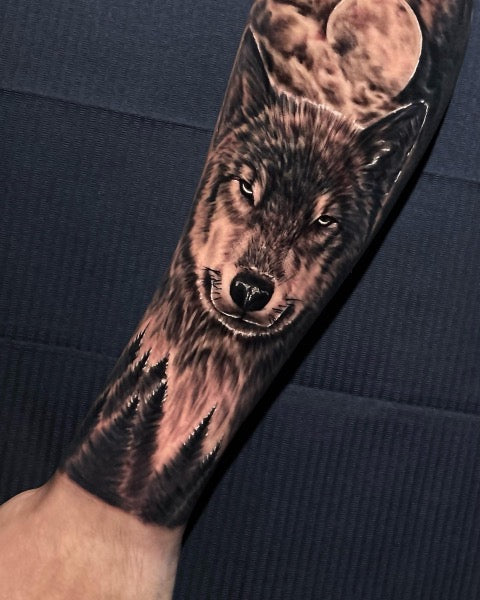 Flag Forearm Tattoo
Those who have served in the Navy, Army, or Air Force frequently have a tattoo of their country's flag. If you come from a military family, you might want to get this tattoo to remember your ancestors. For individuals who wish to express their love for their nation, it is also a good option for a patriotic tattoo. A flag tattoo might be an emotional, permanent reminder of the home if you're away from it.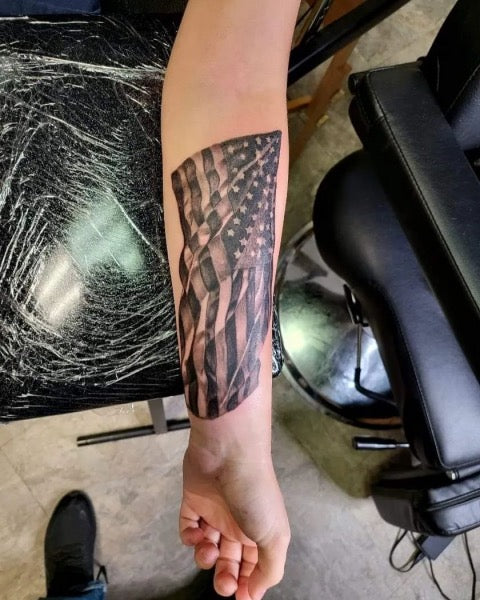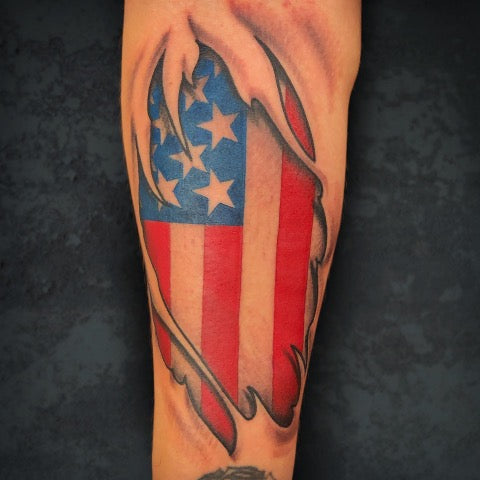 Outer Forearm Tattoo
One of the minor painful areas to get a tattoo is the outside of the forearm. Hence this location is frequently chosen. If you're looking for a tattoo, you can either hide or flaunt, you've found the right spot. Roll your sleeves up or down to get started. The outer forearm is also an accessible area of the body to tattoo, making it perfect for larger, more intricate inkings. Due to their length and thinness, dragons and snake tattoos look fantastic in this location.
Arrow Forearm Tattoo
The arrow symbol has a wide range of meanings. An arrow tattoo signifies progress in life for a lot of people. Arrows can also depict the path leading to a destination. Group tattoos frequently feature the design as well. The explanation is that several arrows are more difficult to break than a single one. Two crossed arrows, which stand for friendliness, are a related pattern. If you are Native American, you may want to consider getting a tribal tattoo to represent your history. Arrows are another Native American emblem. Because of their long, angular, and slender shape, arrows look fantastic on your forearm.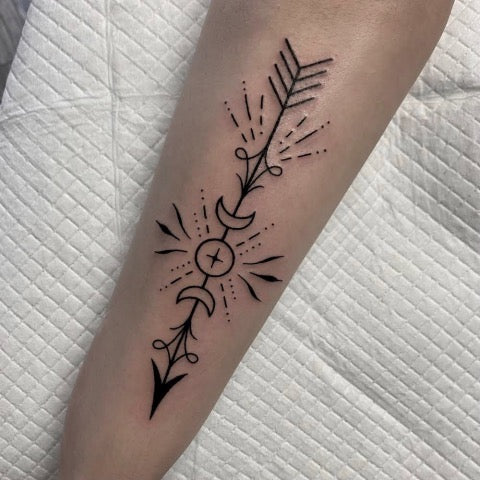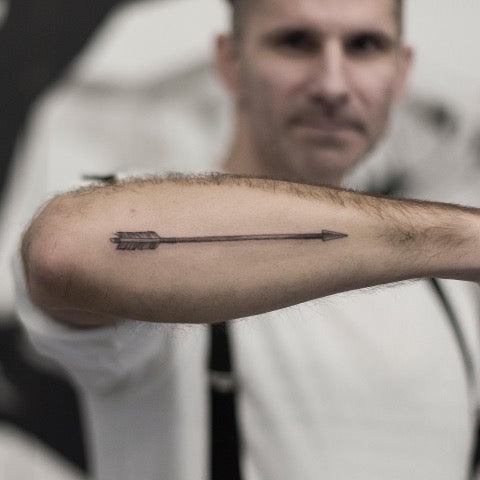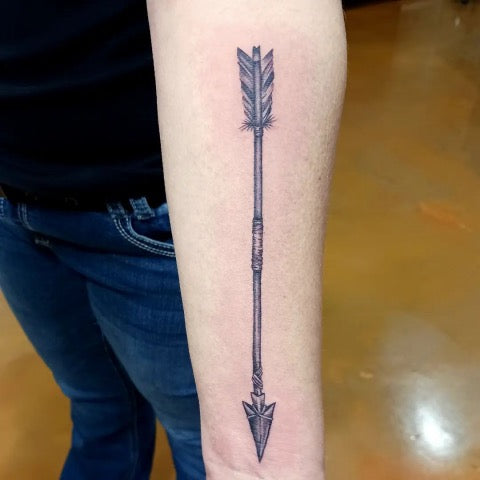 Tree Forearm Tattoo
Because trees can survive for hundreds or even thousands of years, they are a strong and spiritual tattoo design option. Many people view trees as a sign of rebirth because they undergo such drastic seasonal change—from appearing dead in the winter to being covered with foliage in the spring and summer. Animals and humans can find food and shelter in trees. These arguments make tree tattoos a viable option for those who identify with the natural world. There are several possibilities, such as concentrating only on branches or leaves, various tree species, or even an entire forest.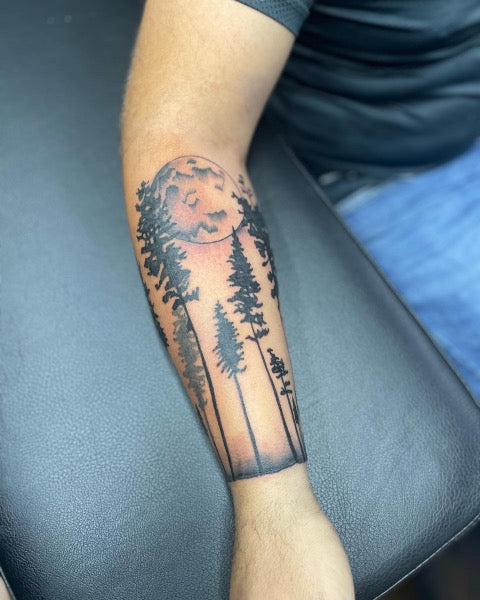 Angel Wing Forearm Tattoo
Angel wing tattoos are linked to independence. They can demonstrate your independence and freedom from a trying period. Additionally, some people select them to stand in for a loved one who has passed away. A good location for a wing tattoo is on your forearm. This is so that the complete shape and complexity of the feathers may be seen. Black ink is typically utilized to give the feathers depth and movement.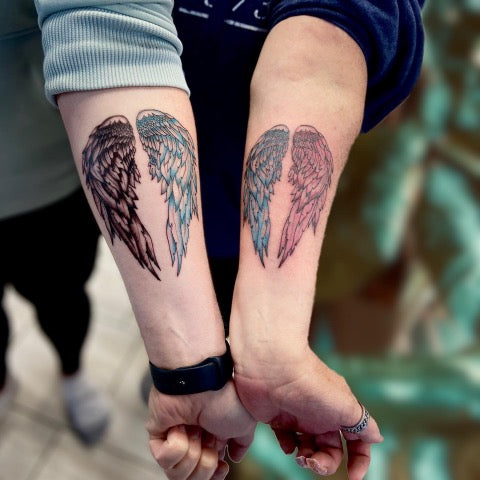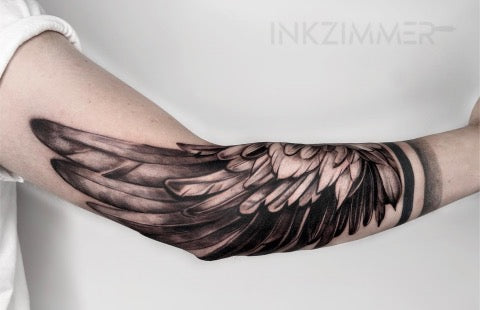 Skull Forearm Tattoo
To this day, skull tattoos remain one of the most popular body art designs. Those with a rebellious or sinister side frequently choose this type of inking. However, not all skulls have to be connected to devastation and death. They symbolize overcoming fears and a reminder to live each day as if it were their last for others. A stylish and striking tattoo can be created by combining skulls with opposing designs such as flowers, anchors, hearts, and pin-up ladies. Crowns can also look creative. Drawings of anatomical skulls, like those created by Leonardo da Vinci, offer a novel spin on the traditional style. Make sure you select a talented artist for this design.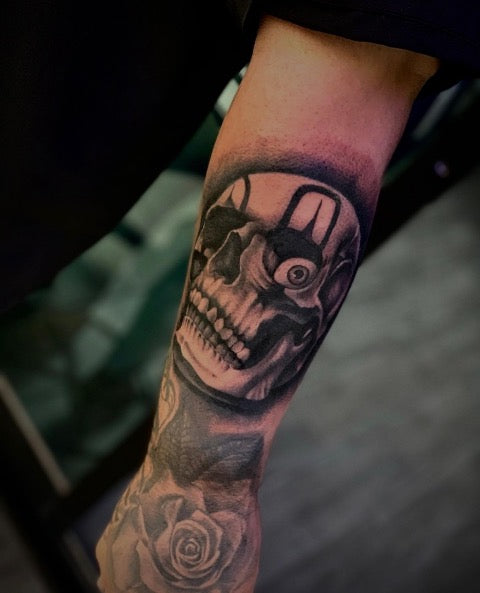 Tiger Forearm Tattoo
For men, tigers are a traditional tattoo design. Tiger tattoos stand for independence, power, and strength because they are apex predators. According to Chinese astrology, people born in the Year of the Tiger are courageous, self-assured, and competitive. The animals also stand for bravery and determination. A forearm tiger tattoo is a terrific way to express any traits you share with the big cat.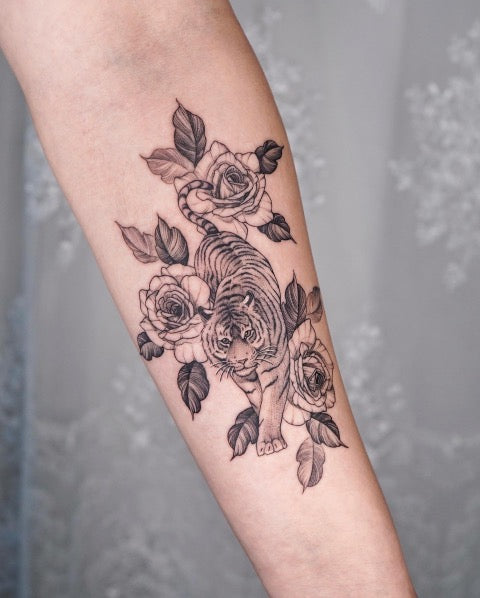 Angel Forearm Tattoo
Angels can represent a variety of things. Many people get this tattoo as a reminder of their guardian angel or a deceased loved one watching over them. Due to their significance in religions like Christianity, they may serve as a spiritual emblem. Angels represent being close to God and the best qualities of human nature in this setting. Another well-liked angel tattoo design is one of the fallen angels. They stand for temptation and negative personality traits.
koi fish tattoo forearm
Because they can thrive in a wide range of water and environmental circumstances, koi fish tattoos have come to symbolize resilience and strength. Koi have a natural inclination to swim upstream. The legends surrounding koi fish reveal a hardy, dedicated, persistent, and successful species.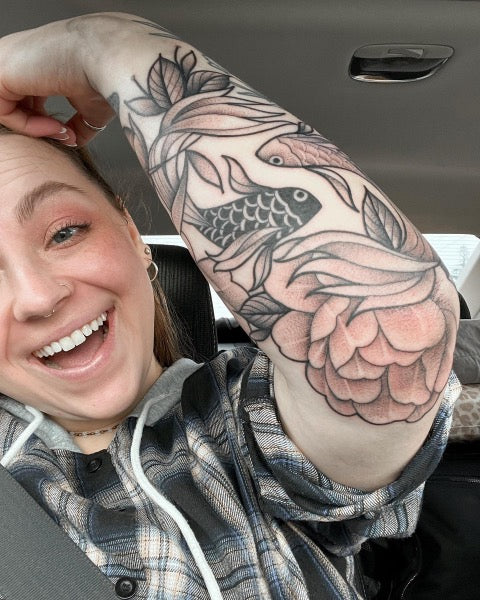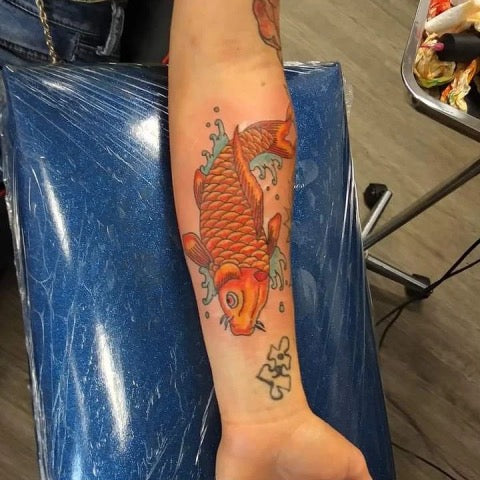 Mandala Forearm Tattoo
The mandala is a Hindu and Buddhist emblem representing peace, equilibrium, eternity, and perfection. The term for a circle in Sanskrit is where the word originates. Because of this, the pattern uses circular patterns or shapes that radiate from a central point. Mandalas and other spiritual Indian art are typical in temples. Getting a mandala tattoo is a way to express your spiritual side. It represents both your ties to the cosmos and age-old knowledge.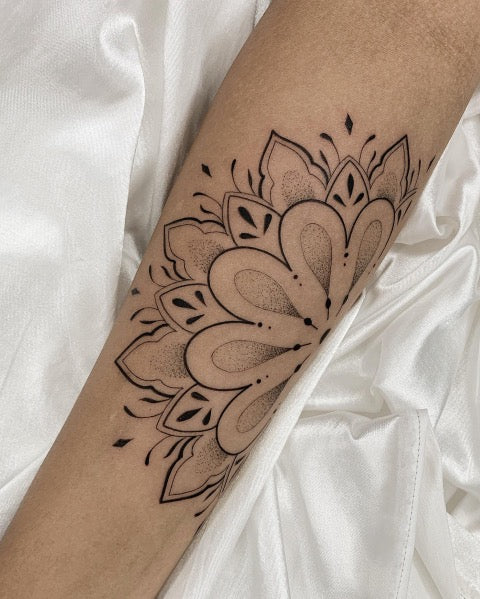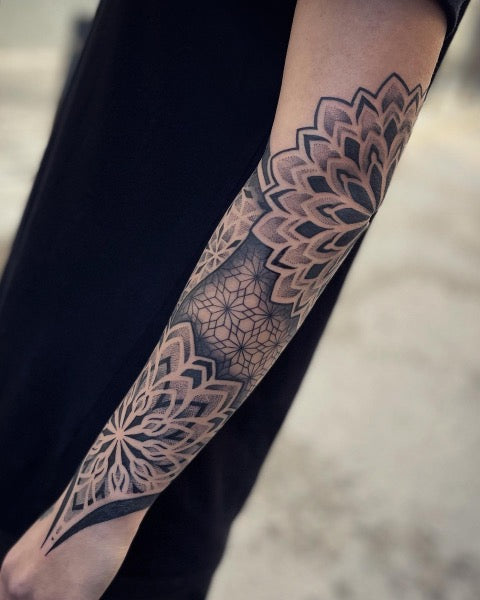 Cloud Forearm Tattoo
A fantastic design for a short forearm tattoo is a cloud. Clouds are frequently associated with the mind, ideas, and emotions since they float in the sky. Cloud design comes in a variety of forms. White clouds, for instance, are frequently employed as a symbol of calm and tranquil times, but black rainclouds are a sign of strife that has gone. Suppose the idea of clouds representing good luck, transition, and transformation appeals to you. In that case, you should look at this artistic movement.
Compass Forearm Tattoo
The compass tattoo is a navigational aid and was formerly famous for sailors. The tattoo's meaning is less literal today. It represents finding your way through life. It is also a fortunate omen. Some people use the image of a compass, which always points north, to symbolize being inspired since "north" represents their state of mind. Others decide to engrave a particular individual's name on the compass's north point. The outcome is a unique tribute to someone who helped you when you were lost.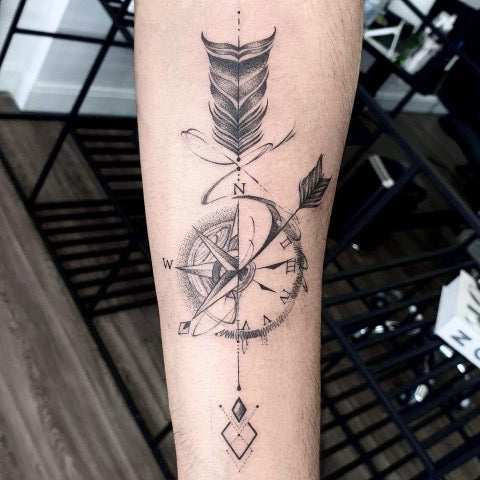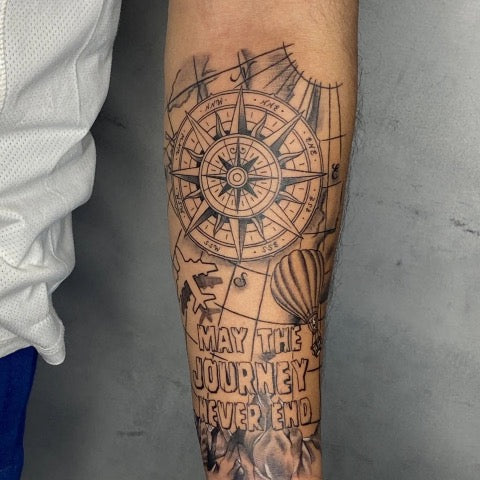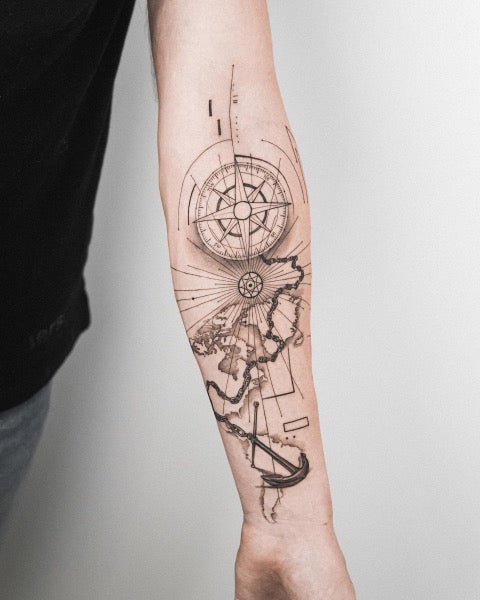 Religious Forearm Tattoo
People of religion frequently acquire tattoos to symbolize their spiritual side and feel linked to a higher force. The tattoo that reads "God is greater than ups and downs" is currently among the most popular. The straightforward geometric pattern is exceptionally subtle. You might only understand its religious importance if you know its meaning. However, it's a striking and emotional illustration and an excellent topic of debate.
Quotes Forearm Tattoo
It would help if you considered getting a quote tattooed on your forearm. This is because there is adequate room to employ more powerful words and phrases. Your favorite movie quotes, music lyrics, or advice expressions can make for an impactful tattoo. Simple letters will make it simpler to read the tattoo when it is done. At the same time, handwriting or cursive letters can offer your artwork a distinctive appearance and enhance its aesthetic quality.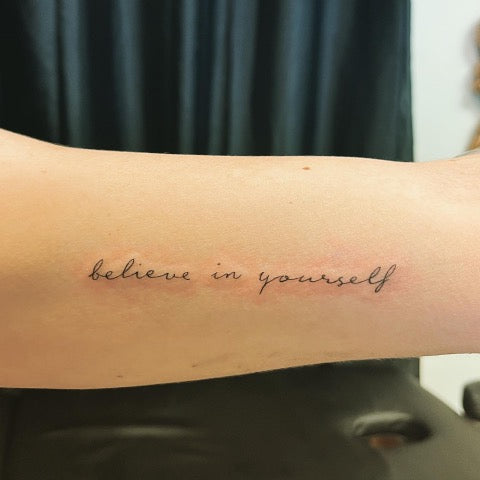 Owl Forearm Tattoo
Tattoos of birds are a common choice for people all around the world. An owl tattoo may be the best choice if you're looking for a distinctive spin on the current fashion. Owls represent wisdom and intelligence, so they would be appropriate for a recent graduate or someone who enjoys learning new things. These birds are nocturnal because of their exceptional night vision. They, therefore, stand for the capacity to overcome adversity or despair. Owls can also be a protective sign that helps you get through trouble.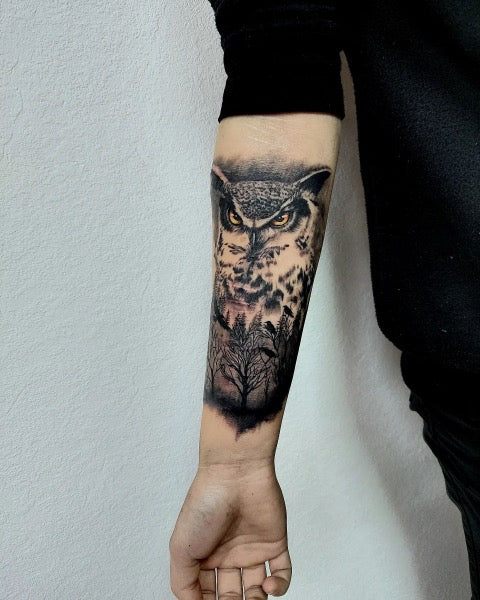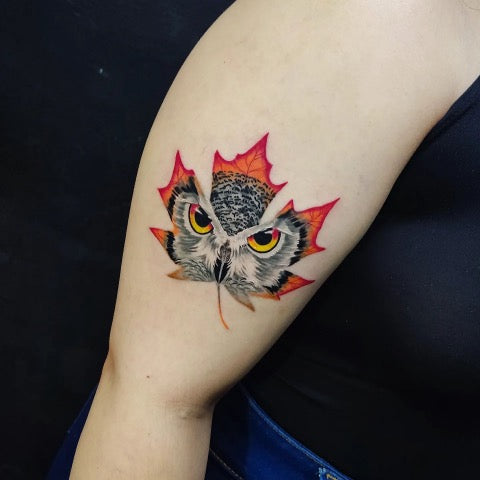 Badass Forearm Tattoo
Every man has a unique conception of what a badass tattoo ought to look like. For other people, abstract shading and patterns are everything. Others give an inking its edge by using weapons like daggers. The only restriction on forearm artwork is your imagination. One choice is to get complementary tattoos on both arms that, when held together, produce a wicked new design. When an animal is paired with its skeleton, a remarkable dualism effect can be made. Selecting a "dark" animal, such as a crow connected to death, can give the design a more horrific feel.
Clock Forearm Tattoo
Clock tattoos frequently depict life itself since they signify the passage of time. We all share the same days and must face death, so clocks symbolize equality. A clock tattoo, however, serves as a reminder to live in the present rather than being pessimistic or gloomy. It serves as a reminder to cherish our time here on Earth. The meaning can also be altered by inking a clock with another tattoo. For instance, clocks symbolize eternal love when paired with roses.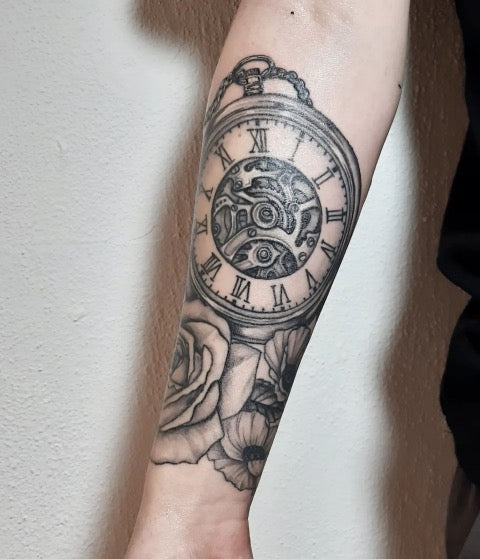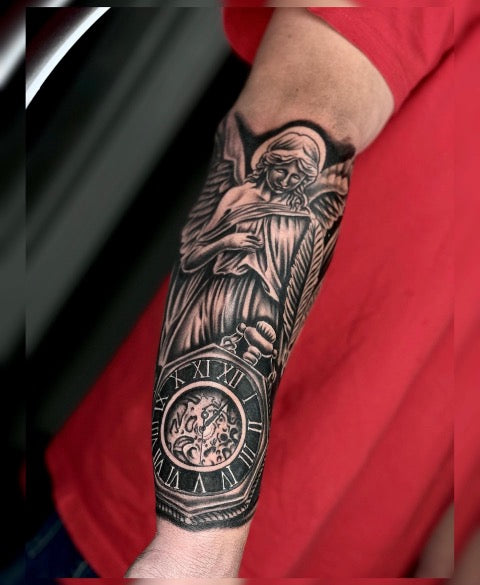 Phoenix Forearm Tattoo
One of the most compelling representations of rebirth and resurrection is the phoenix. The mythological bird is said to perish in a flash of fire before rising from the ashes of old traditions. Because of this, it is getting a phoenix tattoo is a popular design. People with this tattoo have frequently endured great suffering and recovered stronger. It's a unique design that looks good in black ink or color. The phoenix is also the ideal partner for a dragon in Chinese mythology, so getting this tattoo with your partner could be a great idea.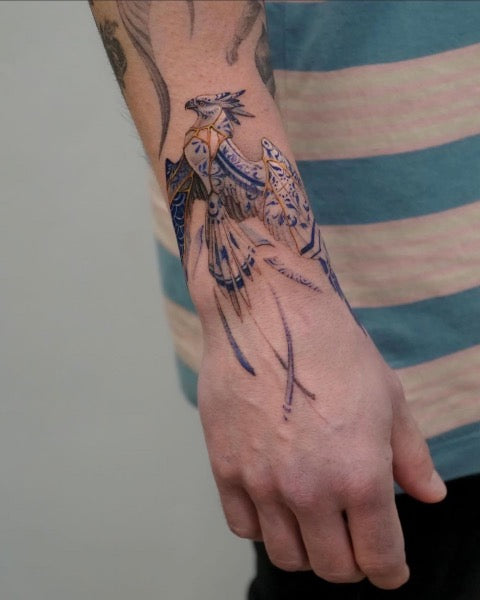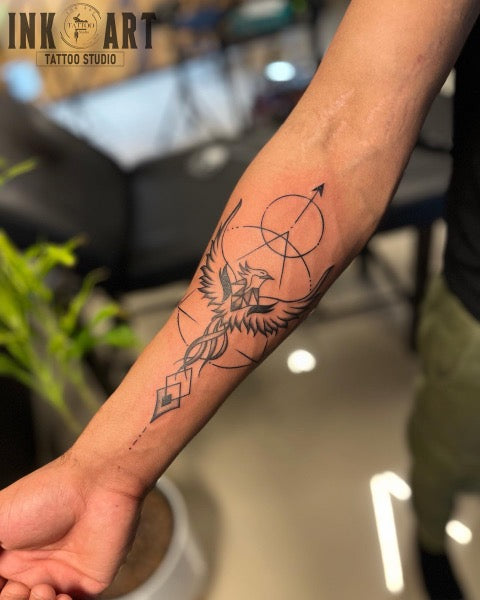 Flame Forearm Tattoo
Those with a wild side may be able to pull off a flame tattoo on their forearm because fire is a potent representation of danger and devastation. Fire isn't necessarily a bad thing, though. It produces damaging bacteria-killing heat, light, and energy essential for living. Because of these characteristics, a flame tattoo is frequently seen as a symbol of change, burning away the "old" to make room for the "new." When coupled with a name tattoo, fire can also stand for lust and passion, which could be used to honor a lover.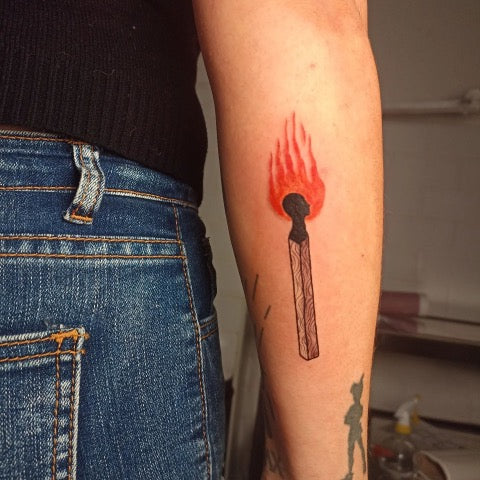 Geometric Forearm Tattoo
For a while now, geometric tattoos have been popular. They complement other tattoo designs with a contemporary and futuristic touch, but they also look great. Although these designs seem straightforward at first glance, closer inspection reveals greater depth and complexity. Because of this, geometric tattoos are a good option for people who seek body art that they will never get tired of. Geometric tattoos can also conceal mathematical and spiritual ideas, making them ideal for those who find these topics fascinating.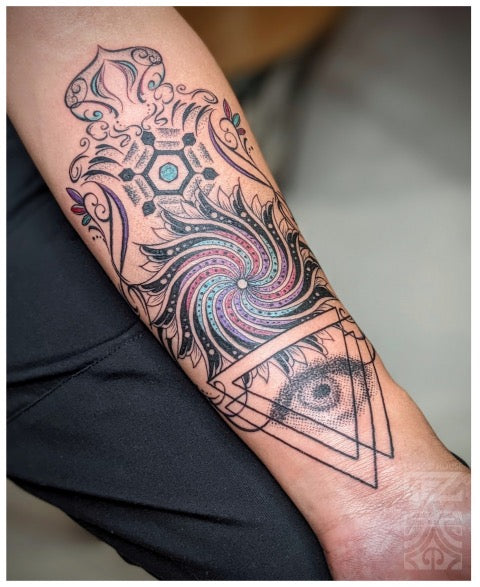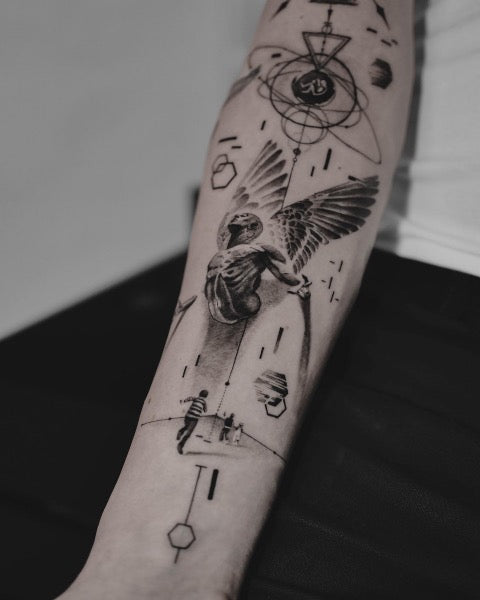 Anchor Forearm Tattoo
As a result of its origins in the sailor tattoo tradition, the anchor tattoo is one of the most traditional and well-known body art designs. Although some people got this tattoo to represent the conclusion of an ocean journey, such as crossing the Atlantic, it also has other connotations. It stands for many people returning to a place of safety, hope, and stability. A bouquet with roses symbolizes a tranquil and peaceful love. Your anchor tattoo can be designed in various ways, all of which look fantastic. Furthermore, this tattooing is generally done on the forearm.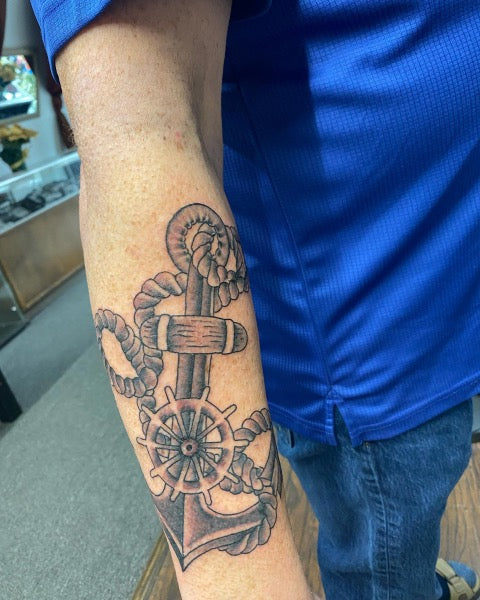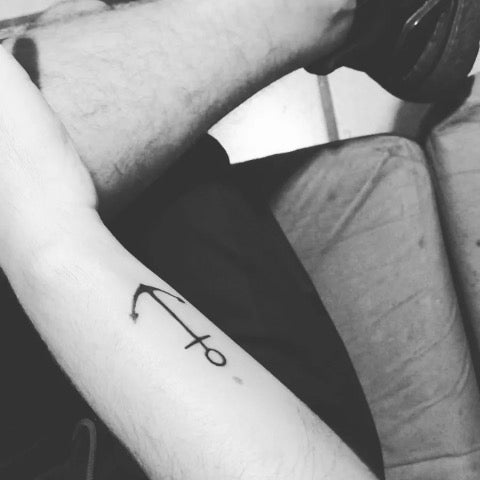 Forearm Tattoos for Men FAQs
Is it a good idea to get a tattoo on the forearm?
Getting a tattoo on your forearm is relatively painless. A forearm tattoo is rather painless, therefore you should get one there if this is your first tattoo. First-time tattoos should go on the fleshy outer forearm.
What are the most popular forearm tattoos for men?
Many forearm tattoos are very popular, cross forearm tattoos, rose forearm tattoos and lion forearm tattoos.
What does a forearm tattoo mean?
Forearm tattoos have several meanings. First off, due to how obvious it is, it might stand for self-assurance and sincerity — putting your heart on your sleeve and not trying to hide anything. You can flaunt it and be proud of your artwork because it's so noticeable. Additionally, it makes it more apparent to you, serving as a daily reminder of the significance of your design.
How can I figure out what kind of tattoos look well on me?
You can try forearm temporary tattoos, we have various fake forearm tattoos to choose. When you want to see whether you like tattoos but don't want to commit permanently, temporary tattoos are the way to go.