Infinity Rose Tattoo
publish time:
The infinity symbol, often known as the lemniscate, is a favorite tattoo design that has been around for a long time. The sign, portrayed as a continuous loop, is linked to a life cycle that never ends.
It carries with it a special meaning for the person who wears it. Understanding the importance of an infinity rose tattoo is the first step before having one.
You might discover a handful of interpretations that fit your personality, or you might find that it doesn't.
Related Knowledge: Want to know what tattoo designs look good on you? Temporary tattoos 🔗 are appealing because it lets you try out body art without the permanent commitment. It is also a fun way to change your appearance or experiment with different placements before taking the plunge and getting inked for real. This is an excellent choice for anyone thinking about getting a tattoo but wants to see how it would look first, or for someone who cannot get inked for whatever reason, including pain tolerance or health problems. The temporary tattoo is also cheap, easy to apply, and lets you express yourself without hassle. Choose from a wide range of symbolic designs or something simple or cute. The choice is yours, so have fun with it. 
Infinity Rose Tattoo Meanings
On their own, a rose tattoo and an infinity sign tattoo have various meanings. They have a variety of meanings when combined, including love and devotion. To comprehend the meaning of an infinite rose, we must first understand the significance of roses and infinity signs in body art.
An infinity symbol is a basic tattoo design that implies boundless or eternal, similar to its shape. It denotes anything that has no end but a wide range of possibilities. Personal symbolism and cultural values can influence the designs. Devotion, rebirth, boundless possibilities, reincarnation, strength, and eternal love are some of the unique meanings connected with infinity tattoos.
A rose tattoo is a representation of beauty, love, and commitment. Because roses are pure, some cultures use them to symbolize virginity. Whatever their significance, roses are unmistakably associated with passion and dedication.
When a rose is merged into an enduring symbol to generate a tattoo, it creates different symbolisms. It could imply any of the following:
The most typical reason for getting an infinity rose tattoo is to convey passion and dedication to a deceased loved one. It demonstrates that you remember them, values the time you spent together, and want to see them again in the hereafter.
This body art expresses your desire for a friendship or an intimate relationship to remain forever in terms of loyalty. Couples can even tattoo eternity roses on their bodies to express their eternal love for one another.
Roses are lovely flowers with a pleasant scent. Getting an infinite rose tattoo is a cute way to show your attractiveness and self-assurance. You can try rose temporary tattoos.
Infinity Rose Tattoo 
What are the Benefits of Infinity Rose Tattoos?
Rose tattoos have grown into more elaborate designs over time. They're worn to show off the wearer's interests. Whether worn on the shoulder or on the sleeve, where it is visible, roses must be viewed and discussed at every stage of their development.
A rose and an infinity symbol symbolize the level of passion in your relationship or friendship. As a result, it's a great reminder for folks who have lost someone special that they are still loved and that whatever relationship they had was important to them.
Infinity Rose tattoos are also popular because no other body art expresses the fleeting aspect of life better than roses. Flowers mature to the point that they bud, bloom, then die after a brief time. Infinity rose tattoos represent the infinite pattern of birth, and life in this context.
Roses have long been regarded as timeless symbols of beauty. As a result, they are frequently utilized to demonstrate the perpetual beauty of nature all around us.
For Whom is the Infinity Rose Tattoo Designed?
An infinity rose tattoo is appropriate for someone optimistic, open to new possibilities, and appreciates the beauty of life. Nature, love, friendship, and commitment are all examples of this. Building and maintaining a relationship takes a lot of work. Once it's established, you'll have an attachment you won't want to let go of. Tattooing such body art demonstrates how much you love your relationship and want it to endure a lifetime.
It's the same thing as losing someone you care about. This tattoo will symbolize your eternal affection and passion for the person and the eternal nature of existence. It allows you to believe in life even after you've died. You will never forget the dear person who has passed away because they will always be with you and return frequently.
This is one of the best tattoo options for you if you dare to get a symbol of love imprinted on your body. This tattoo makes a strong impression. When you wear it on a visible part of your body, it brings you joy every time you look at it.
The Most Appropriate Location for an Infinity Rose Tattoo
The location of a tattoo is critical. An eternity rose is a modest, basic tattoo worn in many body regions, depending on your personality. However, the optimum location is on your chest, near your heart. This is where love resides. Its symbolism of love and passion is well-received.
It's also a good idea to draw it from the back. It can be hidden or widely exhibited depending on how much clothing you wear.
If you're brave, you can have this tat etched on your arm or leg to be visible. It demonstrates to the rest of the world that you are a dreamer who sees limitless possibilities in life. 
Infinity Rose Tattoo Design and Ideas
Infinity Black Rose Tattoo
Image Source: instagram

Infinity Blue Rose Tattoo
Image Source: instagram

Minimalist Infinity Rose Tattoo
Image Source: instagram

Infinity Red Rose Tattoo
Image Source: instagram

Infinity Rose Feather Tattoo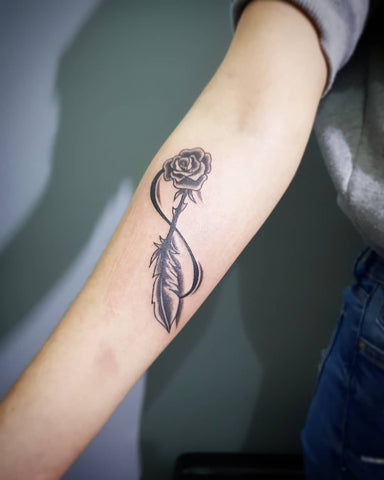 Image Source: instagram

Infinity Pink Rose Tattoo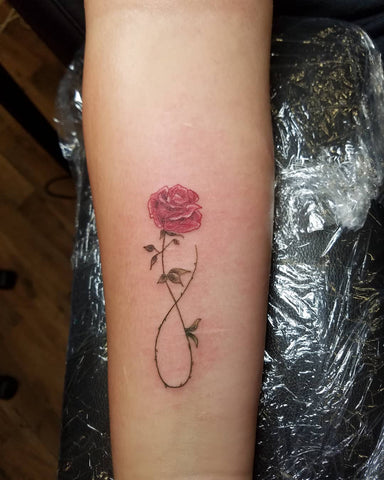 Image Source: instagram 
Conclusion
Infinity Rose tattoos serve as a constant reminder that life is brief and that you should savor every minute. It demonstrates that every day is a chance for a new beginning. This is an excellent body art choice if you want to enhance your relationship with someone in a more meaningful way. You can try temporary tattoos before ink. 
 Flower temporary tattoos
Related Posts
Rose Tattoos Complete Guide: Meanings Designs and Ideas