Lily of the Valley Tattoo
This article provides some stunning illustrations of lily of the valley tattoo designs. Admire the fantastic variety while learning a little about the tattoos' meanings and symbols.
Lily of the Valley Tattoo Meaning
The symbolism behind The lily of the valley tattoo design is frequently interpreted as a symbol of innocence or purity. It can also stand for hope or fresh starts. A lily tattoo may represent the return of a loved one for specific individuals. People who have gone through a terrible experience and are yearning for hope and fresh starts frequently choose lily blossom tattoos. The symbolism might also be interpreted as a representation of rebirth.
Christianity is also connected to the lily of the valley. It's frequently used as a representation of Jesus' resurrection. It can also stand for purity or the Holy Spirit. This tattoo is popular among Christian couples as a reminder of their devotion to one another and their shared religion.
Lily of the valley tattoo is a common depiction of maternity. Ideas for lily tattoo designs are frequently linked to the Virgin Mary. Additionally, it stands for a mother's support and affection throughout her child's life. This tattoo can symbolize the mother's memories and heavenly eternal existence for individuals who have lost their mother. To represent looking down from heaven on their loved ones below, some ladies opt to have it in the form of an angel wing or dove tattoo.
The lily of the valley is frequently used for protection in several cultures. Silver flowers were commonly displayed in windows in Asian culture as a deterrent against evil spirits. The Chinese inked lilies on their bodies to bring luck into their life. It was seen as a symbol of innocence and beauty. Two qualities people desired to emulate at the time.
The flower is frequently connected with a Celtic pattern. It was believed to bring luck and wealth. This tattoo may evoke sentimental recollections of the past and cherished family customs for individuals of Irish origin. It is occasionally coupled with other Celtic symbols, like the shamrock or the trinity knot.
A mother's pledge to her kid that she would always be present as they grow up is another interpretation of the lily of the valley tattoo design. Some individuals may have selected this pattern because they lost their mother or grandma too soon in life and want to honour her through body art.
This tattoo can have a special meaning for some people. For instance, some people continuously attempting to reform themselves might use this design to remind themselves that no matter what life throws at them, they are still pure (symbolizes purity) and innocent (virtue). It can also be viewed as a sign of hope under trying circumstances.
Anyone looking for a tattoo with special meaning will find the lily flower tattoo designs lovely and meaningful. It may be used in various ways, making it ideal for everyone. This tattoo will indeed move your heart no matter your story.
Related Knowledge: Want to know what tattoo designs look good on you? Temporary tattoos 🔗 are appealing because it lets you try out body art without the permanent commitment. It is also a fun way to change your appearance or experiment with different placements before taking the plunge and getting inked for real. This is an excellent choice for anyone thinking about getting a tattoo but wants to see how it would look first, or for someone who cannot get inked for whatever reason, including pain tolerance or health problems. The temporary tattoo is also cheap, easy to apply, and lets you express yourself without hassle. Choose from a wide range of symbolic flower temporary tattoos, animal temporary tattoos, full arm sleeve temporary tattoos or something simple or cute. The choice is yours, so have fun with it. 
Lily of the Valley Features
One of the rare flowers that release a scent in the morning is the beautiful lily of the valley, which makes it exceptional. The exquisite aroma of the lily of the valley can be appreciated in the early morning hours, as opposed to the evening or late night when many other flowers release their fragrance. Its delicate white blossoms are lovely and a lovely addition to any yard.
The lily of the valley flower was previously employed as natural medicine, which is interesting. It was believed to be a successful treatment for several conditions, including anxiety and cardiac issues. Even though there is no scientific proof to support this claim, it is noteworthy to remember that this flower was initially believed to have therapeutic qualities.
The lovely lily blossom can stand for purity, innocence, and fresh starts. They are frequently used as a symbol of these things at weddings. White lilies are also used to symbolize lost loved ones. Hence they can also be connected to death and funerals. They are a potent choice for floral arrangements due to their dual connotation. Lilies are typically regarded as a symbol of joy and hope.
They remain a popular option for several various events as a result. Grab a bouquet of lilies when you want to convey a message of new beginnings and hope. Nothing can go wrong.
Flower Tattoo Symbolism
Flowers have evolved to represent a variety of things in tattoo designs. They can stand for many things, including love, hope, purity, and fresh starts. A tattoo of a flower can also serve as a representation of several seasons, such as winter or summer blossoms. They can also stand in for various facets of life, like birth and death. Each person's interpretation will ultimately determine the significance of a floral tattoo.
Because they adore the way flowers look, some people may decide to have lovely flower tattoos. Because of its meaning, some people might choose to have a delicate flower tattoo. Whatever the motivation behind a person's decision to get a flower tattoo will undoubtedly be a lovely and significant addition to their body art collection.
Do your homework and discover a flower tattoo design that speaks to you if you consider getting one. Flowers come in various sizes and shapes, so you can find a plan that matches your preferences and aesthetics. It's time to visit the tattoo artist and begin once you've picked the ideal floral tattoo.
Lily of the Valley Tattoo Design
minimalist lily of the valley tattoo

lily of the valley bouquet tattoo

small lily of the valley tattoo

lily of the valley tattoo watercolor

chrysanthemum and lily of the valley tattoo

daisy and lily of the valley tattoo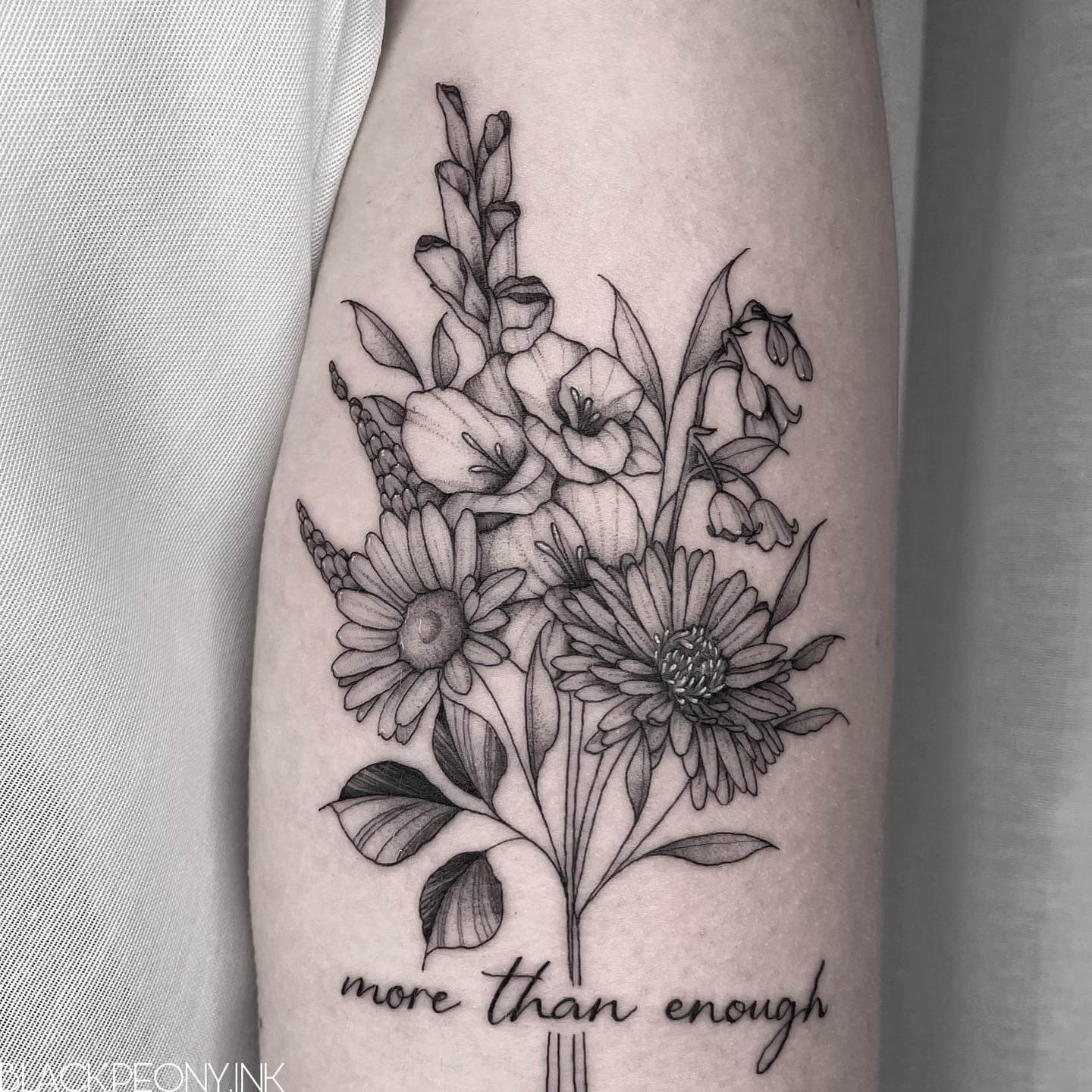 Related Posts
Related Products