110+ Mandala Tattoo Meanings Designs and Ideas
publish time:
Mandala Tattoo Meaning
A mandala flower represents what? These mandala tattoo are lovely because they work well with various forms, including those of nature and animals. However, one of the most well-known and adaptable motifs is a flower. It can be inked by both men and women and is linked to awakening, development, and transformation. The flower can be used as a filler for a larger piece, go along with a mandala design, or be shaped like a mandala. Your selected bloom becomes visually arresting and significant when a mandala flower is added as a finishing touch.
Additionally, any size may be used for the artwork. Mandala tattoos are a statement piece, but employing these holy symbols without fully comprehending their meaning is debatable. Read on to discover the top suggestions.
Some common meanings attributed to mandala tattoos include:
Spiritual Enlightenment: The mandala can be seen as a cosmic diagram that guides individuals along the spiritual path to enlightenment.
Unity and Harmony: The circular, symmetrical design symbolizes the balance and unity of the universe and one's life.
Healing and Meditation: Mandalas have been used in meditation practices as a tool for focusing and calming the mind. A mandala tattoo might symbolize a person's personal growth or healing journey.
Femininity: The circle is often associated with feminine qualities, and some women may choose a mandala tattoo to symbolize their own feminine power and grace.
The specific meaning of a mandala tattoo can vary widely, depending on its design and the individual who wears it. It can be a highly personal symbol that reflects a person's beliefs, values, or personal story.
Related Knowledge: Temporary tattoos are tattoo stickers that can be applied to the skin for a brief period. The appeal of temporary tattoos is that they allow you to experiment with body art without committing permanently. Before deciding to get tattoos for real, it's a fun opportunity to experiment with different placements or change the way you look. This is an excellent option for anyone considering having a tattoo but wanting to see how it might appear beforehand and for those who cannot get inked due to various reasons, such as pain tolerance or health issues. Additionally, it is inexpensive, simple to use, and allows you to express yourself freely. Pick from a variety of mandala temporary tattoo designs or something straightforward or adorable. Enjoy making your decision; it's your choice.
Mandala Tattoo Designs and Ideas
Lotus Flower Mandala Tattoo
A lotus flower tattoo is even more stunning in a mandala pattern since it stands for development, enlightenment, and beauty—combining a mandala's association with balance, harmony, eternity, and perfection results in a beautiful and profoundly symbolic sculpture. The lotus is frequently used as a symbol of tenacity and power. It might serve as a reminder to live even when circumstances appear difficult or unattainable. This is because despite the flower growing in conditions that many of us would consider unfavorable, it nevertheless manages to emerge from the murky waters. Your piece's location will depend on how large and intricate you want it to be. The back is an excellent site for people who desire a considerable design. Still, the wrist or arm is perfect for smaller tattoos.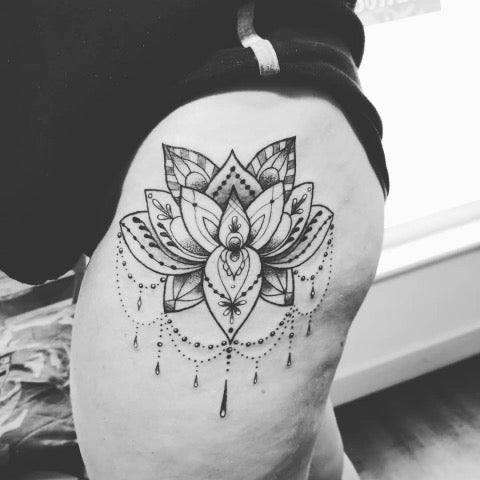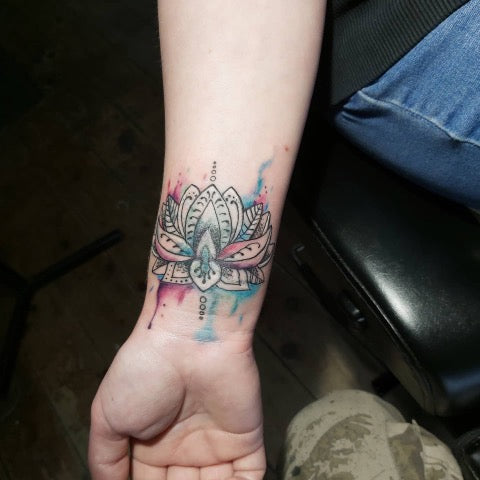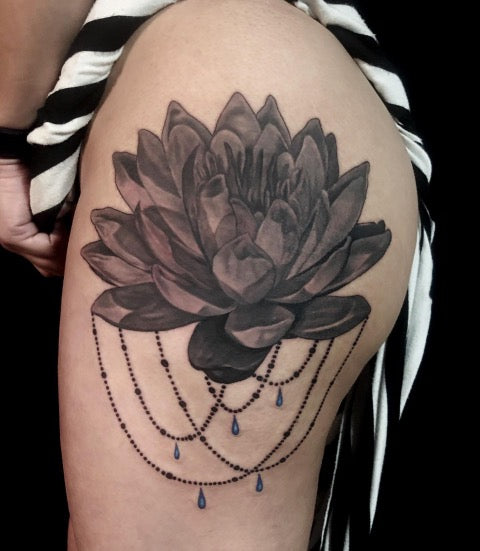 Mandala hand tattoo
In many civilizations, the mandala is a significant spiritual emblem. It frequently evokes images of harmony and perfection. This pattern may be interpreted in various ways, adding to the wearer's individuality. Depending on your preferences and the tattoo you choose, there are numerous other places to get inked, but the hand is unquestionably one of the most obvious. Because they are difficult to ignore, hand tattoos are daring and make a statement. This is not an option for individuals who love body art that can be covered up. Look no further if you want something edgy and hip. Due to the thin skin and dense concentration of nerve endings, the ink will hurt here.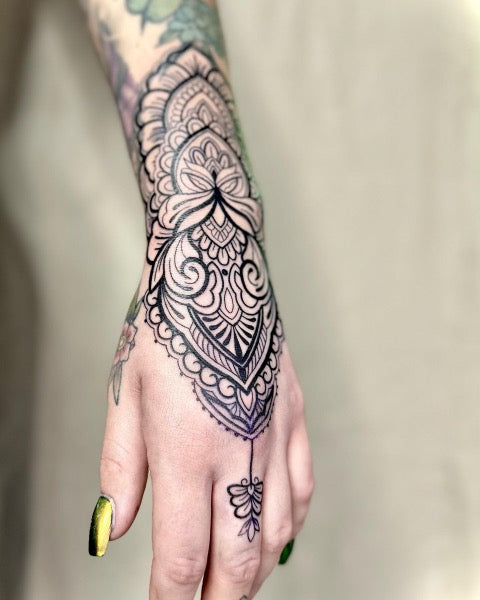 Mandala Shoulder Tattoo
A shoulder tattoo is one of the most incredible designs for both men and women. The fact that this spot is low on the pain scale makes it enticing; the closer you get to the collarbone or shoulder blade, the more significant pain you'll feel. It is also simple to hide or flaunt. Depending on your chosen design, the region may appear masculine or feminine. It is one of the places on the body that flatters the most and is less prone to stretching than other places. Additionally, tattoos on the shoulder rarely fade as quickly as those on the hand or foot, which are constantly exposed and used. The shoulder will benefit from the mandala's form.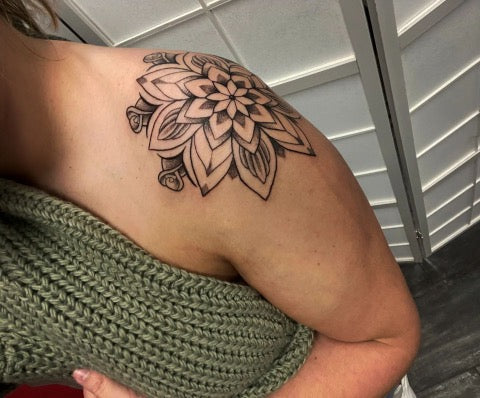 Mandala forearm tattoo
You may choose who sees your body art and when because it can be displayed or covered up on the forearm. This is one of the most significant locations to get a tattoo, whether it's your first or tenth. This is excellent for anyone who works in a corporate setting and desires a design they can view daily to remind them of its significance constantly. The mandala is a lovely and meaningful choice for body art, which makes it very alluring. There are various possibilities, each with a somewhat different meaning, such as artwork with animal inspiration or a flower design. The minimal discomfort of a forearm tattoo is another benefit. The area's muscle, fat, and thick skin are to blame for this. Here, both fine detail and tiny inking look fantastic.
Mandala Thigh Tattoo
In addition to being significant and sacred to many, mandalas have inspired numerous others to explore different shapes and imagery. Mandalas can be drawn in any size according to personal desire and pain tolerance. A thigh tattoo is one of the ideal locations for people who prefer more elaborate designs. This is an excellent placement since it rates low on the scale of tattoo pain, and the appropriate method may look amazing here. You will feel more incredible pain closer to your hip bone or inner thigh. Suppose you want to get a tattoo that involves a lot of color or complexity. In that case, the thick skin and muscles give some cushioning. Additionally, a thigh tattoo is easy to hide or flaunt.
Mandala Back Tattoo
Extensive and intricate patterns look great on the back as a tattoo. You may pick a group of mandalas that come together to make a captivating design. Or select a single, substantial piece that sits in the middle of your back. There are numerous options available when choosing the ideal ink for you, and the back is one of the most desirable areas. It has muscle and fat, which act as cushions, so it is low on the pain scale; however, the closer you tattoo to the spine, shoulder blades, or hip bone, the more pain you will feel. Some believe this is unnecessary because you can only sometimes view your artwork. After all, the meaning is the same. It suffices to have a work that inspires you to think about balance, harmony, and perfection and gives you a sense of unity with the cosmos.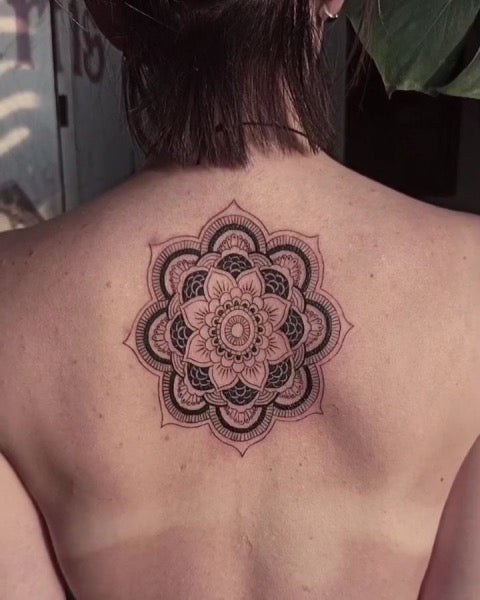 Mandala Sleeve Tattoo
A sleeve tattoo is an option if you want a stunning work of art permanently etched into your flesh. When you display these pieces, it might be challenging to ignore them because they span the entire arm, all the way down to the wrist. This choice is not as severely constricted as getting a tattoo on your hand or face because it may be concealed by clothing. A sleeve requires several hours to finish, but it is a fantastic method to express oneself and share a narrative. They frequently go nicely with a theme but look amazing with mandalas and other patterned motifs. Even though they are expensive and time-consuming, sleeve tattoos are stunning.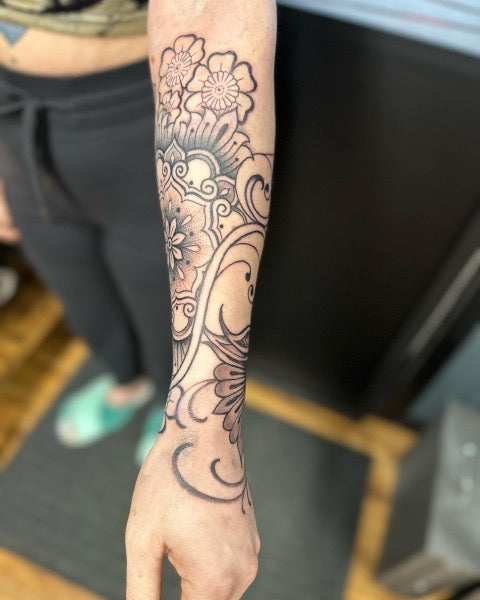 Half Sleeve Mandala Tattoo
A half-sleeve is ideal if you want a complex design but want to avoid having it inked all over your arm. In addition, it is a less invasive and expensive alternative to a complete sleeve. Additionally, it is more adaptable since it is simpler to conceal, particularly if you only tattoo the top portion of the arm. A half sleeve tattoo may convey a narrative and be a means for you to express yourself via body art. These items frequently function best when they adhere to a theme, like floral or aquatic life. For mandalas, this may be a collection of various patterns or floral designs that are soothing to look at and give you a sense of peace and tranquility.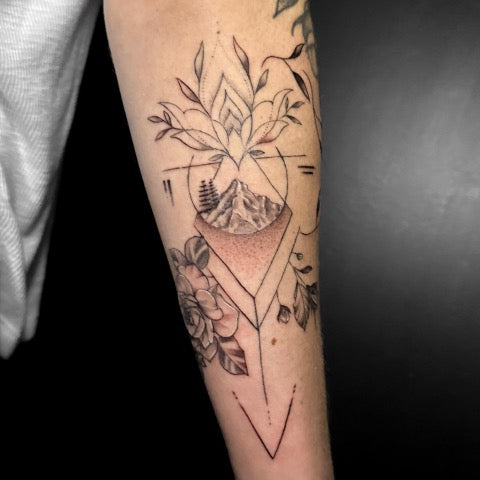 Mandala Foot Tattoo
One of the most adaptable locations for body art is the foot. While your item can reach up to your ankle and leg and is large enough to include intricacy, simple, delicate motifs can look fantastic in this setting. Additionally, it is simple to conceal and ideal for people who wish to keep their tattoos under wraps. Even though the thin skin, lack of muscle and fat, and proximity to the bone make foot tattoos painful, they are nevertheless one of the most popular places for both men and women to get tattooed. However, you should consider the healing period since you won't be able to wear socks or shoes for a few days after getting a tattoo; this might irritate the area and raise the possibility of infection. Due to friction and exposure, the ink tends to fade quickly in this area.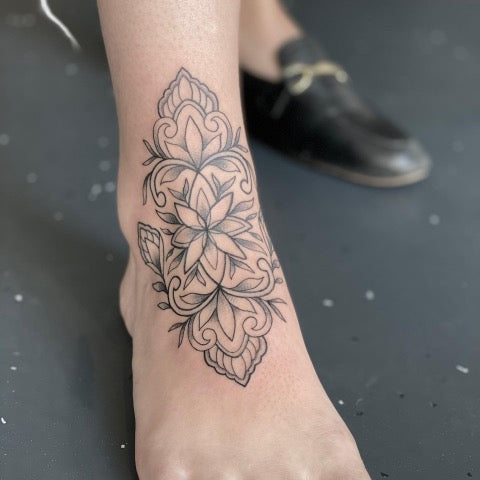 Mandala Neck Tattoo
Only people who are okay with the attention that comes with getting a mandala neck tattoo should get one; it's unsuitable for people who wish to blend in. The area used to be designated for gangsters, criminals, and people on the periphery of society, but it is now a trendy spot. Although you may conceal your piece with the proper attire and accessories, it is often difficult to overlook and may hurt your job chances; this is something to bear in mind if you work in a conservative workplace. Neck tattoos are painful, but this is the best choice if you're edgy and courageous.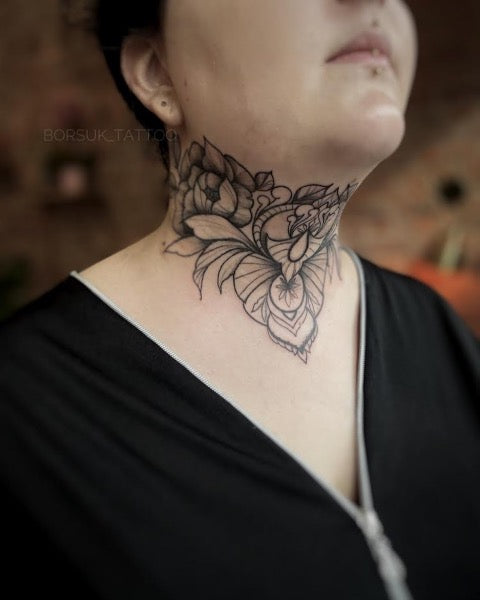 Mandala finger tattoo
If you want to seem fashionable and chic, finger tattoos are a great choice. Due to their exposure, they might have a rebellious vibe, which may appeal to some people. It makes a statement and frequently serves as a discussion starter because there is no way to conceal body art inked here. Due to the limited space, Mandala designs can only be tattooed in small sizes. If you want to add even more depth to your body art, consider getting your hand and wrist tattooed. Alternatively, you might have an inside finger tattoo to keep it simple and under wraps. You should be aware that exposure to the sun and frequent use cause finger tattoos to fade more quickly. Due to the dense concentration of nerve endings and thin skin, they are also painful.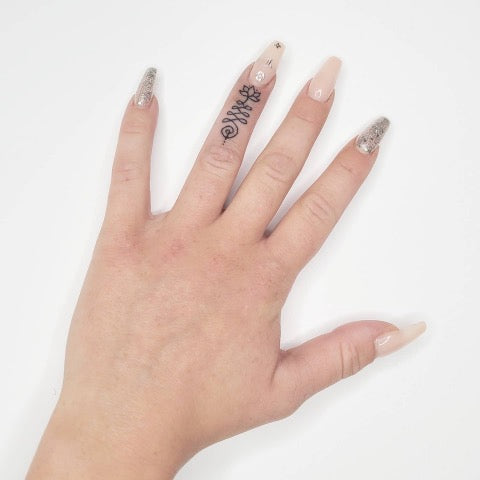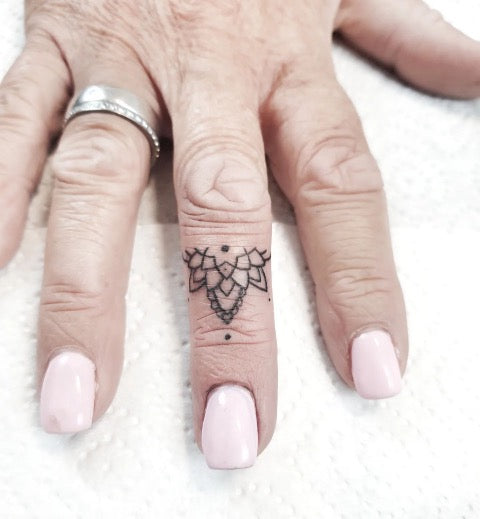 Mandala ankle tattoo
Women love ankle tattoos because they seem attractive and feminine. This does not imply that guys can't get inked here; the mandala pattern is adaptable; nonetheless, women generally prefer getting tattoos on their ankles. Your artwork can appear delicate and works well for designs that wrap around the foot and ankle or are inked upward or downward. A mandala medallion-adorned jewelry item, for instance. Due to the thin skin, proximity to bones, lack of muscle and fat, and discomfort from body art, this area is desirable since it is simple to conceal. Alternatively, you might constantly look at your tattoo as a reminder of your original motivation for getting it.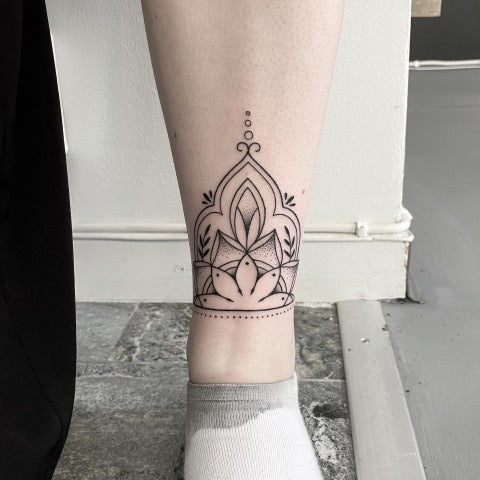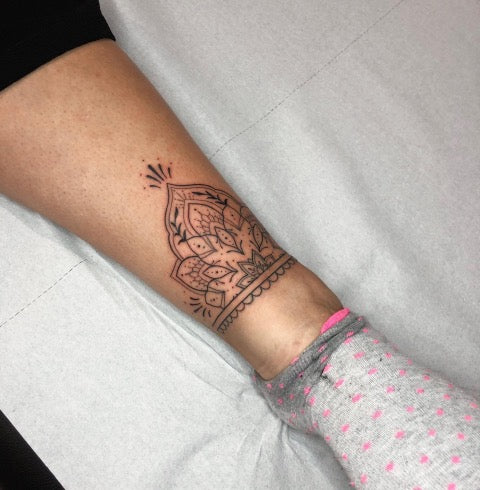 Mandala Knee Tattoo
Mandala is the Sanskrit word for circle. While it has inspired a wide range of artwork in many sizes and forms, the knee is an excellent place to keep with the typical circular pattern. Because they hurt, knee tattoos are not the most common designs. This area is regarded as high on the pain scale because of its closeness to the bone and sensitivity, regardless of whether you are getting inked on the top, side, or beneath. The kneecap, however, is the most painful of them all. If you can put up with the discomfort, this is a desirable spot since it can be easily covered up or shown, and your ink will make a bold statement.
Mandala Chest Tattoo
Because they are so near your heart, chest tattoos are excellent for inkings that are precious to you. A good alternative for the chest, which will serve much more than ornamental functions, is to get tattooed with a mandala or a pattern inspired by one. Intricate and artistic, the mandala also illuminates thoughts of perfection and introspection. It could be a practical choice. Tattooing the chest might be unpleasant, but for some, it's a way to express their admiration for mandala designs. More conservative individuals find the region appealing since it frequently has less muscle and fat and is close to the bone. Still, you may cover it up or reveal it anytime you choose.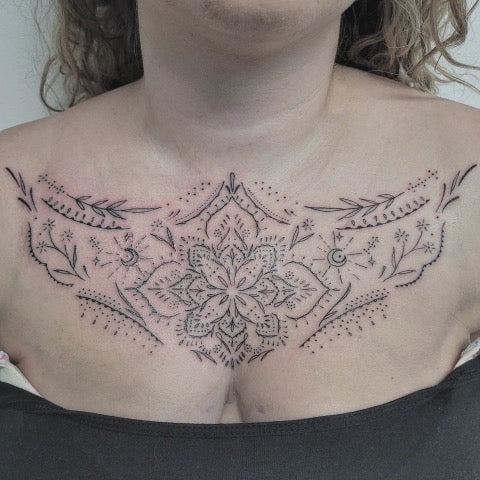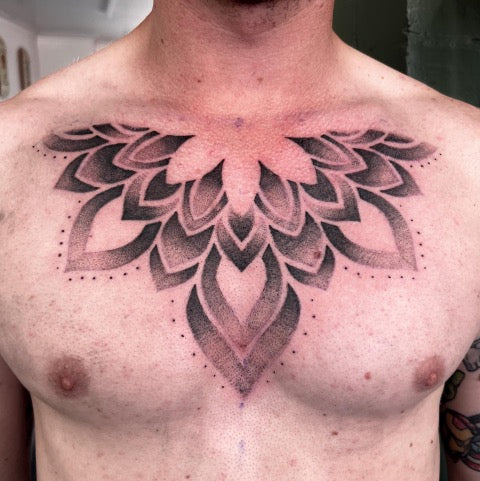 Mandala Collarbone Tattoo
The collarbone is the best option if you are a confident person searching for a prominent yet functional location. Tattoos on the collarbone are fantastic, yet painful. This is because you are tattooing over bone, where there is thin skin, little fat, and little muscle. Your level of pain tolerance, intricacy, and the size of the pattern you choose—even though most of these pieces are relatively small—will all affect how uncomfortable you feel. The decision is yours to have a mandala tattooed right over your collarbone or slightly below or above it. You won't be restricted if you work in a conservative setting because the region is easy to hide with clothing. Or perhaps you just don't want the world to see your tattoo.
Mandala wrist tattoo
The wrist is one of the best places to get inked. The ideal designs for this little space are simple or smaller ones that you can gaze at daily to remind yourself of their significance. The wrist is flexible since it may be readily covered while still being displayed. You can experiment with other positions, such as on the side or the inside of the wrist. The mandala is sometimes used as decoration, but it should also be a significant tattoo design. Despite all of this piece's advantages, one drawback is pain. Due to the fragile skin and lack of muscle and fat, the artwork tends to sting.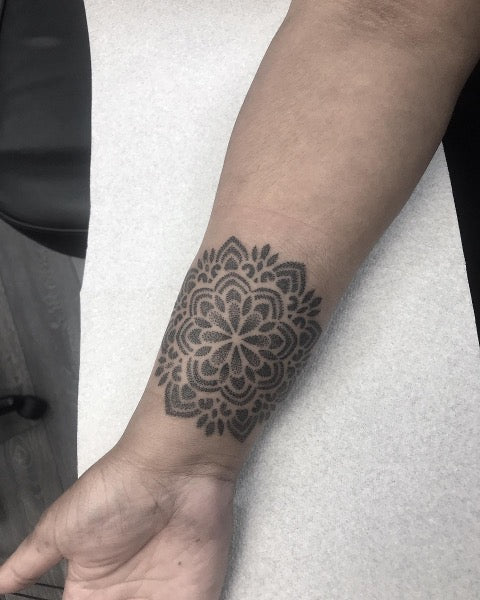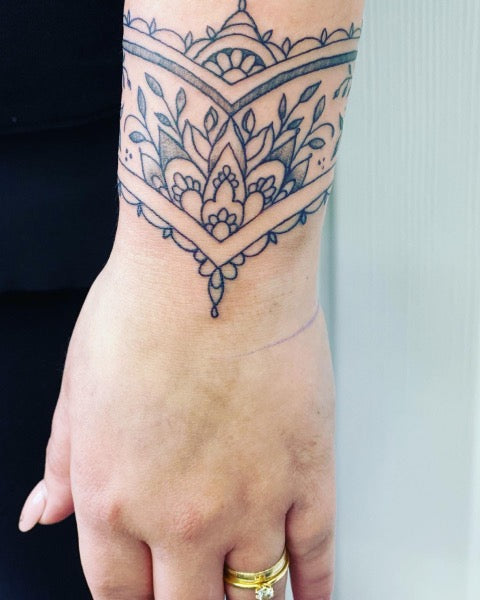 Mandala Sternum Tattoo
Because it is inscribed above your heart, the sternum is an excellent place for this. Because getting tattooed here hurts, this area should only be used for items that have particular importance to you. Sternum tattoos are uncomfortable because of the thin skin, absence of muscle and fat, and closeness to the bone. Designs on these may be covered up and serve as a beautiful monument to someone or a helpful reminder of your values. You might include more elements to make your mandala more distinctive and personalized. To increase the meaning, think of a clever way to add a name or transform it into your favorite animal. It is crucial to remember that you cannot wear your bra for a few days while it heals if you are a woman getting a tattoo here.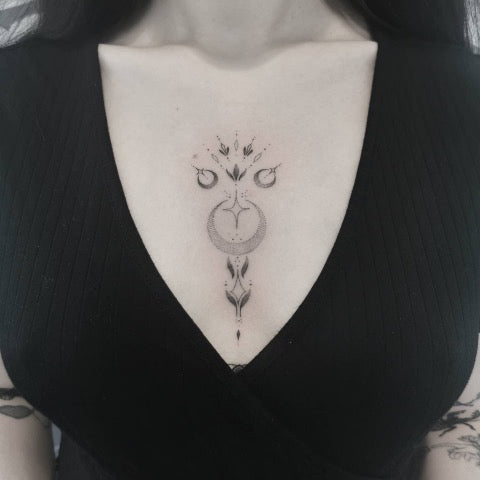 Mandala hip tattoo
Body painting here is more personal because the hip is one of the cool regions of the human form and isn't frequently exposed. If you're considering getting inked, you might be tempted by a hip tattoo. The area's appeal is that it provides ample enough space for something complex while also functioning well with straightforward designs. The main disadvantage is the intense discomfort often associated with getting a tattoo. Because of its proximity to the bone, the skin surrounding the hip is thin and sensitive, especially if you have less body fat. The mandala's form is beautiful in this location, but you might also add a piece with a floral or natural theme to it.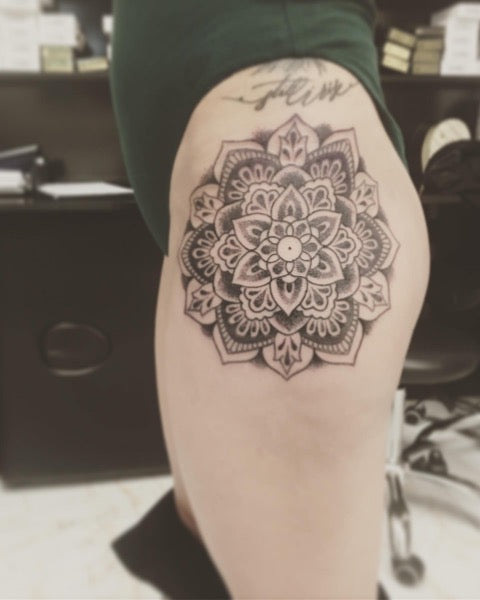 Mandala Face Tattoo
The face is one of the most audacious placements. When it comes to body art, many individuals are drawn to adaptable areas that may be covered up or displayed as desired. This may be because your tattoo's design is unique to you and you wish to keep it hidden, or it might be because tattoos still carry a negative connotation. You are a risk-taker and don't give a damn what other people think about your getting a mandala facial tattoo. Here, tattoos may seem fierce and be political statements. Because of the thin skin and abundance of nerve endings, it can also be excruciating. Please give getting inked here some serious thought, as it can affect your employment prospects.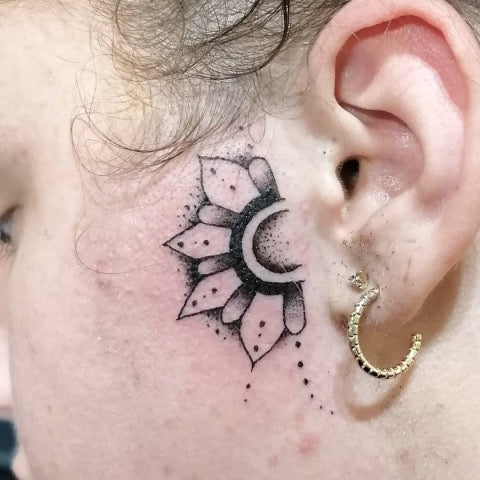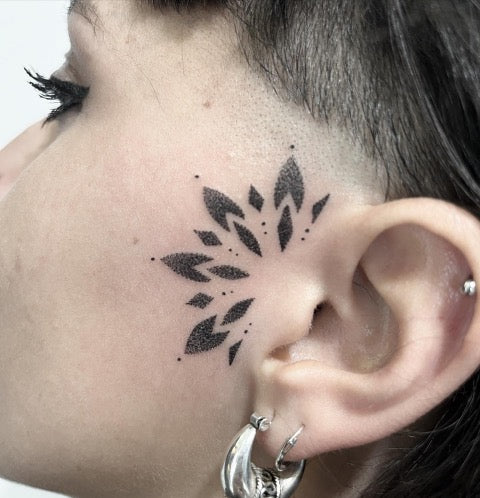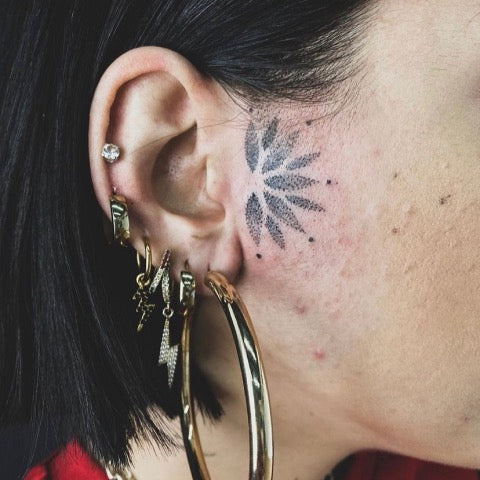 Mandala Elbow Tattoo
The elbow is one of the most fantastic places for body art. Not for the faint of heart, elbow tattoos are painful because of their fragile skin and proximity to bone. It has a history of being a hangout spot for outcasts and a reputation for being liked by gang members and inmates. However, in recent years, attitudes about tattoos have changed, making this a great place to get inked. It might demonstrate your strength and will and the fact that you are not frightened of the pain.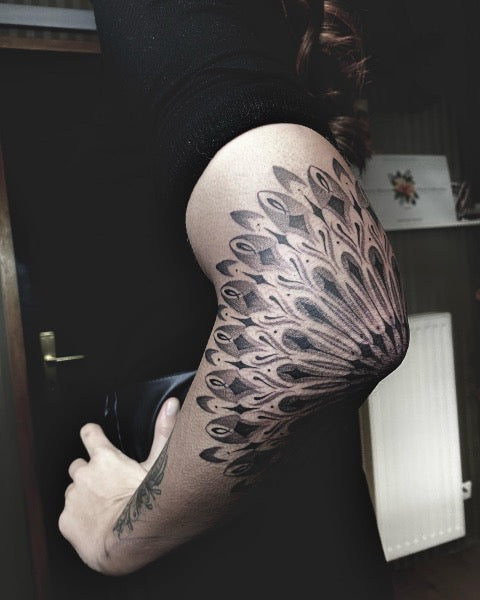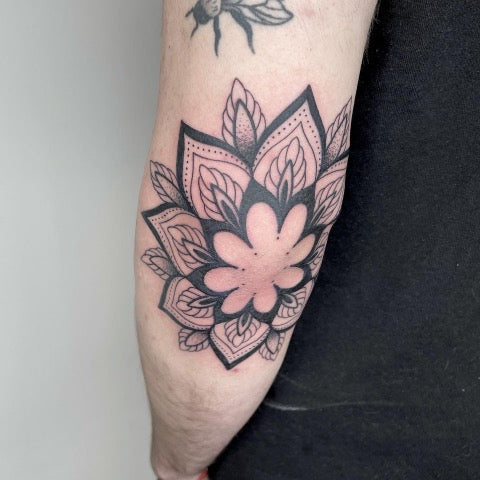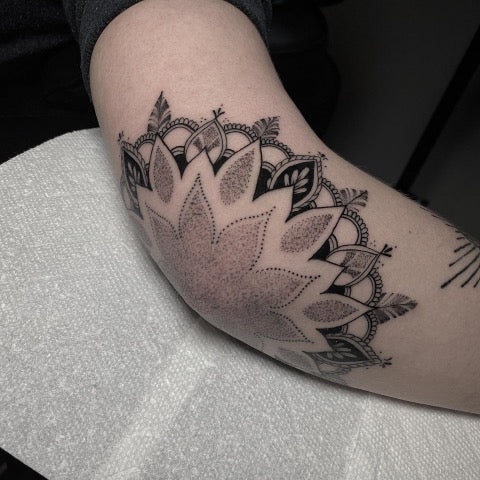 Small Mandala Tattoo
Small tattoos are appealing because they can be inscribed anywhere on the body. Additionally, they will hurt less, cost less, and need less effort to conceal. Both large and tiny tattoos can benefit from mandala patterns, while smaller ones frequently require less intricacy. However, this is only sometimes the case, and you may collaborate with the tattoo artist of your choice to get a design that best reflects your taste. Little inking is an excellent option for a man or woman who does not want to draw attention to themselves or their bodies but still wants to commemorate the important things to them.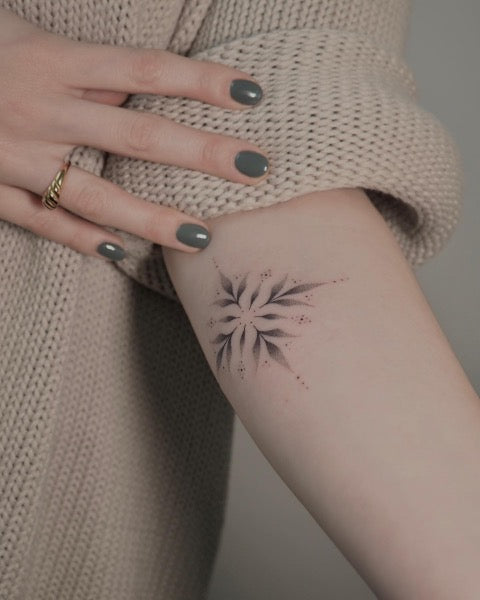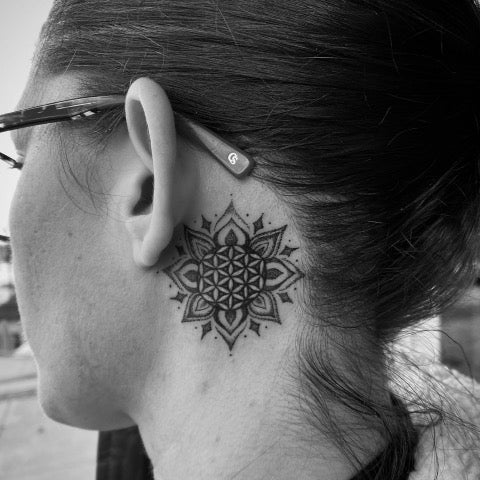 Sunflower Mandala Tattoo
The sunflower is a flower that stands for love, hope, and optimism. As the blossom advances towards the sun, a representation of god and his love, it can also be linked to devotion and worship. This is an excellent choice for someone who appreciates these traits and wants a meaningful tattoo. There are many different ways to tattoo this flower, and a mandala sunflower tattoo is the best option if you wish for a detailed design. You may use black ink for a more understated look or add color for a lively, attention-grabbing design. Think about putting your plan where you can see it daily, such as the wrist or forearm. You may both remind yourself of the significance of your drawing and feel peaceful and focused when you look at the mandala in this way.
Geometric Mandala Tattoo
Geometric tattoos emphasize lines and curves to produce a complex and hypnotic design. This is a significant and symbolic decision since the method works nicely with the mandala and can draw in good energy. Geometric designs, such as tattoos with mandala inspiration, are frequently linked to harmony and balance and can promote relaxation. You can use them to aid in life reflection. There are numerous ways to produce the style, including a more abstract one using symbols and patterns. Alternatively, they appear as animals or flowers. When deciding where to get inked, take the level of detail in your piece into account and choose a location large enough to do it well.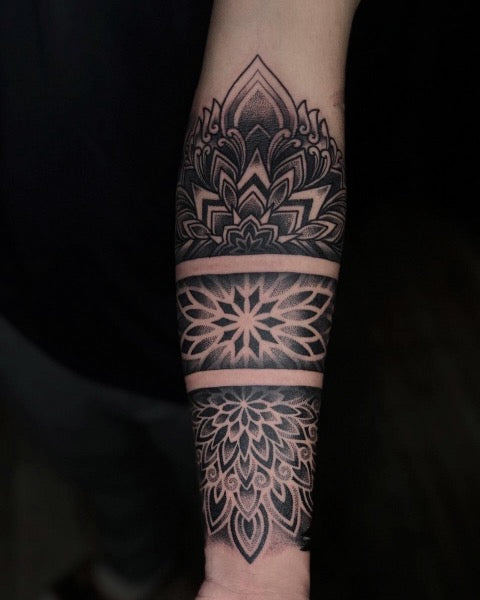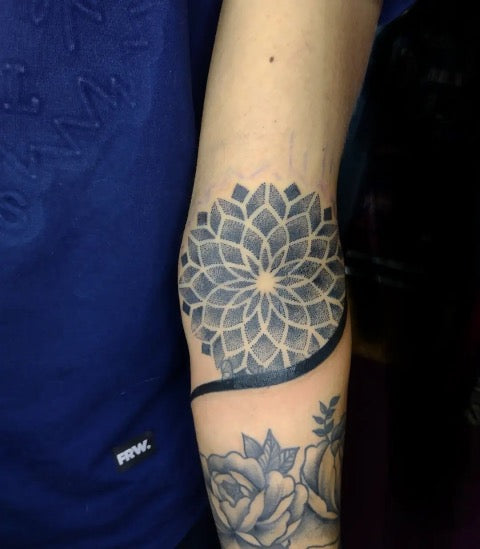 Simple Mandala Tattoo
Mandalas are more than just pretty patterns; the circles and forms they take on have significant symbolic meanings. If you like a more minimalistic look and want to emphasize the message of your tattoo rather than the artwork itself, choosing a basic technique is perfect. Because there is so much symbolism in the details, it might be challenging to do this with a mandala. Nevertheless, you could make it smaller by concentrating on a single image rather than fusing numerous photos.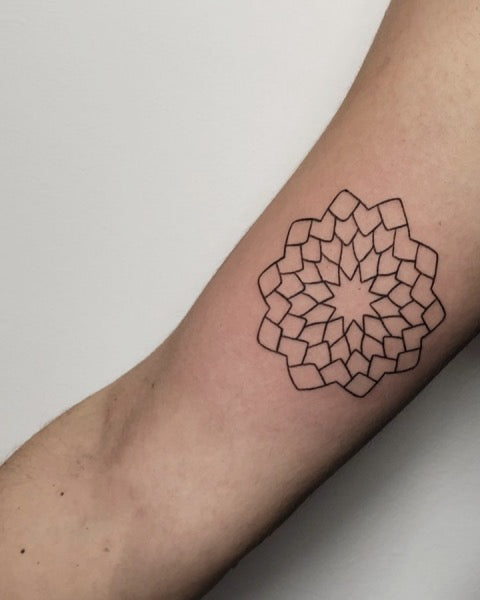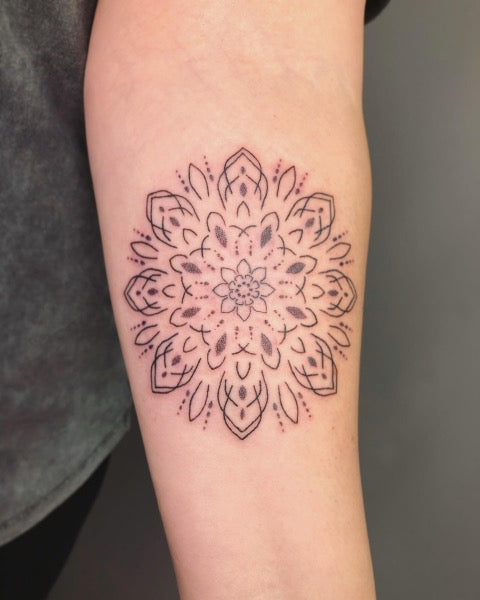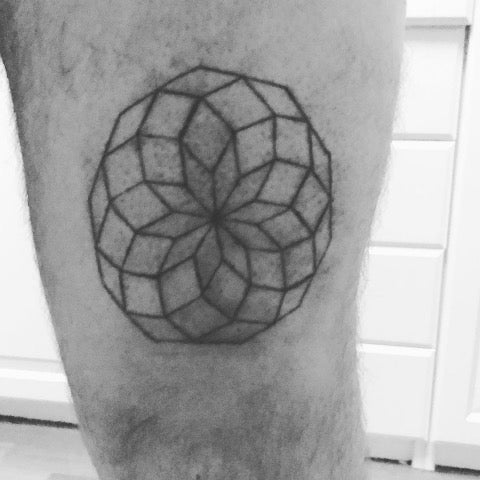 Traditional Mandala Tattoo
The American traditional tattoo method is one of the most striking and daring tattoo designs. Thick black lines, its themes, and a restricted yet vibrant color scheme of green, red, blue, and yellow serve as its defining characteristics. Nautical and zoomorphic motifs are popular, although any artwork, even a mandala, can use this style. People who appreciate light shading find this style appealing because it is a little simpler. Because of its roots, fashion may also have a rebellious edge. It used only to be inked by sailors and those on the periphery of society, so it has an advantage to it now. This is the ideal choice for a guy or woman who wishes to stand out from the crowd.
Dreamcatcher Mandala tattoo
The dreamcatcher is a lovely handwoven device to ward off negative thoughts and terrible nightmares. Although it has profound cultural importance in Native American culture, its beauty and complex meaning have helped it gain popularity around the globe. Small children's mattresses have something that resembles a spider's web draped over them to help block out negative ideas and experiences. A dream catcher tattoo is a firm decision that may offer protection or serve as a reminder to keep your attention on the positive aspects of your life. The dreamcatcher has served as inspiration for both visual arts and bodily modification. The patterns and shapes of a mandala are preferred by some people, which enhances its overall significance.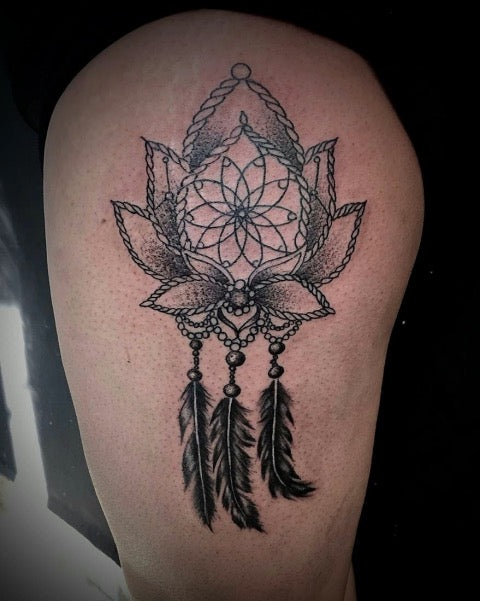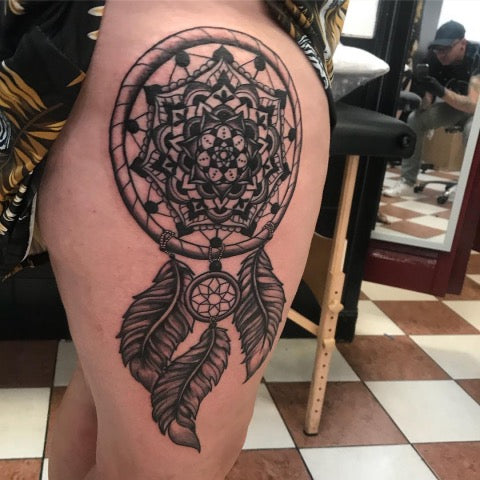 Lion Mandala Tattoo
The lion is a ferocious animal that is both adored and respected. The large cat is regarded as the head of the animal kingdom and is linked to power, majesty, intelligence, and bravery. Anyone motivated by these traits should get a lion tattoo, and you may get creative with how you want to depict it. Some choose to have a mandala tattoo, a stunning, elaborate design that will stand out no matter where it is inked. It is made up of a variety of intricate patterns and symbols.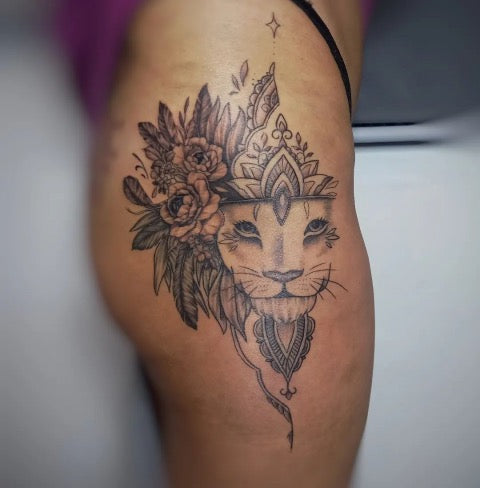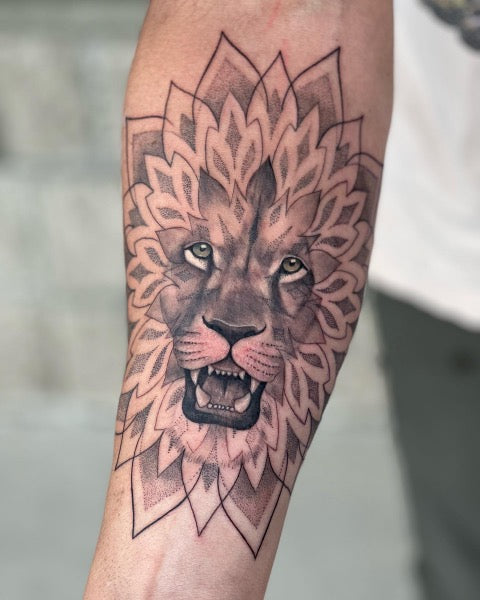 Mandala Crescent Moon Tattoo
The crescent moon symbolizes mystery, development, change, and innovation. Because of its significance, it is a terrific choice for a tattoo. It is a well-liked option for someone whose life has transformed. Or those who wish to recognize the profound shift they are going through with their body art. Since the moon's form is straightforward, using a variety of patterns and shapes to produce a more intricate design would be a great choice. A mandala crescent moon is beautiful and unique and associated with personal development. Because every mandala design is unique, your artwork will be even more distinctive.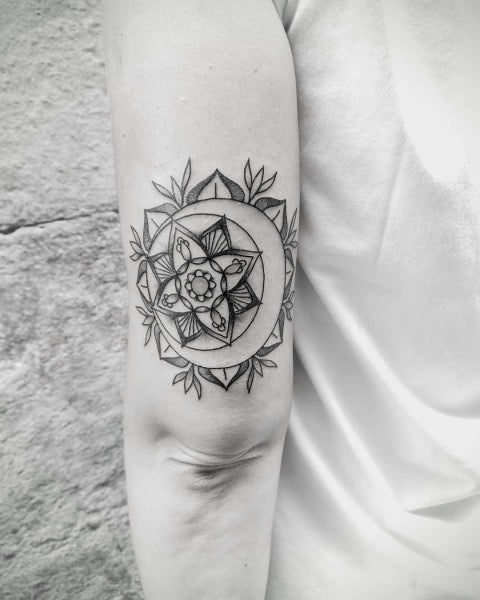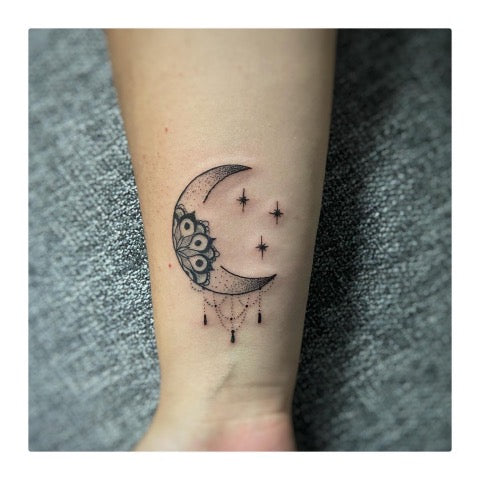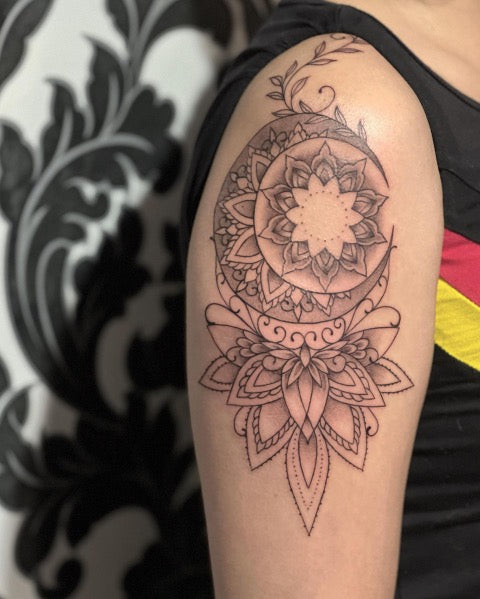 Mandala Skull Tattoo
Is there anything better than a tattoo of a skull? The skull is a universal representation of life and might be frightening to have tattooed on your body. It is associated with both bad and good things. To some people, a skull design may represent their lack of fear of the end of life or anything else. The skull may be more significant to your project by working nicely in various styles and methods, including mandalas. Your choice of how to combine these photographs may result in a softer approach that makes the skull appear less menacing. Alternatively, it may produce a tattoo that is edgy and hip.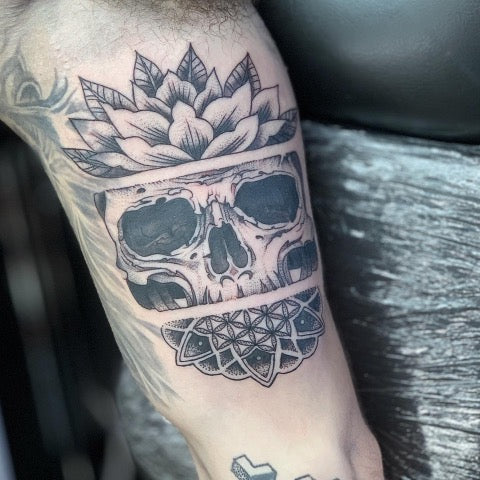 Elephant Mandala Tattoo
Because of their majesty and strength, elephants have served as inspiration for numerous pieces of body art. They look fantastic when tattooed on the body and symbolize prosperity, power, knowledge, and intellect. There are many different elephant tattoo designs, but a mandala elephant is an excellent option if you want a complex structure. Elephant Mandala paintings are beautiful. It has a feminine vibe, yet it might be ideal for a guy or a lady. This is because the herd has a matriarch who never changes.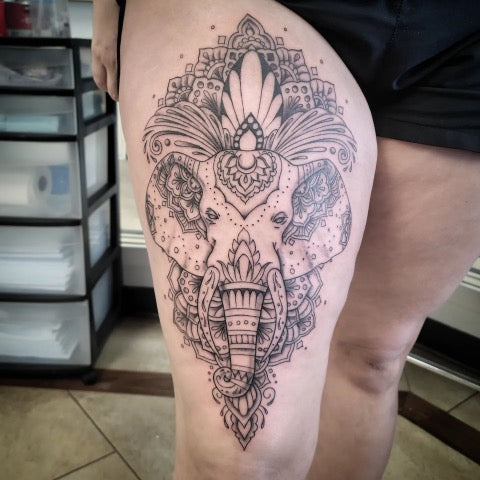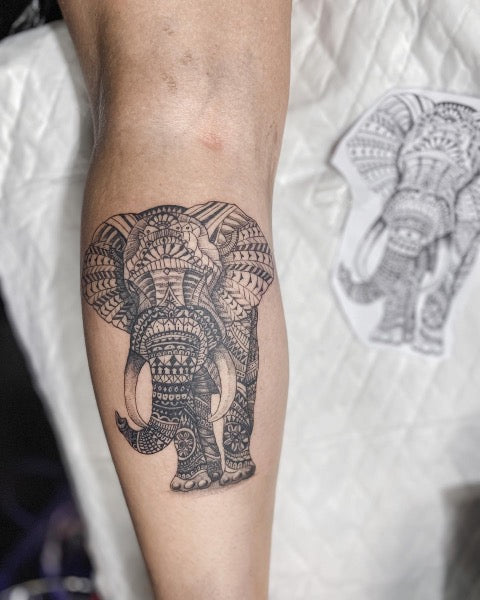 Mandala Flower Tattoo
Tattoos of flowers are symbolic of beauty, love, life, and expansion. A mandala flower gives your selected bloom a special touch, increasing its visual appeal and symbolic significance. There are many other flower forms to pick from, such as roses or daisies, and each has a special meaning. A mandala can be completed with a flower, or you can design the shapes and patterns to resemble flowers. With many possibilities available, you may collaborate with your tattoo artist to create something unique. You may add color or use the watercolor tattoo technique for a more spectacular result.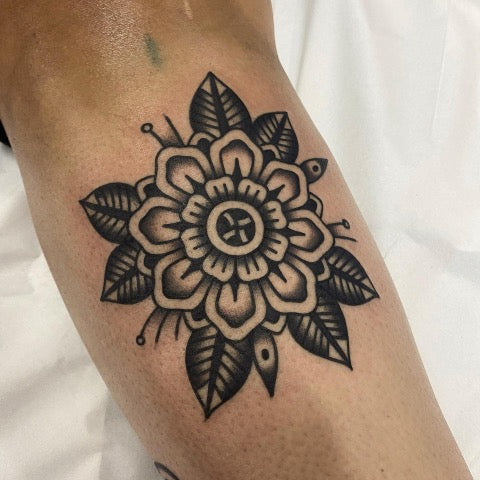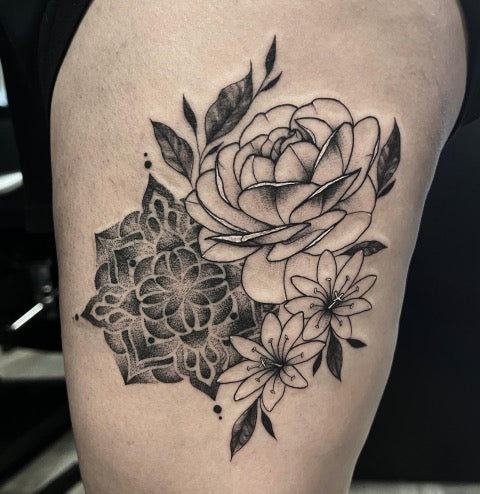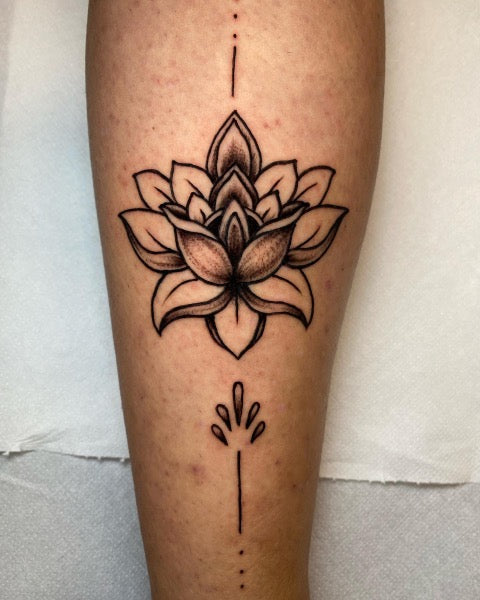 Sun and Moon Mandala Tattoo
The tattoo of the sun and moon is a potent representation of femininity, optimism, mystery, and familial ties. It may stand for both good and terrible and can serve as a reminder that there is light even in the darkest places. Or that a new day will come despite a difficult period. This is a terrific option for inking and is highly meaningful. When made into a mandala, it gains much more significance and power. A natural design, also a symbol of life, maybe something that some men and women want in their pieces.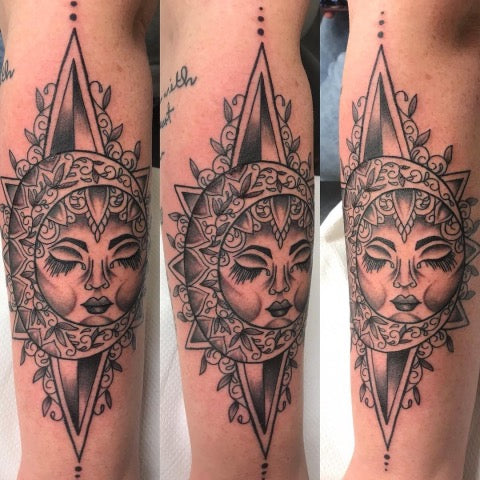 Mandala Tattoo in Watercolor
The tattooing method known as "watercolor" is colorful and intriguing. Blending vibrant hues can bring even the most simple patterns to life. It beautifully blends your selected colors to give the impression that it was painted on a canvas. The result might be excellent. If you want a fantastic tattoo, consider the inking, even though it is more expensive and time-consuming to produce. The effect may be used in various ways; some individuals entirely omit the black outlines, while others choose to include the colors as a backdrop to their black ink. This could resemble a paintbrush stroke. Whatever option you select, the outcome is striking.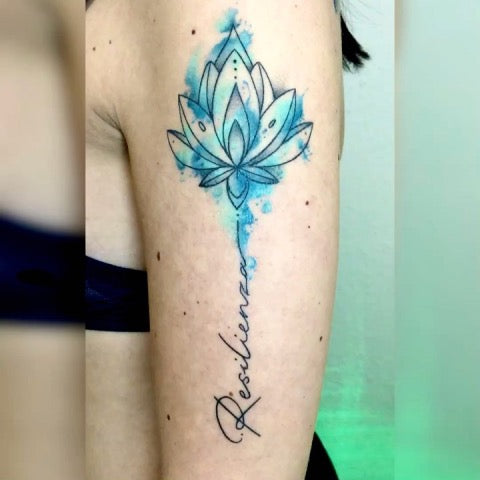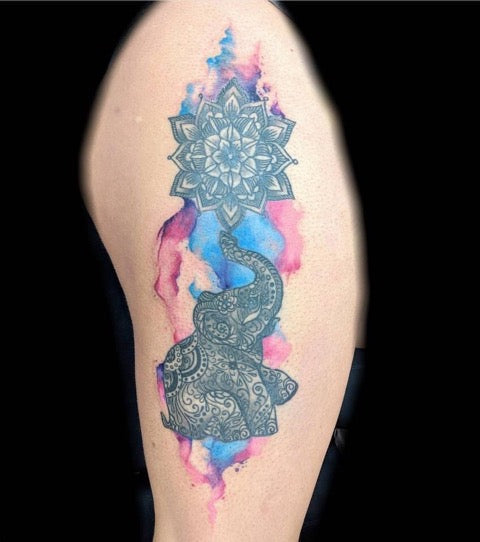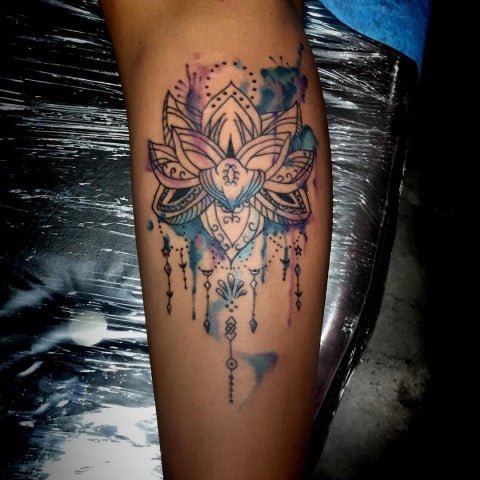 Moon Mandala Tattoo
A moon tattoo is a significant decision. The significance of your item may vary significantly based on the phase of the moon you pick since it is connected to change, mystery, development, and creativity. A crescent moon is ideal if you want something that conveys optimism and change. On the other hand, a full moon is related to magic and the paranormal. A moon is a straightforward form that works well with various styles and methods, like a mandala. Some people are inspired by mandala patterns and reproduce them in the form of a moon, embellishing their creations with additional components like stars or floral decorations to give them even more personality.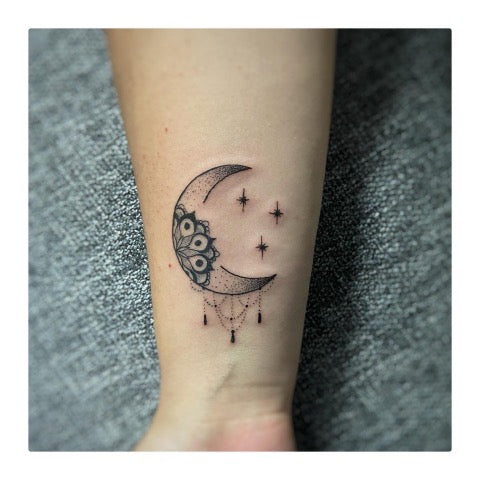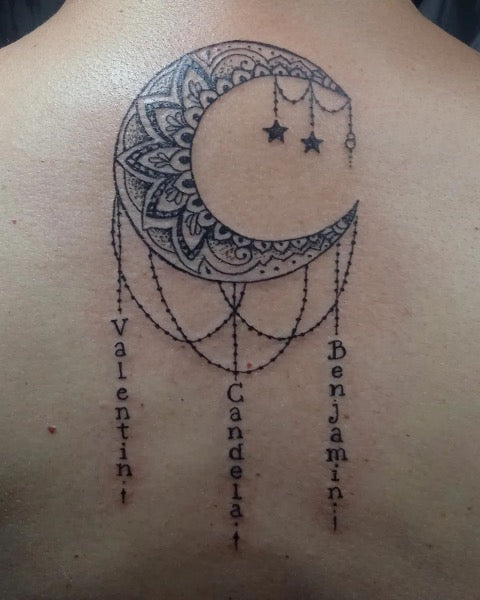 Sun Mandala Tattoo
Life would not exist if it weren't for the sun. The star at the core of our solar system is a well-known icon that has significant meaning to many ancient cultures and peoples. It is acknowledged as a vital life force. It is linked to energy and light but may also represent hope. A sun tattoo serves as a reminder that a new day will come even after a trying and dark period in your life. There are numerous design possibilities, and a mandala-inspired artwork would be a meaningful and lovely way to receive your sun. By doing this, harmony and balance are achieved. The delicately woven designs are not only attractive but also soothing.
Butterfly Mandala Tattoo
A butterfly tattoo is a symbol of development and change. Because of its beauty and significance, it is one of the most often tattooed pictures. The appealing aspect of this flying bug is that it has a range of forms and colors, allowing you to select the most attractive. Additionally, butterflies are a sign of resiliency, optimism, and even love. They are considerably more stunning in mandala shape and serve as a helpful reminder to maintain concentration. Live life to the fullest and let go of your inhibitions.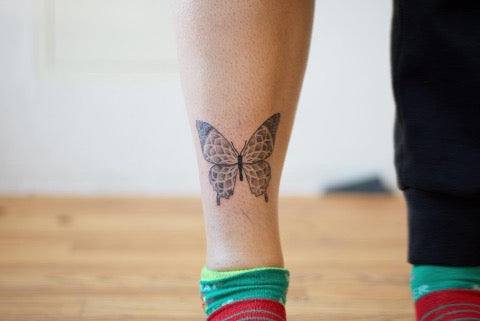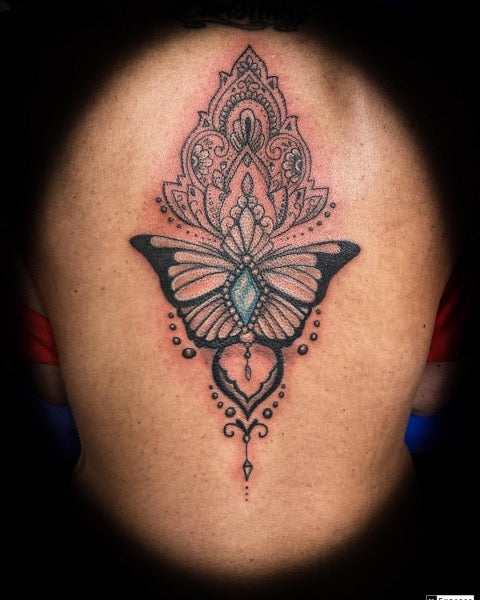 Rose Mandala Tattoo
One of the most exquisite and meaningful flowers you may select is the rose. It is linked to happiness, suffering, beauty, life, and love. The rose tattoo could remind you to preserve your heart or that everything has two sides or repercussions. Both men and women can find inspiration in the bloom, which is also highly adaptable. The many hues each have a distinct meaning. For instance, red is associated with enthusiasm and seduction, while yellow is associated with pleasure and camaraderie. Black represents sadness and loss. Whether realistic or surrounded by a mandala pattern, a rose can be tattooed as a filler to a giant tattoo or in various designs, including the mandala. You may also choose to draw the complex pattern sequence inside the shape of the rose.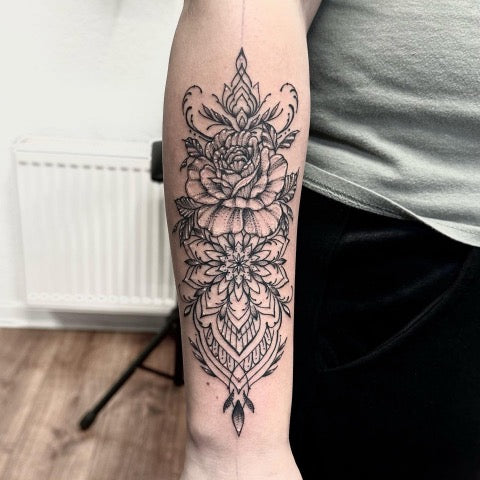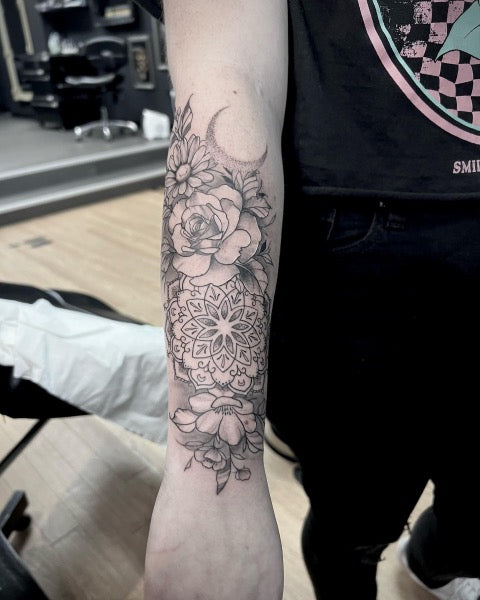 Frequently Asked Questions about Mandala Tattoos
1. What is a Mandala Tattoo?
A mandala tattoo is a design that includes a circle filled with intricate patterns. It's often associated with spiritual beliefs in Hinduism and Buddhism but can also be a purely artistic expression.
2. What does the Mandala symbolize in a Tattoo?
The mandala symbolizes unity, harmony, eternity, and perfection. It can represent a spiritual journey, personal growth, or a symbol of balance in one's life.
3. Can anyone get a Mandala Tattoo?
Yes, anyone can get a mandala tattoo. While it carries spiritual significance for some, others choose it for its aesthetic beauty.
4. Where is the best place to have a Mandala Tattoo?
Mandala tattoos can be placed anywhere on the body. Common locations include the back, shoulder, arm, leg, and chest. The best place depends on your personal preference and the size and design of the tattoo.
5. Is it painful to get a Mandala Tattoo?
The pain level varies depending on the location of the tattoo and individual pain tolerance. Areas with less fat might be more sensitive. It's always good to talk to your tattoo artist about any concerns.
6. How long does it take to ink a Mandala Tattoo?
The time to ink a mandala tattoo depends on the complexity of the design and the size of the tattoo. It can take anywhere from a couple of hours to several sessions.
7. How should I care for my Mandala Tattoo?
Tattoo care is essential for proper healing. Keep it clean, avoid scratching, and follow the aftercare instructions given by your tattoo artist.
8. Can I customize a Mandala Tattoo?
Absolutely! You can work with your tattoo artist to create a unique mandala design that reflects your personality, beliefs, or aesthetic preferences.
9. How much does a Mandala Tattoo cost?
The cost of a mandala tattoo can vary widely based on the size, complexity, location, and the tattoo artist's experience. It's best to consult with your tattoo artist for an accurate quote.
Mandala tattoos offer a beautiful and meaningful option for those looking to add a unique piece of art to their body. Whether you connect with its spiritual significance or simply appreciate the intricate design, a mandala tattoo can be a special reflection of who you are.