47 Poppy Tattoo Meanings, Designs and Ideas
publish time:
Poppy flower tattoos are floral tattoos that can have various meanings or be a lovely flower to others. Flower tattoos, in general, have long been a popular tattoo choice among women and men of all cultures. In the shape of a tulip, the poppy flower has begun to gain popularity among today's trendy floral tattoos. Poppies have been utilized for therapeutic purposes for ages all across the world. Despite the negative connotation that the poppy flower has due to the substances that it produces, such as heroin, the flower provides many benefits to us. The flower's current benefits include its use in medical-grade medicines like morphine and codeine. Imagine having your arm amputated without any medication to help you cope. In addition to these advantages, the poppy flower has long been associated with serenity, sleep, and even the loss of life in various civilizations.
Poppy Tattoo Meaning
 The poppy tattoo, a beautiful and significant choice for many, carries many meanings. As a symbol steeped in history and recognized globally, the poppy has been associated with themes ranging from love to remembrance, depending on its color and cultural context. When tattooed, these themes can be powerful representations of personal beliefs, memories, or experiences.
Here's a summarized list of some specific meanings associated with poppy tattoos:
😉 

Remembrance: 

The poppy is a recognized memorial symbol, honoring those who have fallen in wars and conflicts. This is particularly prevalent in Western culture due to the poppies that grew on battlefields during World War I.

😊 

Peace and Rest:

 Symbolizing tranquility and rest, poppies can represent a wish for peace or a recovery period. This ties in with their medicinal use as opiates to relieve pain and promote sleep.

😀 

Resurrection and Eternal Life:

 As per Greek and Roman myths, poppies can symbolize resurrection and eternal life due to their resilience in harsh conditions.

❤️ 

Love and Passion:

 Like many other red flowers, red poppies often stand for love and passion, making them a romantic symbol.

💰 

Prosperity and Success:

 In Chinese culture, poppies denote good luck, prosperity, and success.

🌌 

Imagination and Dreams:

 Given the dream-like state caused by the opium from poppies, they have been associated with dreams and imagination.
In the end, the meaning of your poppy tattoo can be deeply personal, adding layers of significance to these traditional interpretations.
Poppy Tattoo Black and White
A black and white poppy tattoo is a timeless classic. It showcases the flower's beautiful form strikingly. Whether you choose a minimalist design or a detailed depiction, the monochrome look will always stay in style.
Black Poppy Flower Tattoo
Ever considered a black poppy flower tattoo? This stunning design choice carries an air of mystery. It's an excellent pick for those who want their tattoo to have an edgy feel while keeping the elegance of the poppy flower.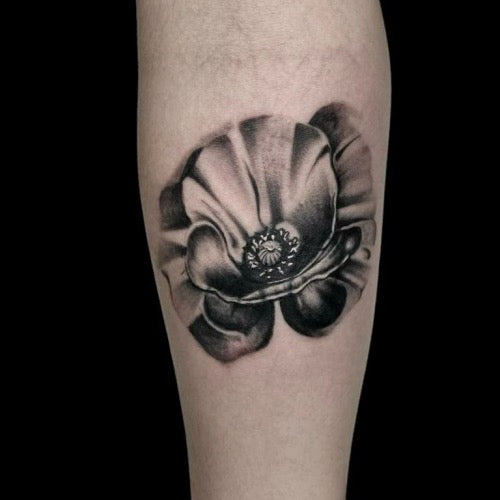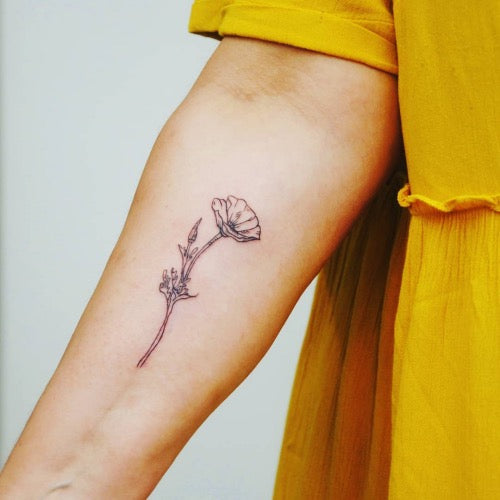 Red Poppy Tattoo
A red poppy tattoo is a vibrant showstopper. Red poppies are symbols of remembrance and sacrifice. This rich, fiery color adds a touch of passion to your design. Remember, red is also the color of love. Dedicating your tattoo to someone special could be a meaningful choice.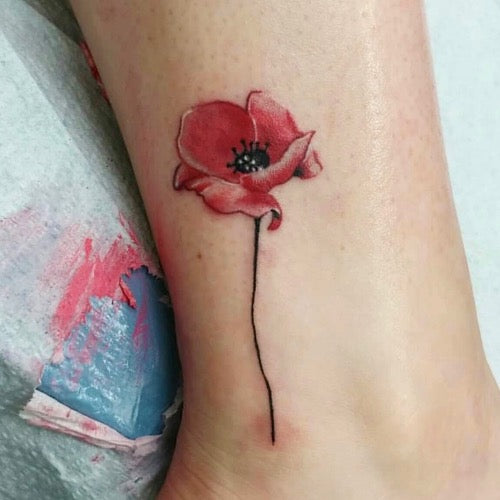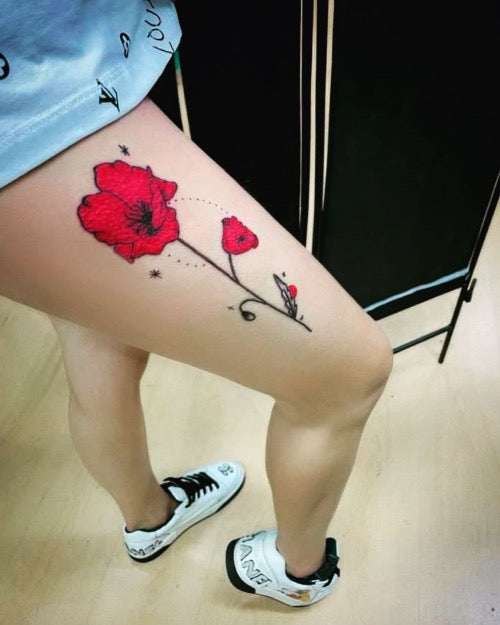 Watercolor Poppy Tattoo
A watercolor poppy tattoo is like a wearable piece of art. The gentle, flowing colors create a whimsical and dreamy look. Watercolor tattoos look great with any color of poppy. They give off a soft, ethereal vibe that can be truly enchanting.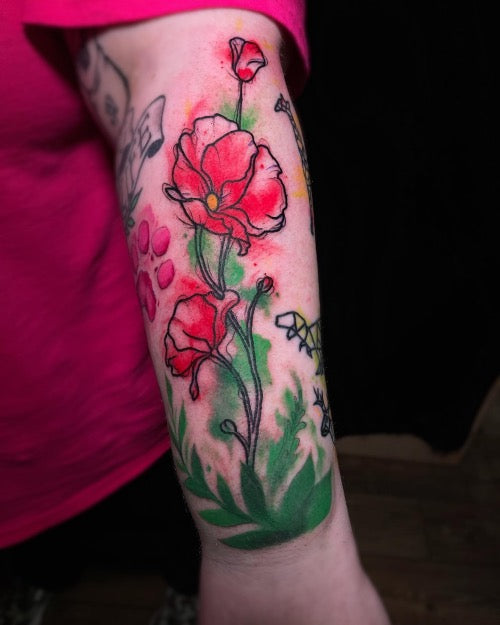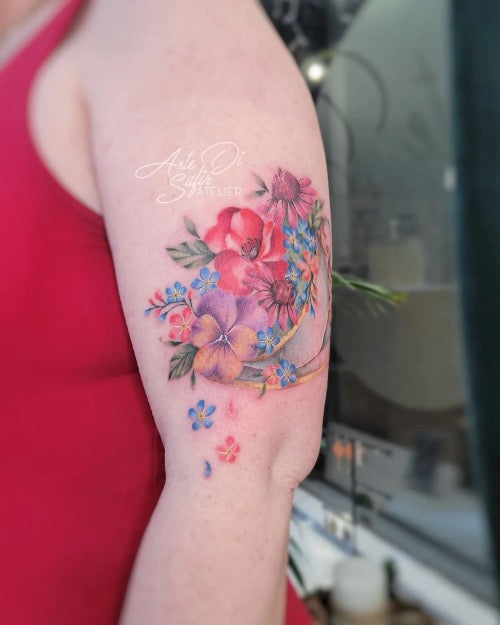 Golden Poppy Tattoo
A golden poppy tattoo is a unique and vibrant option. In many cultures, this sunny color represents wealth, success, and even magic. If you're a person who's all about positivity and chasing dreams, a golden poppy tattoo could be the perfect symbol for you.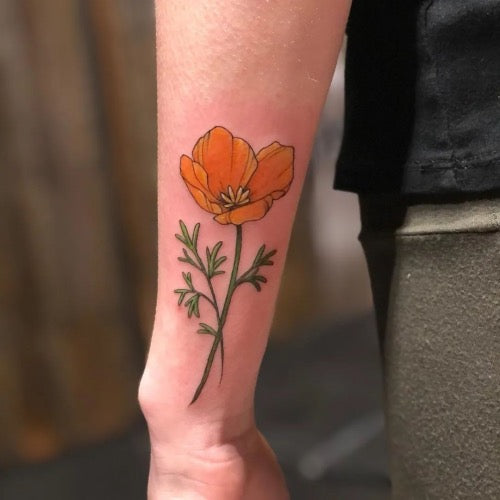 Orange Poppy Tattoo
An orange poppy tattoo is a fun, energetic option. Orange is often linked with creativity, enthusiasm, and joy. If you're a vibrant soul who loves expressing positivity, an orange poppy tattoo might be your ideal choice.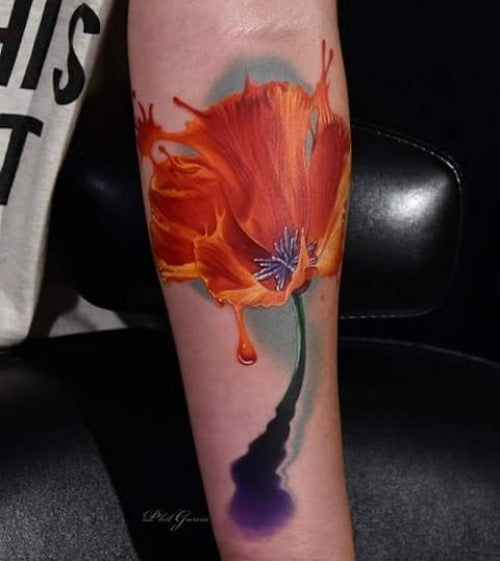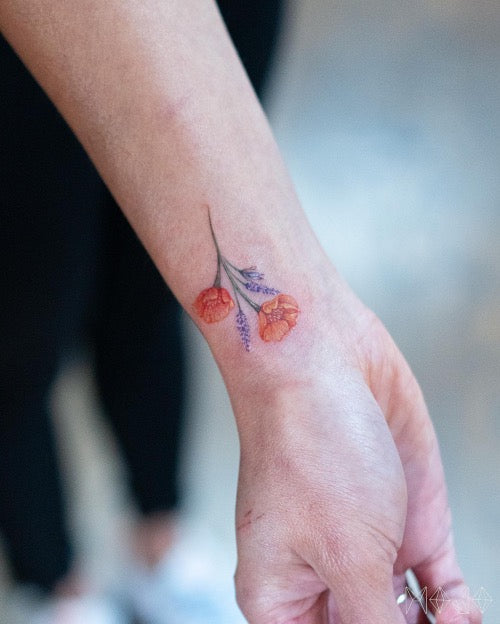 Blue Poppy Tattoo
A blue poppy tattoo is a rare and captivating option. Blue poppies are uncommon in the wild, making them a symbol of uniqueness and individuality. If you like to stand out from the crowd, a blue poppy tattoo could be the perfect choice to express your individuality.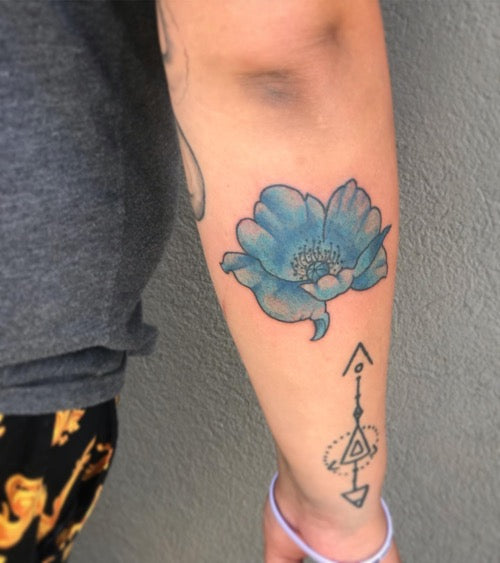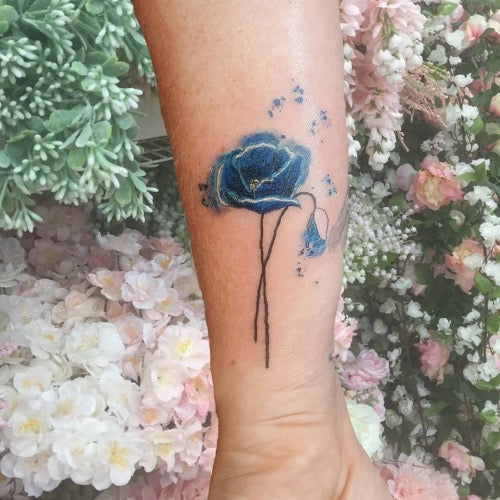 California Poppy Tattoo
A California poppy tattoo is an eye-catching choice. This bright orange flower is the state flower of California and is often linked with the sun, brightness, and warmth. It can be a lovely tattoo choice for those who hold a special place in their hearts for the Golden State or those who adore this radiant flower.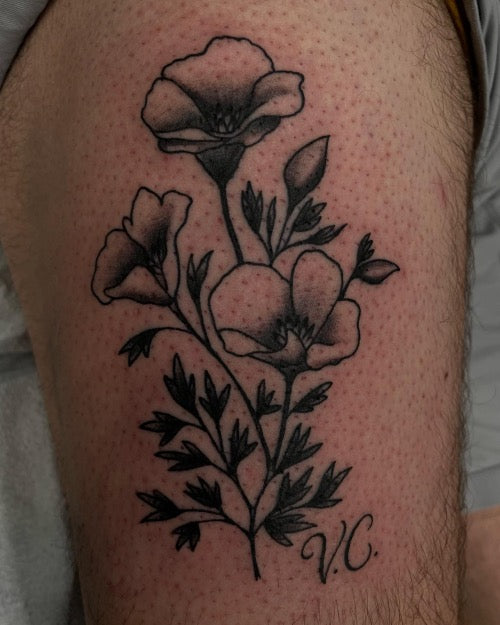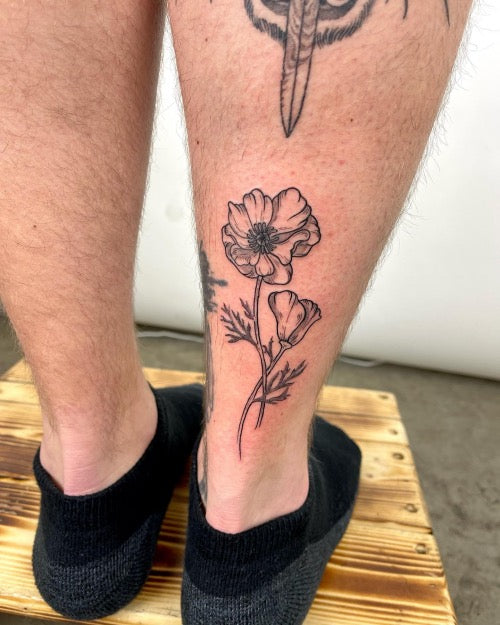 Traditional Poppy Tattoo
A traditional poppy tattoo draws inspiration from old-school tattoo styles. These designs usually involve bold lines, vivid colors, and iconic images. The charm of traditional poppy tattoos lies in their simplicity and the classic feel they bring. If you're a fan of vintage designs, this one's for you!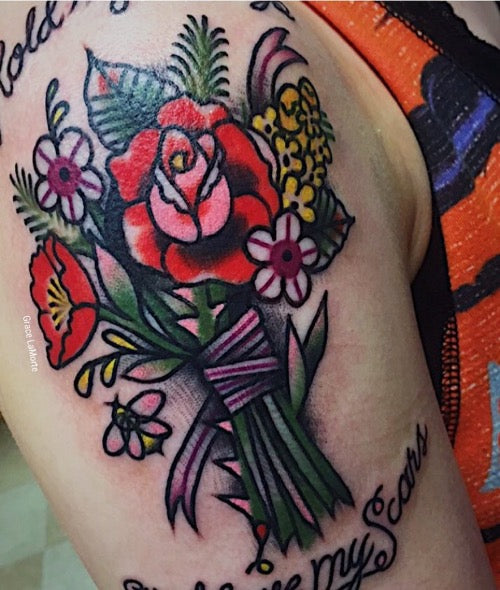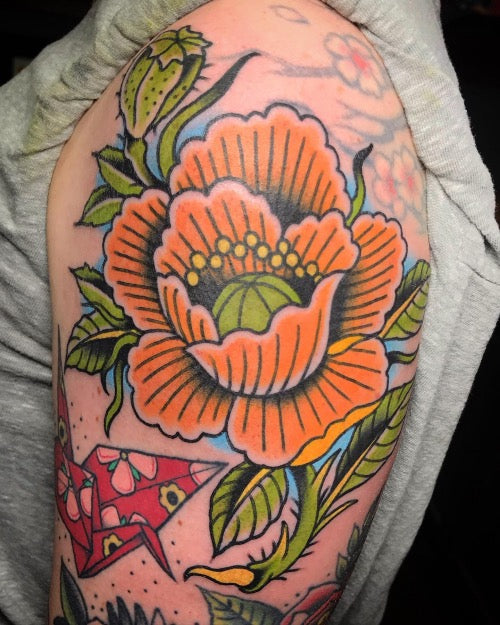 Gladiolus and Poppy Tattoo
A gladiolus and poppy tattoo merge two beautiful flowers into one striking design. The gladiolus symbolizes strength, integrity, and, occasionally, remembrance. Combined with the symbolic poppy, this duo can create a powerful and visually pleasing tattoo with meaning.
Small Poppy Tattoos
Small poppy tattoos are perfect for those who love delicate and subtle body art. Despite their size, these tattoos can still capture the beauty and symbolism of the poppy flower. Small poppy tattoos can be a charming choice, whether it's your first tattoo or an addition to your collection.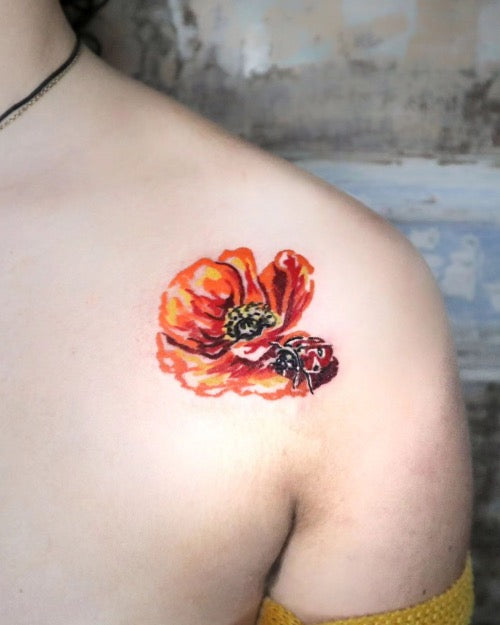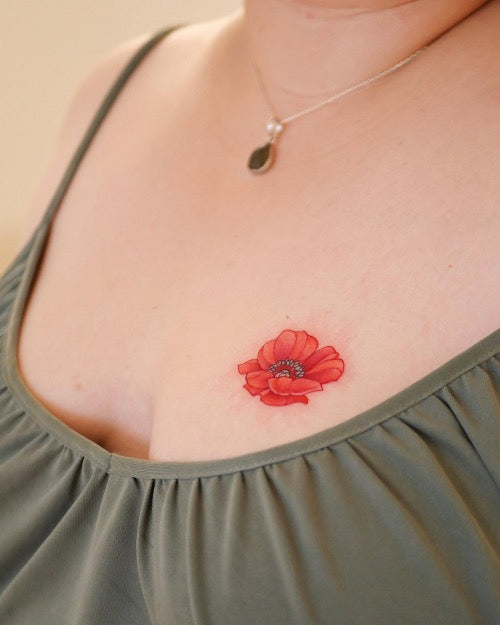 Simple Poppy Tattoo
A simple poppy tattoo can still make a significant impact. These tattoos often use minimal design elements to emphasize the poppy's natural elegance. If you love the 'less is more' approach, a simple poppy tattoo could be perfect.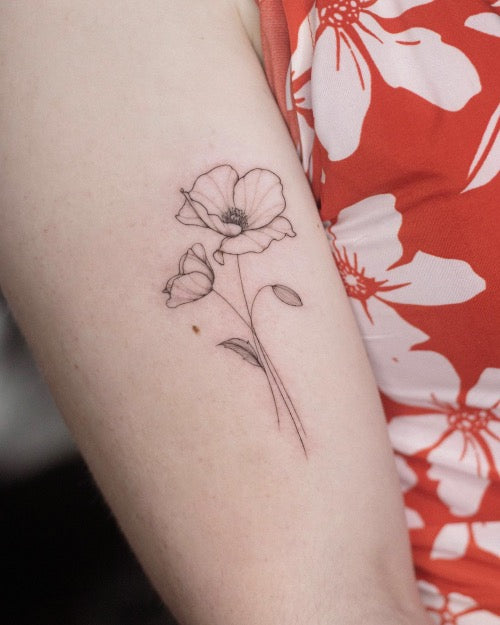 Fine Line Poppy Tattoo
A fine-line poppy tattoo features delicate, thin lines for a more detailed and intricate design. This tattoo style is trendy among those who appreciate a more refined and elegant look in their body art. If you prefer your tattoos to have a softer and more intricate feel, a fine-line poppy tattoo might be your ideal match.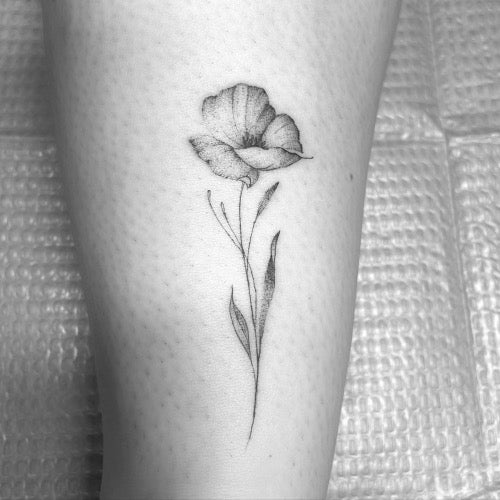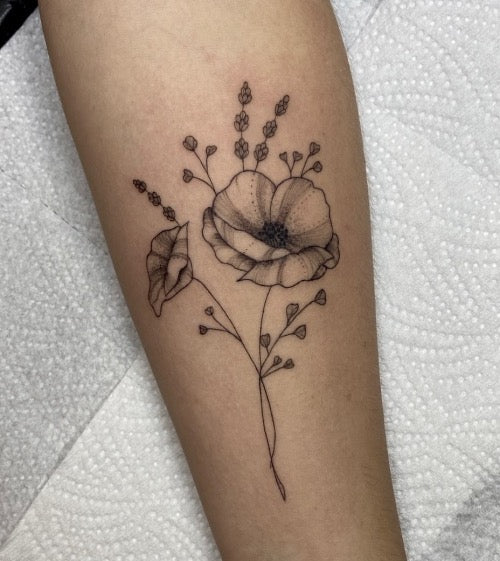 Poppy and Rose Tattoo
A poppy and rose tattoo blend combines two deeply symbolic flowers. As we've explored, the poppy stands for peace, remembrance, and dreams. The rose, universally recognized, symbolizes love, beauty, and balance. Fusing these two potent flowers can create a visually stunning tattoo with profound meanings.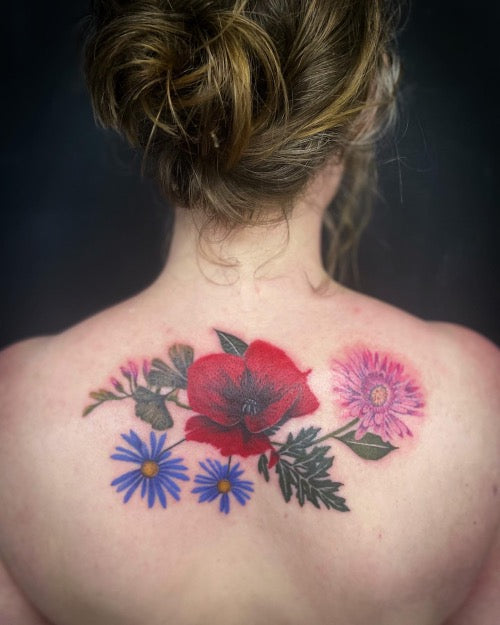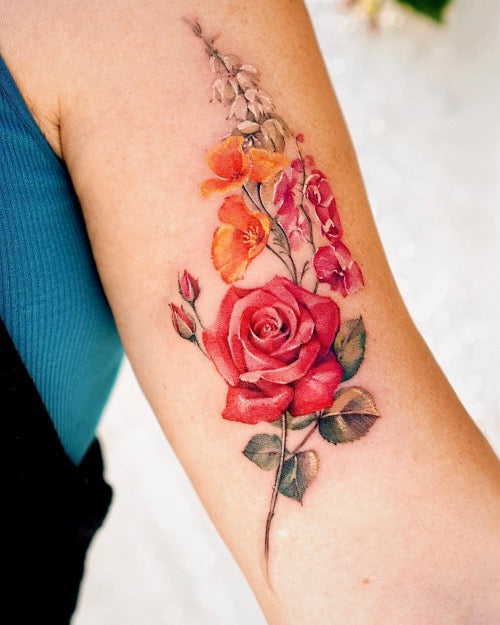 Minimalist Poppy Tattoo
A minimalist poppy tattoo focuses on the essentials. By stripping down the design to its bare elements, this style can highlight the beauty of the poppy in its simplest form. If you love clean lines and prefer understated elegance, a minimalist poppy tattoo could be your perfect choice.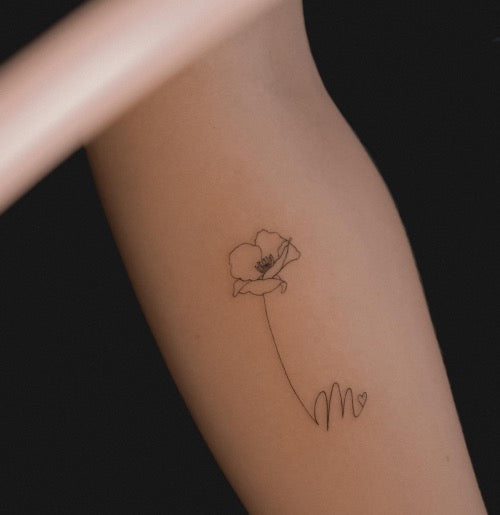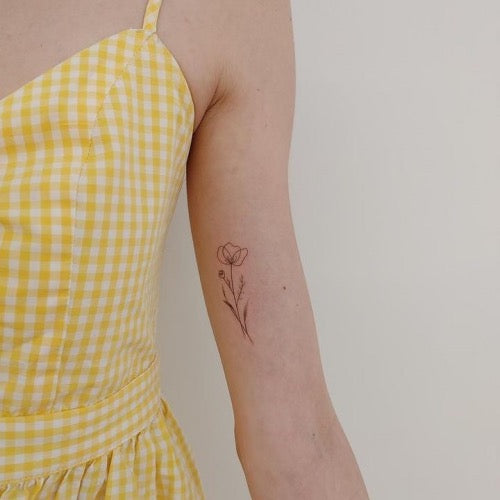 Poppy Tattoo Outline
A poppy tattoo outline offers a unique and versatile design option. The poppy's distinctive form stands out with just the outline, creating a subtly beautiful tattoo. The charm of this style lies in its simplicity and ability to fit in small areas, like wrists, ankles, or behind the ear.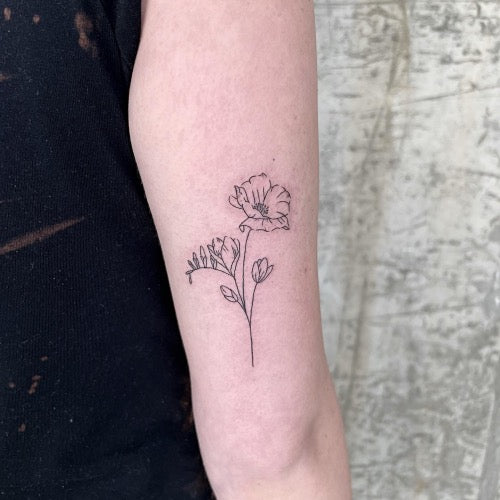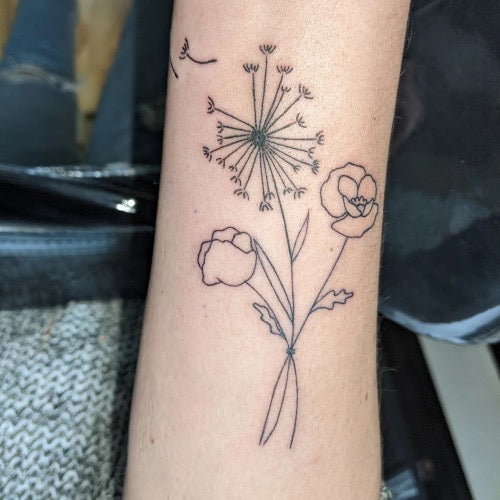 Poppy and Daisy Tattoo
A poppy and daisy tattoo merges the symbolism of two charming flowers. While the poppy represents remembrance, dreams, and peace, the daisy represents purity, innocence, and new beginnings. This delightful combination creates a design full of positive energy and profound meaning.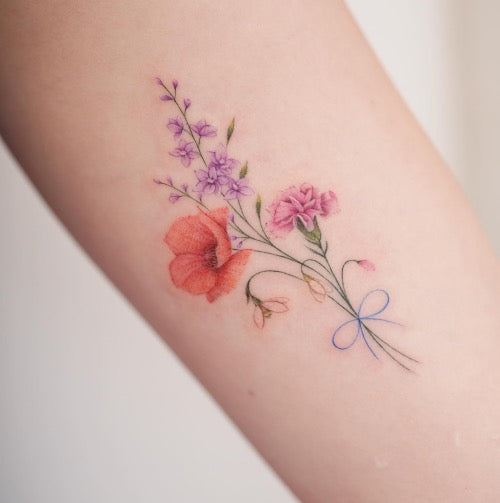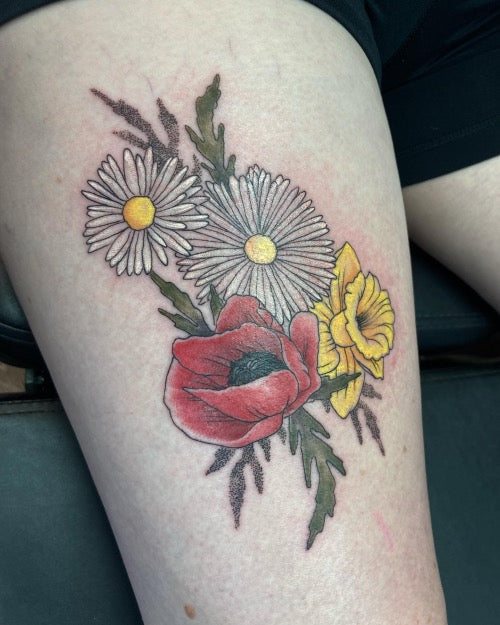 Poppy Bouquet Tattoo
A poppy bouquet tattoo is a breathtaking choice. This design clusters poppies together, creating a lush, complete look. The symbolism of each flower is amplified, producing a tattoo filled with meaning. A poppy bouquet tattoo can be an ideal choice for those who want to make a bold, artistic statement.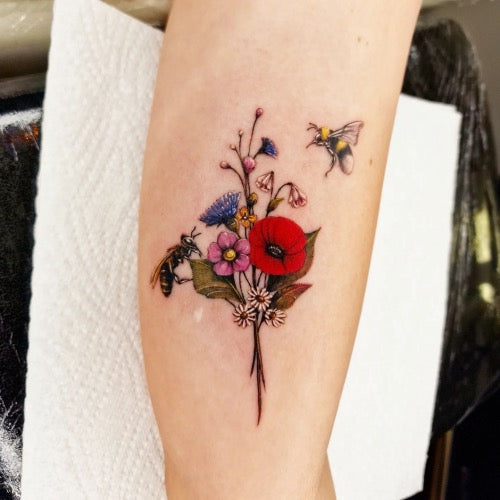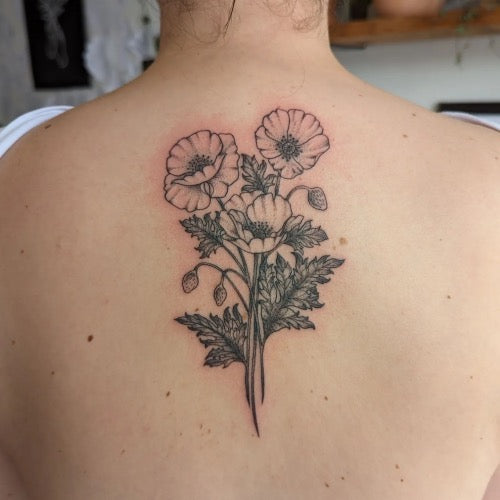 Poppy Sleeve Tattoo
A poppy sleeve tattoo transforms your arm into a stunning canvas of art. This design typically covers a large portion of the arm and can include a single, intricate poppy design or a collection of smaller poppy motifs. Either way, a poppy sleeve tattoo is a fantastic way to display your love for this symbolic flower on a grand scale.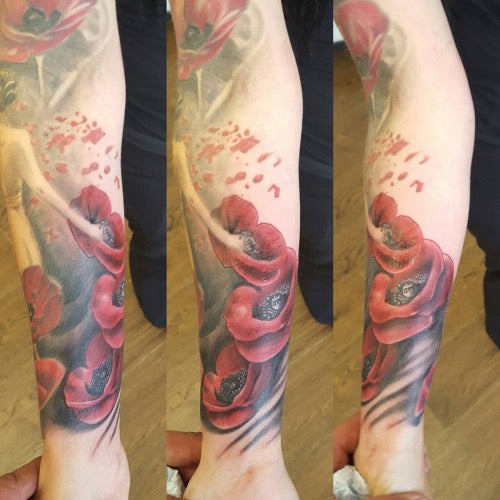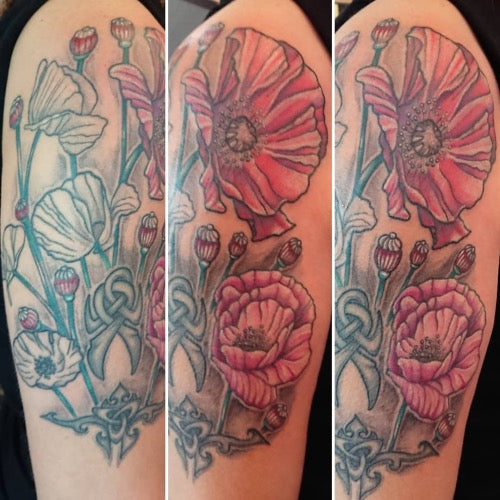 Poppy and Lily of the Valley Tattoo
A poppy and lily of the valley tattoo merge the symbolism of these two meaningful flowers. The poppy's representation of peace and remembrance pairs beautifully with the lily of the valley's connotation of humility and sweetness. This elegant blend creates a tattoo design that's delicate, meaningful, and simply captivating.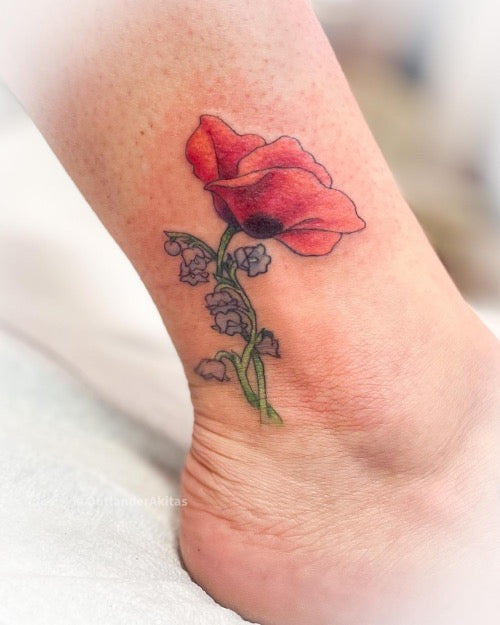 Poppy Shoulder Tattoo
A poppy shoulder tattoo can be a graceful and noticeable body art choice. The rounded shape of the shoulder provides an excellent backdrop for the poppy's soft curves. Whether you choose a single poppy or a cluster, a shoulder placement allows for an enchanting display of this symbolic flower.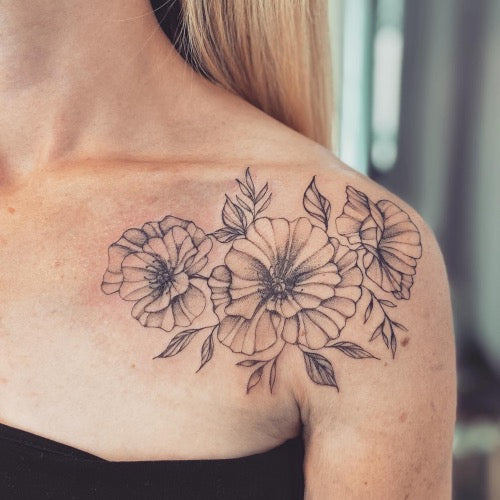 Dainty Poppy Tattoo
A dainty poppy tattoo is the embodiment of grace and charm. This design is typically tiny, delicate, and finely detailed. Its beauty lies in its simplicity and the ability to fit perfectly on various body parts like the wrist, ankle, or behind the ear. If you appreciate subtlety in your body art, a dainty poppy tattoo could suit you.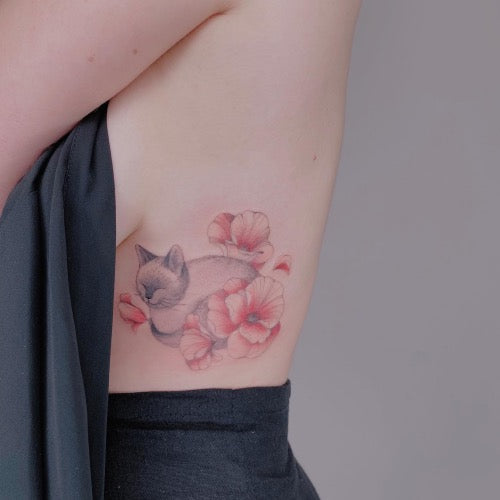 Tiny Poppy Tattoo
A tiny poppy tattoo is an adorable option that makes a subtle statement. Despite its small size, it can still hold the same symbolism and significance as more prominent designs. It's a fantastic choice for those who prefer minimalist body art or for those who are getting their first tattoo.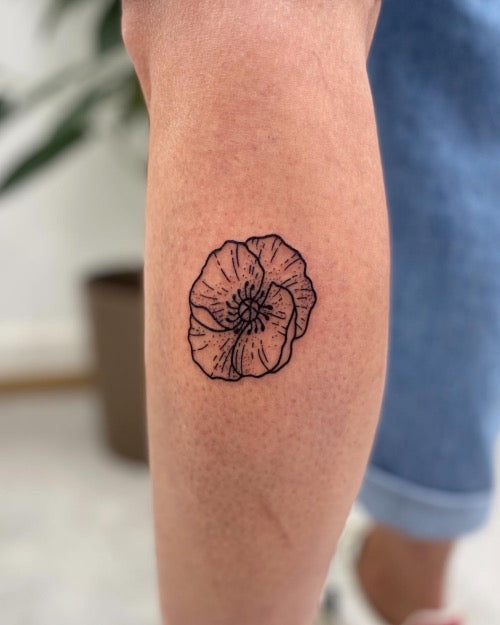 Poppy Flower Spine Tattoo
A poppy flower spine tattoo is a striking and daring choice. This design utilizes the length of your spine, creating an alluring line of art. It's a beautiful way to uniquely and dramatically feature the poppy flower's elegance.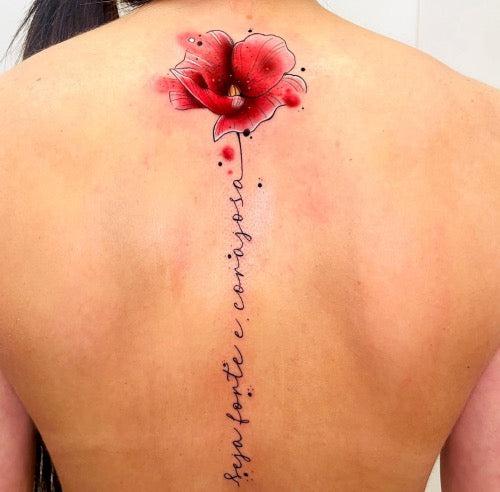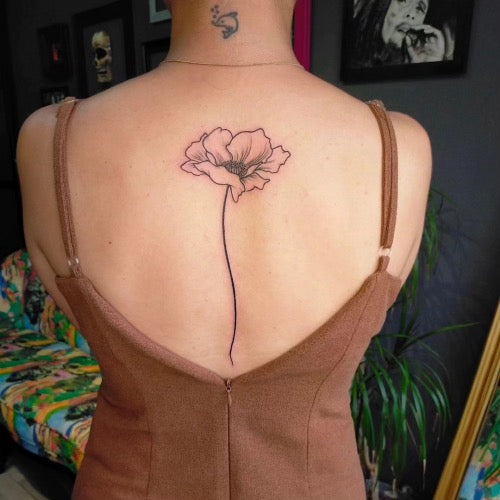 Poppy Flower Wrist Tattoo
A poppy flower wrist tattoo is a beautiful and popular option. Its visibility can serve as a constant reminder of the tattoo's significance. Wrist tattoos can be hidden or shown off as you please, making them versatile and personal. If you're looking for a subtle and noticeable location, a poppy flower wrist tattoo could be a great fit.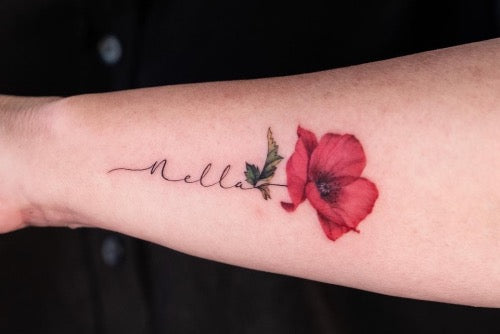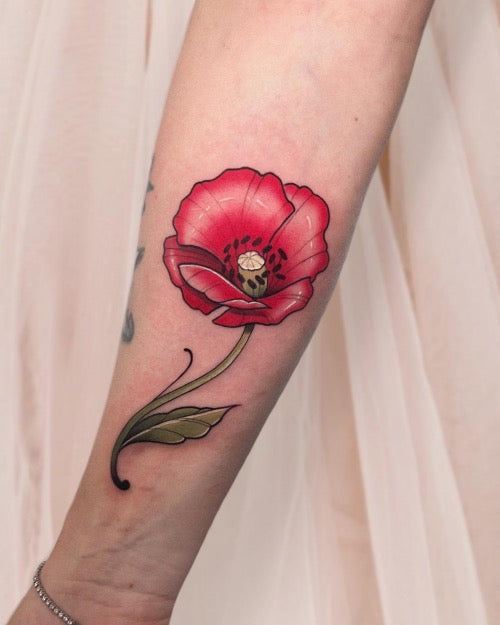 Conclusion
Poppy tattoos are a great way to show your style and story. Each design has its special meaning. These meanings can be about love, remembering someone special, dreams, and more. From simple to fancy, there's a poppy design that can match your style. Choosing your design and where it goes on your body can make your tattoo unique. But the most essential part of your tattoo is the special meaning it has for you. With a poppy tattoo, you're wearing a piece of art that's not just pretty but also full of meaning. Getting a tattoo is a big decision. Like the poppy flower, it should show your strength and bright spirit. Good luck on your tattoo journey!
Poppy Tattoo FAQ
1. What does a poppy tattoo symbolize?
A poppy tattoo often symbolizes remembrance, love, dreams, and peace. These meanings can change based on the color of the poppy or personal significance to the person getting the tattoo.
2. Where should I place my poppy tattoo?
The placement of your poppy tattoo depends on your personal preference and the size of the design. Popular places include the wrist, shoulder, back, or arm. Remember, wherever you place your tattoo, it should feel right for you.
3. Does a poppy tattoo hurt?
The level of pain during a tattoo session can vary from person to person, and depends on factors like tattoo placement and personal pain tolerance. Generally, areas with more muscle tend to be less painful than areas where the bone is close to the skin.
4. How should I care for my new poppy tattoo?
After getting your tattoo, it's important to keep the area clean and moisturized. Avoid swimming and direct sunlight for a couple of weeks. Always follow the aftercare instructions given by your tattoo artist.
5. Can I customize my poppy tattoo design?
Absolutely! You can work with your tattoo artist to create a design that fits your personal style and holds the most meaning for you. Whether that's adding other elements, changing the color, or modifying the size, the design options are endless.
6. How long does a poppy tattoo take to heal?
Tattoos typically take about 2-3 weeks to heal on the surface and up to 2 months to fully heal below the surface. During this time, it's crucial to care for your tattoo properly to ensure the best results.
Remember, a tattoo is a permanent decision, and it's important to think carefully about the design, placement, and care needed. If you have more questions, always consult with your professional tattoo artist.