Delicate Red Butterfly Tattoo Meanings Designs and Ideas
publish time:
Butterfly tattoos are popular among people of all ages, but they are most popular among young women. A red butterfly tattoo design could represent love or honor. Many civilizations consider red butterflies to be symbolic.
What does a red butterfly tattoo mean?
Red Butterfly Tattoos are typically worn by women who have experienced abuse or other traumatic situations to symbolize transformation, change, rebirth, and finding happiness in difficult times.
They represent conquering problems in life that are sometimes beyond one's control or attempting to reach the light at the end of the tunnel.
Depending on who gets the tattoo, a red butterfly tattoo can have various distinct meanings.
Overcoming adversity, rebirth, metamorphosis, beauty, and liberation are some of the various meanings.
Overcome Adversity: People often acquire a red butterfly wings tattoo as a symbol of rebirth when going through a difficult time or facing tragedy. The metaphor implies new beginnings and optimism for the future, akin to a phoenix rising from the ashes.
Rebirth: A red butterfly tattoo may represent the leaving or shedding of an old portion of one's life and the beginning something new. This might be seen as having numerous tattoos, each representing an important event from their past, such as relationships, jobs, or other challenges they no longer face.
Transformation: Others choose a red butterfly tattoo to symbolize their transformation into a more confident, mature, or successful person.
Beauty: For some ladies, a red butterfly tattoo symbolizes independence and beauty on the inside and out. 
Freedom: The red butterfly is often associated with liberation from troubles or situations people have fought for much of their lives, such as addiction or melancholy. 
The symbolism of a red butterfly tattoo varies depending on the individual who receives it and their place in the design. Though the significance of this type of tattoo is open-ended, it is often associated with reoccurring themes.
Red is a historically significant color and one of the most popular. Red can have a variety of meanings depending on the situation, including danger and warning, but it can also be associated with passion and love in some cases. The color red represents a variety of human emotions, particularly human desire or passion. Red also symbolizes blood and life, which are two fundamental ingredients for all living things.
The crimson-colored butterfly has been associated with loss of life and bloodshed for thousands of years in many cultures to symbolize the loss of life. Wearing a tattoo that depicts a blood sacrifice can indicate this setting (for example, a heart pierced by an arrow). A rose or a little butterfly are two examples of intrinsically living objects that can be worn as jewelry. The color red is associated with heat, fire, and warmth, all associated with life and living things.
Many people equate red with love, and it's commonly associated with butterflies. Some Japanese beliefs regard red as a lucky color or emblem that can bring good fortune into one's life if worn or seen frequently. Red has traditionally been thought to be an exact color to draw, and it may be found in traditional and contemporary tattoos.
Some cultures believe that a red butterfly tattoo represents their culture because butterflies symbolize themselves. Butterflies are commonly used in traditional Japanese tattoos to symbolize love and happiness. The tribal butterfly is a symbol of rebirth and fresh beginnings in Greece.
The color red has long been associated with good prosperity and is widely associated with diverse connotations worldwide. According to common opinion, wearing or watching the color red can bring good fortune into your life; therefore, if you encounter a red butterfly tattoo design, you might be motivated to persevere in reaching success and happiness. 
It's also likely that viewing red butterflies makes you think of loved ones who have passed away, as many cultures do with these insects.
Butterfly tattoos are popular, but there is no one-size-fits-all answer to what a butterfly tattoo represents to each individual. This is because butterflies and their meaning vary greatly between people.
Many languages, including Greek, Hebrew, Latin, and others, have no term for "butterfly." This indicates that the animal's symbolic meaning has been known for some time. Butterflies have traditionally been revered as beautiful creatures with intrinsic grandeur and dignity. Some people regard it as a symbol of new beginnings or possibly a chance to start again after a catastrophe or calamity. 
Butterflies are connected with change and transformation since they may change their form from caterpillar to blue butterfly. Butterflies have long been recognized as spiritual symbols, making them a great design for anyone interested in past lives and karma.
Transformation, rebirth, resurrection, and finding happiness after a sad situation is common meanings for beautiful butterfly tattoos. Resurrection, metamorphosis, beauty, and the soul's independence are some of the other connotations.
Many people who have experienced past life regression say they felt like a small butterfly in a previous life, hinting that this change is special. This is supposed to be because butterflies emerge from their cocoons alive before being reincarnated, so many people who undergo regression feel they were a previous incarnation of a living creature.
The meaning of a butterfly tattoo isn't fixed in stone, and each color can have a completely different meaning than another. In this article, we'll look at what the red butterfly represents in terms of tattoos.
The meaning of a tattoo design might vary based on the color used. It's crucial to analyze the monarch butterfly's colors while understanding its meaning. Red is associated with fire and blood flow, which symbolizes physical action, force, and passion since it is linked to fire and blood within our bodies, implying great energy in motion within us.
Every traditional butterfly tattoo has a particular meaning based on who gets it and how important the insect is to them. While red is generally associated with love, it is not the primary meaning of the tattoo. 
It's also true that many cultures equate red with love, and some even consider it a symbol of good fortune - which means that, depending on the wearer's arm, the new design might represent something positive or remind them of pleasant memories every time they look at it.
Another interpretation is that it signifies personal development over time. We all go through different stages in life, and sometimes we become stuck in our current situation and don't know how to move on.
To break out from this rut, you must let go of your prior self, which occurs naturally as you age but can also be triggered by tragedy or trauma in some people. 
Respect is typically associated with colorful butterfly tattoos. Butterflies have long been seen as emblems for deceased loved ones who have passed on to the world of spirits in some civilizations, particularly in Asia. When deciding what to get next under the needle, this symbolism gives a tattoo a deep meaning that many people find appealing.
Butterflies, as previously said, have a variety of meanings for different people. People worldwide equate butterflies with change, wealth, past lives/karma, loved ones who have passed away on Earth, and metamorphosis. Some of these situations may be carried by red butterflies, although this will depend on the symbolism of both cultures. 
If you decide to go forward with your realistic butterfly tattoo, be sure you like the design. Your tattoo artist will be able to provide you with more information. Butterfly tattoo designs are popular on the bicep, such as a thigh tattoo, ear tattoo, shoulder tattoo, chest, and arms, among other places.
Red butterfly tattoo ideas
Red butterfly tattoo behind ear
Red butterfly hand tattoo 
Red butterfly neck tattoo 
Red butterfly tattoo on foot
Red butterfly tattoo on thigh
Red butterfly tattoo on wrist
red butterfly finger tattoo
Red butterfly tattoo designs
small Red butterfly tattoo 
Red and black butterfly tattoo 
Red outline butterfly tattoo
Red rose and butterfly tattoo 
3d Red butterfly tattoo 
tiny red butterfly tattoo
Related Knowledge: Want to know what tattoo designs look good on you? Temporary tattoos 🔗 are appealing because it lets you try out body art without the permanent commitment. It is also a fun way to change your appearance or experiment with different placements before taking the plunge and getting inked for real. This is an excellent choice for anyone thinking about getting a tattoo but wants to see how it would look first, or for someone who cannot get inked for whatever reason, including pain tolerance or health problems. The temporary tattoo is also cheap, easy to apply, and lets you express yourself without hassle. Choose from a wide range of symbolic designs or something simple or cute. The choice is yours, so have fun with it. 
Check out our butterfly temporary tattoos collection of to find your best tattoos.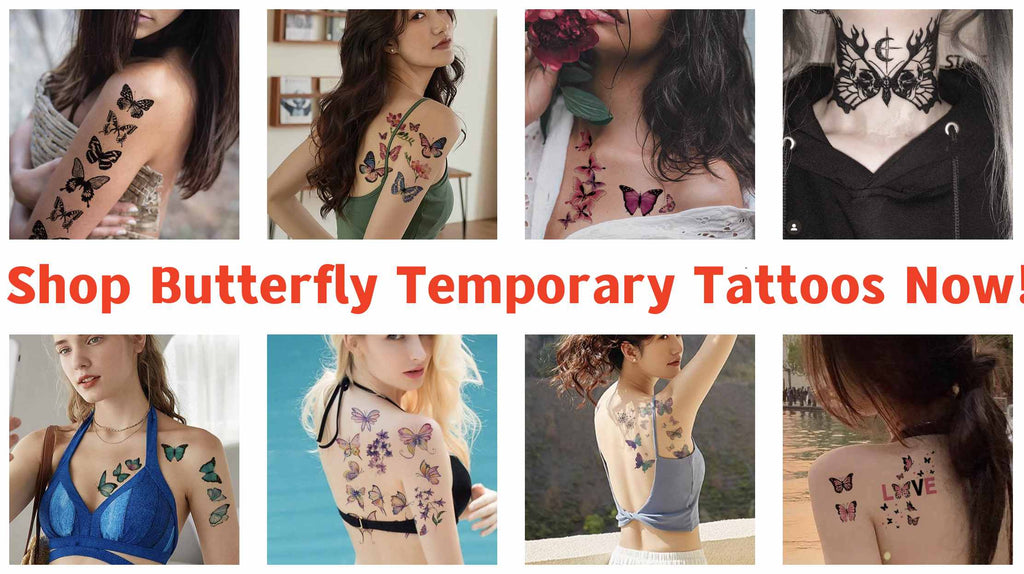 Red Butterfly Tattoos FAQ
What does a red butterfly tattoo mean?
A red butterfly tattoo can represent a variety of things. It can signify freedom, power, and hope. It is often used to represent the stages of life. The red symbolizes the blood that flows through our veins and wings symbolize the journey of life.
Where is the most popular place to get a red butterfly tattoo?
Behind the ear and hand.
What are the most popular red butterfly tattoos for women?
Simple red butterfly tattoos or red butterfly with rose tattoos.
How can I figure out what kind of red butterfly tattoos look well on me?
You can try our red butterfly temporary tattoos, we have various red butterfly tattoos to choose. When you want to see whether you like red butterfly tattoos but don't want to commit permanently, temporary red butterfly tattoos are the way to go.