Rose and Butterfly Tattoo: Eternal Love and Hope for New Life
publish time:
Rose and butterfly tattoos have been trendy for many years.
This is an excellent option if you want a tattoo but can't decide what you want.
Love and beauty are commonly represented by the rose and butterfly tattoo design.
It's also a metaphor for the endless birth, life, and life cycle.
In these patterns, a black and white butterfly commonly lands on a red rose.
Color is utilized to draw attention to and contrast with the design.
These tattoos, especially those of roses and butterflies, often feature incredibly fine detail that would be difficult to capture in any other media.
If you want a classic tattoo but also want something little and significant, this is the one for you.
Both rose tattoos and butterfly tattoos are very popular among females.
The feminine qualities of the flower and the butterfly's grace and elegance are symbols of this.
The tattoo design features a rose and a butterfly. That equates to a fusion of independence and aesthetic appeal.
There is a strong feminist symbolism to this ink.
This tattoo symbolizes love, beauty, or the liberation to love as one pleases.
A tattoo's significance is intrinsically tied to the wearer.
It's possible to construe it in numerous ways. Everyone is free to decide for themselves.
A casual conversation can have profound importance for the other. And the rose's symbolism might shift depending on its hue.
There's love in a red rose and friendship in a yellow rose.
This tattoo often symbolizes friendship.
Likewise, a black rose is a symbol of sorrow. This black and gray tattoo may symbolize a period of sadness and mourning.
Related Knowledge: Want to know what tattoo designs look good on you? Temporary tattoos 🔗 are appealing because it lets you try out body art without the permanent commitment. It is also a fun way to change your appearance or experiment with different placements before taking the plunge and getting inked for real. This is an excellent choice for anyone thinking about getting a tattoo but wants to see how it would look first, or for someone who cannot get inked for whatever reason, including pain tolerance or health problems. The temporary tattoo is also cheap, easy to apply, and lets you express yourself without hassle. Choose from a wide range of flower temporary tattoos or rose temporary tattoos. The choice is yours, so have fun with it. 
Rose And Butterfly Tattoo On Forearm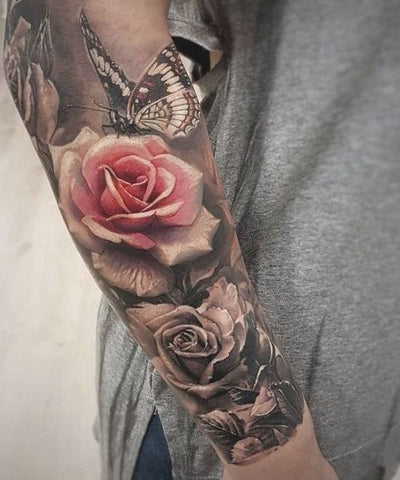 Tattoos on the inside of the arm are commonly known as "half-sleeves," but the term is also used to describe tattoos on the outside. Women's rose and butterfly forearm tattoos are a common body art choice. It can take several forms, but a black outline with certain colored highlights is the most common.
Rose And Butterfly Tattoo On Shoulder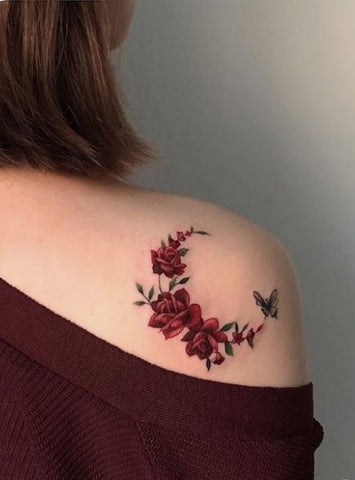 Shoulder tattoos are a fantastic method of self-expression, and this particular rose and butterfly design is a beautiful example. Furthermore, they are one of the most cryptic designs to work with if you want a covert tattoo. Body art and a means of expressing oneself, tattoos have been around for centuries. You can use them to remember a special occasion or pay tribute to an individual. A shoulder tattoo is a beautiful expression of devotion to a loved one. A strong, confident, and courageous persona can be represented by this item.
Rose And Butterfly Sleeve Tattoo
Sleeve tattoos are an excellent way to showcase your ink, and this rose and butterfly design is a wonderful example of why. You can get them on your arm, your leg, or any other part of your body. Furthermore, they work wonderfully as a disguise for tattoos you no longer wish to show off. The rose represents love, while the butterfly represents change. These two images united in a tattoo can represent the belief that love makes you better than you were before.
Rose and Blue Butterfly Tattoo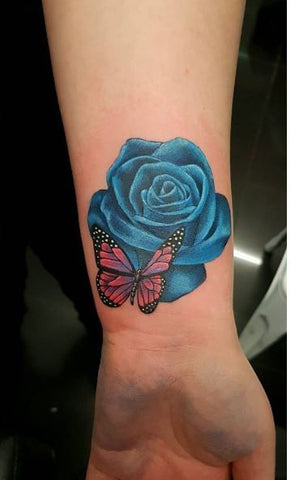 Watery hues have a mesmerizing effect on us. It's soothing, and its enticing qualities are a bonus. Blue butterfly tattoos have a strong, profound impact on us, even if we can't see them. There are two schools of thought on the meaning of a blue butterfly tattoo: one holds that it is a good luck charm, while the other associates it with the calmness and steadiness of the ocean. A blue rose represents aspiration, optimism, possibility, and success. Therefore, the connotations of both pink and blue butterflies make for attractive and significant tattoos.
The blue roses are permanently affixed to the butterfly's wings in this picture. An illustration of a half-butterfly tattoo would look like this. The arm is the chosen location for this butterfly tattoo. This butterfly tattoo in unusual colors stands out for its beauty and originality. You may also get a butterfly rib tattoo with this design.
Rose and Pink Butterfly Tattoo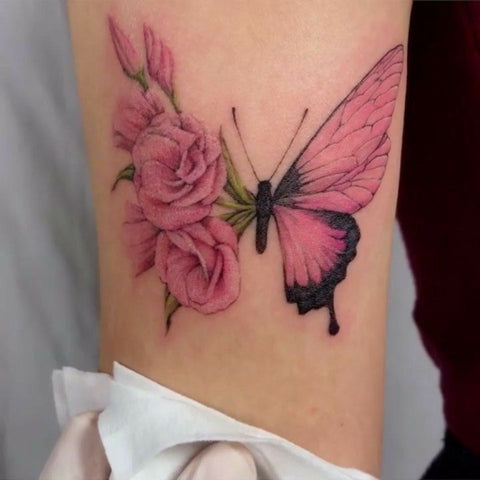 This rose, and butterfly tattoo is stunning. There are many meanings linked with the color pink, including new love, purity, and remembrance. A rose tattoo of any color has a unique significance, but this one stands out. There is an extraordinary level of importance and feeling connected to it.
A pink butterfly represents compassion and love. In some contexts, it can also mean a blossoming romance between two young people.
A link of this sort can signify a wide range of things; interpretation is subjective. The tattooist did a fantastic job strategically placing this design to stand out from the rest of the skin. The rose's pink tones almost fool the eye into thinking it's real. The delicate appearance of the butterfly is due to the lines on its wings. The ink's tonal range harmonizes with the wearer's skin. Women are the ones that typically opt for this delicate tattoo.
Rose and Red Butterfly Tattoo
A red butterfly tattoo is a favorable omen. If you see a red butterfly, consider yourself lucky. At least, that's what American folklore says. A butterfly tattoo is a symbol of love and devotion for newlyweds.
This picture is here to serve as a visual aid during brainstorming. The depicted flowers, however, are unique to this piece. Roses should be used in place of the current flowers. This vibrant butterfly tattoo would look beautiful on the breast. The butterfly design is bold, and the attention to detail is impressive. These designs are also suitable for the back.
Rose and Yellow Butterfly Tattoo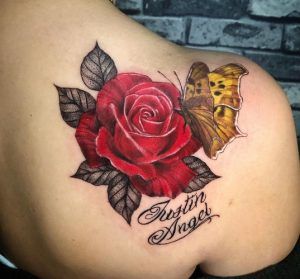 In many ways, yellow butterflies are symbolic of optimistic emotions like happiness, contentment, and naivety. Getting a yellow butterfly tattoo can remind you of your inner drive to improve and be more genuine. A yellow butterfly perched on a person's arch is a symbol in Irish mythology of the soul finding rest and moving on to a better place.
You won't find many other butterfly tattoo designs as original as this one. This style of painting is an abstract one. It's a conceptual design, so the red rose and butterfly only have partial yellow coloring on one side. The aesthetic is both contemporary and retro at the same time. Though this tattoo is on the arm, it would look just as good on the thighs, chest, or shoulders.
Rose and Black Butterfly Tattoo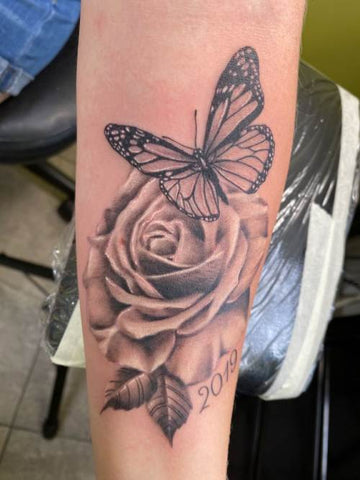 Many tattoo enthusiasts have always preferred black ink. A black butterfly's beauty is striking in its individuality. Such tattoos often symbolize the recurrence of life's most fundamental stages—birth until old age and fatal. Numerous people have taken notice of this piece of art since it is so unusual in the wider world.
In its current form, this photograph is breathtaking. The sketch progresses from the upper chest to the upper arm. This stunning pattern was made with black ink.
Rose and Purple Butterfly Tattoo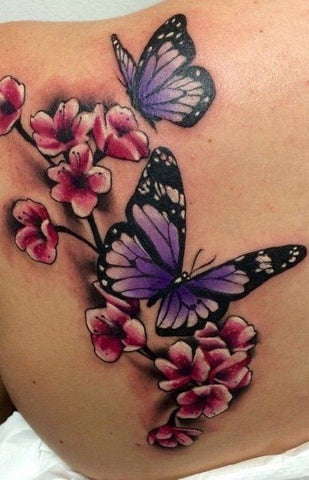 Purple butterfly tattoos with a rose symbolize triumph over adversity and the beginning of a new chapter in the life of someone who has suffered from illness. Grace, royalty, and nobility are all represented by this tattoo. 
The tattoo design depicted above is one of the most traditional in existence. The genuine butterfly is purple and has a charming design. The red rose's stem is shaped to draw attention to a woman's features. This photo is stunning in its originality and interest. The rib is the location of the tattoo. It can also be incorporated as a tattoo on the thigh, stomach, or chest.
Rose and Monarch Butterfly Tattoo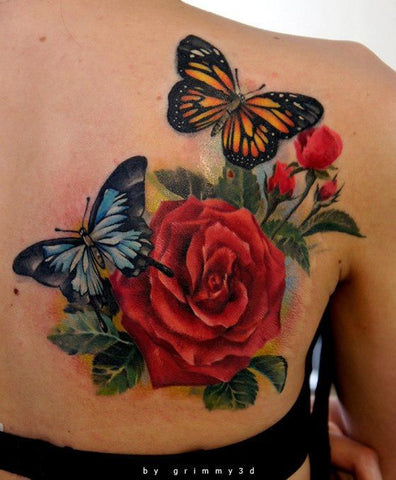 The monarch butterfly tattoo has a unique character. It's a compliment to a woman's kindness and beauty that also conveys strength, confidence, and protection. This beautiful butterfly is a symbol of freedom and upper-class status. This pattern is used to commemorate departed loved ones in several different cultures. The butterfly* is shown in a much gloomier and more traditional style.
The hip side is where you'll find this design tattooed. If you already have a butterfly tattoo, it will cover it. The proximity of two monarch butterflies might evoke images of love and attachment. What should I do to hide the rose and butterfly tattoo on my back? If you want to hide it, this pattern is perfect for you.
Clock rose and butterfly tattoo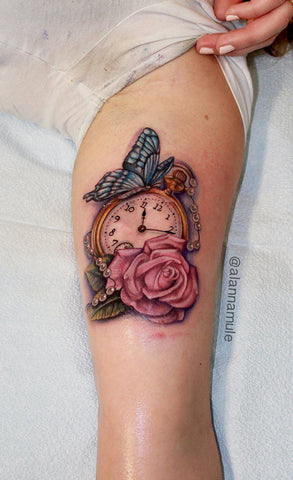 A timepiece can be seen as a symbol of permanence and eternity. Through the visual signs of love and romance, roses and butterflies. As a result, when you put it all together, it means eternal love.
This picture shows a clock, two butterflies, some flowers, and a cemetery. The idealized state is unending affection, a love that endures beyond the grave. This gorgeous work of giant art almost completely covers the forearm. A rib cage tattoo can also be drawn on the back and side.
Small Butterfly And Rose Tattoo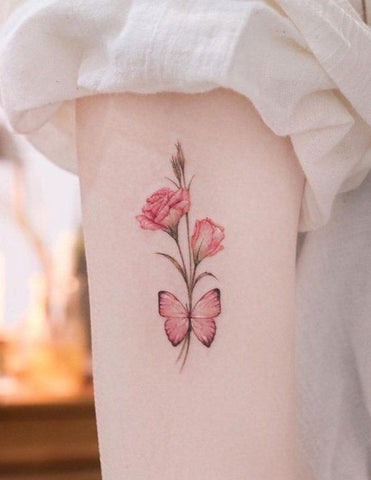 This is the best butterfly tattoo design for those who like smaller tattoos. Despite its spare appearance, the piece is beautifully crafted. Simpler designs frequently win praise from the public. Did you know that in ancient times, butterflies were revered as warriors? No way, Jose. Tattoos of butterflies are a common way for living people to pay respect to the departed.
First of all, the design is modern and minimalist. Beautiful care and attention to detail can be seen in the intricate patterns on the butterfly's wings. This is the perfect layout if the above message rings true to your motto.
Rose and Realistic Butterfly Tattoo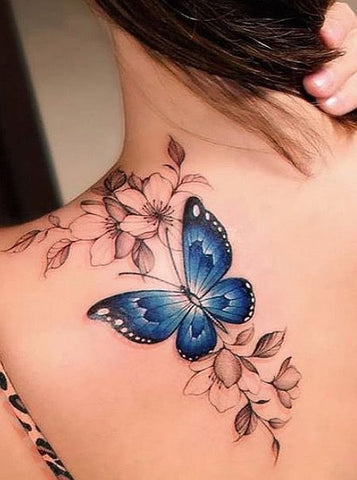 Some people like more realistic butterfly designs. Such artwork has a strange appearance that draws attention. It makes one appear more refined and respectable. The lifelike designs give the tattoos an edge that the rest of the tattoo designs lack.
As was previously noted, this realistic rose and butterfly tattoo is a great candidate for a tattoo. A stunning monarch butterfly flutters around a rose and a woman's body submerged in water. Feminine and bold best describe the depiction. Fantastical and lifelike in appearance. If this layout intrigues you, then you should give it a try.
Advice
Temporary tattoos let you try out the trend of body art without committing permanently. They're fake tattoos but look real. Temporary tattoos are wonderful practice for those who are considering permanent ink but want to explore other designs first. Temporary tattoos are a terrific alternative to permanent ink if you want to see how a rose and butterfly tattoo design will appear before committing to it, or if you can't get tattooed for any number of reasons, including a low pain tolerance or health concerns. It's cheap, easy to apply, and useful because it makes expressing oneself naturally more comfortable. A gift could be something sweet and simple, or it could have profound symbolic value. You have complete freedom of choice; act as you see fit.
You have your choice of the following temporary tattoos
Butterfly Temporary Tattoos
Rose and Butterfly Temporary Tattoos
FAQ
❓ What is the meaning of a rose and butterfly tattoo?
Now, depending on the socio-cultural and geographic context, the symbolism of the rose and butterfly tattoo can be interpreted in a variety of ways. Having said that, the main symbolism of a rose and butterfly tattoo for women is unrequited love.
🤔 What is the meaning of a rose and butterfly tattoo on the wrist?
A rose and butterfly tattoo on the wrist is a sign of love and care. It is often used as a symbol of friendship or just as an indication of what the person values in life.
😍 What are the best places to get a cross tattoo for women?
The rose and butterfly tattoo is usually placed on the wrist, chest, forearm and shoulder.