55 Snake Tattoo Meanings Designs and Ideas: Everything You Need to Know About It
publish time:
Snake tattoos have a meaning behind it. It lets you use your body as a canvas and tells your stories. People do snake tattoos for many reasons. For some, it is a fashion statement to showcase their identity. Snakes have made their presence in art, mythology, literature, and culture globally for ages. They symbolize different meanings including both positive and negative things across cultures. A snake is sinuous, secretive, seductive, and potent in poison. Snake tattoos are also a symbol of life, spirit, occult power and are powerfully evocative. This write aims to discuss the meanings of a snake tattoo for your next tattoo adventure. 
Related Knowledge: Want to know what tattoo designs look good on you? Temp tattoos 🔗 are appealing because it lets you try out body art without the permanent commitment. It is also a fun way to change your appearance or experiment with different placements before taking the plunge and getting inked for real. This is an excellent choice for anyone thinking about getting a tattoo but wants to see how it would look first, or for someone who cannot get inked for whatever reason, including pain tolerance or health problems. The temporary tattoo is also cheap, easy to apply, and lets you express yourself without hassle. Choose from a wide range of symbolic designs or something simple or cute. The choice is yours, so have fun with it. 

By the way, snake temporary tattoos are a good choice if you are afraid of pain or need to know what design suits you
Snake Tattoo Meanings

 
Snake tattoos have been a strong and stable motif in the tattoo landscape. No matter if they are combined with floral, skulls, or anything else, these flexible tattoos deliver rich symbolism. Snakes stand for power and strength. They also possess venom, and that symbolizes danger. Shedding their skin is another thing of snakes that stands as a great symbol of rebirth and healing. Snakes are also a symbol of fertility, reincarnation, knowledge & wisdom in many cultures.
Snake tattoos have existed for as long as there have been tattoos, so this should be no surprise.
Except for Antarctica, every continent has snakes.
It appears that humankind has always been fascinated by snakes based on ancient folklore.
These creatures, frequently feared, can restrict victims, have split tongues that seem lifeless, lengthy slippery bodies, and have the ability to inject venom.
Since snakes are such dreadful creatures, why would anyone desire a tattoo of one?
The truth is that although snakes have a lot of negative connotations attached to them, many people adore them and even keep them as pets.
I suppose that you either love snakes or you don't.
Many ancient and modern variations of the snake tattoo motif are still prevalent today.
This article will discuss some of the symbolism associated with snake tattoos and suggestions for placement and style.
In either case, they unquestionably make fantastic tattoos and have a variety of intriguing meanings, including:
Rebirth
The symbolism of rebirth or the snake's representation of the circle of life is an essential topic in tattoos of snakes.
Snakes are considered animals that can regenerate and have a lengthy lifespan.
Snakes are life-giving and life-stealing predators.
Change or rebirth is a snake tattoo's first and most evident meaning.
Unpredictability
Snakes are always on the prowl and may suddenly appear.
As a result, they represent unpredictability, which for many tattoos, indicates that you are a person who doesn't follow the rules.
Mysteriousness
Because they slither across the ground and seem to materialize out of thin air, snakes are regarded as enigmatic animals everywhere around the globe.
If you have a snake tattoo, it may indicate that you are a secretive, shady individual.
Your Sinful Side
The apparent Christian association of snakes representing sin is the final point.
Not only that, but a snake tattoo can stand in for a darker side of yourself that you may not enjoy but would like to feel more at ease with.
Snake Tattoo Designs and Ideas
Snakes have been enjoying a wide array of symbolic meanings. These creatures have vicious split-tongues, long slippery bodies, and are potent in venom. They can also cause deep hurt to humans with their lethal strike and for these reasons, they are often feared. Still, some people love snakes and have them as pets. However, they make great tattoos with interesting meanings.
Small Snake Tattoo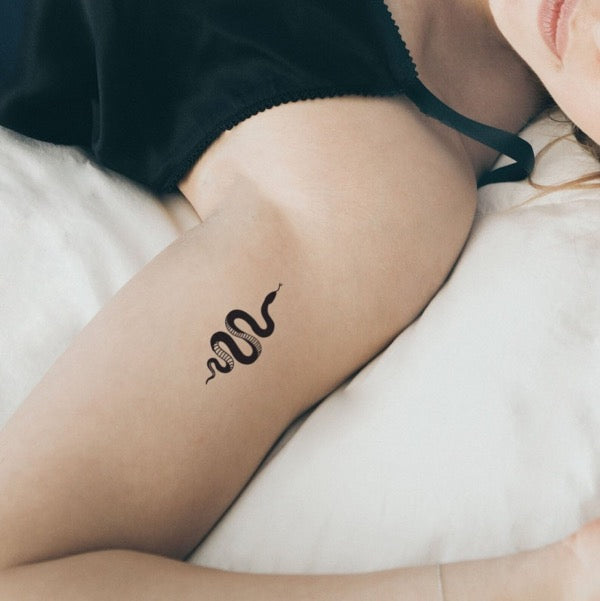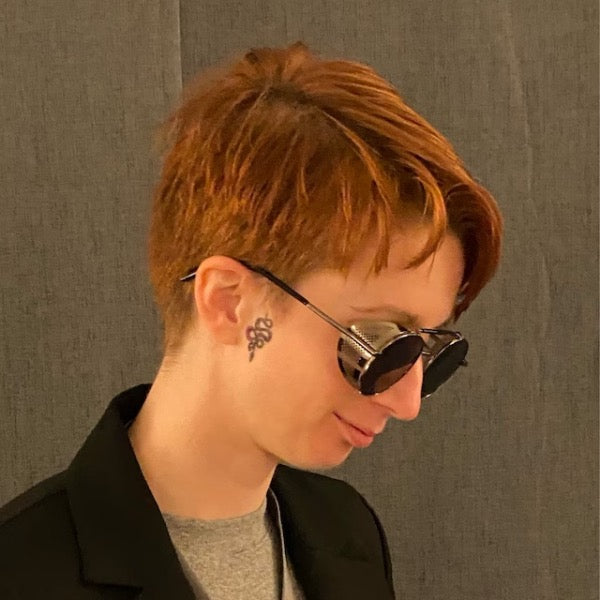 A little snake tattoo is a great choice if you want a minimal or covert tattoo. Its small size makes it perfect for placements such as behind your ear, on your finger, or your hand. The usual idea is to use black ink and a straightforward design while getting a tiny tattoo to make the inking stand out more and make touch-ups simpler.
Japanese snake tattoo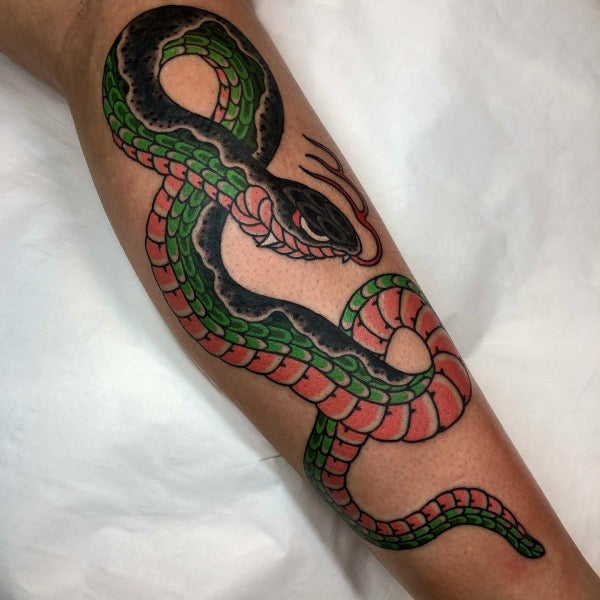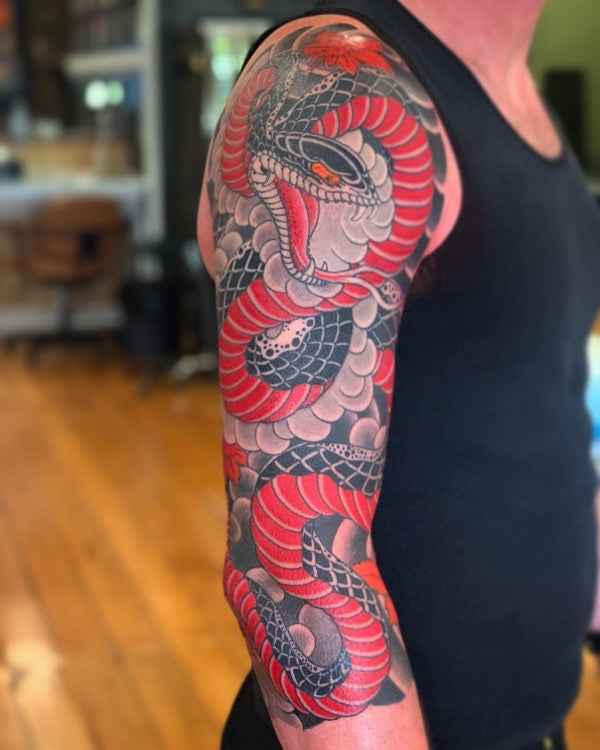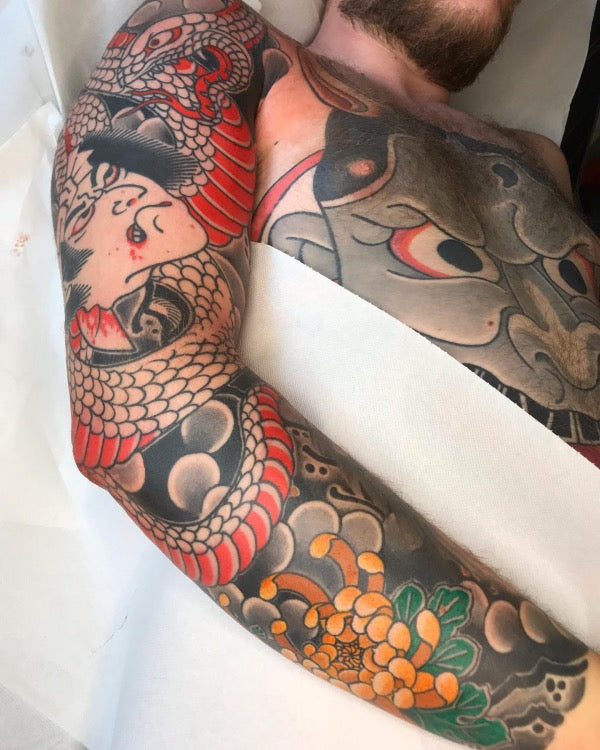 Snakes have a long history in Japan, where they are considered either a deity, a messenger of a god, or a creature that is believed to bring about a divine wrath if they are injured or if a specific natural place is altered. Due to the strength of these beliefs, people have been dissuaded from causing harm to snakes and from damaging specific environments linked with a snake deity.
Simple Snake Tattoo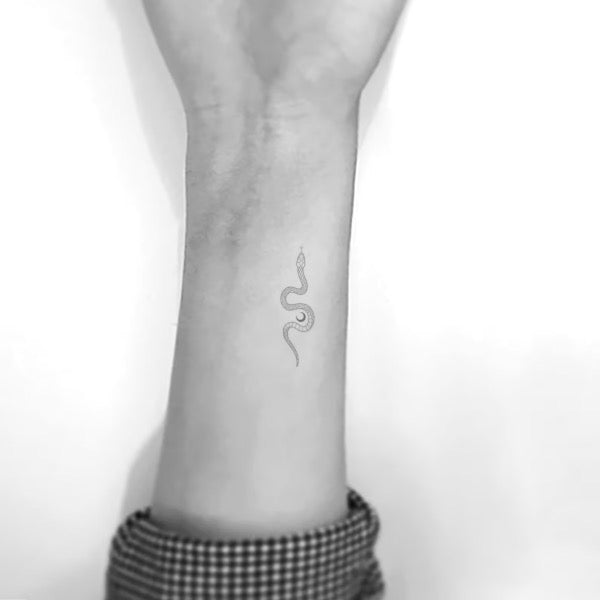 The adaptability of snake tattoos is one of its key advantages. Simple snake tattoos look as stunning and look wonderful when combined with a specific art form, like Japanese irezumi. Try a straightforward snake tattoo if your aesthetic tends more toward minimalism or if you want an inking that requires less time to create.
Minimalist Snake Tattoo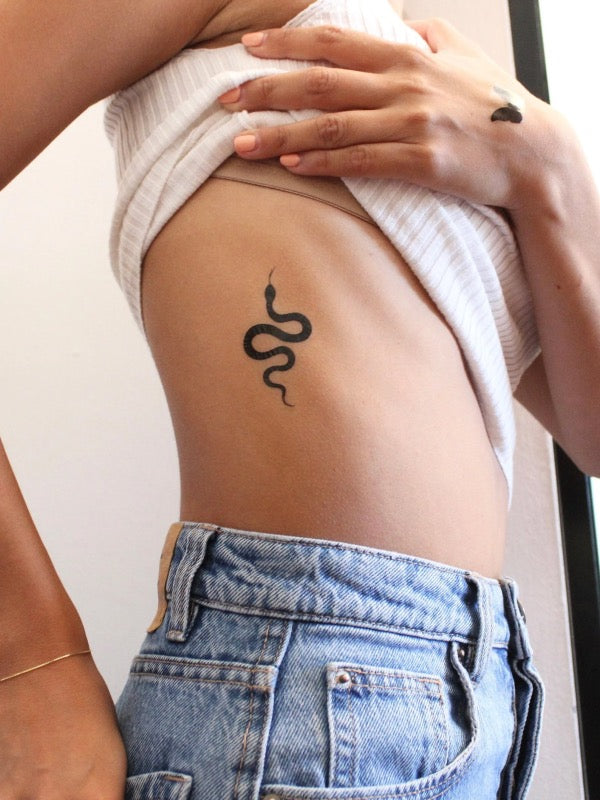 Snake Head Tattoo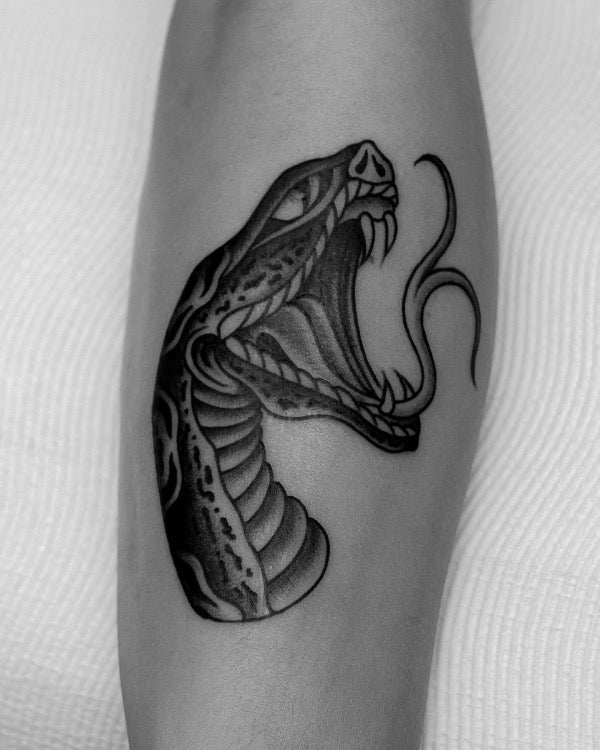 A snakehead is one of the trendiest and most budget tattoo designs, making it ideal for men who desire a threatening and manly snake tattoo. These images emphasize the fangs and poison to highlight the snake's fearsome predatory aspect. Snakehead ink has a lot of life and motion and almost seems to jump off the skin.
Snake Skeleton Tattoo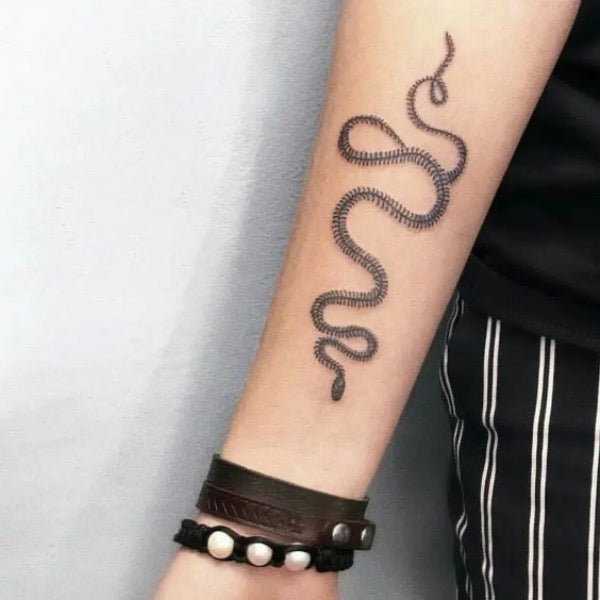 An interesting and creative way to customize an animal tattoo is with skeletons. So why not attempt a skeleton if you seek a distinctive snake tattoo? Because a snake skeleton is more difficult to draw than other snake tattoos, look for a tattoo artist specializing in anatomical patterns. Having a snake skeleton tattoo wrapped around your arm, shoulder, or bicep looks wonderful.
Snake Eating Itself Tattoo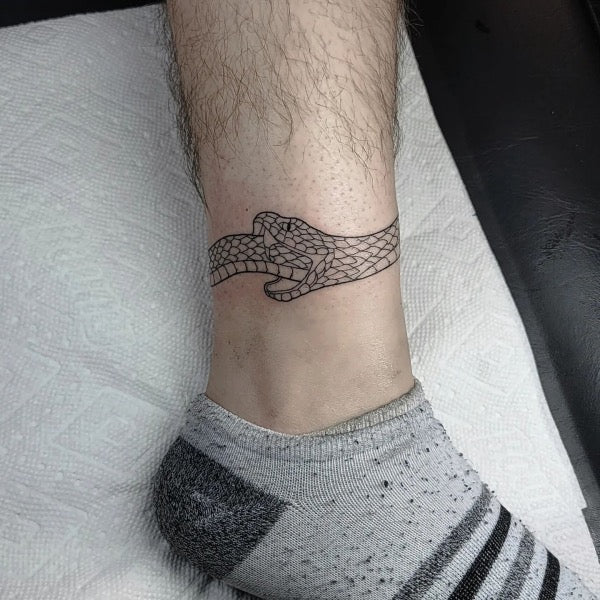 Ouroboros is the name of a serpent eating itself in an old emblem. The ancient mystical artwork depicts the cycle of life, and rebirth and has a long history. It also represents unification and infinity. An ouroboros is a great option for anyone who desires a symbolic or historical snake tattoo. It may be worn on various body parts, including the forearm, chest, or back, and is sure to spark attention.
Two-Headed Snake Tattoo
What is preferable to one snake? Two! An original, ferocious tattoo with an intriguing message is a two-headed snake. The two snakes symbolize the conflict between your two opposing personality traits, such as your aggressive and tranquil sides. A two-headed snake can also stand for having to choose between two different "paths" in life.
Rattle snake Tattoo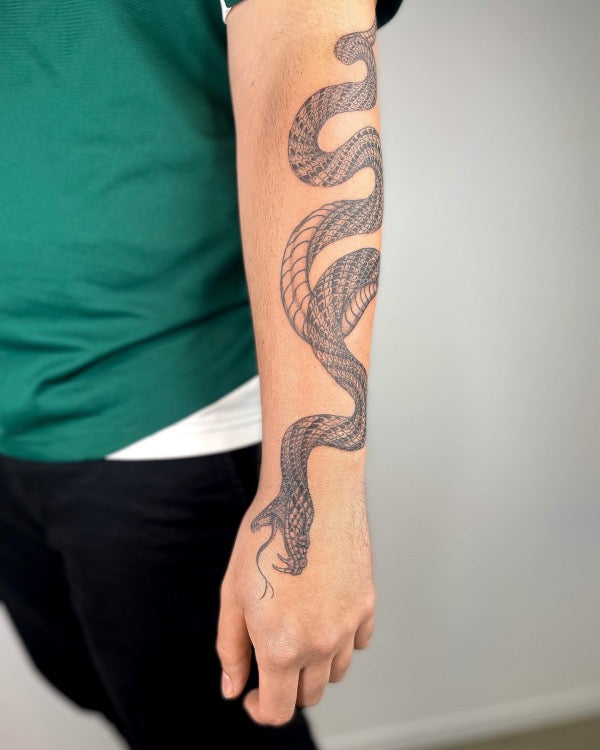 Rattlesnakes are known for their potency and fertility. They also symbolize the end of life.
Cobra Snake tattoo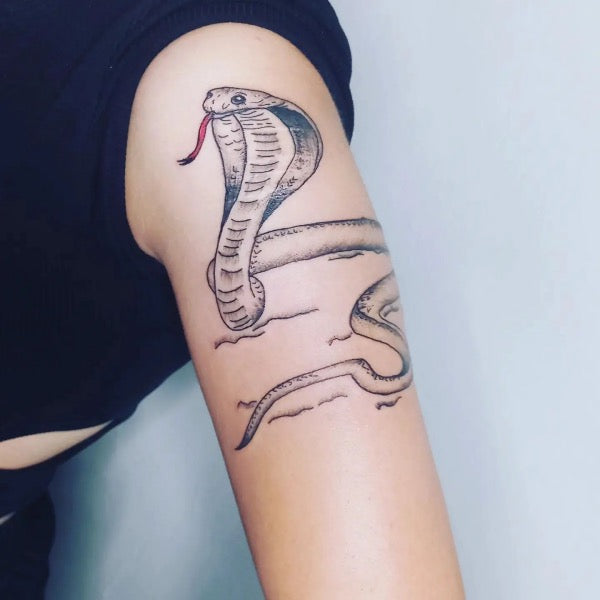 Cobras are one of the most poisonous snakes in the world. In many cultures, they are also held as a sacred totem. When a man has it, it stands for dark intelligence, and for women, it represents the unpredictability and slyness of the cobra.
Viper Snake tattoo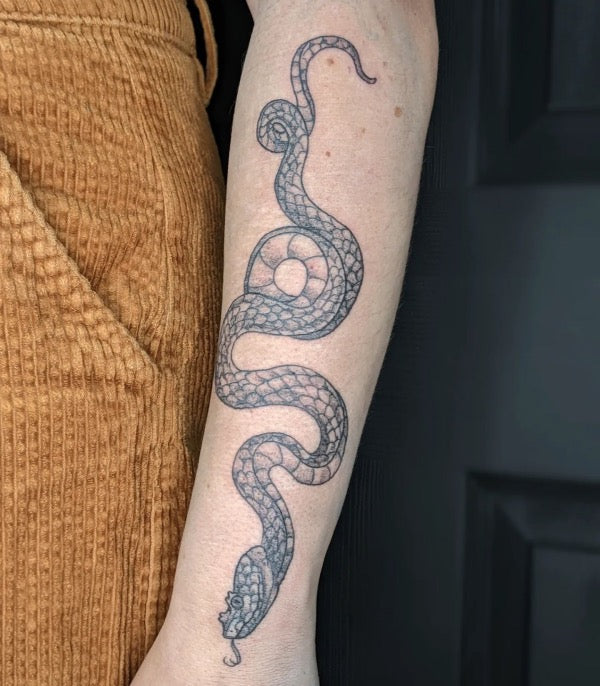 Vipers treacherous snakes. These tattoos symbolize a woman ready to sting a man with lust. Vipers also attack instinctively without any reason and symbolize very terrible.
Python snake tattoo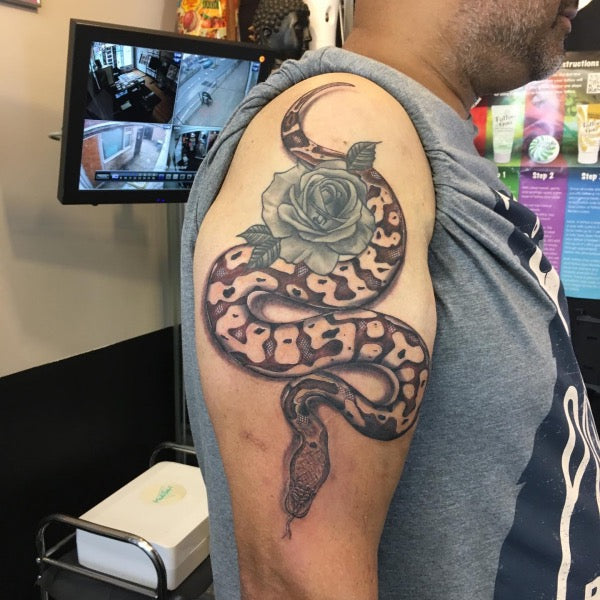 Pythons are considered sacred and revered in many culture. They stand for eternity and renewal of life.
Coral Snake tattoo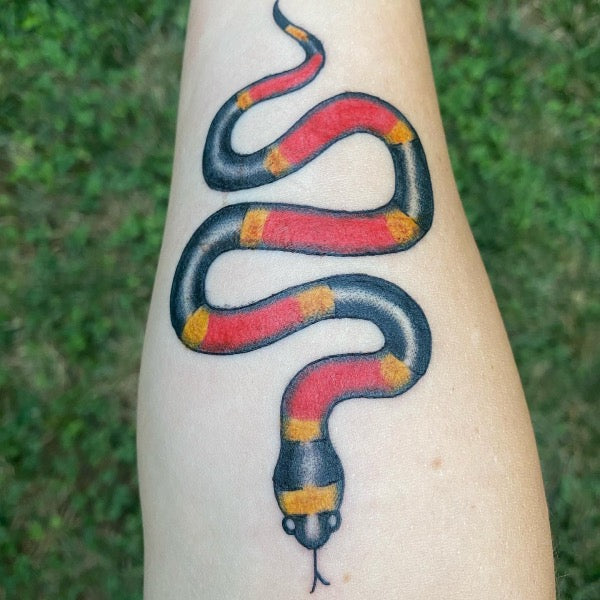 Coral snakes are known for their colors and their ability to hide till the moment of attack. These tattoos stand for mysteriousness and attacking nature.
Coiled snake tattoo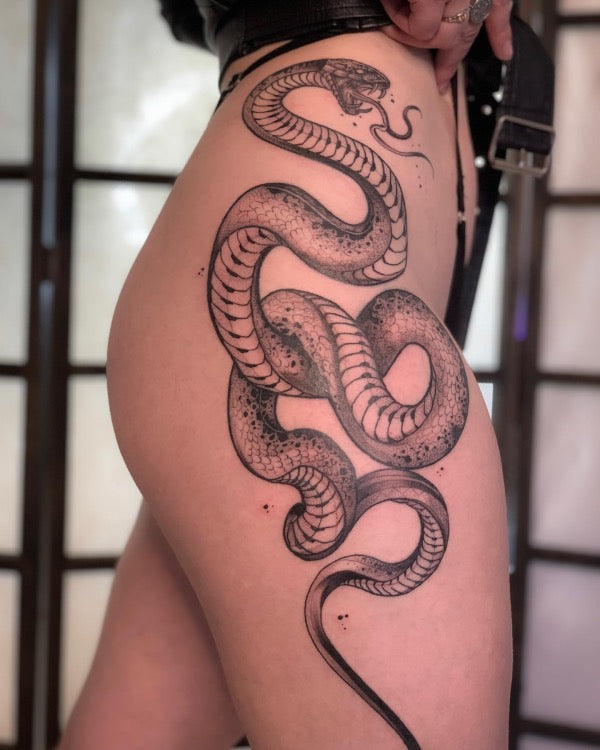 These are the most dynamic snake tattoo. They can be coiled around the prey or the limb or neck and offer pernicious meanings.
Sword & snake tattoo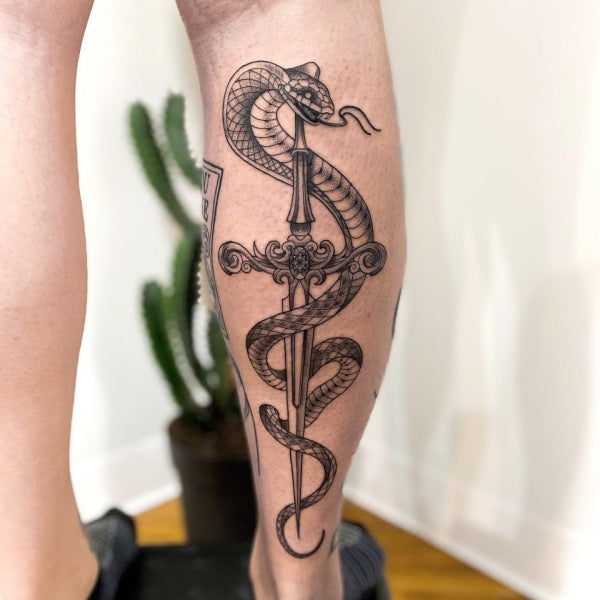 When a snake wraps around a sword, it conveys sinister imagery. It becomes darker with exposed fangs and the tongue. It expresses that you are a powerful person with no fear.
Snake and Arrow Tattoo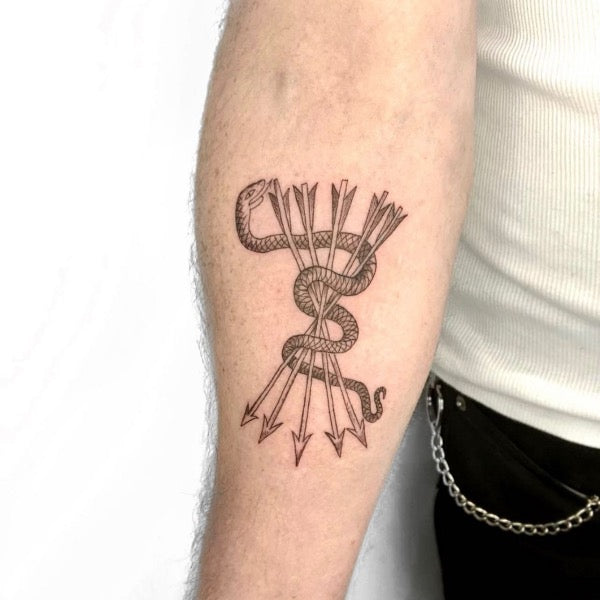 Snake and moon tattoo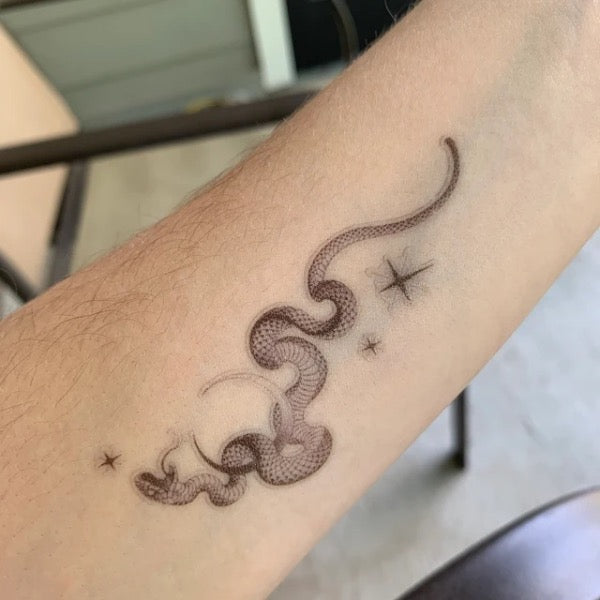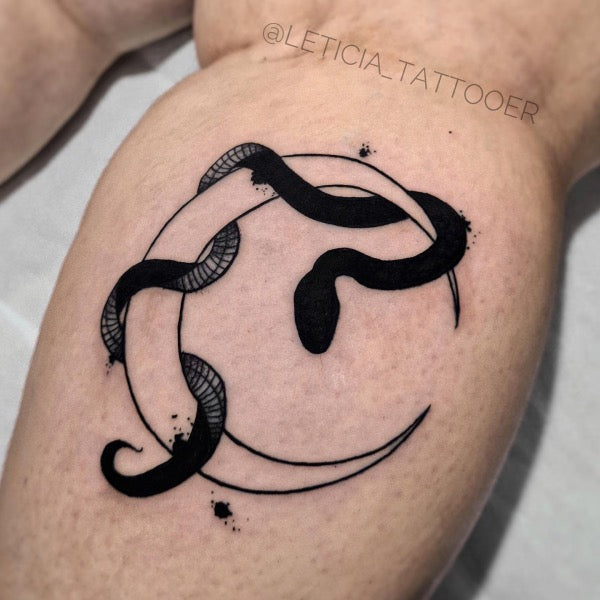 There are many ways to design these tattoos. The moon could be a semi-circle or a crescent, and the snake may even wrap the moon around. It represents mysteriousness and protection from evils.
Infinity snake tattoo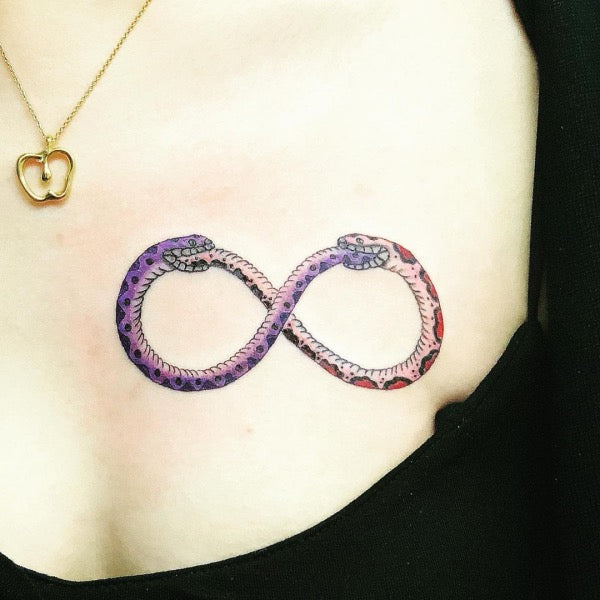 This snake tattoo looks as it sounds. It depicts a coiled snake in the form of an infinity symbol when it eats its tail. It represents the never-ending cycle of rebirth.
Dragon and snake tattoo
Although it sounds odd, dragon tattoos and snake tattoos make a lot of sense. These contain two mystical, powerful, and feared creatures. Sometimes they wrap together, or they can have fighting imagery. Having two powerful creatures with different personalities, these tattoos help to create a balance.
Snake & Peony tattoo
These look very beautiful. The snake wraps around the peony nicely or flows through a bouquet. The peony tattoo represents femininity and the snake masculinity. Overall, they represent the cycle of a balanced life.
Snake skull tattoo
This reminds us of ephemerality. The snake represents lethal venom, and the skull tattoo stands for the fragility of life.
Snake & lotus tattoo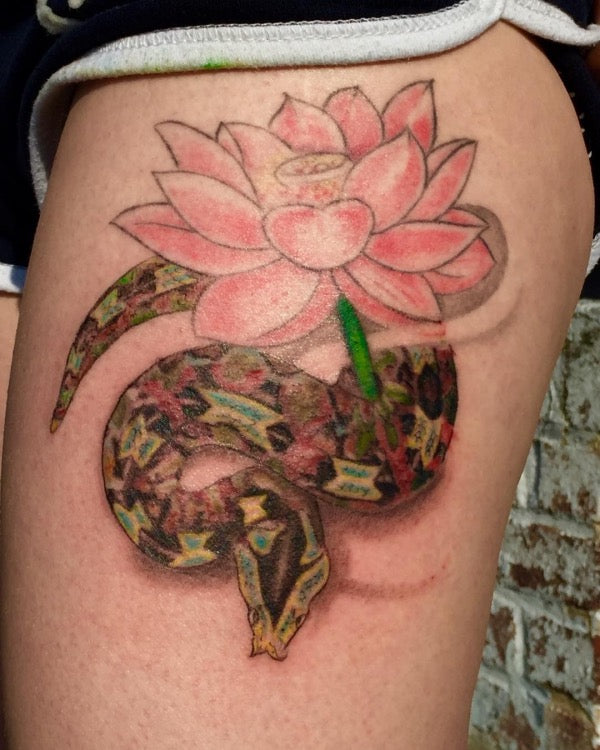 Lotus tattoos contain a snake tangled with a lotus and mean spiritual enlightenment and peace. It also stands for yin and yang concepts in life.
Snake & butterfly tattoo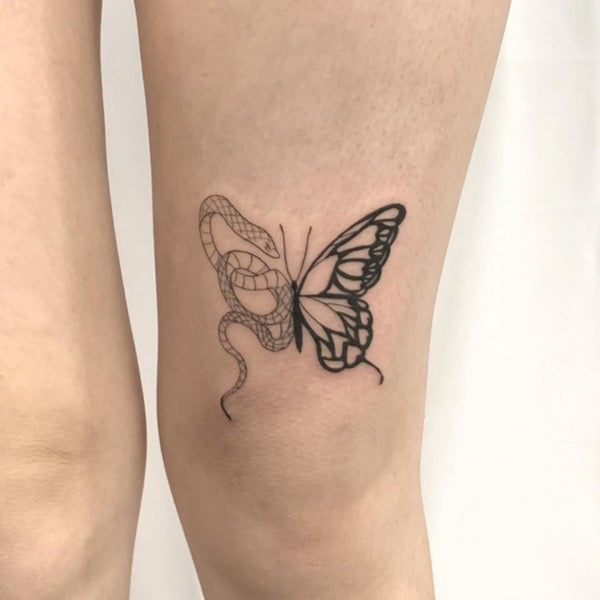 Butterfly tattoos stand for love, re-birth, and femininity. In this tattoo, they are placed on a side of the snake's head and sometimes on the top of it. They mean accentuated when they are combined.
Tiger & Snake Tattoo
These contain a snake fighting with a tiger or wrapping around the tiger's head. Both of tiger tattoos and snake tattoos share a scary attitude and stand for power and the ability to succeed.
Eagle & Snake tattoo
These tattoos often contain the faces of the eagle and snake meeting. Or, they can show the two animals fighting as available in the American traditional style. It means that afraid to face challenges however tough they may be.
Panther & Snake tattoo
These often show the two animals battling each other. Sometimes the snake wraps the panther in its bid to strangle. When these two are combined in a tattoo, they represent the unpredictability of an attack. It also stands for the fight between your two sides of personality.
Two-headed snake tattoo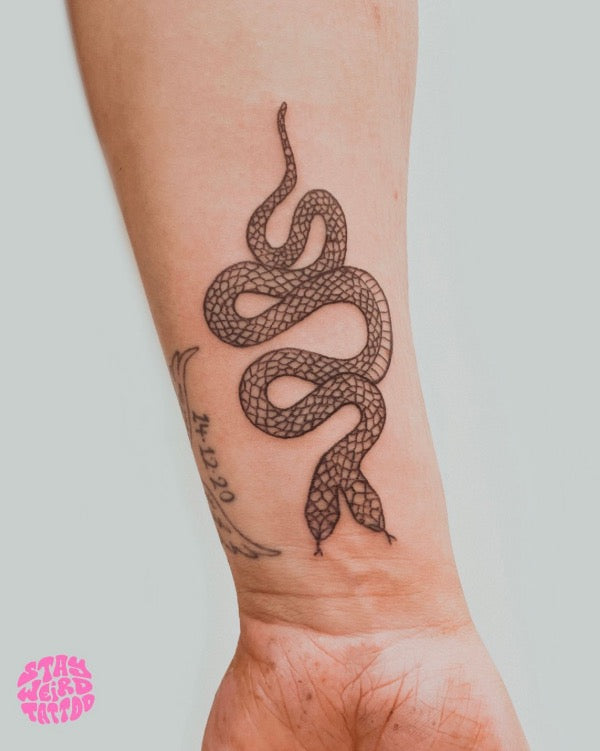 It is an interesting snake tattoo often coming in black and white, these tattoos have a flower where the heads connect. It represents intelligence.
Snake and Rose Tattoo
Not only does a snake and rose tattoo look menacing, but it also has meaning. Because of their relationship with love, roses are a highly classic and often used tattoo design; when joined with a snake, the connotation changes to seductive seduction and intense passion. The snake-and-rose motif would look good with Gothic or traditional paintings.
Black Mamba Snake Tattoo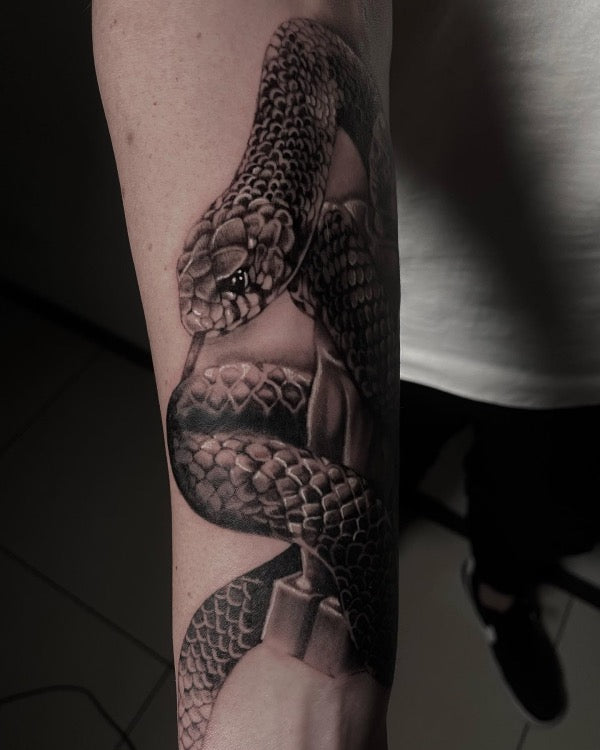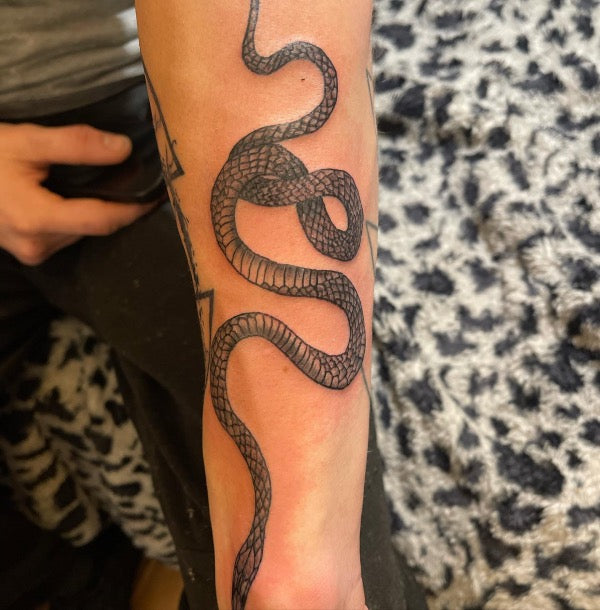 Black Mambas, native to Africa and among the most dangerous and venomous snakes on the planet, are renowned for their remarkable speed and agility. Despite appearing innocent, it is also known to become highly hostile when provoked. A Black Mamba tattoo is a great option for men who can identify with the snake's traits. Basketball lovers may want to consider getting this tattoo as an homage to Kobe Bryant, often known as the moniker "Black Mamba."
Snake Wrapped Around Arm Tattoo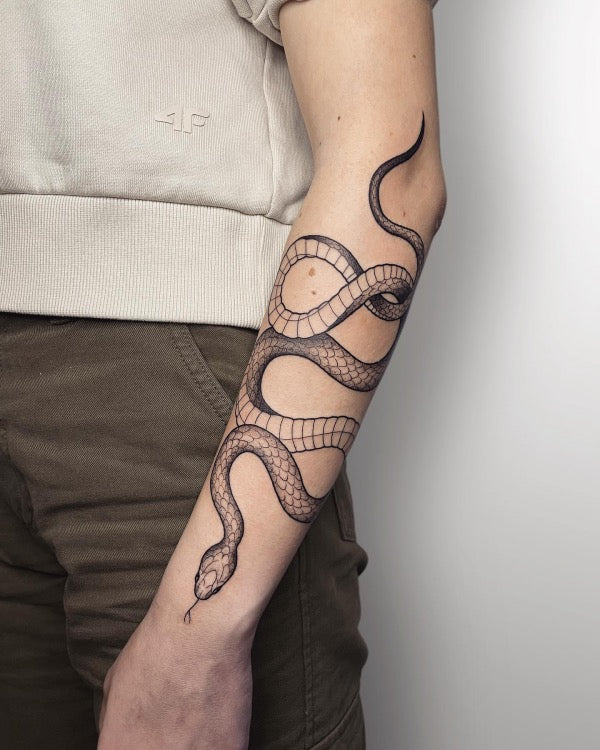 A wraparound pattern on your arm is among the greatest snake tattoo ideas. Snakes are perfect for placements on muscular areas, such as your bicep, due to their slender, curled bodies. The pattern may cover a portion of your arm or even give the appearance of a semi-sleeve by extending from your wrist to your shoulder.
Snake and Skull Tattoo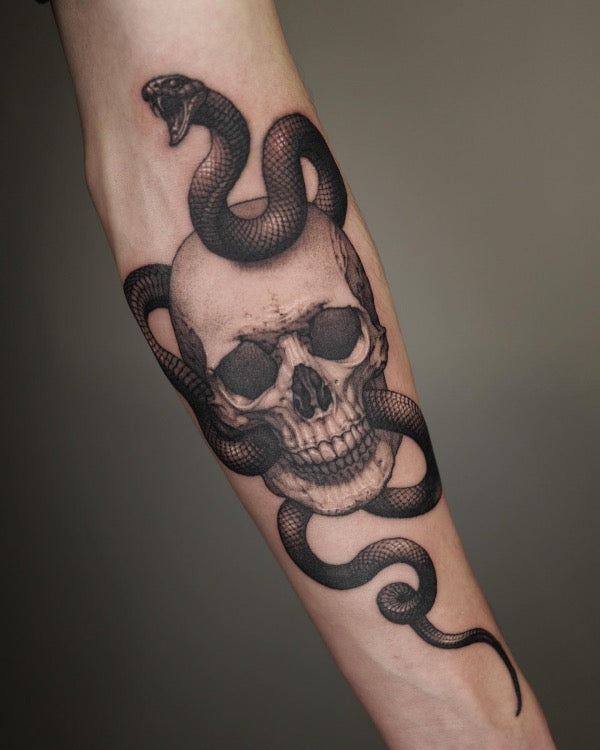 If you want a tattoo that sticks out, a snake and skull design has a Gothic appeal. It also conveys several connotations. While some people would view a snake-and-skull pattern as a representation of poison or lose life, the pattern symbolizes the never-ending cycle of life, and rebirth. An ancient emblem of wisdom is a serpent in a skull's eye.
Snake Eye Tattoo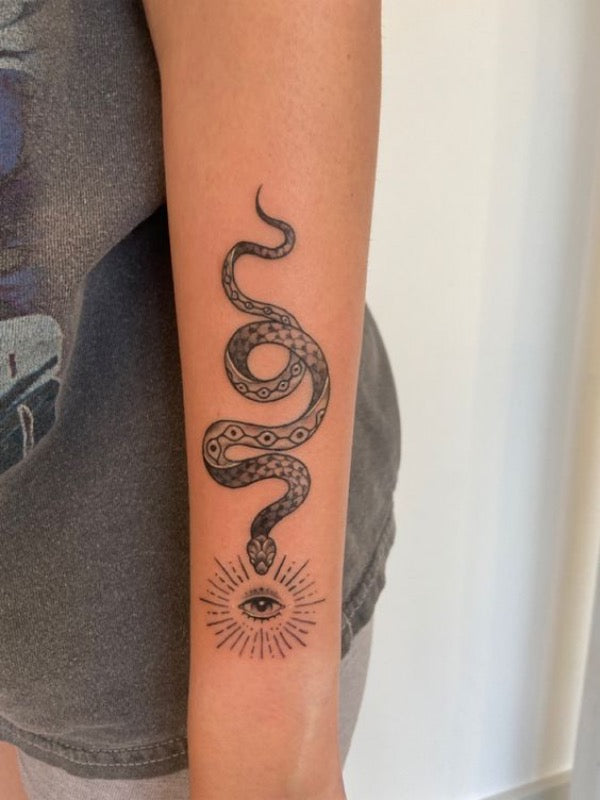 A snake eye is a distinctive snake tattoo choice. The tattoo is distinctive owing to its menacing and reptilian aspect, similar to a dragon eye tattoo. To produce a tattoo that is bold and realistic, your artist can use saturated yellow or green ink. She can then add white ink details and black shadows to give the impression of depth. To further the snake's appearance, make sure the eye has scales.
Traditional Tribal Snake Tattoo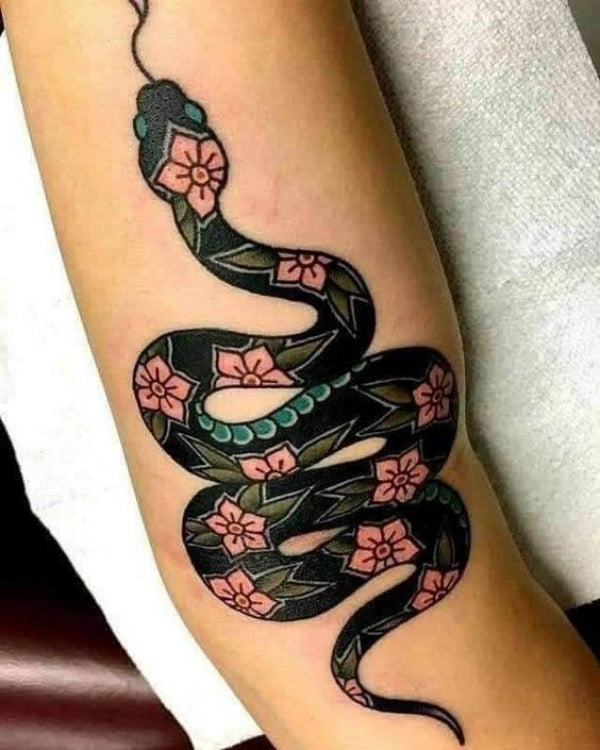 Tattoos with tribal designs are common in many cultures, including African and Polynesian ones. Black ink and solid lines are used in these patterns to create elaborate patterns inspired by the natural world, including plants and animals. The long, coiled body of the snake makes it an especially stunning choice for a traditional tribal tattoo since it can be altered to fit many positions.
Realistic Snake Tattoo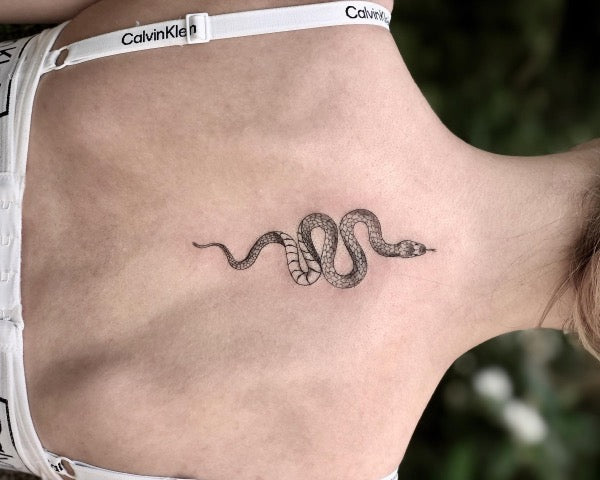 A realistic snake tattoo is a good option for men who desire a unique serpent tattoo. Using shading methods, your tattoo artist will produce a genuine 3D design. The greatest location is on your breast, leg, or back since realistic tattoos have more detail than simpler patterns. Add intense color to an effect that is even more striking and lifelike.
Common Body Placement for Snake Tattoos 
Snake Forearm Tattoo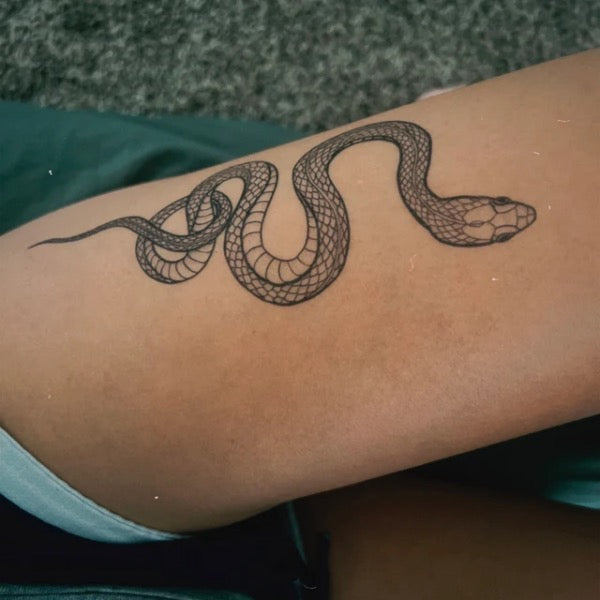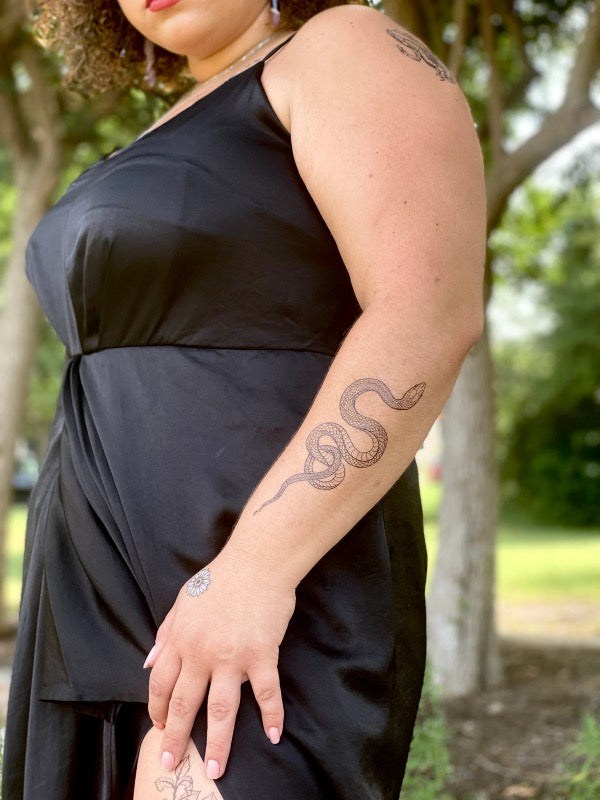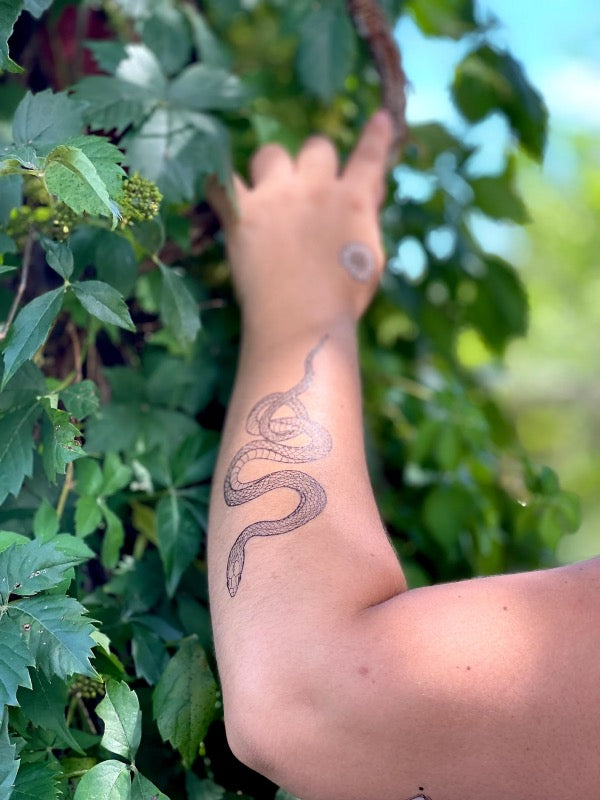 Getting a snake tattoo on your forearm is a common choice. The forearm is a perfect location for a tattoo since it is long and thin, making a snake pattern suitable. Additionally, you can always see your tattoos and quickly hide them with a long-sleeved shirt. Choose a semi-coiled snake and add accessories like a knife or leaves for the best results.
Snake Shoulder Tattoo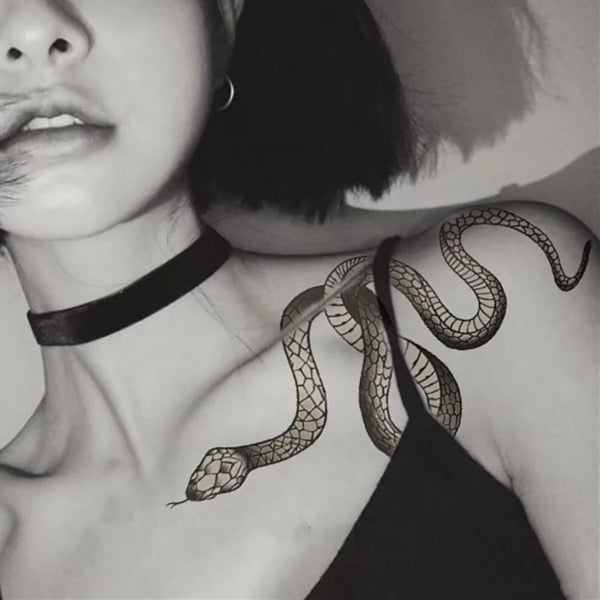 The snake shoulder tattoo that reaches your bicep is among the greatest snake tattoos. The tattoo emphasizes your shoulder muscles and has a stylish, edgy appearance. While many men pick a striking snake—one that is about to strike and has prominent fangs—for a more threatening impact, you may alternatively choose a typical snake to signify the creature's smart and protective qualities.
Snake Finger Tattoo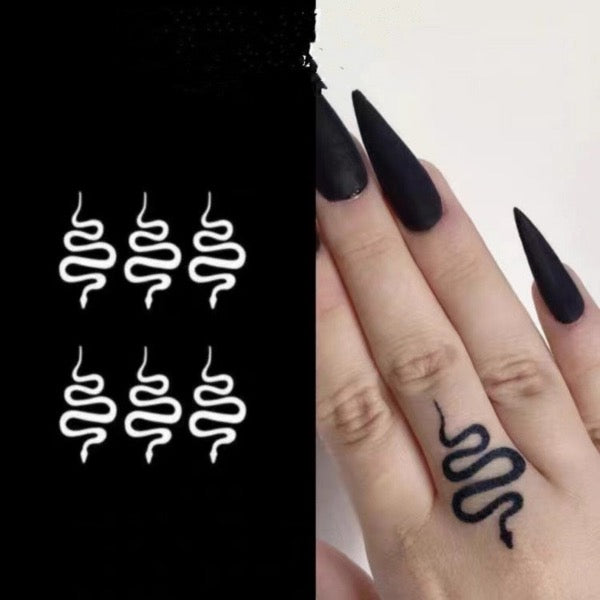 Snake tattoos are a terrific option for this location, as finger tattoos have recently grown in popularity. A little black-ink snake looks fantastic on the side or top of your finger. Another option is to use a wrapped design. Since the pattern looks good on both men and women, some people even get snakes tattooed as a badass matching couple. A snake is a terrific addition to your tattoo collection if you already have several tattoos on your fingers.
Snake and Collarbone Tattoo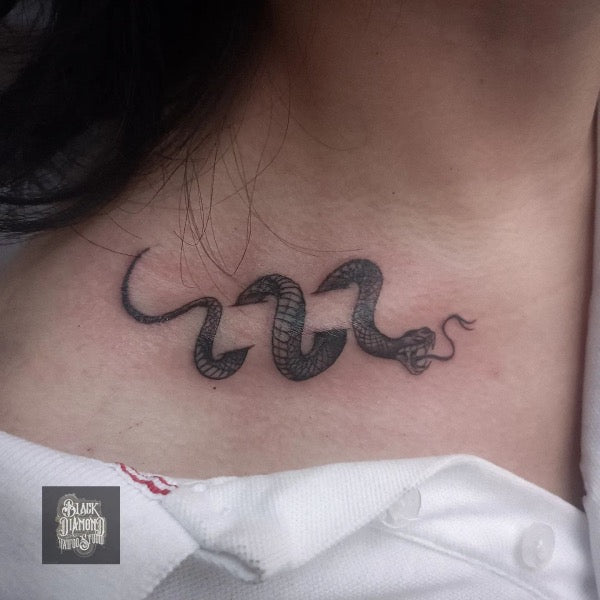 Snake Hand Tattoo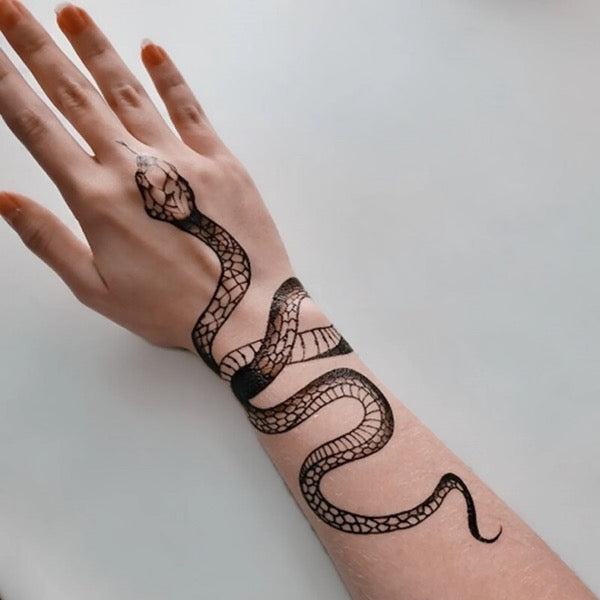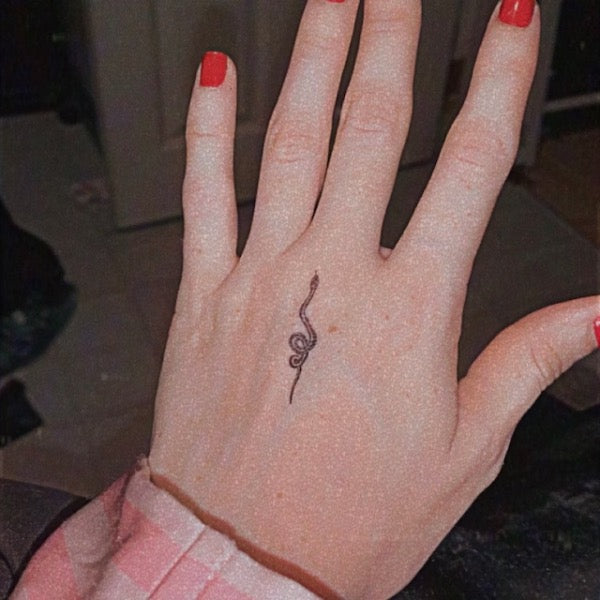 Snake tattoos may be customized to fit broader, flatter areas like your hand rather than only long, thin regions of your body like your arm or finger. However, remember that because your hands are continuously moving, being used, and being washed more frequently than other parts of your body, they tend to lose their form and fade more quickly than others. Select a straightforward black-ink snake tattoo that will be simple to care for and look new over time.
Snake Sleeve Tattoo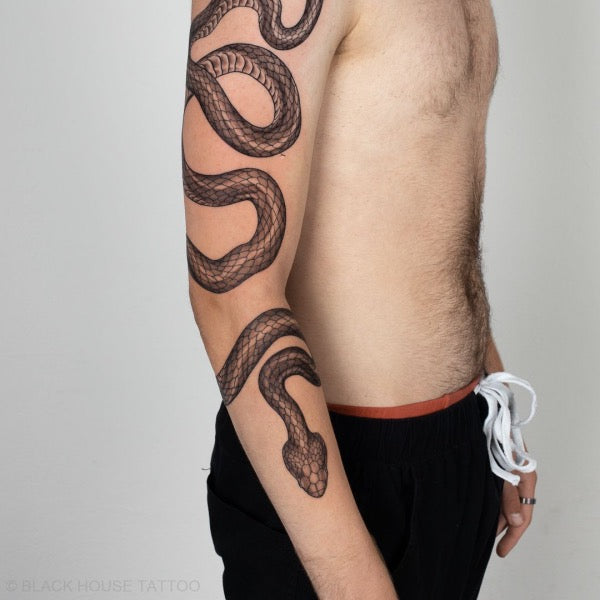 As the "anchor" for a sleeve, a sleeve tattoo or group of tattoos extending from your shoulder to your wrist, snakes are a great choice. To give their sleeve a rigid appearance and an edgy mood, many guys decide to have a detailed snake as the main design. Other tattoos, like Japanese-style blossoms or waves, can then be added to personalize the remaining portion of the sleeve.
Snake Thigh Tattoo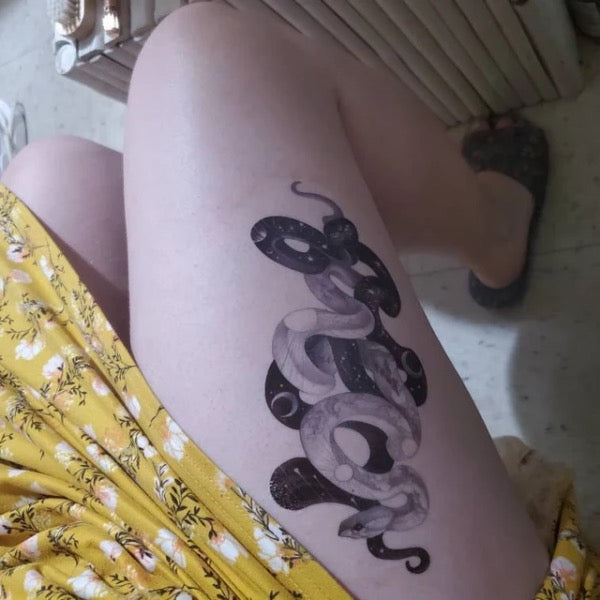 A thigh tattoo is a great option for men who want a bigger design that is simple to hide. Your extra time under the needle will be more tolerable because your thigh is one of the least painful regions to receive a tattoo. The design will fit around the muscle without warping if it has more curved lines. Some potential choices are a realistic 3D snake or a commanding image like a ferocious cobra.
Snake Back Tattoo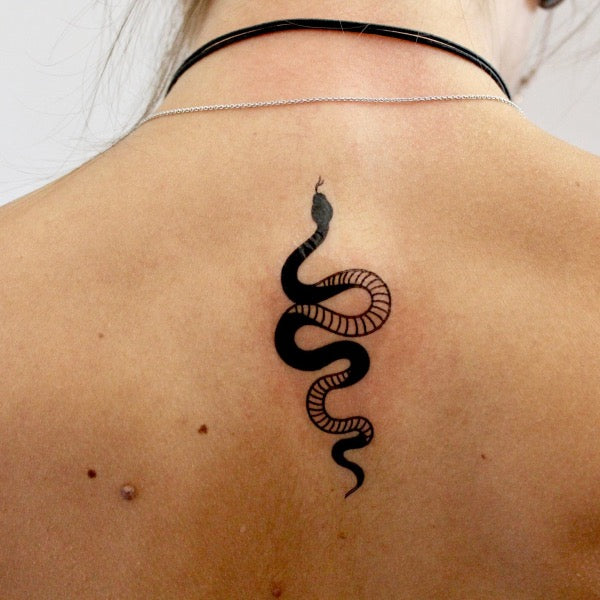 Why not get a back tattoo to get the best snake design? The perfect spot for a large, intricate folded snake pattern is on your back. A Japanese snake tattoo combined with other classic designs, such as chrysanthemums, peonies, waves, koi fish, or phoenixes, is a fantastic alternative. A back snake tattoo would also look great next to a tiger or dragon tattoo.
Snake Leg Tattoo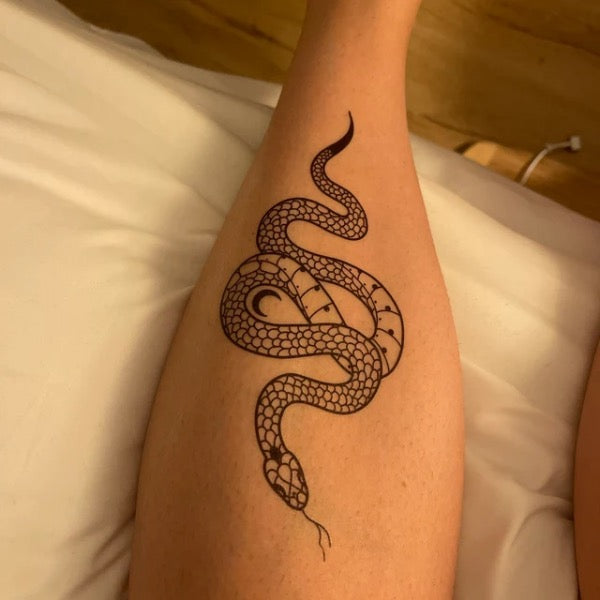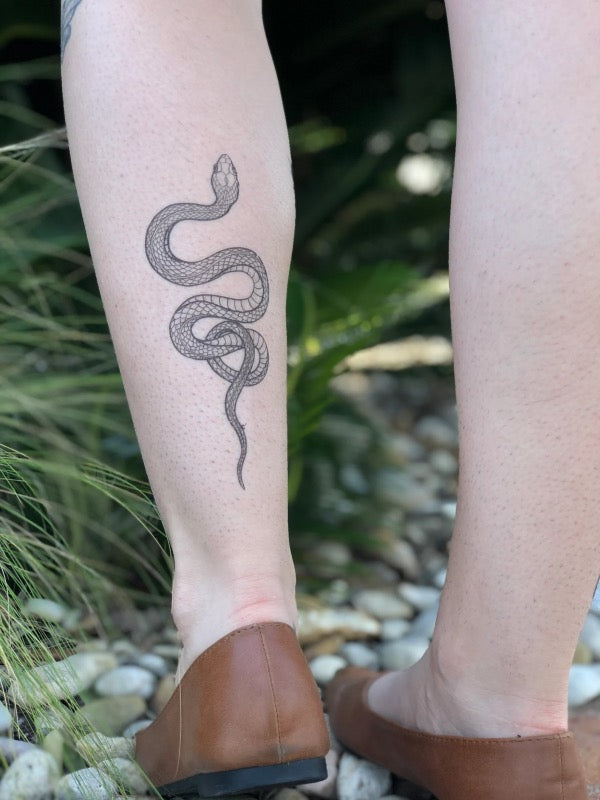 Snakes are an excellent choice if you want to join the trend of leg tattoos, which has recently gained a lot of popularity. Because of its snake-like form, clothing can be tailored to suit your leg without distorting the muscles. Combine your snake tattoo with a circular pattern, like an evil eye, on your knee for a distinctive look. As an alternative, a snake design has been wrapped with something remarkable.
Snake Wrist Tattoo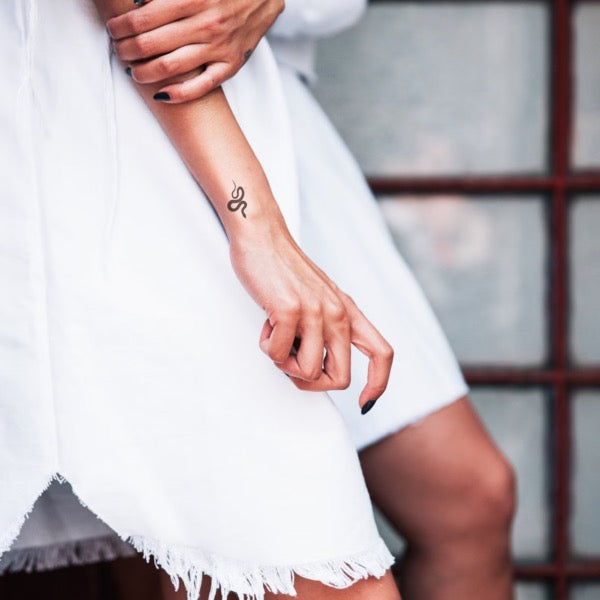 An excellent location for a snake tattoo is on your wrist. Several variations, such as a wrapped pattern or a small, straightforward coiled snake, are available. A snake coiled around the body produces a soft "cuff" look that resembles a banded tattoo. To increase the effectiveness of your snake wrist tattoo, you might stretch it farther up your arm.
Snake Ankle Tattoo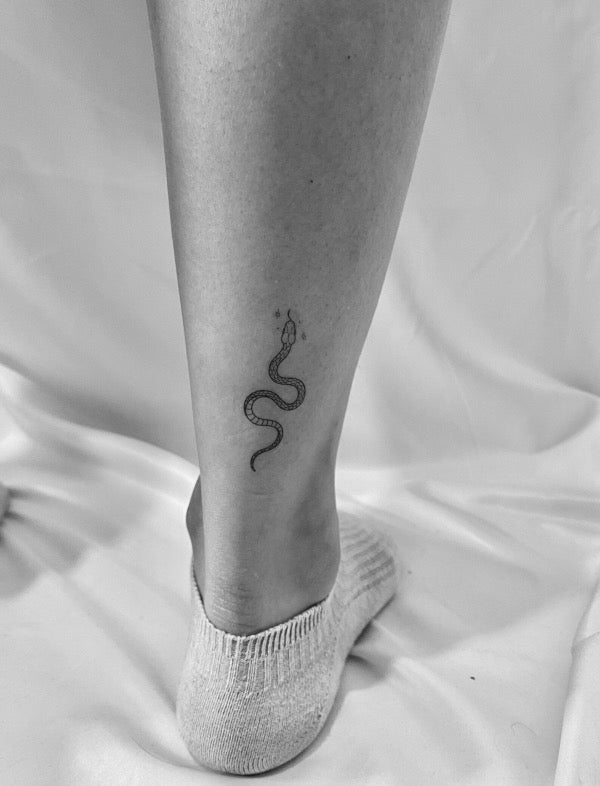 If you want a snake tattoo that you can cover up with clothes or socks, ankle tattoos are a great choice. You also have many design options; a wrapped or coiled snake or an ouroboros might look fantastic as a circle around your ankle bone. Alternately, a snake inking that begins on your foot might be stretched up to your ankle for a more intricate and precise look.
Snake Chest Tattoo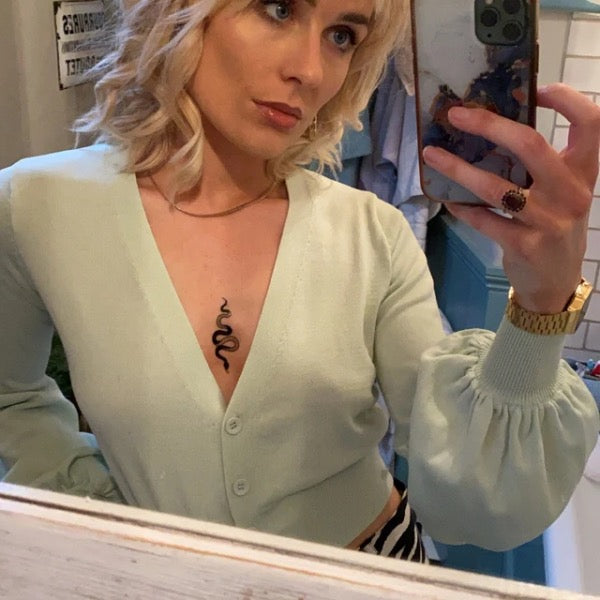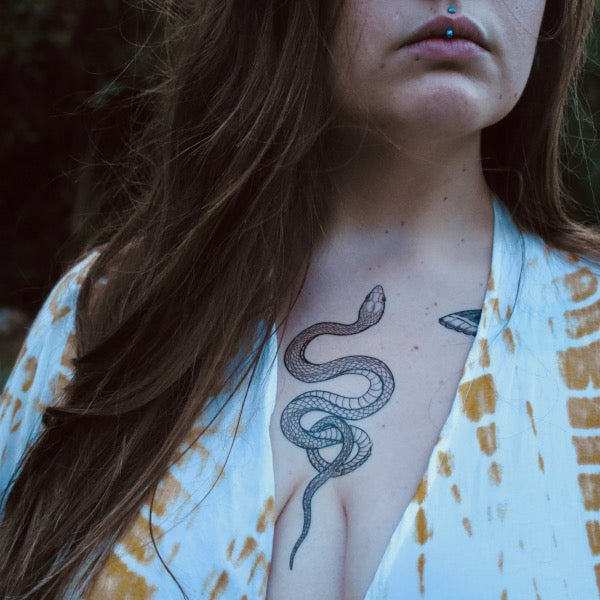 Your chest is a great spot for a larger, more intricate snake tattoo, much like your back. A vibrant, full-color breast tattoo featuring a snake and an animal, such as an eagle or a dragon, would look fantastic. While chest tattoos in the middle have been popular recently, especially for individuals who enjoy the disjointed Old School art style, there are other choices, such as a pec tattoo that links to your bicep inking. No matter what you decide, a chest tattoo is still a fashion accessory you may flaunt whenever you take off your shirt.
Common Snake Tattoo Colors 
Although the color of your tat is up to personal choice, some colors are quite symbolic when used in conjunction with a snake tattoo design. 
Black Snake Tattoo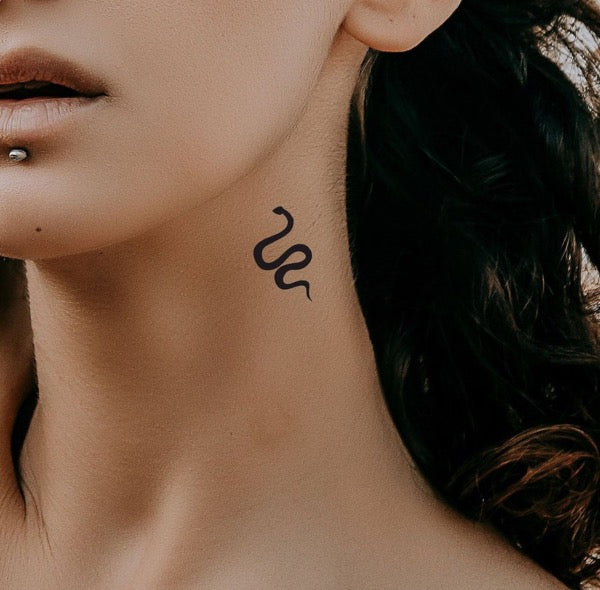 Black can represent the darker, more venomous side of the snake. You can pair it with a solid, more tribal design for a sharp, striking image. Or consider something shaded and detailed for a seductive, secretive picture. 
Solid Snake Tattoo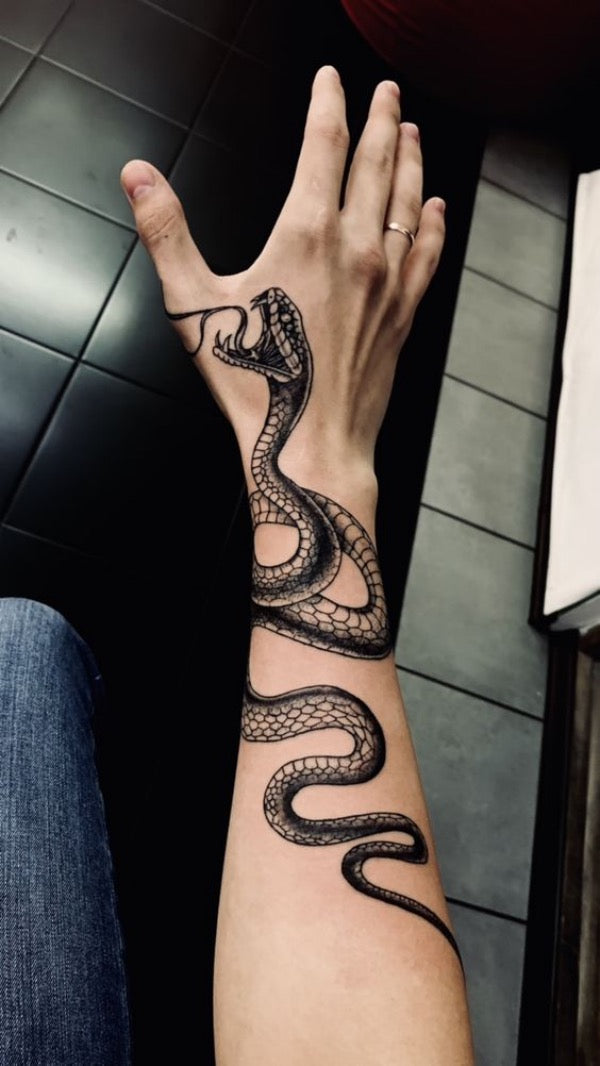 This kind of sharp, single-color design shows off the strength, power, and unflinching confidence a snake has. It's great for someone who wants to show off these qualities rather than the intricacies of the creature. 
A tribal design such as an artistic rendering of a snake is great for those with a connection to Native American culture. It represents not only the animal but also the art of the tribe. 
Shaded Snake Tattoo
A one-color tattoo can show off some incredible texture and detail if done well. This kind of nuance can express the secretive and seductive nature of the snake. 
Red Snake Tattoo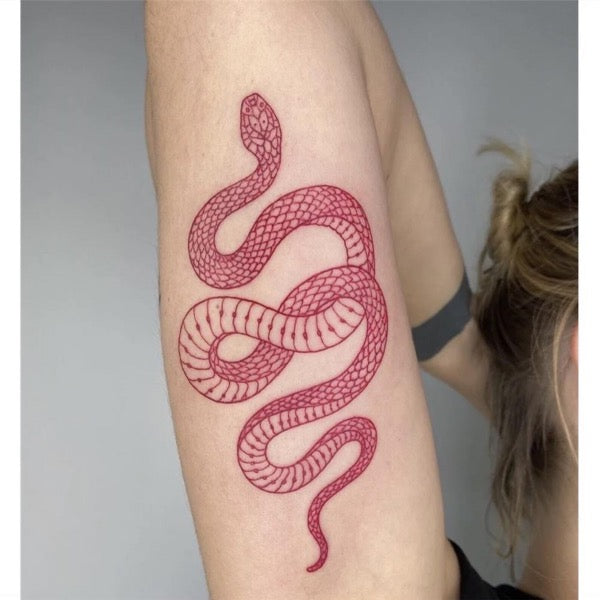 Red tattoos represent passion and power. A red snake can have a cool element, which is heightened by the phallic shape of the creature. 
It can also have a spiritual meaning. The raw, powerful Kundalini energy is represented by the snake. 
Conclusion
Snakes make a powerful and versatile tattoo image. You can morph their bodies into different shapes, and use their long tongue and fangs to add characters to a snake tattoo. It makes popular tattoo designs for both men and women as well. While some people think snakes as intimidating, they can make meaningful tattoos with excellent designs. 
Snake Tattoo FAQ
What does a snake tattoo mean?
A snake tattoo is a popular symbol of power, especially in ancient cultures. It can also represent wisdom or the ability to shed one's skin and be reborn.
Where is the most popular place to get a snake tattoo?
The most popular places to get a snake tattoo are the arm, forearm, hand, and wrist.
What are the most popular snake tattoos for men?
Many snake tattoos are very popular, Japanese snake tattoos, snake and skull tattoos, and snake wrapped around arm tattoos. 
What are the most popular snake tattoos for women?
Women prefer small snake tattoos, snake and flower tattoos, and red snake tattoos.
How can I figure out what kind of tattoos look well on me?
You can try snake temporary tattoos, we have various fake snake tattoos to choose. When you want to see whether you like tattoos but don't want to commit permanently, temporary tattoos are the way to go.