100 Sleeve Tattoos Meanings Design and Ideas
publish time:
A sleeve tattoo is a fantastic method to express oneself artistically.
A sleeve requires a lot of time and effort, but the result is impressive.
It can be hard to choose one sleeve tattoo design because so many options are available.
Go big or go home while having a tattoo on your arm. These designs are not for the timid but will undoubtedly get noticed.
A full sleeve is an excellent choice if you want to create a real masterpiece on your arms.
Check out these ink-credible sleeve tattoo designs if you're unsure about the design that would look best on you.
Sleeve tattoos are a mesmerizing form of self-expression, weaving intricate stories down the arms of many.

If you're contemplating such a grand canvas but aren't quite ready for the lifelong commitment, trying temporary sleeve tattoos might be the ideal solution.

This way, you can experience the beauty and artistry of a full sleeve temporary  tattoo without the permanence.

For those skeptical about how authentic they might appear, there are fake sleeve tattoos that look real available in the market.

The intricate designs and vibrant colors make them almost indistinguishable from the real deal.

If you're pondering where to buy fake sleeve tattoos, our online temporary tattoos shop offers a wide variety of top-quality realistic fake tattoo designs tailored to meet diverse tastes and preferences. Dive into our collection and explore the world of fake sleeve tattoos;

it's the perfect avenue to experiment with different designs and narratives before making a permanent decision.

Embrace the art of tattoos with flexibility and style!
Dragon Sleeve Tattoo
Be the mother of these dragon tattoos and embody Daenerys. There are so many alternatives to pick from, from designs in medieval or Japanese styles, that you'll want to buy them all. You can add color to the element to make the whole thing stand out. However, if you'd rather something monochromatic that blends in with the rest of your sleeve, you might choose a form made of black ink. You'll always have one of the most challenging and bravest mythical beasts, regardless of how you wear it.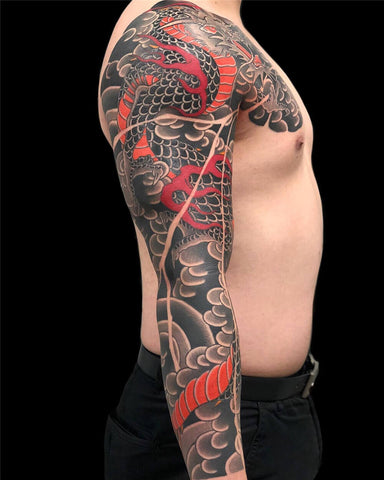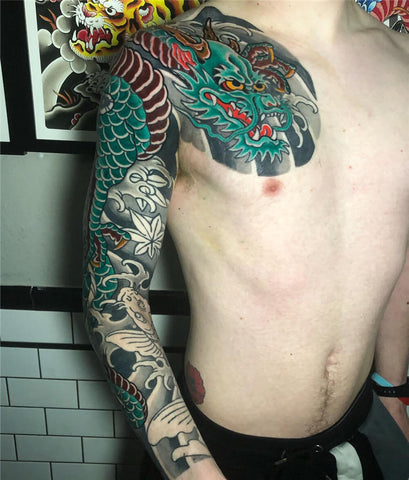 Half Sleeve Tattoo
You don't have to go up your arm to wow a crowd. A half sleeve is perfect if you want to cover up your tattoo at work or a formal event but aren't scared to show it off later. Choose the upper half of your arm if you want to conceal access easily. If you wish the design to crawl onto your hand and fingers, use the lower half of your arm.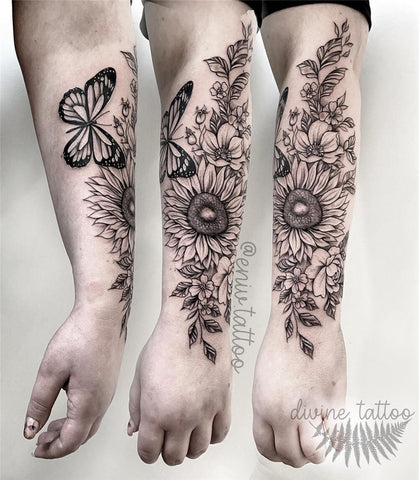 Leg Sleeve Tattoo
A sleeve tattoo is a piece of body art that extends from the wrist to the entire arm. This is an excellent choice for someone who wants to make a statement with their body art or has a more extensive design. An equivalent garment is a leg sleeve, which covers the whole leg instead of the arm. A leg sleeve and a regular sleeve are both popular choices.
Japanese tattoo, commonly known as irezumi, is one of the most popular and recognized tattoo styles in the world. They appear best when featured in larger, more ornate motifs, like the sleeve. The entire area of the skin is intended to be covered with a Japanese tattoo, so there isn't much "free" space. There are two types of irezumi tattoos: traditional and modern. Not the designs but the tattooing process is what differs most. While modern irezumi tattoos are created using a modern tattoo machine, traditional tattoos are created using non-electrical machines. Japanese tattoos are vibrant and include symbols and imagery with significant cultural significance, such as peonies, tigers, dragons, cherry blossoms, skulls, and koi fish. Japanese tattoos are distinctive for their exceedingly fine detail and close resemblance to the wearer's personality. You must choose a design that speaks to you the most if you want to rock an irezumi. Fortunately, there are many elements in Japanese culture that can help your tattoo have a specific meaning.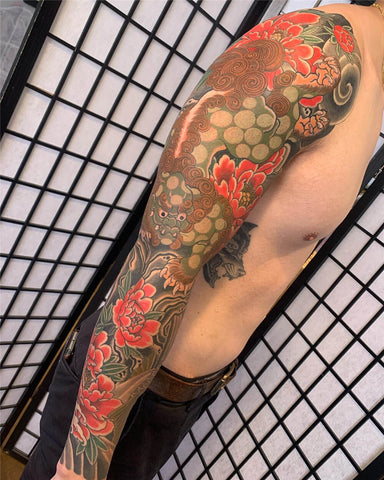 Full Sleeve Tattoo
A tattoo covering your entire sleeve is a surefire hit. There are numerous alternatives, ranging from black and white to Japanese tattoo patterns. This is also a great option if you want to work your illustration on your back. Let your personality show through on your skin, and always carry a piece of art with you.
Forest Sleeve Tattoo
A forest sleeve tattoo is a beautiful way to express your love of nature. Additionally metaphorical, forests are connected to life, rebirth, mystery, and growth. They may powerfully convey your sentiments and views. The theme is also varied, allowing you to add various pictures to enhance the overall appearance and significance, such as animals and birds.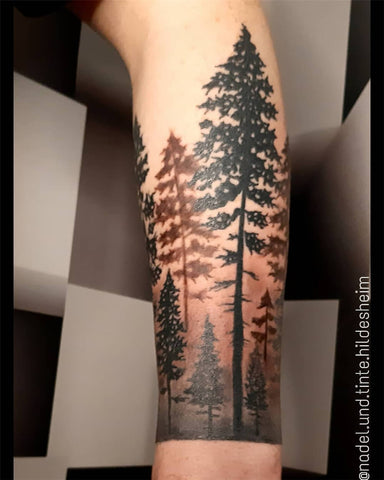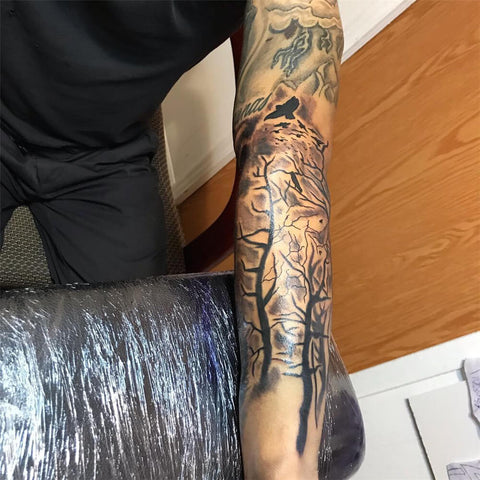 Lion Sleeve Tattoo
A sleeve is an excellent place for lion tattoos. The enormous, majestic cat is symbolic of majesty, strength, and power. Lions are gregarious creatures who live in feelings of pride, making this a popular choice for guys who respect these traits. However, you can also get this tattoo to demonstrate your loyalty to your family or your relationship. The lion can be tattooed in several ways, such as photorealistic or outline patterns.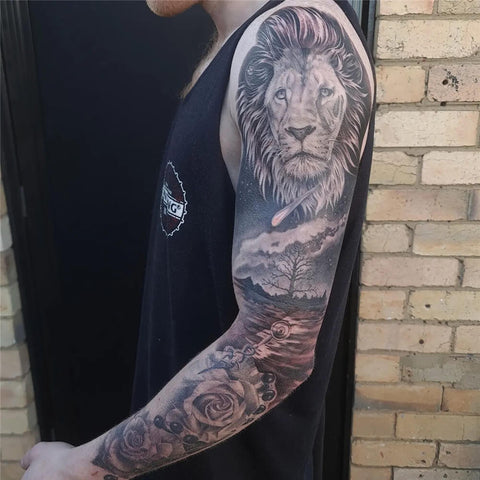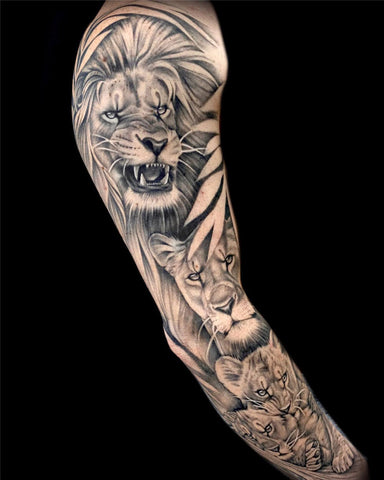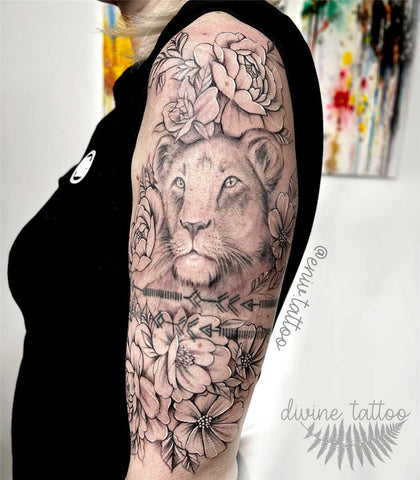 Viking Sleeve Tattoo
With the aid of this sleeve, you may feel the blood of the Norse pour through your veins. The Vikings, who were among history's most brutal warriors, are the ideal inspiration for guys who are powerful and brave. Combine the portrait with other Germanic patterns like mythical figures, skeletons, and sailing themes. These Viking tattoos look best as a full sleeve, so don't be scared to go all out!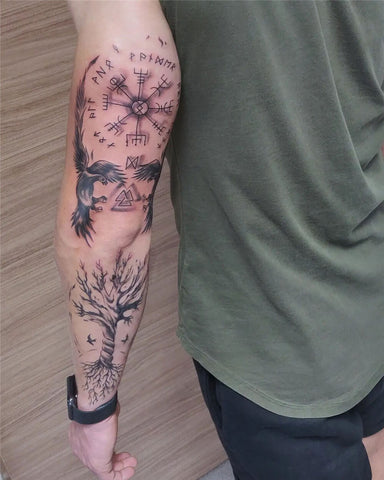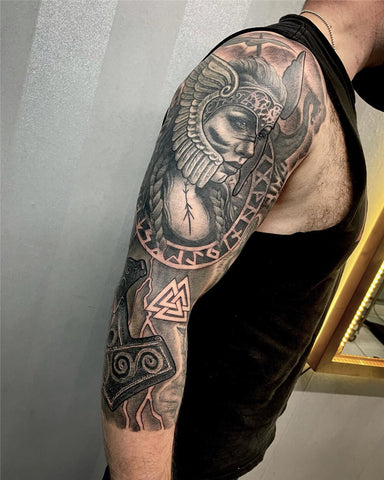 Flower Sleeve Tattoo
Floral patterns can be helpful if you seek a sleeve tattoo that symbolizes strength and femininity. Even on a large sleeve tattoo, flowers tattoo are always lovely and have an air of sophistication and elegance. The particular flowers you select will determine the significance of your floral sleeve tattoo. Sunflower tattoos, for instance, stand for romance, enduring love, and hopeful love. Sunflowers may also represent hope and enthusiasm. Various things are represented by roses, depending on the colour: love, passion, fresh starts, etc. Peonies are a symbol of fortune, wealth, and abundance.
Take your time and research the various flower sleeve tattoo symbolism to determine which ones best represent your personality. You can also get some advice from your tattoo artist.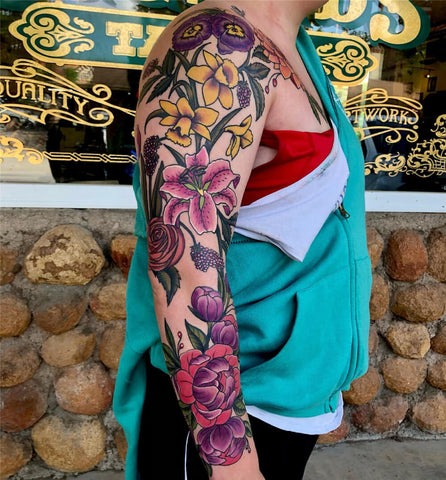 Skull Sleeve Tattoo
A skull sleeve tattoo will keep you looking eerie and fantastic at the same time. You can choose the skull tattoo design that best reflects your personality and sense of style because these come in various types. You're guaranteed to turn heads whether you decide to go all out and make a realistic skeleton flowing down your arm or you'd prefer something understated.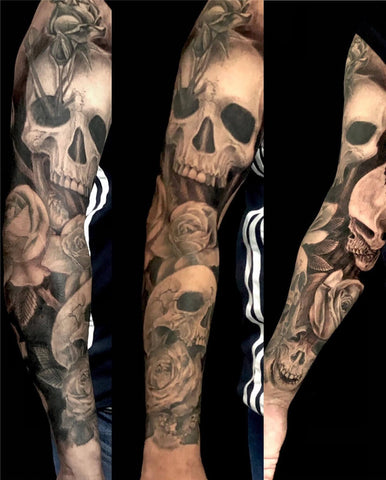 Tribal Sleeve Tattoo
Embrace your tribal tattoo to show off your pride in your history. How could you pass up such intricate, potent, and awe-inspiring designs? Find a specialist in the field of art to get the most accurate portrayal of the culture; that way, you'll have something impressive!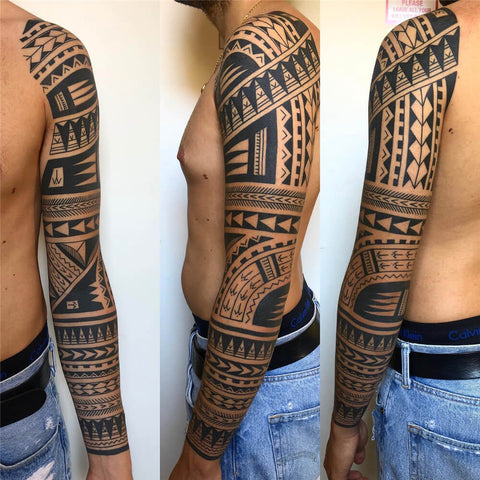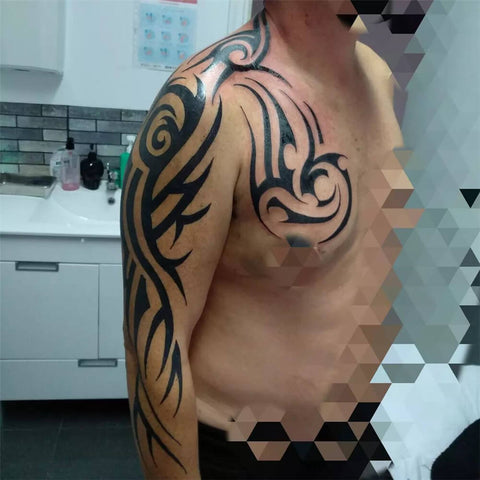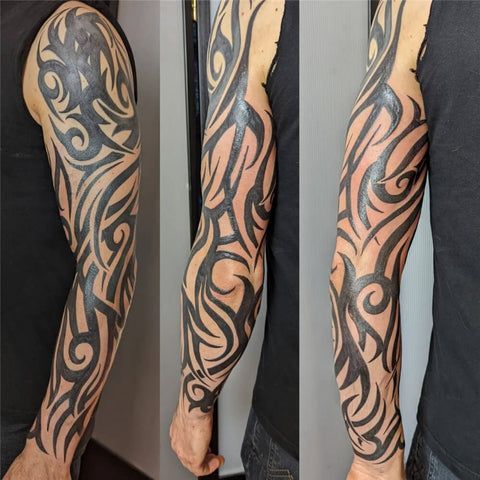 Tiger Sleeve Tattoo
The tiger is a magnificent creature and a potent predator, making it a perfect subject for tattoo art. With a tiger tattoo design, people can express their strength. Because they are solitary animals, it might also be a means to emphasize the value of living on your terms and controlling your destiny. It can also stand for freedom and independence.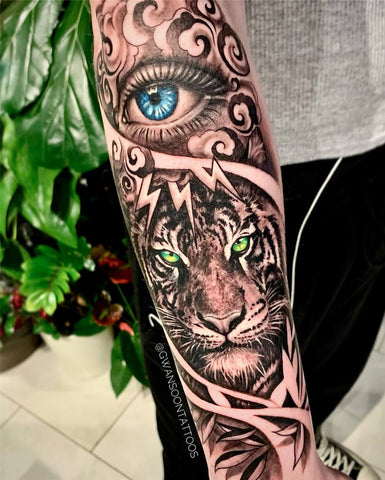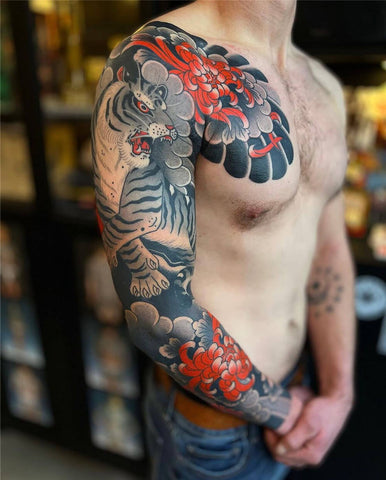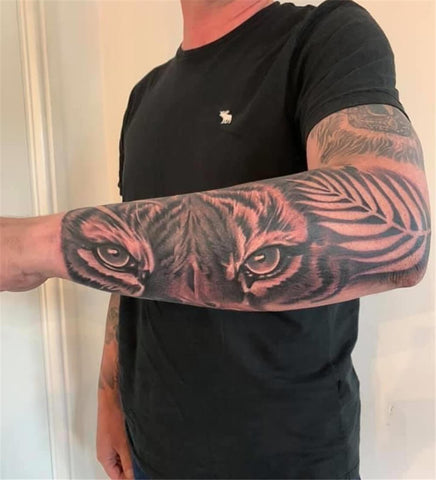 Snake Sleeve Tattoo
Snake tattoo is trendy and edgy. They can be tattooed to display your power and to feel abrasive and disobedient. Additionally symbolic, serpents are linked to danger, rebirth, and metamorphosis. Some people identify them with luck and protection, while others relate them to sin. Find the meaning that resonates most, and let it show on your sleeve.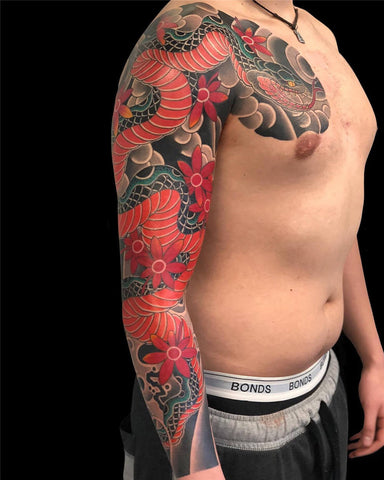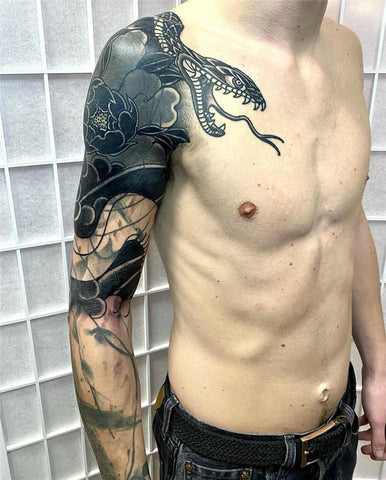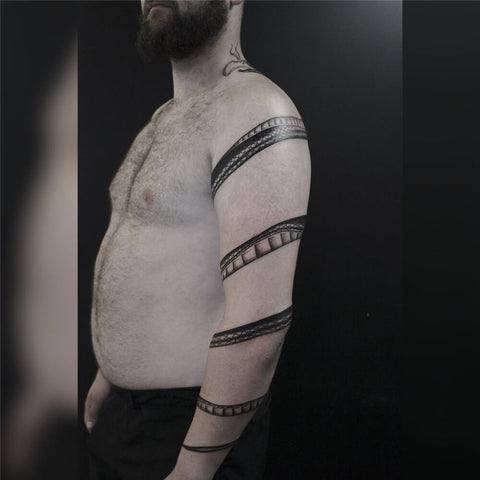 3D Sleeve Tattoo
Is that a drawing or a photograph? Everyone will be asking that question once they see these 3D tattoo designs. Choose an abstract piece, an ultra-realistic image of a loved one, or a biomechanical design. When properly executed, these tattoos look fantastic, so make sure you locate a respected artist adept at handling this challenging design. It's worth it, we promise.
Celtic Sleeve Tattoo
Embrace the Celtic culture with a stylish tattoo design. These patterns are classic choices, such as a soldier or a conventional interlaced way. Numerous knots and practices are frequently used in Celtic art; they are simple to distinguish and well worth the money. Don't be afraid to get involved with such a direction because it gives you the chance to be creative.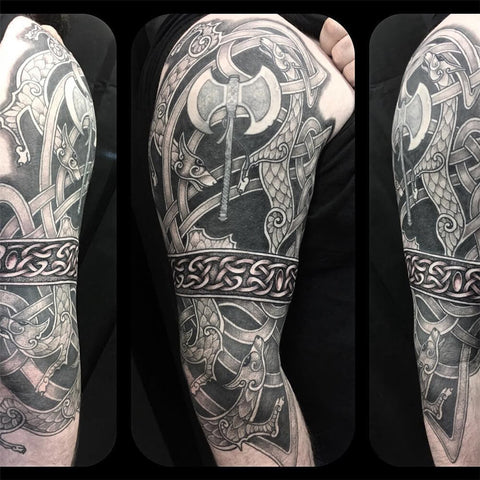 Clock Sleeve Tattoo
It's time to get a clock tattoo of sleeve. These sleeve designs have a particular significance, whether you need to learn how to use your minutes more effectively or don't want to miss a second. Use a timer for something traditional, or go digital with something slightly futuristic. No matter what you decide, you cannot turn back time, but you may tattoo it on your body.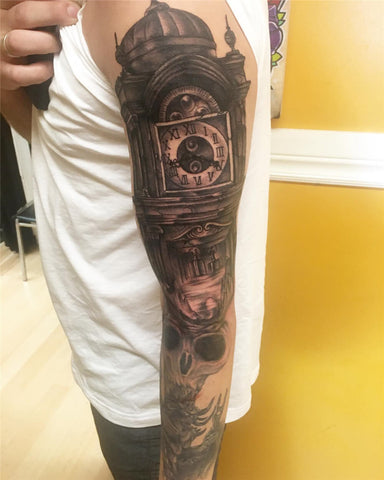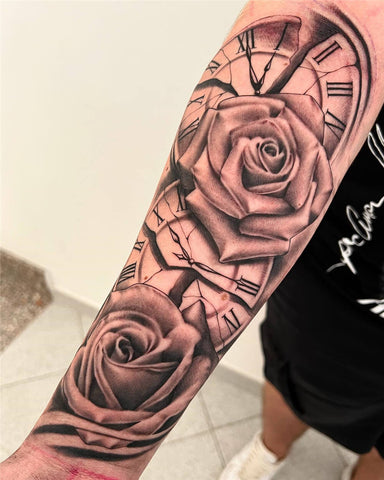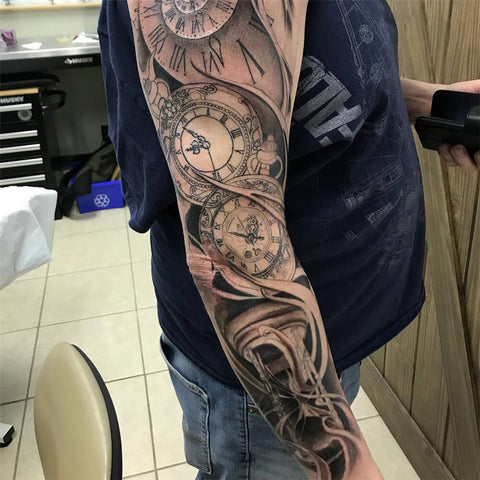 Wolf Sleeve Tattoo
These wolf tattoos were created for those with a wild side and can help you channel your inner beast. Be intense, persistent, and prepared to take action because this design looks fantastic when executed properly. Make sure to hire an illustrator who has experience with animals. Fur that appears three-dimensional and is touchable is the perfect finishing touch.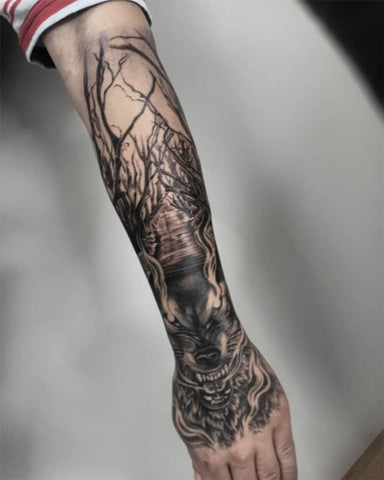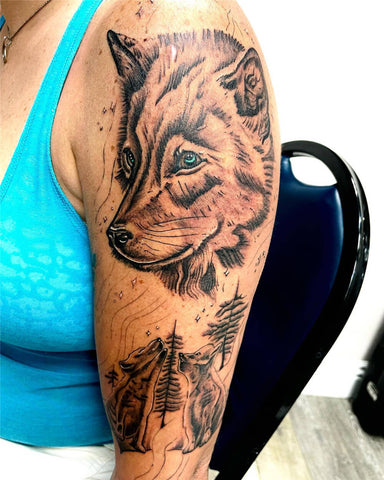 Music Sleeve Tattoo
This ink lets you feel the pulse through your skin. You can let your inner musician shine with these fantastic tattoos, whether a single treble clef or an entire symphony. Put a music tattoo of your favorite instrument, a microphone, or a turntable on your arm to represent it. This is a flawless composition for a pitch-perfect sleeve, whether you'd want an oboe or an orchestra.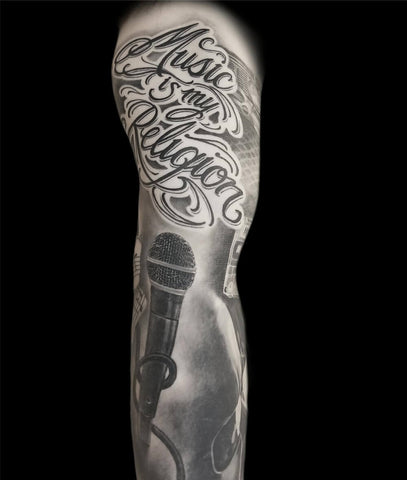 Mechanical Sleeve Tattoo
Mechanical tattoos are for the working guy, well-oiled and prepared for action. These items, which combine classic and steampunk designs, represent the past, present, and future. Opt for a robotic device or a clock. It will be challenging to locate someone with a better sleeve than you.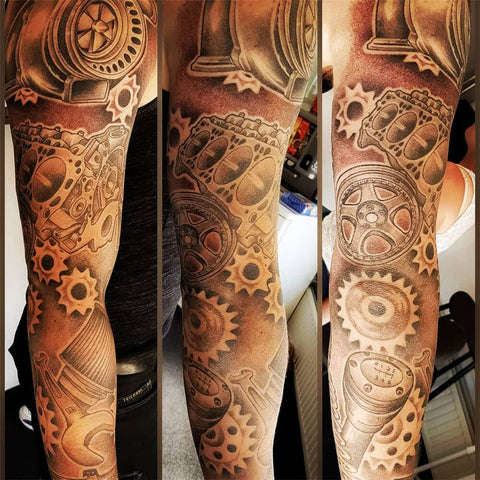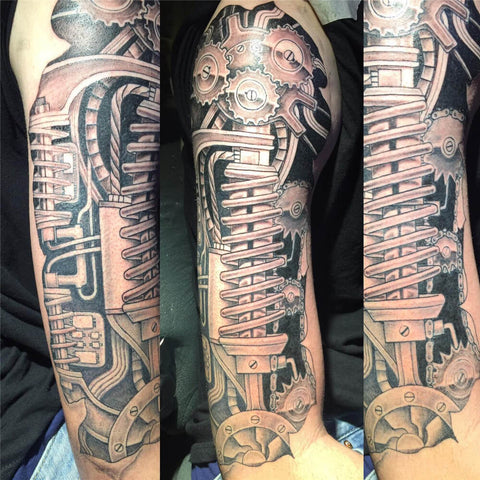 Nature Sleeve Tattoo
Reconnect with nature with the help of these patterns. Don't be hesitant to focus on all things natural; flora, wildlife, and everything in between, producing the best artwork. Choose from various birds, flowers, and other botanical illustrations to show your appreciation for plants, or go with a classic rose tattoo. These compositions appear best in black ink or with bright colors. You will instantly become one with the Earth, whatever you choose to emphasize.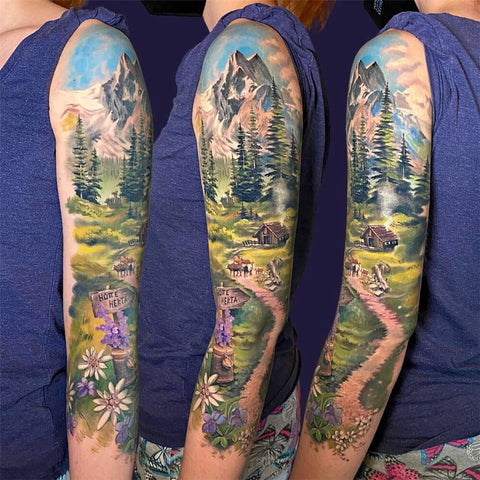 Black and White Sleeve Tattoo
Not all ink needs to be vibrant to make a point. Another great effort is to portray black and white sleeves on your skin. These designs, which are solid and distinct, are the most excellent choice for those who don't want to touch up their tattoos as frequently as colored ones.
Black Sleeve Tattoo
A unique tattoo design that covers the entire arm is a sleeve tattoo, which skillfully combines several images. Sleeve tattoos provide flexibility in the design and the various colors and styles you can use. Black ink is a versatile choice that will endure longer than artwork with vivid colors.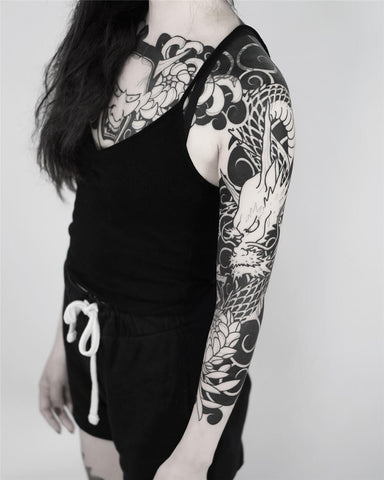 Mandala Sleeve Tattoo
Mandala tattoos are artistic and symbolic. The term "mandala" originates from the Sanskrit language of antiquity and means "circle." The mandala is a sacred symbol utilized in rituals, traditions, and meditation that is made up of forms and patterns that come together to form a circular shape. It has been a popular option and may be used to create images of animals and nature, despite the criticism surrounding its use in body art.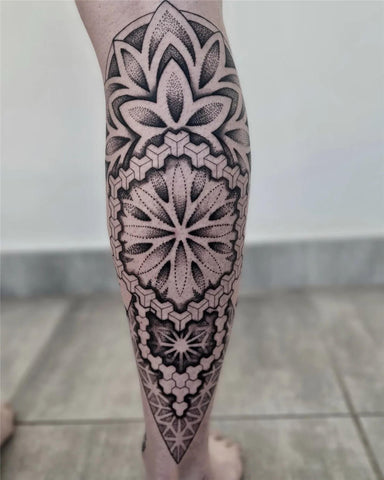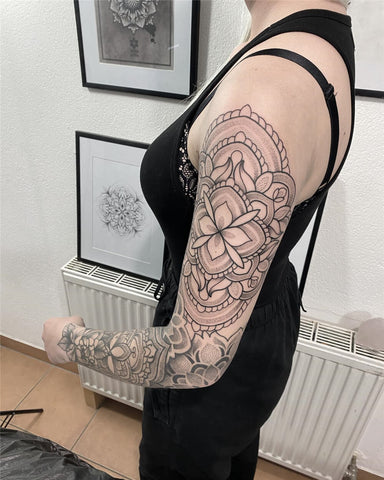 Dreamcatcher Sleeve Tattoo
A dreamcatcher is a piece of art with significant symbolic meaning. Its origins are in Native American culture, but due to its beauty and significance, it has gained popularity. It is now sold all over the world. The protective symbol made by hand is used to block away unpleasant memories and terrible dreams.
Tree Sleeve Tattoo
Due to their adaptability, tree tattoos make an excellent choice for a sleeve. There are numerous tree species to pick from, each having a unique connotation. You can combine a few to deepen the overall idea, build a forest, or incorporate more natural imagery. In general, trees are a representation of endurance, sturdiness, vitality, and expansion. This can deliver a strong message.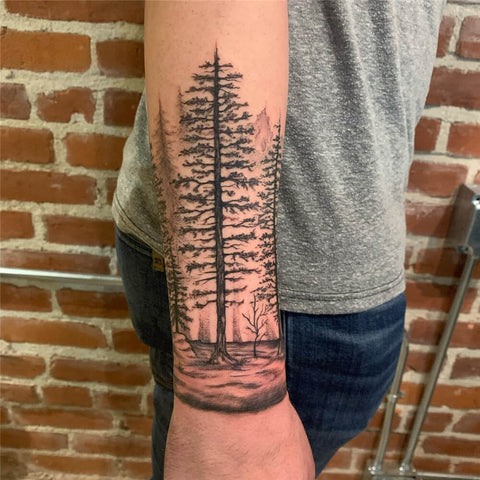 Owl Sleeve Tattoo
Owl tattoos stand for knowledge, wisdom, and mysticism. They hold a lot of significance in various civilizations, where they have been interpreted as messengers and omens, and their associations can be either favorable or unfavorable. The symbolism you want to portray will be made clear by combining owls with other images on your sleeve, which is a great choice. For instance, a full moon, a light, and a cauldron could demonstrate your interest in magic and the unexplained.
Galaxy Tattoo Sleeve
Space tattoos from Galaxy Tattoo Sleeve are a fantastic way to express your love for the world. In particular, a galaxy tattoo can convey the idea that there is something extraordinary and unexplored, which may impact how you live your life—taking chances and not being scared to try something new or unusual. Your tattoos may indicate that you have lofty goals and a dreamy disposition.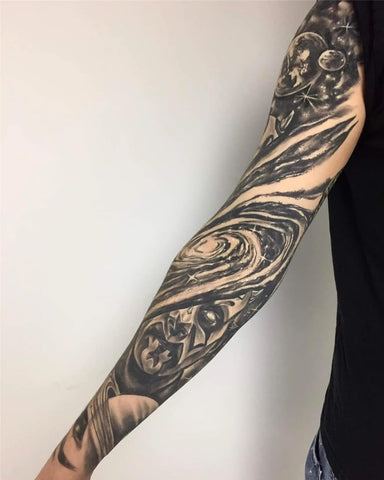 Mountain Sleeve Tattoo
A mountain tattoo is a fantastic method to express your fortitude and serve as a constant reminder to yourself that you are unwavering and robust even in the face of immense adversity. Your favorite mountain range and other natural scenes can be shown on your sleeve to demonstrate how much you like being outside. Your artwork might also represent exploration and adventure.
Nautical Sleeve Tattoo
Sailors have always preferred nautical themes to reflect their maritime prowess or provide them with safety and comfort for the journey ahead. The symbolism linked with a naval theme is potent, even if you have never set foot on a ship. These items range from compasses to ships and anchors and are all significant and can reveal your emotions and ideas.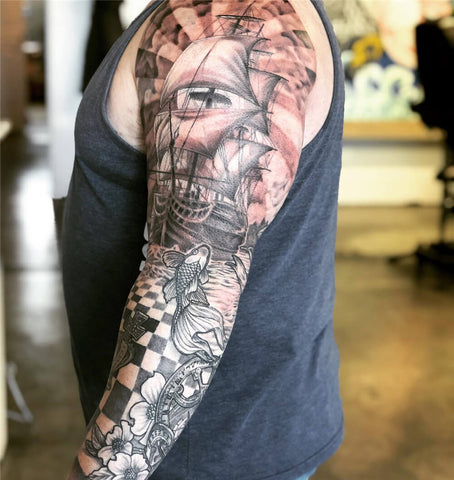 Ocean Sleeve Tattoo
The ocean is a beautiful and mysterious environment. Depending on the meaning you wish to associate with your design, a sleeve tattoo's space is ample enough to include intricate decoration, allowing you to incorporate sealife, waves, ships, and much more. This tattoo may stand for fresh possibilities and inspire you to pursue your aspirations and take calculated risks. It might also serve as a prompt to let go of the things that are hurting you. Or that emotions and life will fluctuate like waves.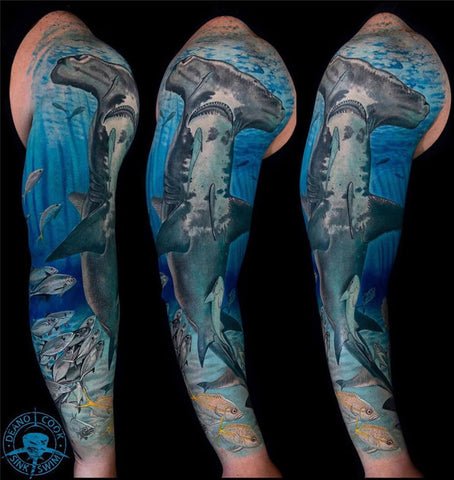 Space Sleeve Tattoo
Because there are so many various themes and levels of detail that may be added to your design, space tattoos are an excellent option for a sleeve. This makes it simple to customize your tattoos and gives you something unique and symbolic. Space tattoos are a means to express your respect for space exploration or your curiosity about extraterrestrial life. They also serve as symbols of ambitions and aspirations for the future.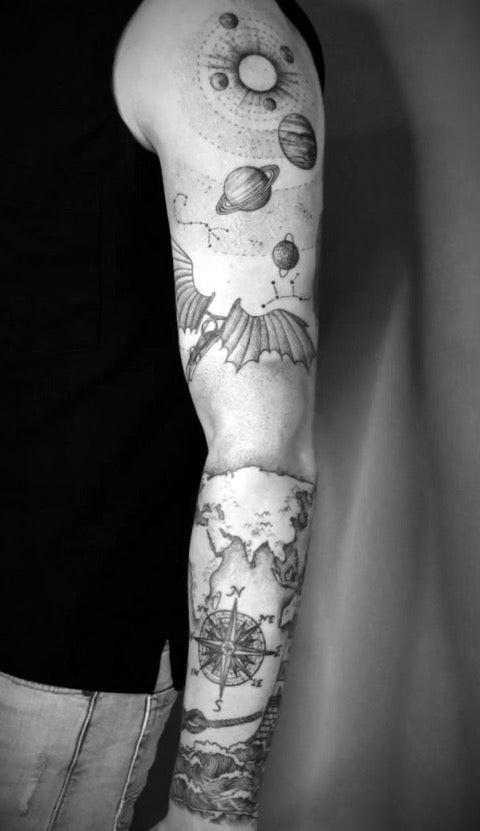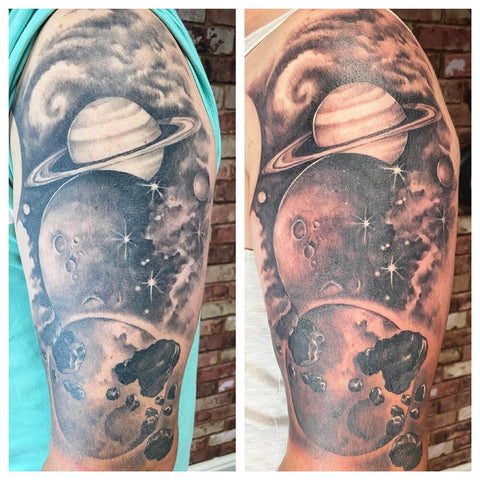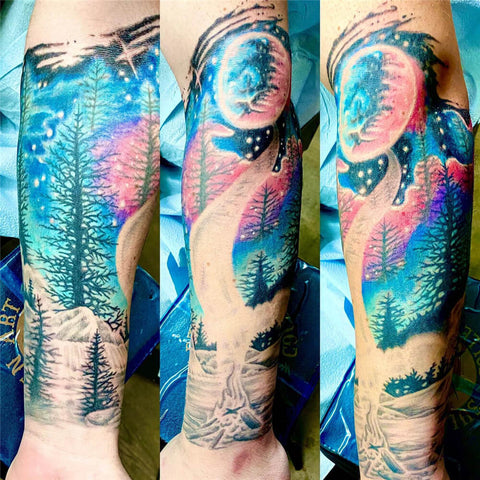 Armor Sleeve Tattoo
A sleeve tattoo that simulates a coat of armor can be a striking way to express yourself. Depending on your preferences, the arm you select might have chain mail or be made to resemble a one-of-a-kind piece of Japanese samurai armor. A tattoo of an armored sleeve may represent tenacity, resiliency, and resolve. It might demonstrate your spirit as a warrior or your commitment to defending your country.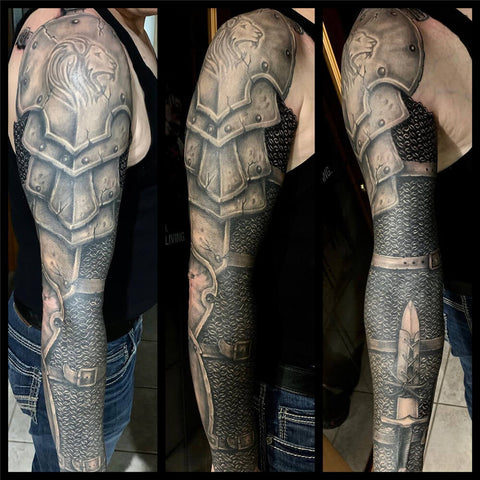 Arm Sleeve Tattoo
An arm sleeve tattoo is like a huge piece of art on your skin. It often covers your whole arm, from shoulder to wrist. The designs can be anything you want. They can tell a story, stand for a memory, or show off your style. It's a big step in the tattoo world, but worth it when ready.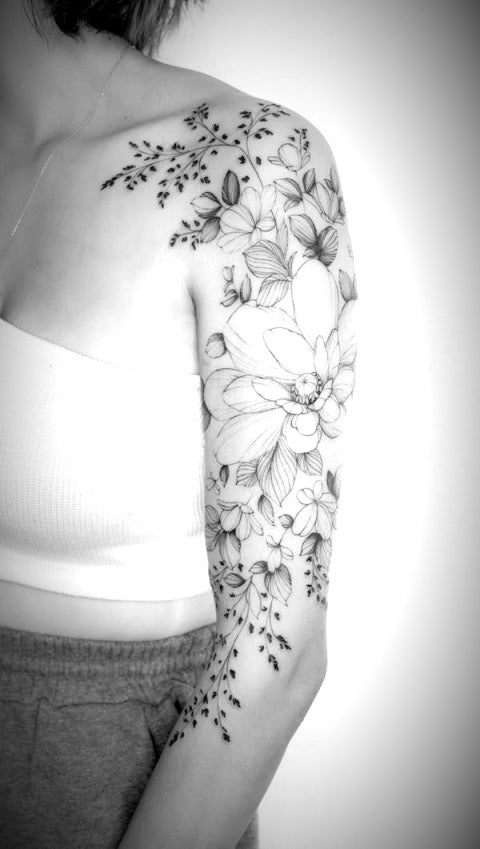 Sleeve Tattoos for Men
Men often get sleeve tattoos to show off a strong, bold style. Some like patterns or images that show strength, like lions or warriors. Others might prefer symbols that have deep meaning to them. Whatever the choice, a sleeve tattoo for men can make a big statement and show off a unique personality.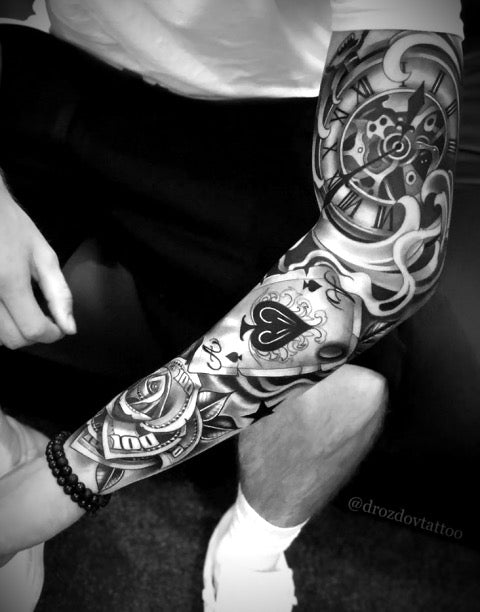 Sleeve Tattoos for Women
Women, too, love sleeve tattoos! They may go for designs that are beautiful, soft, and colorful. Some women prefer flowers, birds, or butterflies, while others might choose symbols or images that tell a personal story. A sleeve tattoo for women can be a lovely way to express themselves creatively and lastingly.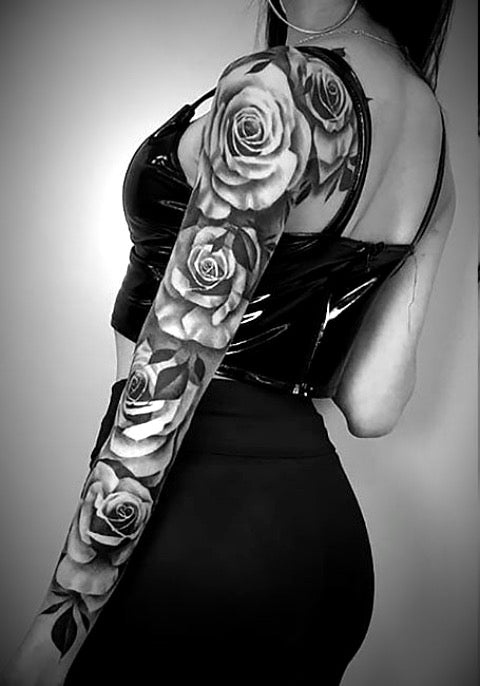 Forearm Sleeve Tattoo
A forearm sleeve tattoo covers your arm from elbow to wrist. It's a smaller space than a full sleeve but offers plenty of room for amazing designs. A forearm sleeve could be a landscape, a collection of smaller tattoos, or a large, detailed picture. It's a great choice if you're not ready for a full sleeve but want a big piece of tattoo art.
Patchwork Sleeve Tattoo
A patchwork sleeve tattoo is a unique style where different, smaller tattoos form a sleeve. Each small tattoo is like a patch in a quilt; together, they create a larger picture. This style allows you to add new tattoos over time, each with its own story, but all part of a greater whole. It's a fun, creative way to build a sleeve tattoo at your own pace.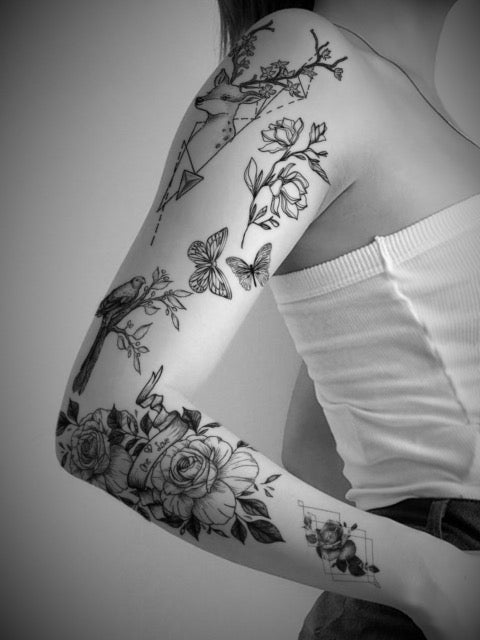 Traditional Tattoo Sleeve
A traditional tattoo sleeve showcases classic tattoo designs in a large-scale format. Think of anchors, skulls, roses, and nautical stars. This style tends to use bold lines and bright, simple colors. It's a nod to the roots of tattoo art and a great choice for those who love a vintage feel.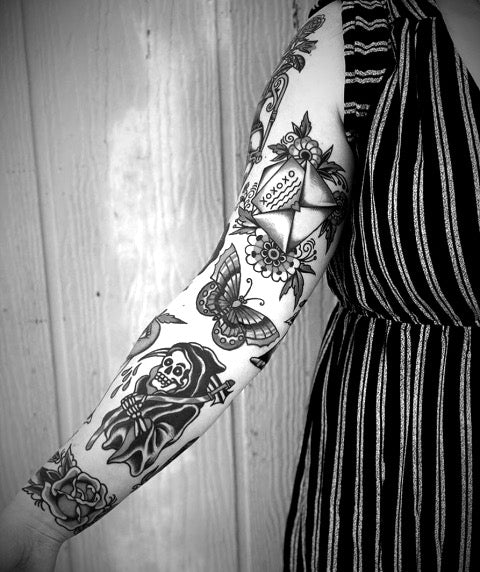 Rose Sleeve Tattoo
A rose-sleeve tattoo is a beautiful and timeless choice. Roses can stand for love, beauty, or the fleeting nature of life. They can be done in any style, from realistic to abstract, and in any color. A rose sleeve can make a stunning and deeply meaningful statement.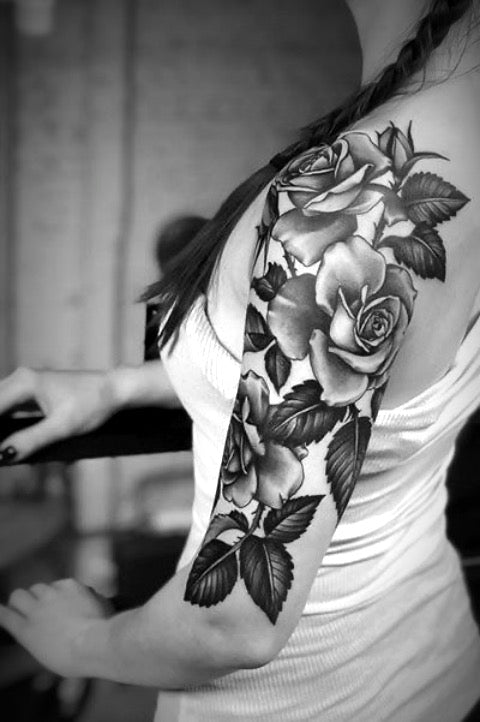 Cool Sleeve Tattoos
"Cool" is subjective when it comes to tattoos. What's cool to one person might not be to another. In general, cool sleeve tattoos show off your style and interests. They make you feel proud and confident. Remember, the coolest tattoo is the one that makes you happy!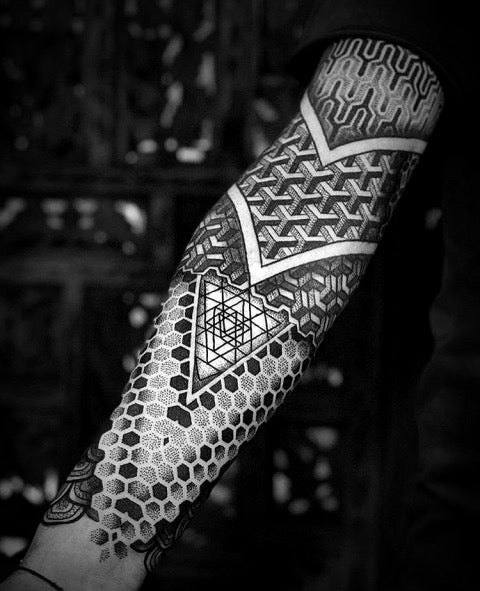 American Flag Sleeve Tattoo
An American flag sleeve tattoo is a powerful symbol of patriotism. The flag might be waving, be incorporated into other images, or take up the entire sleeve. This style is a bold way to show your love for your country and often sparks conversation.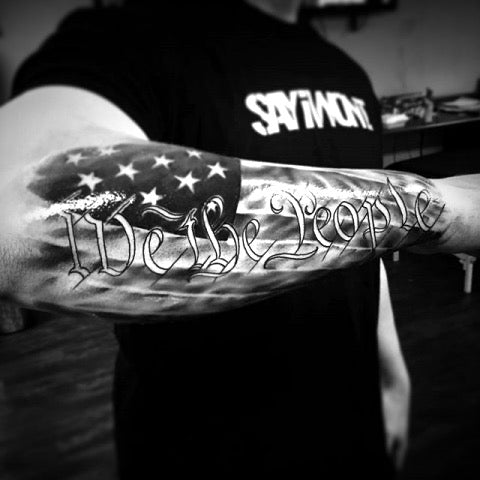 Butterfly Sleeve Tattoo
A butterfly sleeve tattoo is a lovely and symbolic choice. Butterflies can stand for change, growth, and freedom. They can be done in any style, from delicate and realistic to bold and colorful. A butterfly sleeve can be a beautiful and personal statement.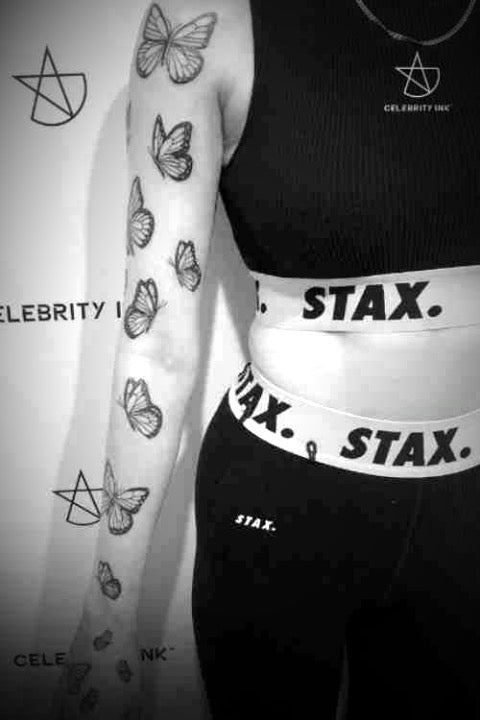 Geometric Tattoo Sleeve
A geometric tattoo sleeve features shapes, lines, and patterns on a large scale. Circles, squares, triangles, and complex patterns can create a visually striking design. This style is often associated with ideas of balance, symmetry, and harmony.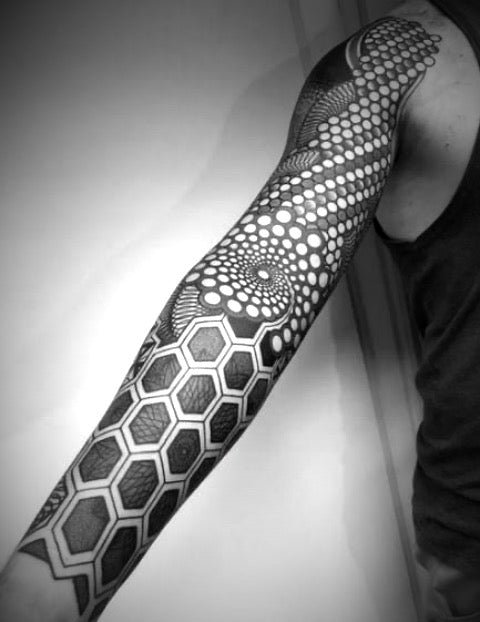 Cloud Tattoo Sleeve
A cloud tattoo sleeve can be dreamy and symbolic. Clouds can represent change, transformation, or heavenly realms. This sleeve type can create a beautiful, ethereal effect in black and white or in color.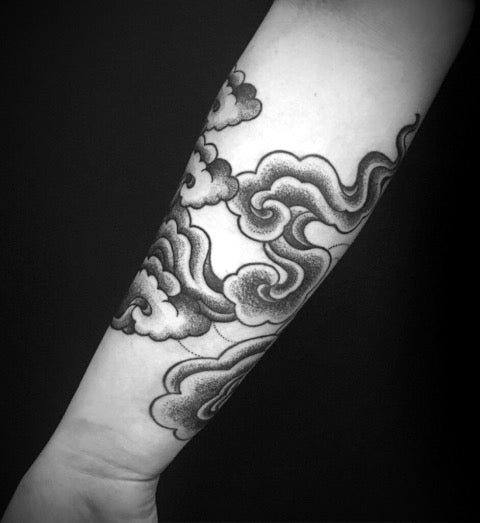 Sunflower Sleeve Tattoo
A sunflower sleeve tattoo is a vibrant and joyful choice. Sunflowers stand for happiness, positivity, and admiration. They can be done in a realistic style or a more abstract or symbolic one, making this sleeve type a lovely and uplifting option.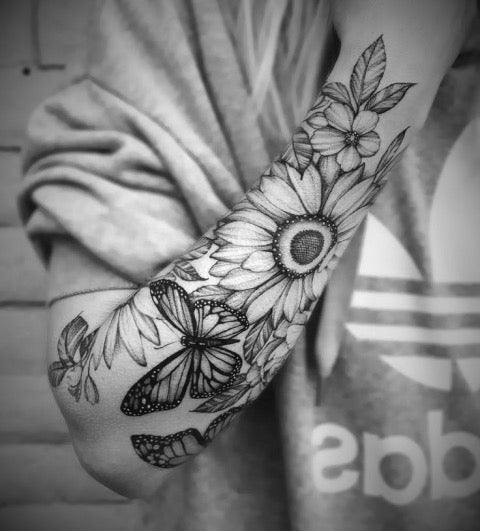 Egyptian Tattoo Sleeve
An Egyptian tattoo sleeve uses symbols and gods from ancient Egypt. Common choices include Anubis, hieroglyphs, pyramids, and the Eye of Horus. This sleeve type can be a cool way to show off an interest in history, mythology, or the mysterious.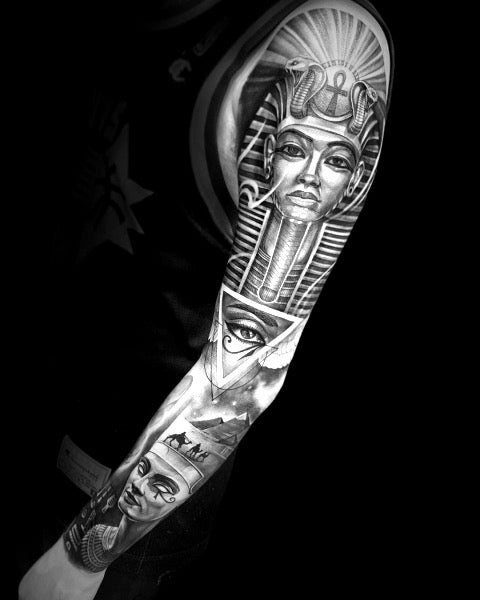 Greek Mythology Tattoo Sleeve
A Greek mythology tattoo sleeve uses characters and scenes from Greek myths. Zeus, Athena, the Minotaur, or scenes from epic tales could be featured. This sleeve type can be captivating to express a love for classic stories and ancient cultures.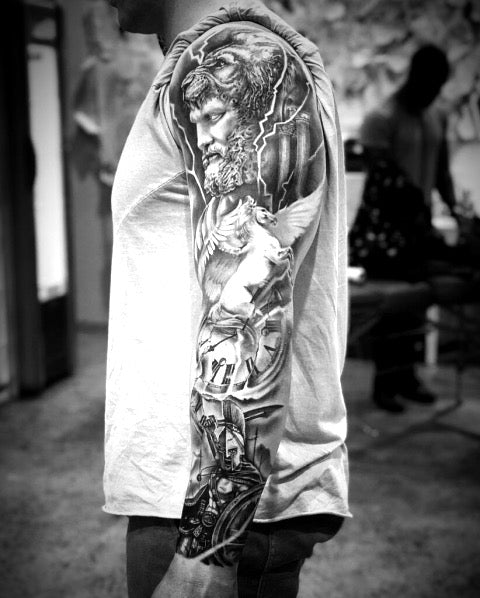 Shoulder Sleeve Tattoo
A shoulder sleeve tattoo starts from the shoulder and goes down to the mid-bicep. It's a popular choice for those who want a large tattoo but not a full sleeve. This sleeve can showcase various designs, from floral patterns to detailed scenes.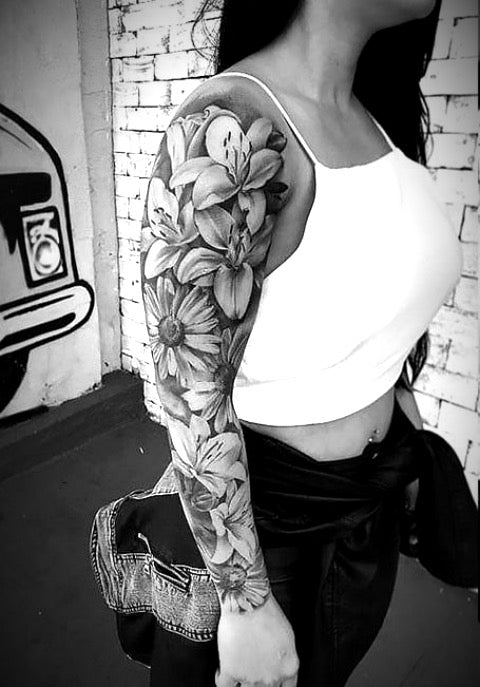 Cherry Blossom Tattoo Sleeve
A cherry blossom tattoo sleeve is a beautiful and symbolic choice. These lovely flowers symbolize the fleeting nature of life in Japanese culture. This type of sleeve can create a delicate and meaningful effect.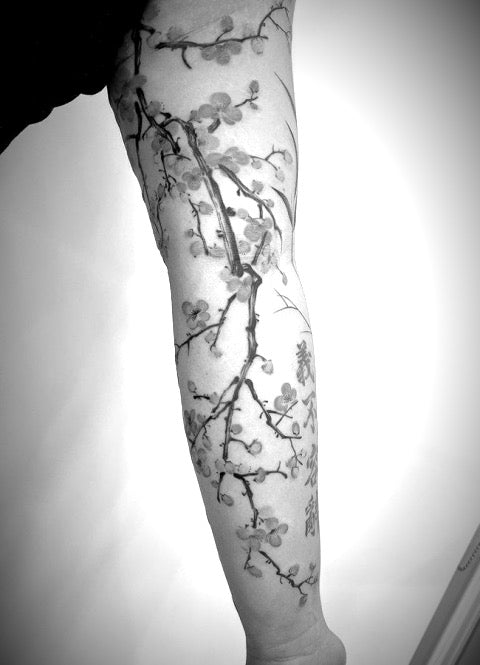 Lightning Sleeve Tattoo
A lightning sleeve tattoo features electric designs of lightning bolts and stormy skies. Lightning can symbolize power, speed, and enlightenment. This style can create a dynamic and electrifying effect, perfect for those who want to make a powerful statement.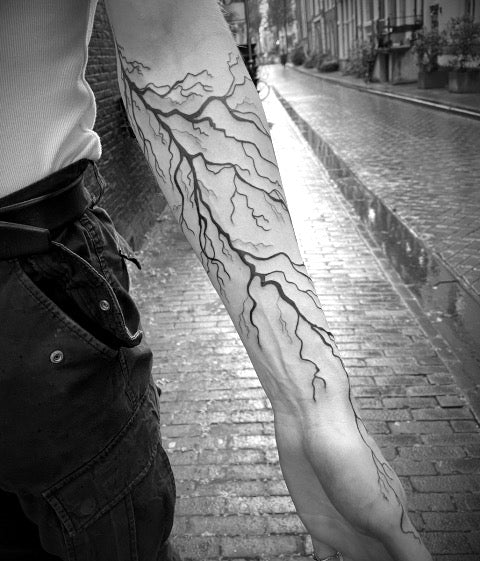 Norse Tattoo Sleeve
A Norse tattoo sleeve draws inspiration from Norse mythology and culture, like the Nordic sleeve. You could feature elements such as the Tree of Life (Yggdrasil), mythical creatures, or epic Norse warriors. It's a captivating way to express a love for these ancient tales and symbols.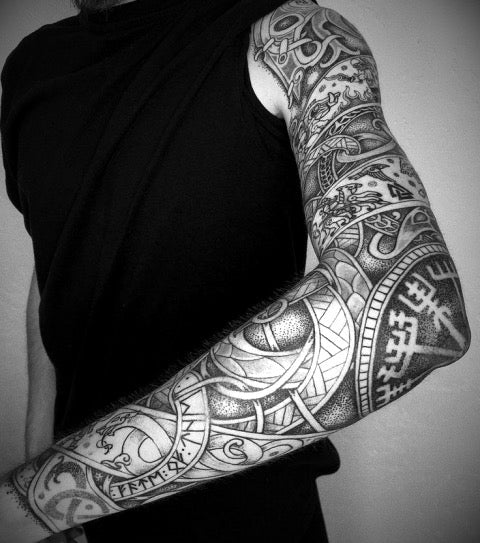 Koi Fish Tattoo Sleeve
A Koi fish tattoo sleeve features this beautiful and symbolic creature. Koi fish represent perseverance and strength in Japanese culture. This style can be a visually striking way to express determination and resilience.
Pirate Tattoo Sleeve
A pirate tattoo sleeve features swashbuckling imagery from the world of pirates. Pirate ships, skulls and crossbones, treasure chests, and sea creatures could be included. It's a fun and adventurous choice for those who love tales of the high seas.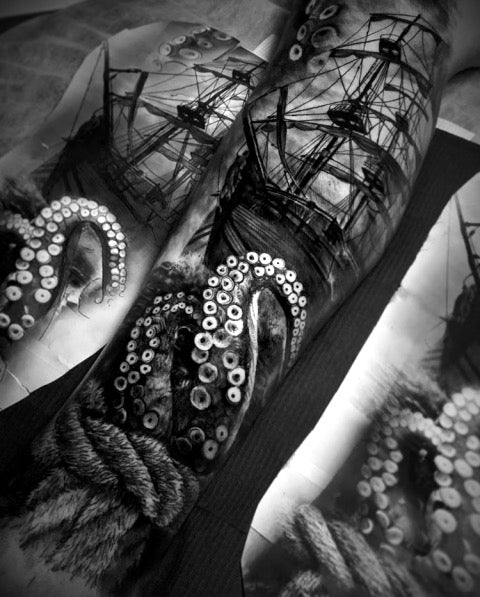 Vine Sleeve Tattoo
A vine sleeve tattoo features the twisting, turning designs of vines and leaves. This style can create a natural and organic effect, perfect for nature lovers. Vines can also symbolize growth and connection, adding a layer of meaning to the design.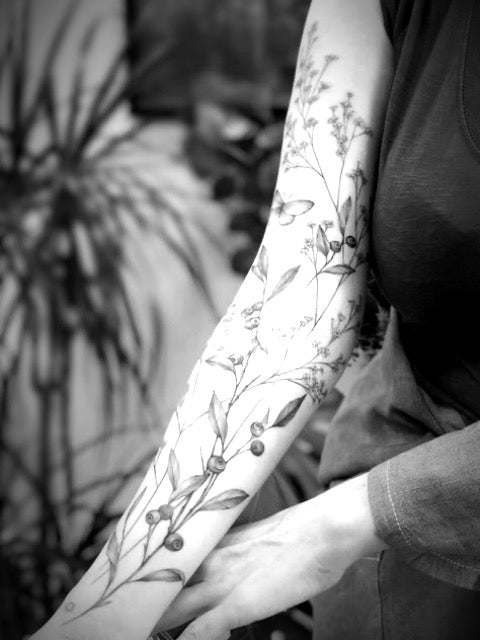 Wildflower Tattoo Sleeve
A wildflower tattoo sleeve is a lovely and uplifting choice. Wildflowers can represent resilience, freedom, and natural beauty. With its delicate and colorful flowers, this type of sleeve can be a joyful and beautiful statement.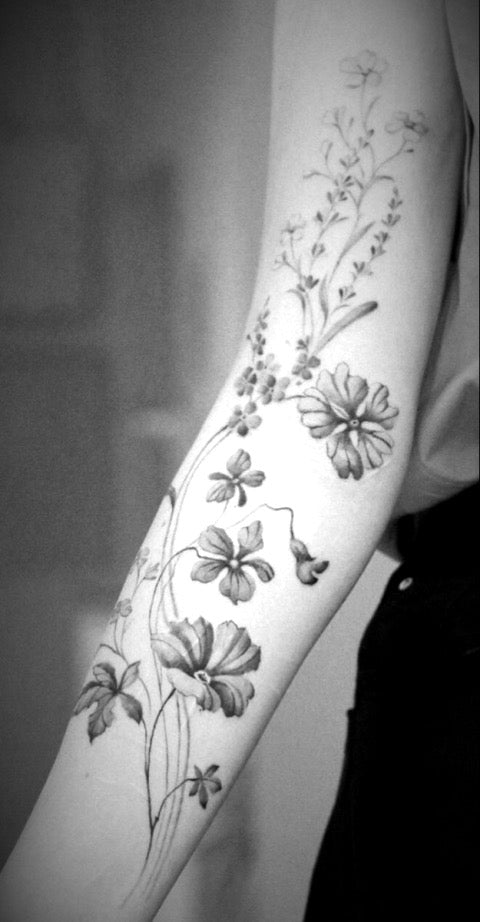 3/4 Sleeve Tattoo
A 3/4 sleeve tattoo covers three-quarters of your arm, usually from the shoulder to midway down the forearm. It's a popular choice for those who want a large tattoo but not a full sleeve. The designs can range widely, offering a great deal of creative freedom.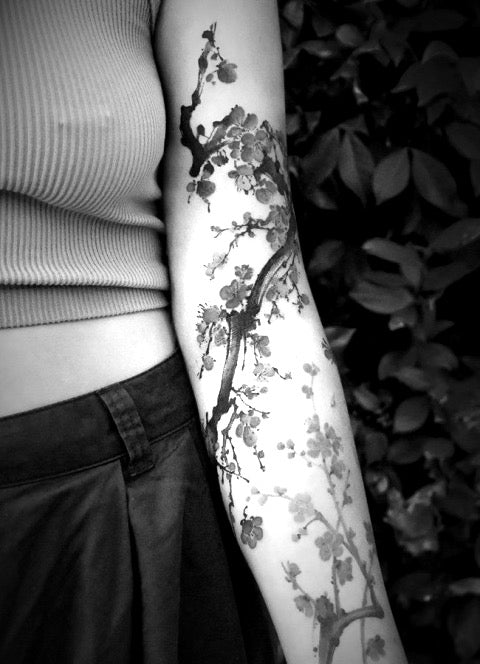 Hunting Sleeve Tattoo
A hunting sleeve tattoo uses symbols and scenes related to hunting. Animal silhouettes, forest landscapes, and hunting tools could be featured. This sleeve type can be a powerful way to express a love for nature and the thrill of the hunt.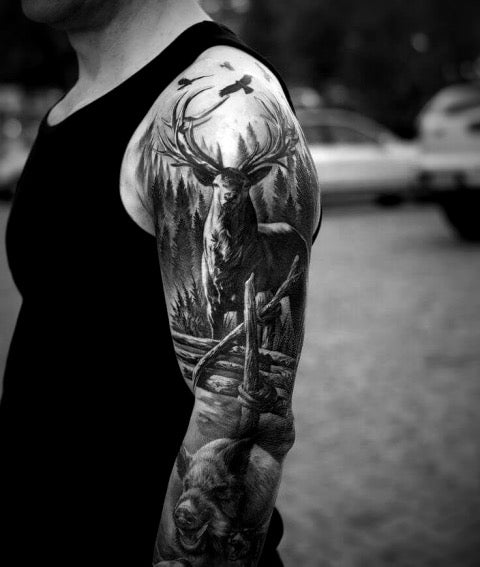 Minimalist Tattoo Sleeve
A minimalist tattoo sleeve uses simple and clean designs for a sophisticated effect. It might feature geometric shapes, lines, or small, meaningful symbols. This style can be a subtle and elegant choice for those who prefer less is more.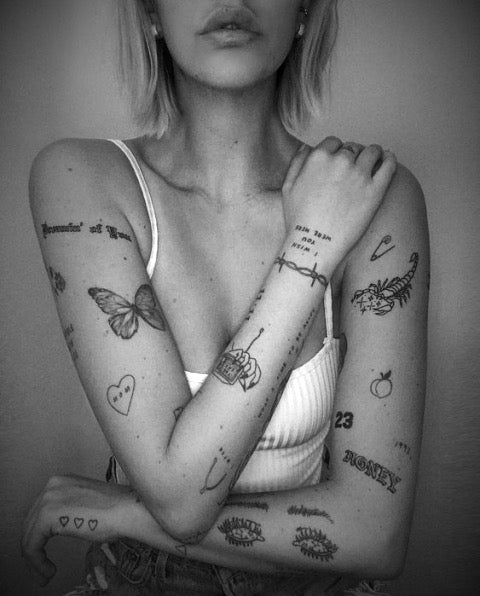 Money Sleeve Tattoo
A money sleeve tattoo uses symbols related to wealth and success. Dollar signs, stacks of cash, or gold coins could be featured. This type of sleeve can be a bold way to express ambition and a desire for prosperity.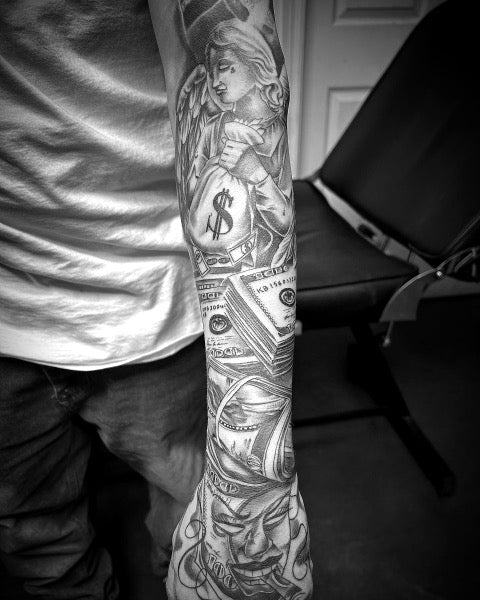 Phoenix Tattoo Sleeve
A Phoenix tattoo sleeve features the mythical bird reborn from its ashes. The phoenix represents rebirth, renewal, and resilience. This style can create a dramatic and meaningful effect for those overcoming challenges.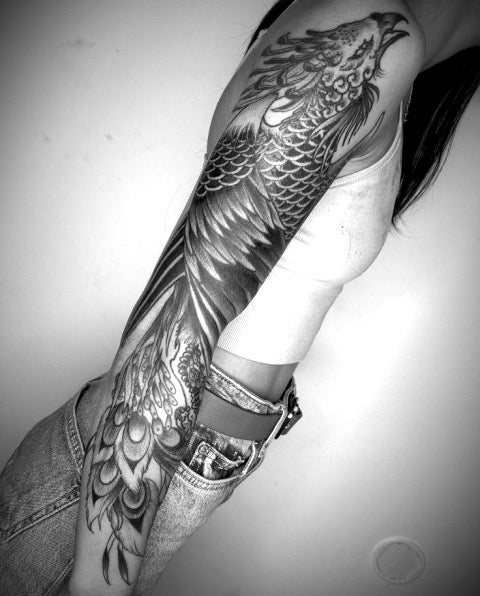 Plant Sleeve Tattoo
A plant sleeve tattoo features beautiful and intricate designs of plants. This could include trees, flowers, vines, or even succulents. This style can create a calming and organic effect, perfect for nature lovers.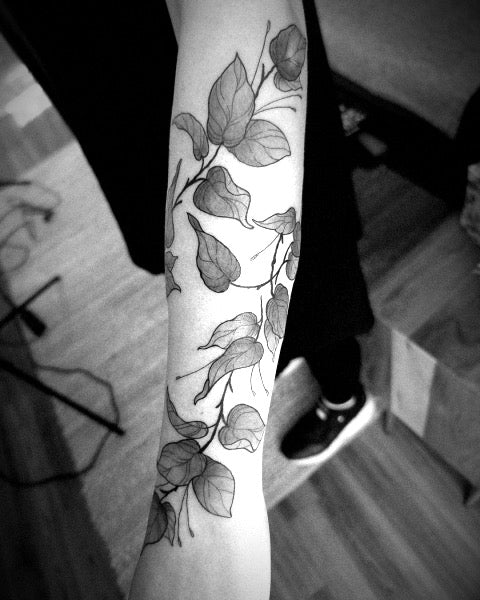 Polynesian Tattoo Sleeve
A Polynesian tattoo sleeve uses designs from traditional Polynesian tattoo art. These tattoos often feature complex patterns, geometric shapes, and symbols with deep cultural meanings. It's a stunning choice for those who appreciate this rich tradition.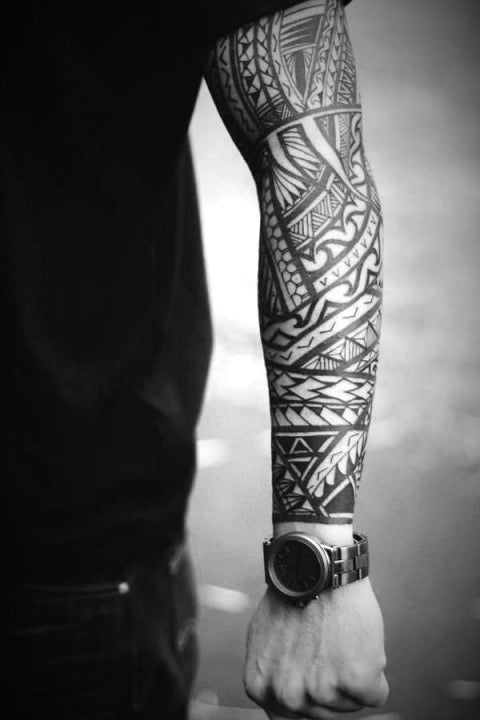 Beach Sleeve Tattoo
A beach sleeve tattoo is a fun and relaxing choice. Scenes of sandy beaches, palm trees, waves, or seashells could be included. This sleeve type is a lovely way to keep the carefree spirit of the beach close to you.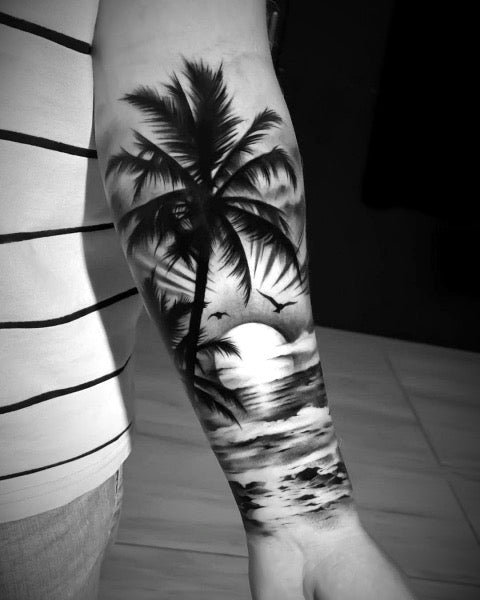 Cartoon Tattoo Sleeve
A cartoon tattoo sleeve is a playful choice for fans of classic or modern cartoons. Your favorite show characters, scenes, or symbols could be featured. This style is a charming way to express your love for the fun and whimsy of cartoons.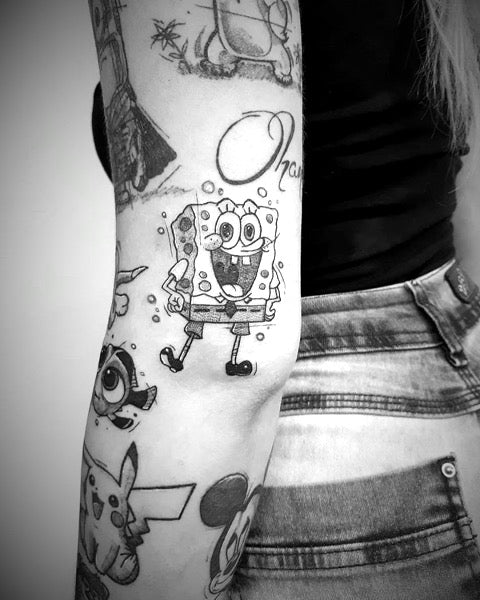 Girly Sleeve Tattoos
"Girly" sleeve tattoos often feature delicate, colorful, and whimsical designs. Flowers, butterflies, hearts, and stars are popular choices. Remember, "girly" is subjective, so choose designs that make you happy and confident.
Hawaiian Sleeve Tattoo
A Hawaiian sleeve tattoo uses designs from traditional Hawaiian tattoo art. These tattoos feature tropical flowers, sea turtles, waves, and Polynesian symbols. It's a beautiful choice for those who appreciate Hawaiian culture or love the islands.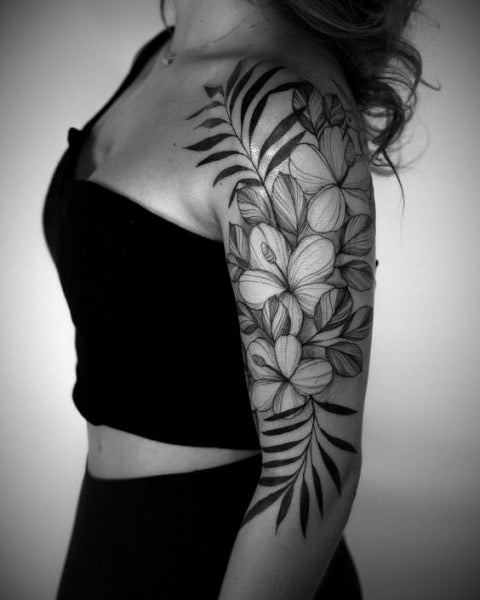 Joker Tattoo Sleeve
A Joker tattoo sleeve features the iconic villain from Batman. His maniacal grin, playing cards, or scenes from the comics or films could be included. This style can be a thrilling choice for fans of this captivating character.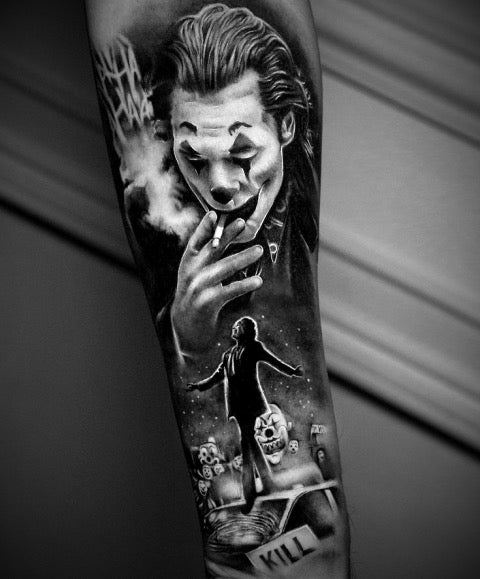 Lace Sleeve Tattoo
A lace sleeve tattoo uses intricate designs that mimic the delicate patterns of lace. This style can create a feminine and elegant effect. It's a lovely choice for those who appreciate the beauty and complexity of lace.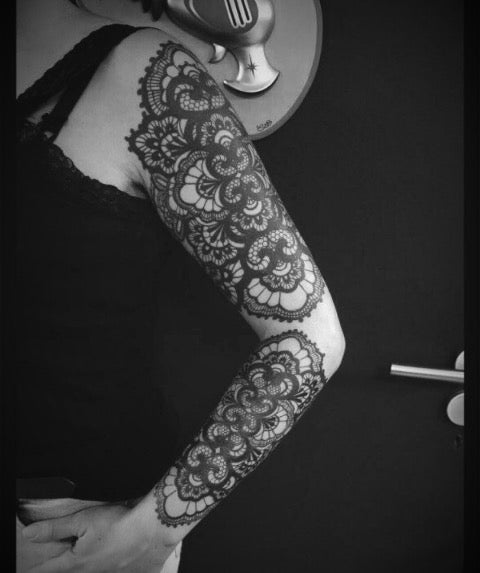 Star Sleeve Tattoo
A star sleeve tattoo is a sparkling and uplifting choice. Stars can represent hope, dreams, and the mysteries of the cosmos. With its celestial designs, this type of sleeve can be a bright and hopeful statement.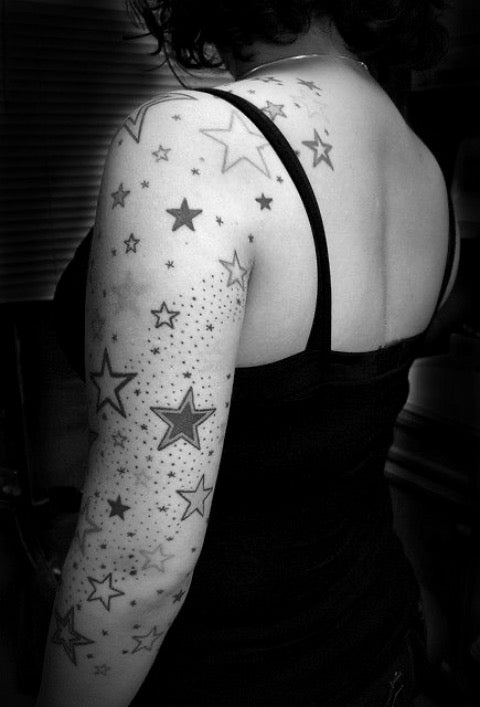 Barbed Wire Sleeve Tattoo
A barbed wire sleeve tattoo features a sharp and striking barbed wire design. This style can symbolize strength, resilience, or a struggle that has been overcome. It's a bold choice for those who prefer edgier designs.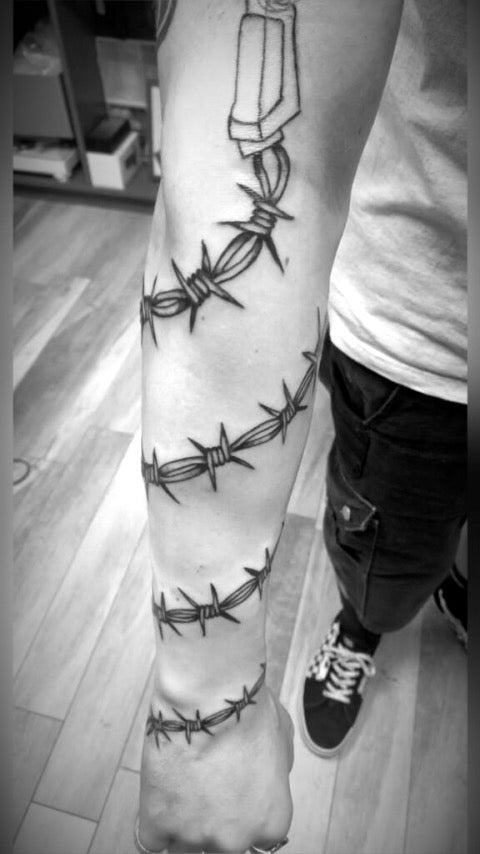 Bear Tattoo Sleeve
A bear tattoo sleeve features this powerful and majestic creature. Bears can represent strength, courage, and a deep connection with nature. This style can be a strong and inspiring choice for those who admire these animals.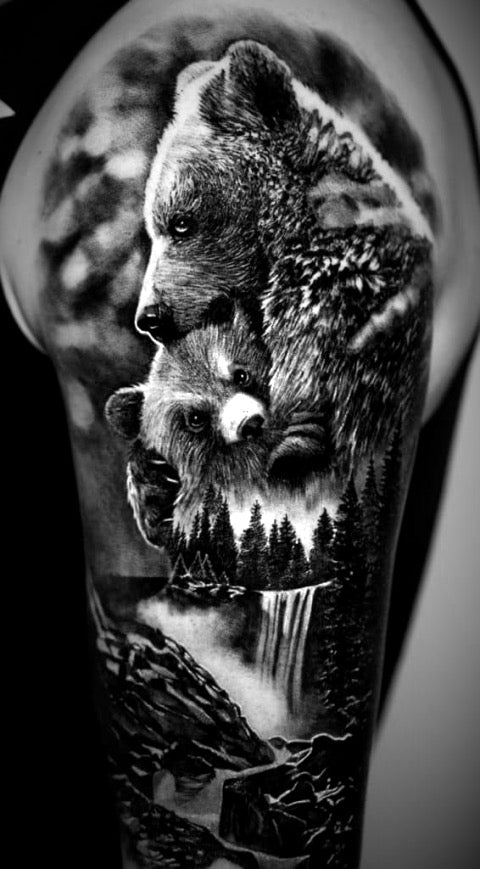 Bird Sleeve Tattoo
A bird sleeve tattoo features these beautiful and free-spirited creatures. Birds can represent freedom, dreams, and spiritual journeys. This type of sleeve can be an uplifting and meaningful choice.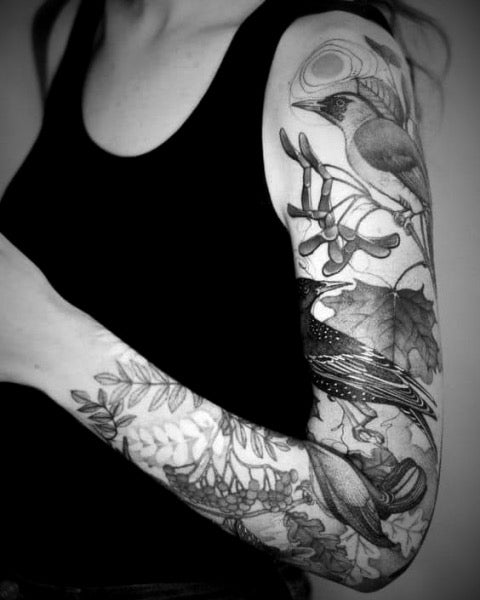 Chinese Sleeve Tattoo
A Chinese sleeve tattoo uses designs from traditional Chinese art. Dragons, phoenixes, Chinese characters, or symbols like Yin and Yang could be featured. It's a respectful and stunning way to honor Chinese culture.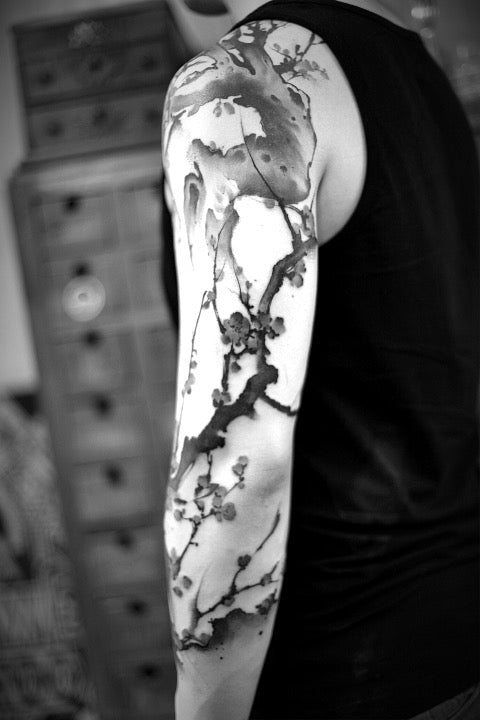 Feather Sleeve Tattoo
A feather sleeve tattoo features the delicate and intricate design of feathers. Feathers can symbolize freedom, transformation, and spirituality. This style can be a soft and elegant choice for those who connect to these meanings.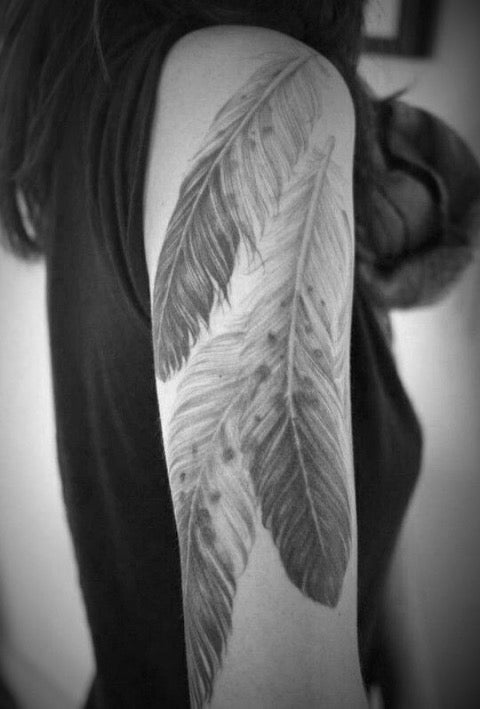 Flame Sleeve Tattoo
Similar to the fire sleeve, a flame tattoo sleeve uses the dynamic design of flames. It can be a bold and vibrant choice, often representing passion, courage, or transformation.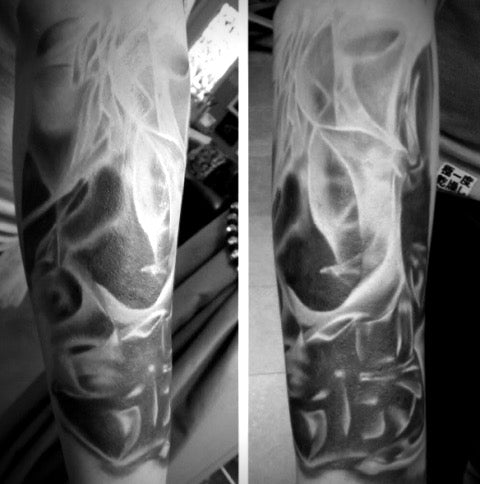 Goth Sleeve Tattoo
A goth sleeve tattoo features imagery associated with the gothic aesthetic. This can include skulls, roses, bats, or dark fairy tale imagery. It's a perfect choice for those who love the dark beauty of the Gothic style.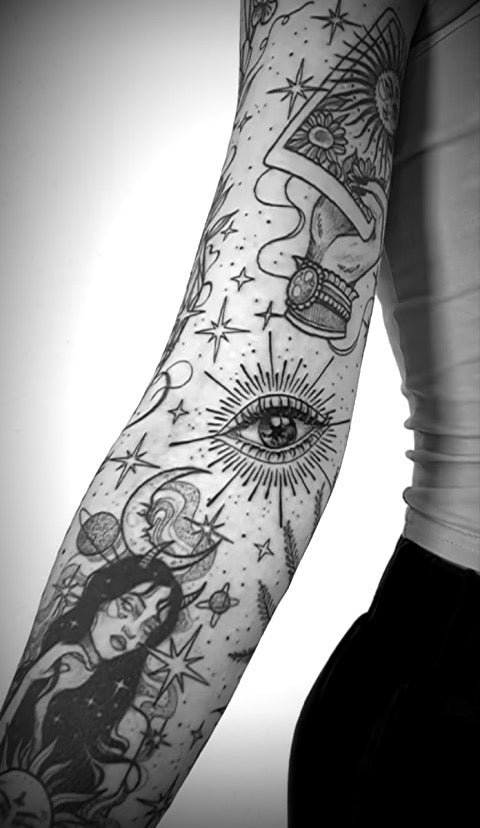 Map Tattoo Sleeve
A map tattoo sleeve features the design of a map or several maps. It's an ideal choice for travelers or those who love geography. This style can be a personal and unique way to commemorate your travels or your dream destinations.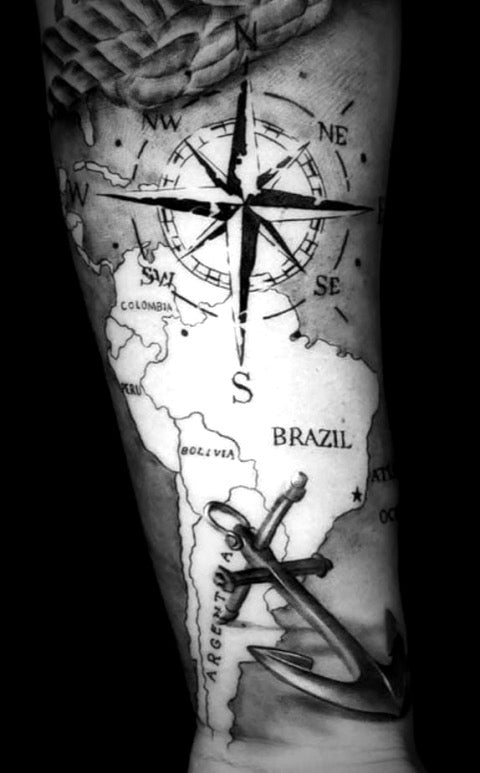 Oni Sleeve Tattoo
An Oni sleeve tattoo features the Oni, a demon from Japanese folklore. These designs often use vibrant colors and can symbolize protection from evil. It's a striking choice for those interested in Japanese mythology.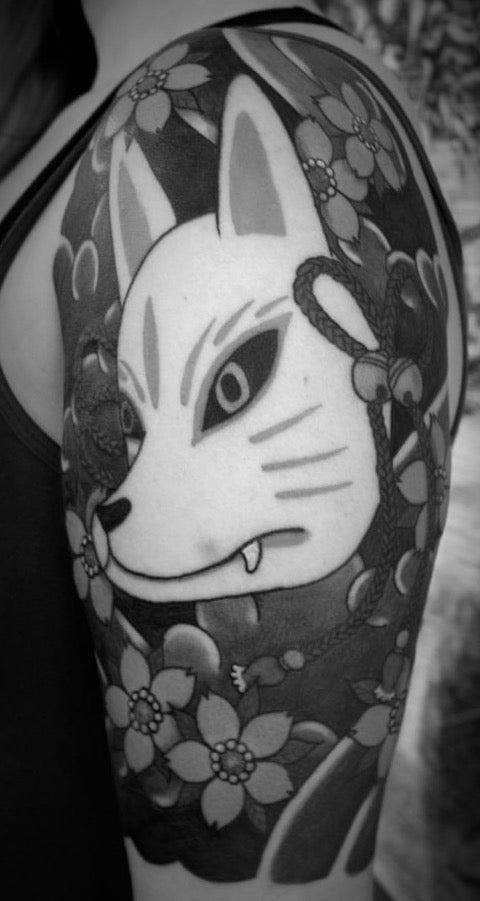 Meaningful Sleeve Tattoos
Meaningful sleeve tattoos are deeply personal, featuring symbols or scenes with significant meaning to the wearer. This could be anything from a quote that inspires you to an image representing a major life event. Choose designs that tell your unique story.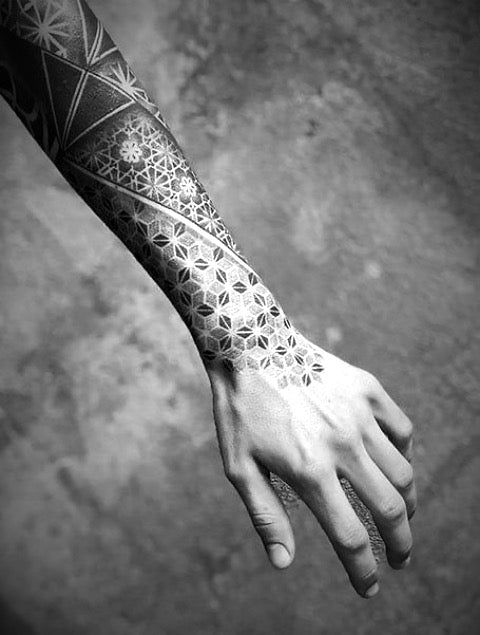 Conclusion
Everyone is aware that getting a tattoo means accepting the fact that it will remain on your body permanently for the rest of your life. Therefore, picking the best one might be really challenging. Maybe the best thing about sleeve tattoos is that you may choose from a variety of different styles to get something special. 
Neartattoos specializes in offering an impressive selection of sleeve temporary tattoos, perfect for those who want to try out a bold and dynamic look without the permanence of real ink. Alongside these eye-catching sleeve designs, they also provide a wide array of other realistic temporary tattoos. This variety allows you to experiment with different styles, sizes, and placements, catering to every whim and preference. Whether you're considering a full sleeve or just a small, discreet design, Neartattoos has you covered. It's a great opportunity to play around with your style and see what tattoo suits you best, all with the flexibility and ease of temporary options.
Sleeve Tattoo FAQ 🤩
👀
What is full sleeve tattoo?
A sleeve tattoo covers the entire arm from the shoulder to the wrist. 
🌟
What are some of the best sleeve tattoo designs for women?
Many other designs can be used for a women's sleeve tattoo, but some of the more well-liked ones are Japanese and floral motifs.
💪
Which arm is best for a full sleeve tattoo?
Depending on which arm you use, If you are right-handed, a tattoo sleeve on this arm will make it easier for you to show it.
🧐
What distinguishes a half sleeve from a full sleeve?
A full sleeve tattoo extends from the wrist to the shoulder, but a half sleeve tattoo covers half your arm, wrist to elbow, or elbow to shoulder.