46 Sleeve Tattoos Meanings Design Ideas
A sleeve tattoo is a fantastic method to express oneself artistically. A sleeve requires a lot of time and effort, but the result is impressive. It can be hard to choose one sleeve tattoo design because so many options are available. Go big or go home while having a tattoo on your arm. These designs are not for the timid but will undoubtedly get noticed. A full sleeve is an excellent choice if you want to create a real masterpiece on your arms. Check out these ink-credible sleeve tattoo designs if you're unsure about the design that would look best on you.
Related Knowledge: Want to know what tattoo designs look good on you? Temporary tattoos 🔗 are appealing because it lets you try out body art without the permanent commitment. It is also a fun way to change your appearance or experiment with different placements before taking the plunge and getting inked for real. This is an excellent choice for anyone thinking about getting a tattoo but wants to see how it would look first, or for someone who cannot get inked for whatever reason, including pain tolerance or health problems. The temporary tattoo is also cheap, easy to apply, and lets you express yourself without hassle. Choose from a wide range of temporary sleeve tattoos collection. The choice is yours, so have fun with it. 
1. Dragon Sleeve Tattoo
Be the mother of these dragon tattoos and embody Daenerys. There are so many alternatives to pick from, from designs in medieval or Japanese styles, that you'll want to buy them all. You can add color to the element to make the whole thing stand out. However, if you'd rather something monochromatic that blends in with the rest of your sleeve, you might choose a form made of black ink. You'll always have one of the most challenging and bravest mythical beasts, regardless of how you wear it.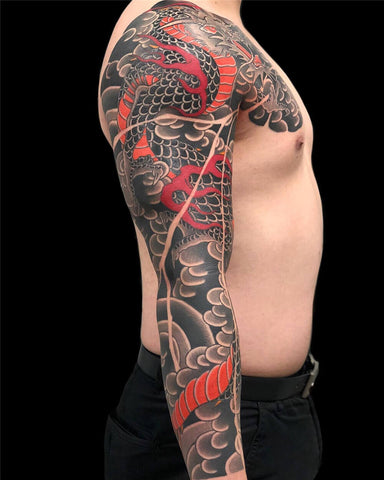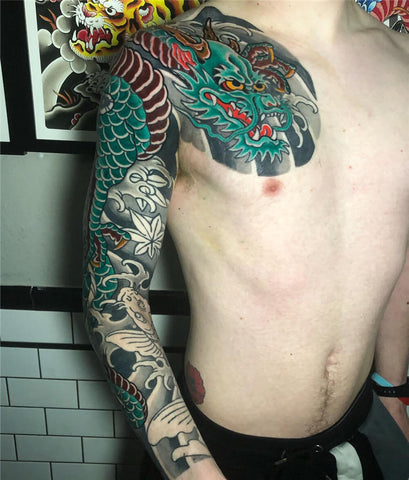 2. Half Sleeve Tattoo
You don't have to go up your arm to wow a crowd. A half sleeve is perfect if you want to cover up your tattoo at work or a formal event but aren't scared to show it off later. Choose the upper half of your arm if you want to conceal access easily. If you wish the design to crawl onto your hand and fingers, use the lower half of your arm.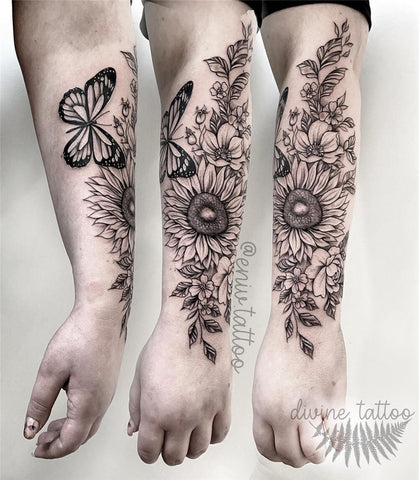 3. Leg Sleeve Tattoo
A sleeve tattoo is a piece of body art that extends from the wrist to the entire arm. This is an excellent choice for someone who wants to make a statement with their body art or has a more extensive design. An equivalent garment is a leg sleeve, which covers the whole leg instead of the arm. A leg sleeve and a regular sleeve are both popular choices.
Japanese tattoo, commonly known as irezumi, is one of the most popular and recognized tattoo styles in the world. They appear best when featured in larger, more ornate motifs, like the sleeve. The entire area of the skin is intended to be covered with a Japanese tattoo, so there isn't much "free" space. There are two types of irezumi tattoos: traditional and modern. Not the designs but the tattooing process is what differs most. While modern irezumi tattoos are created using a modern tattoo machine, traditional tattoos are created using non-electrical machines. Japanese tattoos are vibrant and include symbols and imagery with significant cultural significance, such as peonies, tigers, dragons, cherry blossoms, skulls, and koi fish. Japanese tattoos are distinctive for their exceedingly fine detail and close resemblance to the wearer's personality. You must choose a design that speaks to you the most if you want to rock an irezumi. Fortunately, there are many elements in Japanese culture that can help your tattoo have a specific meaning.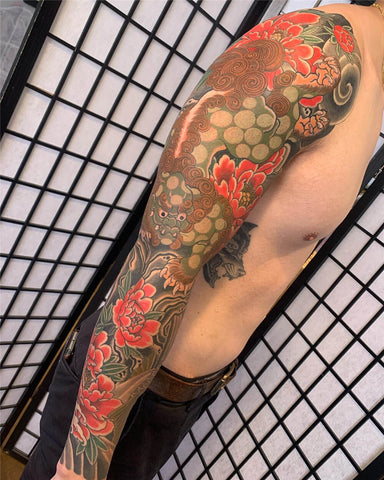 5. Full Sleeve Tattoo
A tattoo covering your entire sleeve is a surefire hit. There are numerous alternatives, ranging from black and white to Japanese tattoo patterns. This is also a great option if you want to work your illustration on your back. Let your personality show through on your skin, and always carry a piece of art with you.
6. Forest Sleeve Tattoo
A forest sleeve tattoo is a beautiful way to express your love of nature. Additionally metaphorical, forests are connected to life, rebirth, mystery, and growth. They may powerfully convey your sentiments and views. The theme is also varied, allowing you to add various pictures to enhance the overall appearance and significance, such as animals and birds.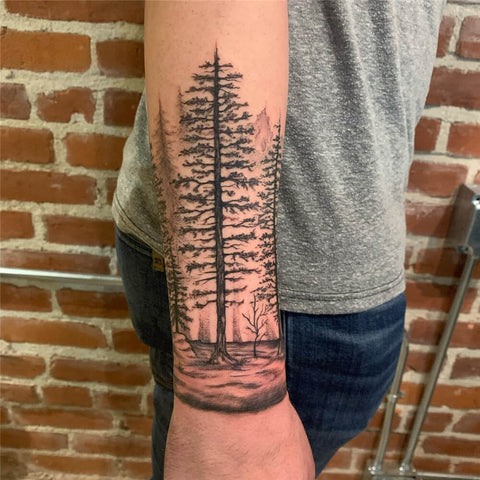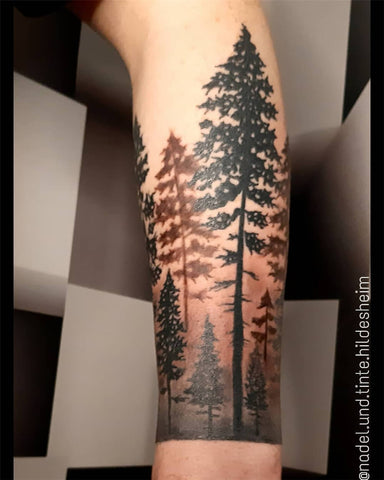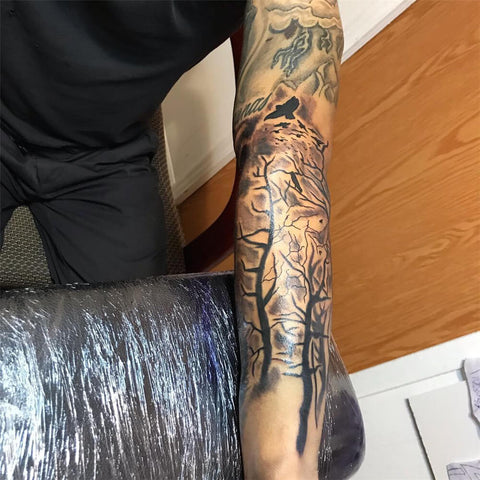 7. Lion Sleeve Tattoo
A sleeve is an excellent place for lion tattoos. The enormous, majestic cat is symbolic of majesty, strength, and power. Lions are gregarious creatures who live in feelings of pride, making this a popular choice for guys who respect these traits. However, you can also get this tattoo to demonstrate your loyalty to your family or your relationship. The lion can be tattooed in several ways, such as photorealistic or outline patterns.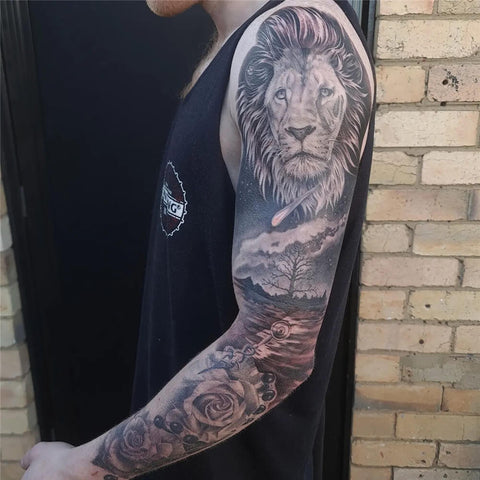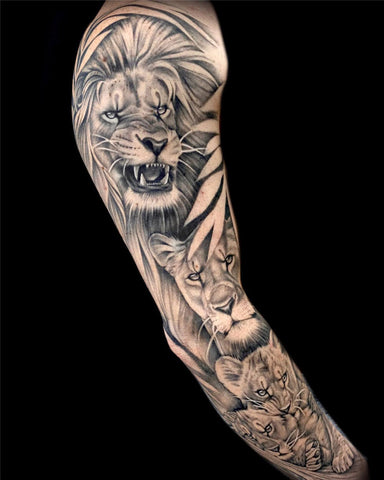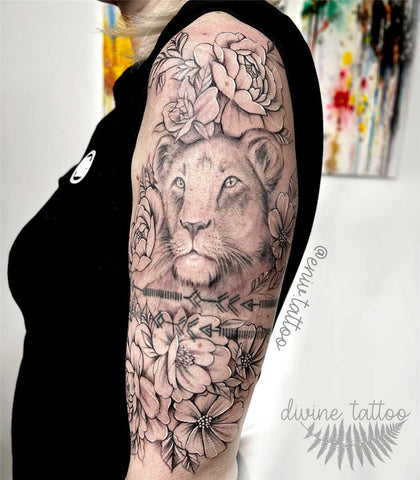 8. Viking Sleeve Tattoo
With the aid of this sleeve, you may feel the blood of the Norse pour through your veins. The Vikings, who were among history's most brutal warriors, are the ideal inspiration for guys who are powerful and brave. Combine the portrait with other Germanic patterns like mythical figures, skeletons, and sailing themes. These Viking tattoos look best as a full sleeve, so don't be scared to go all out!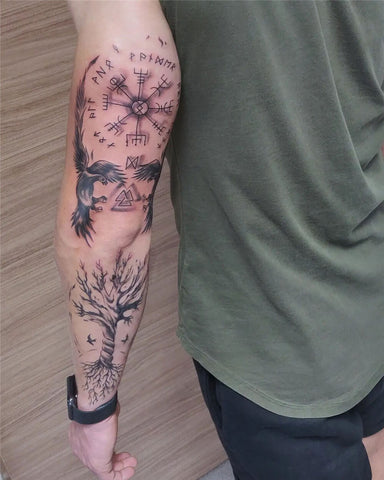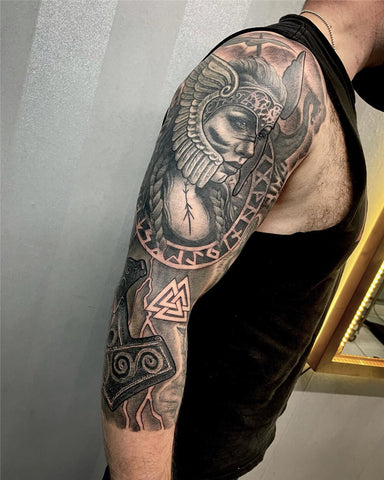 9. Flower Sleeve Tattoo
Floral patterns can be helpful if you seek a sleeve tattoo that symbolizes strength and femininity. Even on a large sleeve tattoo, flowers tattoo are always lovely and have an air of sophistication and elegance. The particular flowers you select will determine the significance of your floral sleeve tattoo. Sunflower tattoos, for instance, stand for romance, enduring love, and hopeful love. Sunflowers may also represent hope and enthusiasm. Various things are represented by roses, depending on the colour: love, passion, fresh starts, etc. Peonies are a symbol of fortune, wealth, and abundance.
Take your time and research the various flower sleeve tattoo symbolism to determine which ones best represent your personality. You can also get some advice from your tattoo artist.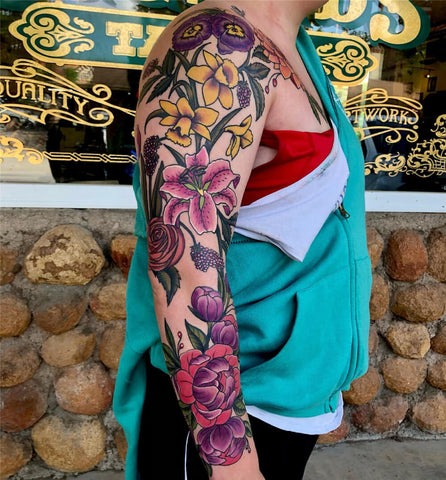 10. Skull Sleeve Tattoo
A skull sleeve tattoo will keep you looking eerie and fantastic at the same time. You can choose the skull tattoo design that best reflects your personality and sense of style because these come in various types. You're guaranteed to turn heads whether you decide to go all out and make a realistic skeleton flowing down your arm or you'd prefer something understated.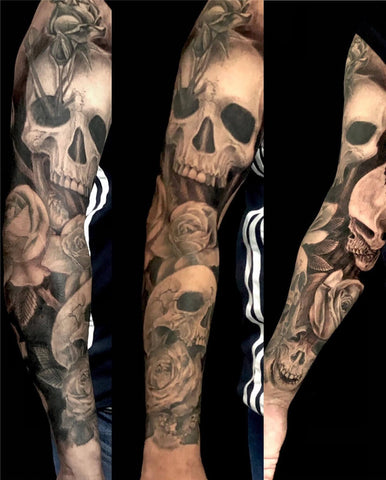 11. Tribal Sleeve Tattoo
Embrace your tribal tattoo to show off your pride in your history. How could you pass up such intricate, potent, and awe-inspiring designs? Find a specialist in the field of art to get the most accurate portrayal of the culture; that way, you'll have something impressive!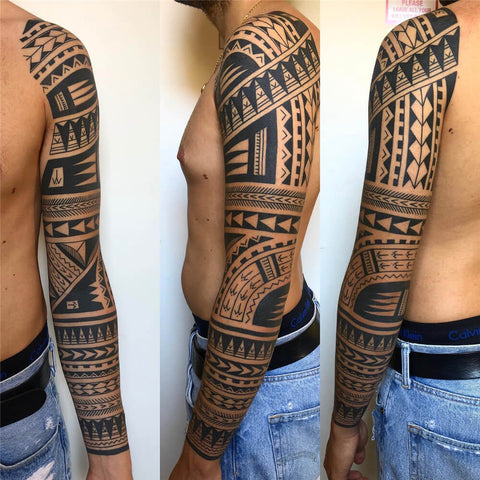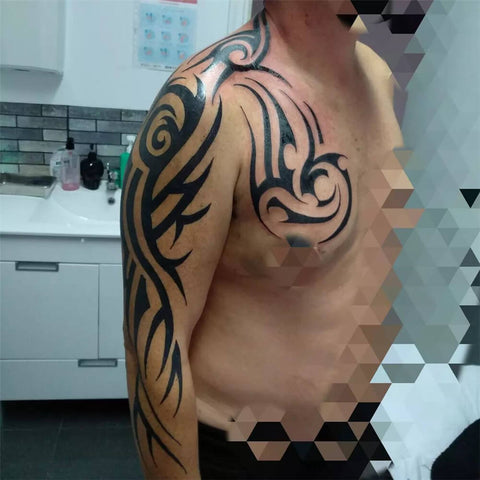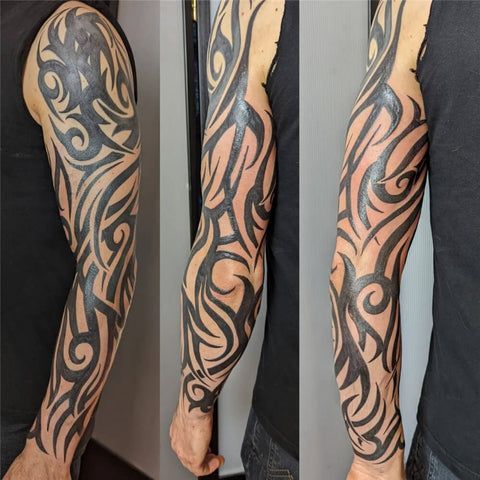 12. Tiger Sleeve Tattoo
The tiger is a magnificent creature and a potent predator, making it a perfect subject for tattoo art. With a tiger tattoo design, people can express their strength. Because they are solitary animals, it might also be a means to emphasize the value of living on your terms and controlling your destiny. It can also stand for freedom and independence.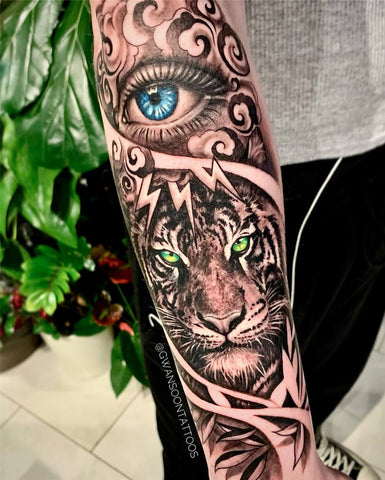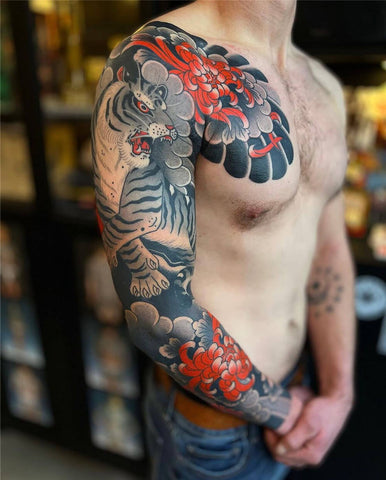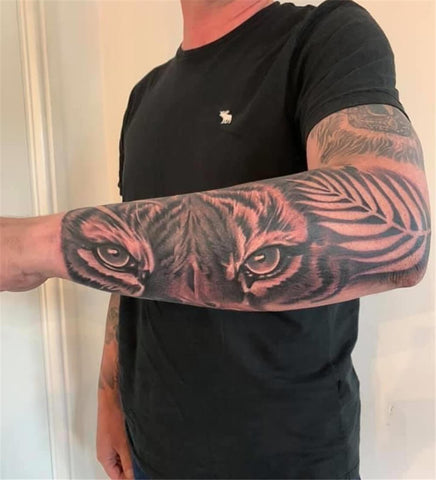 13. Snake Sleeve Tattoo
Snake tattoo is trendy and edgy. They can be tattooed to display your power and to feel abrasive and disobedient. Additionally symbolic, serpents are linked to danger, rebirth, and metamorphosis. Some people identify them with luck and protection, while others relate them to sin. Find the meaning that resonates most, and let it show on your sleeve.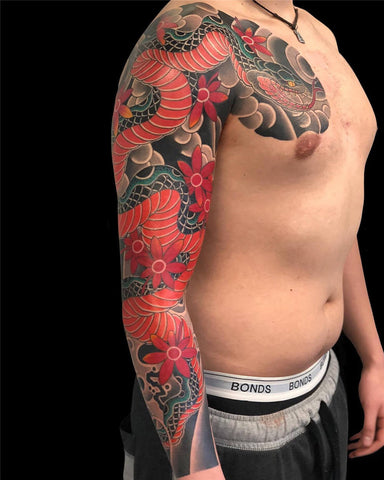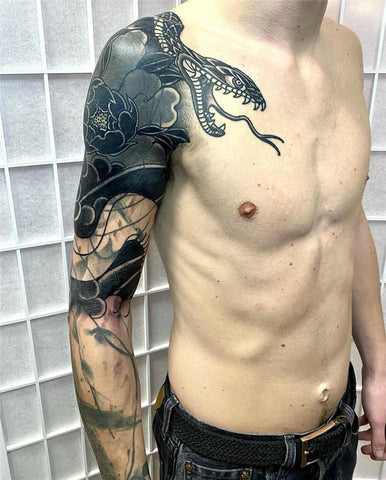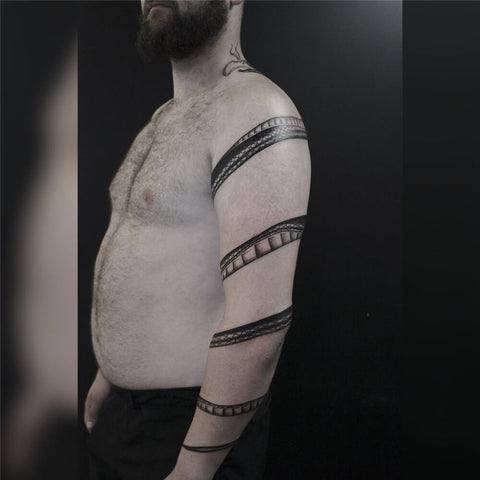 14. 3D Sleeve Tattoo
Is that a drawing or a photograph? Everyone will be asking that question once they see these 3D tattoo designs. Choose an abstract piece, an ultra-realistic image of a loved one, or a biomechanical design. When properly executed, these tattoos look fantastic, so make sure you locate a respected artist adept at handling this challenging design. It's worth it, we promise.
15. Celtic Sleeve Tattoo
Embrace the Celtic culture with a stylish tattoo design. These patterns are classic choices, such as a soldier or a conventional interlaced way. Numerous knots and practices are frequently used in Celtic art; they are simple to distinguish and well worth the money. Don't be afraid to get involved with such a direction because it gives you the chance to be creative.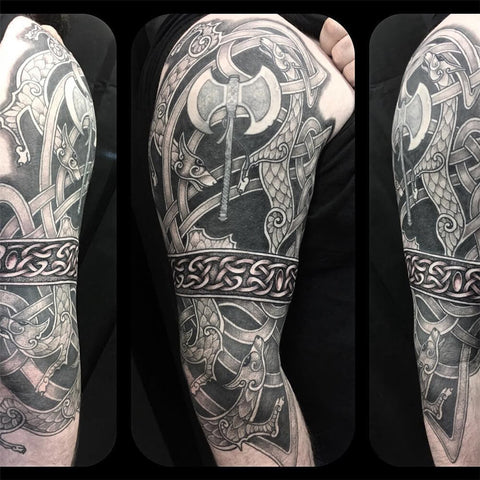 16. Clock Sleeve Tattoo
It's time to get a clock tattoo of sleeve. These sleeve designs have a particular significance, whether you need to learn how to use your minutes more effectively or don't want to miss a second. Use a timer for something traditional, or go digital with something slightly futuristic. No matter what you decide, you cannot turn back time, but you may tattoo it on your body.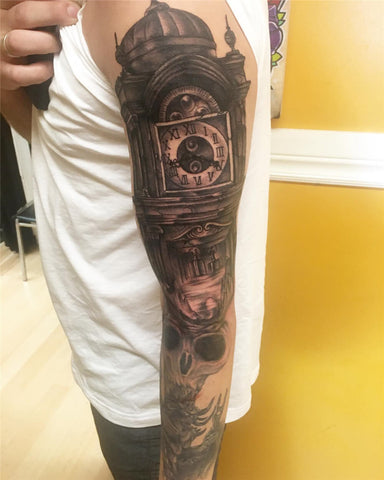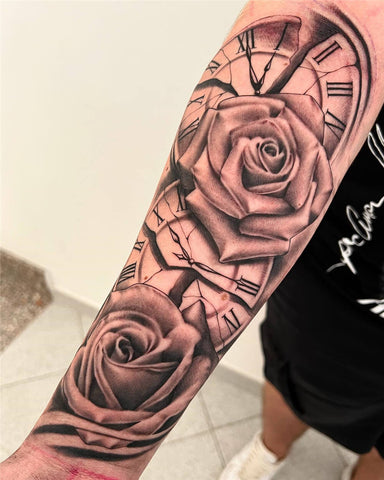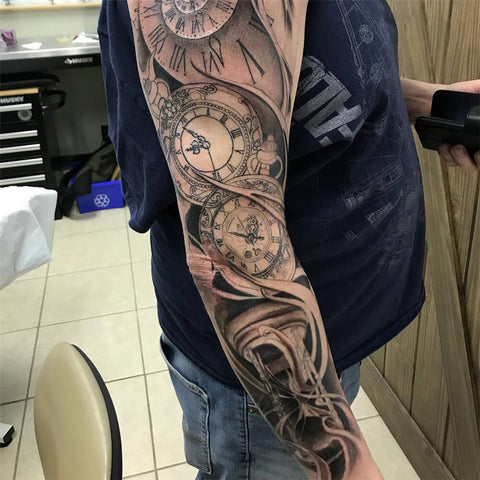 17. Wolf Sleeve Tattoo
These wolf tattoos were created for those with a wild side and can help you channel your inner beast. Be intense, persistent, and prepared to take action because this design looks fantastic when executed properly. Make sure to hire an illustrator who has experience with animals. Fur that appears three-dimensional and is touchable is the perfect finishing touch.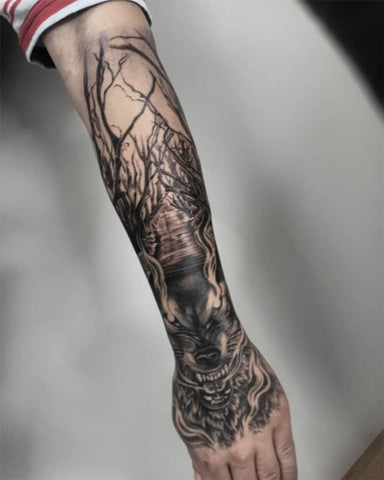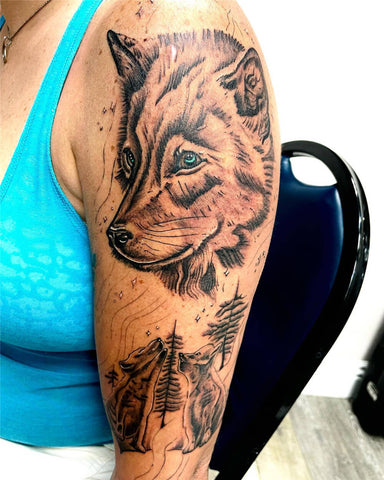 18. Religious Sleeve Tattoo
Use these designs to remain true to your faith. Whatever your viewpoint, it would look fantastic as a sleeve. You can go far with a hyper-realistic portrait or choose something straightforward like a cross. Once you have one of these religious tattoos, you'll want to get the other arm inked because they make the best statement.
19. Angel Sleeve Tattoo
Angel jewelry is ideal for wearing on your arm. These stand for a time of purity, innocence, and protection; combine them with other holy images to create the perfect sleeve to showcase your religious beliefs. Pick a cherub dozing off, launching an arrow, or strumming a harp. You'll have difficulty locating a better angel tattoo design with the variety available.
20. Portrait Sleeve Tattoo
Use a portrait piece to dedicate your arm to a person you love, someone you admire, or your idol. These tattoos, which might be of family members or celebrities, can be significant and are well worth the time spent on them. Choose your artist wisely; you must look for someone who specializes in portraiture because this is a design you don't want to get wrong. When executed correctly, these designs are astounding and deserve to be displayed.
21. Cross Sleeve Tattoo
Why not display your beliefs with a cross tattoo since the cross is a symbol that is associated with religion? You can make a distinctive design that's both respectable and badass, whether presented as a straightforward block pattern embellished with rosaries or flowers. Go with a vibrant illustration, or keep it simple with a 3D design in black ink. Whatever option you select will always be a classic item that works well with different styles.
22. Music Sleeve Tattoo
This ink lets you feel the pulse through your skin. You can let your inner musician shine with these fantastic tattoos, whether a single treble clef or an entire symphony. Put a music tattoo of your favorite instrument, a microphone, or a turntable on your arm to represent it. This is a flawless composition for a pitch-perfect sleeve, whether you'd want an oboe or an orchestra.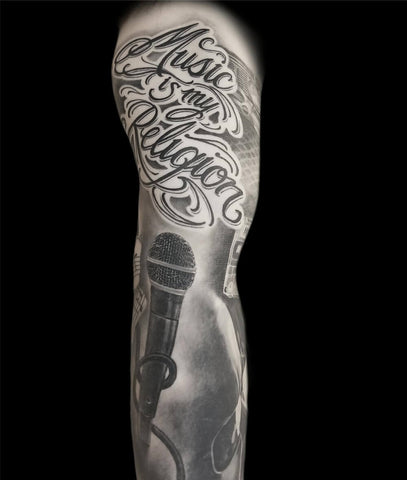 23. Family Sleeve Tattoo
Get a family tattoo to honor your loved ones. Families are a part of our lives and provide us with support and direction, whether we choose to be a part of them or were born with them. You can either draw a realistic portrait of them or simply write their names. This is a heartfelt approach to recognizing and respecting people closest to you. It may be the ideal method to keep them by your side always.
24. Water Color Sleeve Tattoo
With a watercolor tattoo, think beyond the box. The best way to convey your personality is via this, so why not go all out with some colorful hues? When you wear this sleeve style, you have had splashes painted on your flesh. You may exhibit this excellent design in various ways to get noticed, whether you want them to appear solid and intimidating or delicate and exciting.
25. Abstract Sleeve Tattoo
Not every tattoo has to be done conventionally. Choose an abstract sleeve if you want art that provokes thought and allows for creative expression. There are no rules for this design, so let your fantasies run wild and tap into your inner creative force. You can't go wrong with something unusual, from shapes to futuristic patterns and designs that will make you think.
26. Mechanical Sleeve Tattoo
Mechanical tattoos are for the working guy, well-oiled and prepared for action. These items, which combine classic and steampunk designs, represent the past, present, and future. Opt for a robotic device or a clock. It will be challenging to locate someone with a better sleeve than you.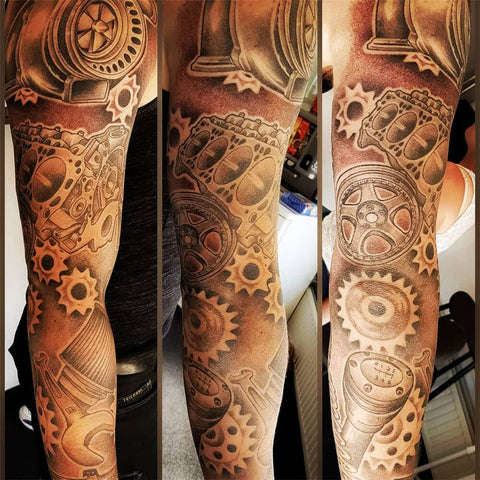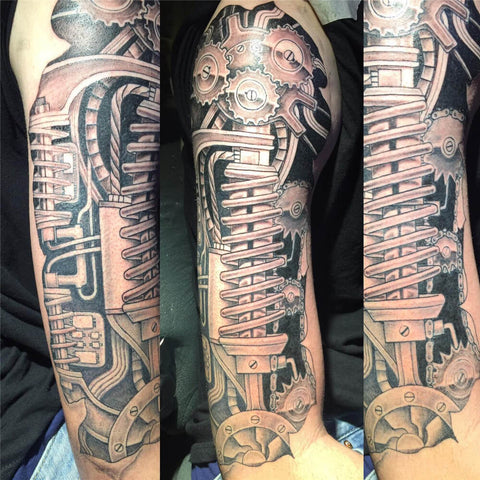 27. Nature Sleeve Tattoo
Reconnect with nature with the help of these patterns. Don't be hesitant to focus on all things natural; flora, wildlife, and everything in between, producing the best artwork. Choose from various birds, flowers, and other botanical illustrations to show your appreciation for plants, or go with a classic rose tattoo. These compositions appear best in black ink or with bright colors. You will instantly become one with the Earth, whatever you choose to emphasize.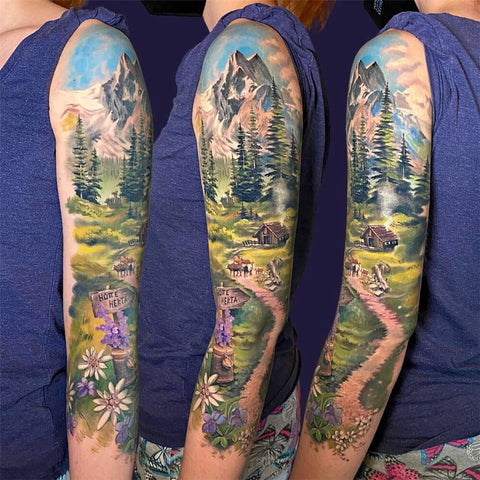 28. Black and White Sleeve Tattoo
Not all ink needs to be vibrant to make a point. Another great effort is to portray black and white sleeves on your skin. These designs, which are solid and distinct, are the most excellent choice for those who don't want to touch up their tattoos as frequently as colored ones.
29. Blackout Sleeve Tattoo
Who says there are specific guidelines for tattoo art? Blackout sleeves are ideal for people who want to stand out from the crowd or cover up their past transgressions. Be patient as your arm gradually turns into total darkness; these sections take a while to complete. Be completely prepared to commit to this powerful ink since this design is not something to take lightly.
30. Black and Grey Sleeve Tattoo
Sleeve black and gray tattoos create a statement that can reveal a bit about your personality. Black and grey are favorites because they are more adaptable than colorful ink. However, they go well with many different styles. The two hues contrast brilliantly, enabling you to add depth to your artwork. Additionally, it won't fade as quickly and suits most skin tones.
31. Black Sleeve Tattoo
A unique tattoo design that covers the entire arm is a sleeve tattoo, which skillfully combines several images. Sleeve tattoos provide flexibility in the design and the various colors and styles you can use. Black ink is a versatile choice that will endure longer than artwork with vivid colors.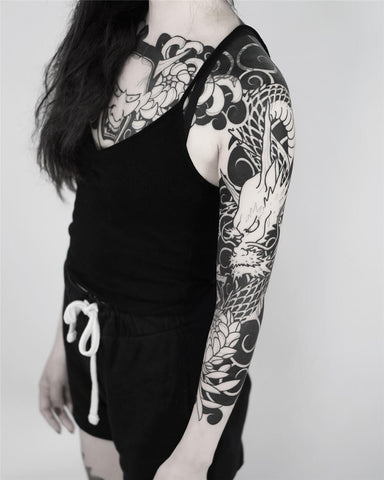 32. Mandala Sleeve Tattoo
Mandala tattoos are artistic and symbolic. The term "mandala" originates from the Sanskrit language of antiquity and means "circle." The mandala is a sacred symbol utilized in rituals, traditions, and meditation that is made up of forms and patterns that come together to form a circular shape. It has been a popular option and may be used to create images of animals and nature, despite the criticism surrounding its use in body art.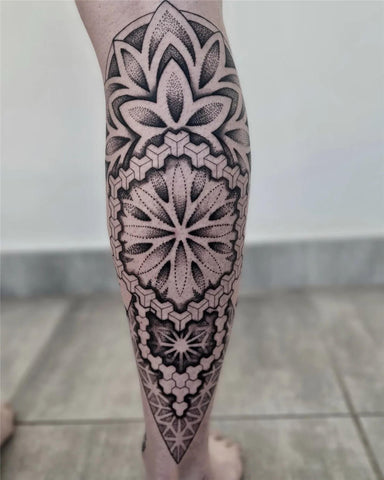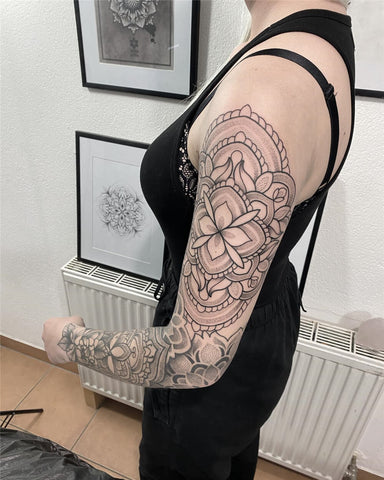 33. Dreamcatcher Sleeve Tattoo
A dreamcatcher is a piece of art with significant symbolic meaning. Its origins are in Native American culture, but due to its beauty and significance, it has gained popularity. It is now sold all over the world. The protective symbol made by hand is used to block away unpleasant memories and terrible dreams.
34. Aztec Sleeve Tattoo
The Aztec society of antiquity was intricate but fascinating. You can draw inspiration from their symbols or utilize representations of warriors, temples, and significant creatures like the snake or eagle to convey the message you want to be linked within your body art to commemorate your heritage or demonstrate your fascination with the culture. Each Aztec tattoo design is full of symbolism and has the potential to be quite expressive.
35. Tree Sleeve Tattoo
Due to their adaptability, tree tattoos make an excellent choice for a sleeve. There are numerous tree species to pick from, each having a unique connotation. You can combine a few to deepen the overall idea, build a forest, or incorporate more natural imagery. In general, trees are a representation of endurance, sturdiness, vitality, and expansion. This can deliver a strong message.
36. Owl Sleeve Tattoo
Owl tattoos stand for knowledge, wisdom, and mysticism. They hold a lot of significance in various civilizations, where they have been interpreted as messengers and death omens, and their associations can be either favorable or unfavorable. The symbolism you want to portray will be made clear by combining owls with other images on your sleeve, which is a great choice. For instance, a full moon, a light, and a cauldron could demonstrate your interest in magic and the unexplained.
37. Egyptian Sleeve Tattoo
An Egyptian tattoo is a beautiful way to show respect for the ancient civilization's rich history or celebrate your lineage. Depending on your desire, there are various images to pick from, such as the pyramids, the scarab, and Anubis, each of which has a specific connotation. You can focus on one picture with exceptional backdrop graphics and phrases or combine numerous photographs to make a story.
38. Galaxy Tattoo Sleeve
Space tattoos from Galaxy Tattoo Sleeve are a fantastic way to express your love for the world. In particular, a galaxy tattoo can convey the idea that there is something extraordinary and unexplored, which may impact how you live your life—taking chances and not being scared to try something new or unusual. Your tattoos may indicate that you have lofty goals and a dreamy disposition.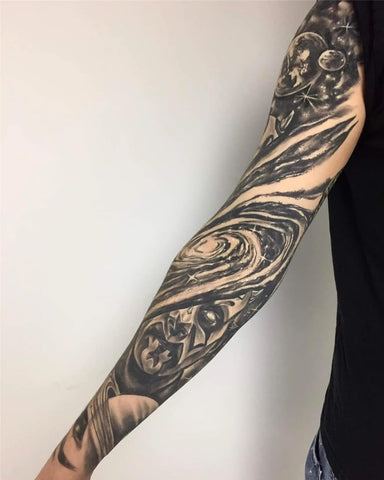 39. Mountain Sleeve Tattoo
A mountain tattoo is a fantastic method to express your fortitude and serve as a constant reminder to yourself that you are unwavering and robust even in the face of immense adversity. Your favorite mountain range and other natural scenes can be shown on your sleeve to demonstrate how much you like being outside. Your artwork might also represent exploration and adventure.
40. Nautical Sleeve Tattoo
Sailors have always preferred nautical themes to reflect their maritime prowess or provide them with safety and comfort for the journey ahead. The symbolism linked with a naval theme is potent, even if you have never set foot on a ship. These items range from compasses to ships and anchors and are all significant and can reveal your emotions and ideas.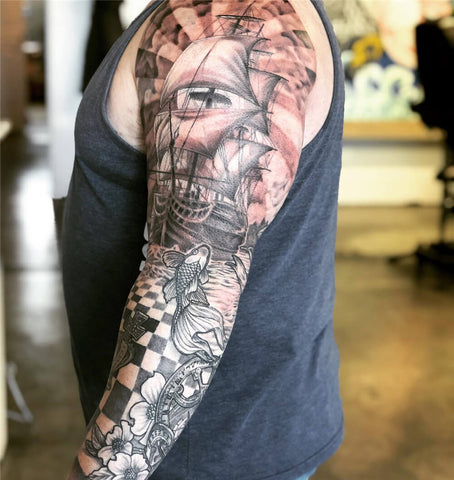 41. Ocean Sleeve Tattoo
The ocean is a beautiful and mysterious environment. Depending on the meaning you wish to associate with your design, a sleeve tattoo's space is ample enough to include intricate decoration, allowing you to incorporate sealife, waves, ships, and much more. This tattoo may stand for fresh possibilities and inspire you to pursue your aspirations and take calculated risks. It might also serve as a prompt to let go of the things that are hurting you. Or that emotions and life will fluctuate like waves.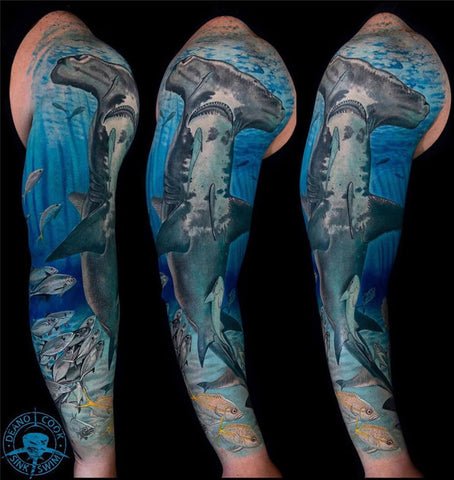 42. Space Sleeve Tattoo
Because there are so many various themes and levels of detail that may be added to your design, space tattoos are an excellent option for a sleeve. This makes it simple to customize your tattoos and gives you something unique and symbolic. Space tattoos are a means to express your respect for space exploration or your curiosity about extraterrestrial life. They also serve as symbols of ambitions and aspirations for the future.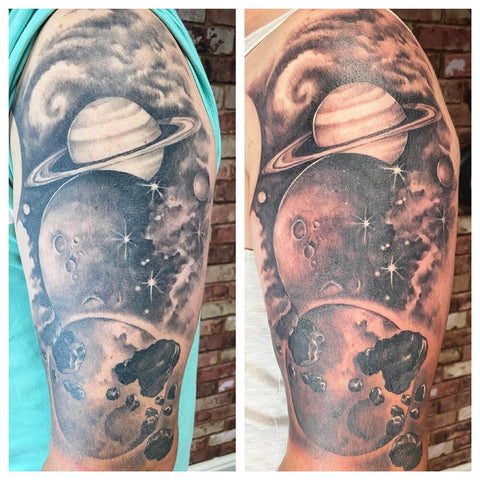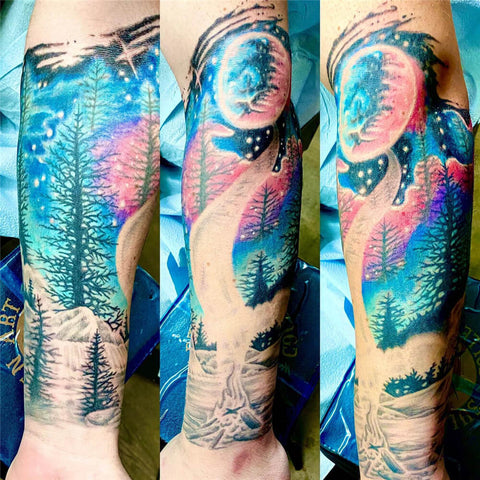 43. Armor Sleeve Tattoo
A sleeve tattoo that simulates a coat of armor can be a striking way to express yourself. Depending on your preferences, the arm you select might have chain mail or be made to resemble a one-of-a-kind piece of Japanese samurai armor. A tattoo of an armored sleeve may represent tenacity, resiliency, and resolve. It might demonstrate your spirit as a warrior or your commitment to defending your country.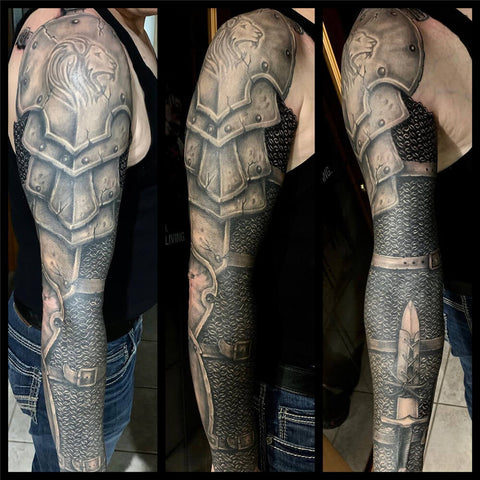 Conclusion
Everyone is aware that getting a tattoo means accepting the fact that it will remain on your body permanently for the rest of your life. Therefore, picking the best one might be really challenging. Maybe the best thing about sleeve tattoos is that you may choose from a variety of different styles to get something special.
Sleeve Tattoo FAQ 🤩
👀
What is full sleeve tattoo?
A sleeve tattoo covers the entire arm from the shoulder to the wrist. 
🌟
What are some of the best sleeve tattoo designs for women?
Many other designs can be used for a women's sleeve tattoo, but some of the more well-liked ones are Japanese and floral motifs.
💪
Which arm is best for a full sleeve tattoo?
Depending on which arm you use, If you are right-handed, a tattoo sleeve on this arm will make it easier for you to show it.
🧐
What distinguishes a half sleeve from a full sleeve?
A full sleeve tattoo extends from the wrist to the shoulder, but a half sleeve tattoo covers half your arm, wrist to elbow, or elbow to shoulder.
Related Products