50+ Dandelion Tattoo Meanings, Designs and Ideas
publish time:
A dandelion tattoo is more than just ink on your skin - it's a beautiful story of resilience, transformation, and hope, all wrapped into a timeless symbol. Often overlooked as a simple weed, the humble dandelion is a potent emblem of the human spirit, reminding us of our ability to dream, endure, and ultimately flourish. Whether considering your first tattoo or looking to add another chapter to your body art story, a dandelion tattoo is a versatile and meaningful choice. Let's delve into the world of dandelion tattoos, explore their deep-seated symbolism, and learn how to try out this expressive body art!
Dandelion Tattoo Meaning
The dandelion, a flower that thrives in the toughest conditions and spreads its seeds far and wide, carries a lot of symbolic meanings. It's not just a simple weed but a potent symbol of hope, dreams, freedom, and transformation.
When it comes to a dandelion tattoo, it often represents a deep emotional connection with these concepts. Here's what the dandelion can symbolize:
Hope and Dreams

: The sight of dandelion can bring back the childhood memory of making a wish and blowing the seeds into the wind. In a tattoo, it can stand for the dreams and hopes we carry within us, reminding us to believe in our wishes and work towards them.

Freedom

: As the breeze carries away the seeds of the dandelion, they symbolize freedom and free spirit. A dandelion tattoo can represent your love for freedom and your desire to go wherever life takes you.

Transformation and Resilience

: Dandelions transform from a bright yellow flower to a seed head, ready to spread its seeds far and wide. It's a symbol of transformation and change. Also, as dandelions can thrive in harsh conditions, they represent resilience and the ability to stand strong no matter what.

New Beginnings

: The journey of a dandelion's seed is a symbol of new beginnings. A dandelion tattoo can represent a fresh start or a major change in your life.
A dandelion tattoo is a beautiful way to express your inner hopes, dreams, and love for freedom and change. It's a positive and uplifting symbol that can carry personal meanings for each individual. So if these concepts resonate with you, a dandelion tattoo might be your perfect choice!
Related Knowledge: Ready for a fresh, flexible way to express your style? Visit Neartattoos, your go-to place for realistic temporary tattoos for adults. Our high-quality, fake tattoos are real looking, perfect for any occasion, and a fun, easy way to show your unique personality. At Neartattoos, we offer low wholesale prices, no matter how many you order. The more you buy, the more you save! We also have dandelion temporary tattoos for sale! So, why not try out new designs without the commitment of a real tattoo? Visit Neartattoos today, start your journey with our varied collection, and keep expressing yourself with our temporary tattoos. Change your tattoo as often as your mood, and embrace the art of tattoos in a budget-friendly way. Happy shopping!
Dandelion Tattoos Ideas
Here are a few tattoo designs of dandelion that you may browse through if you're considering getting one.
Dandelion Bird Tattoo
Dandelion and bird tattoos are used to represent the loss of loved ones. Along with birds soaring upward, the tattoo features a single large flower that blooms into multiple smaller flowers. It helps us understand how fleeting life is and how we must let go of things out of our control. One of the best Dandelion tattoos for women, this design may be inked on a large region like the back.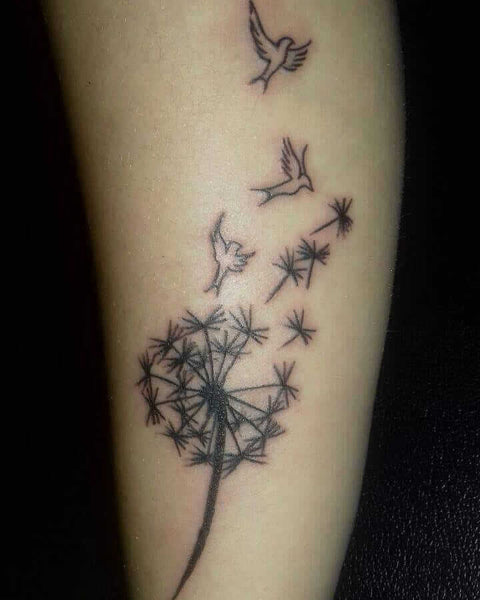 Image Source: instagram
Small Dandelion Tattoo
Small dandelion tattoos stand for beauty and joy. They frequently appear on the forearm, ankle, or even collar bone. Though small and detailed, this cheerful tattoo has the potential to make you quite happy. This understated tattoo is all about the joy that flowers like dandelion can bring to all of us.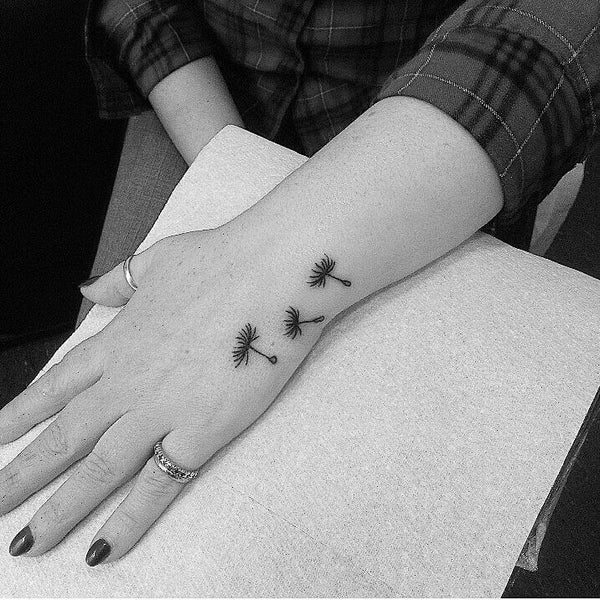 Image Source: instagram 
Watercolor Dandelion Tattoo
Are you interested in getting a tattoo of a watercolored dandelion? A stunning design with multi-color effects is seen here. The tattoo comes in various dark and light colors and has a striking appearance on the back or shoulder. The colors represent the ability of these seeds to release a brand-new type of life. The dandelion tattoo on the shoulder symbolizes the possibility of a fresh start and the fact that life is still very much alive.
Women who enjoy experimenting with color symbolism will appreciate this multicolored Dandelion tattoo.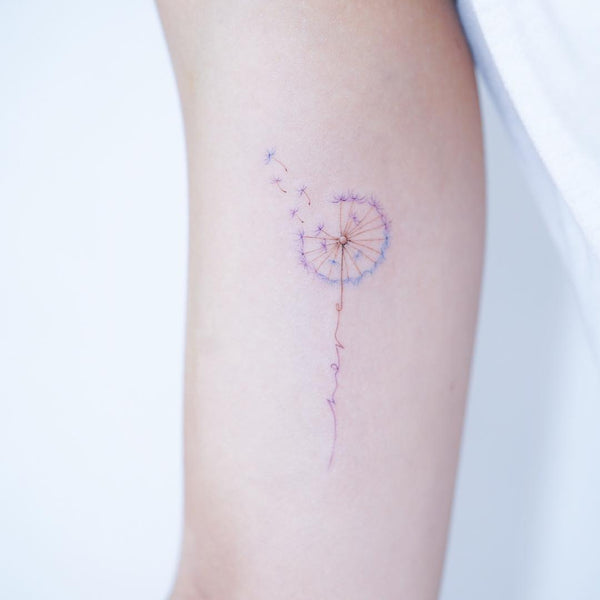 Image Source: instagram  
Dandelion Butterfly Tattoo
A dandelion's wrist tattoo provides the user an opulent appearance when butterflies are added to it. The tattoo is inked with blue and purple ink, signifying the owner's spirituality, freedom, sensuality, innocence, etc. Using birds as a substitute is another option. The dandelion's view of life is intimately tied to the beauty of butterflies in nature. Women typically favor dandelion tattoos due to the inclusion of butterflies.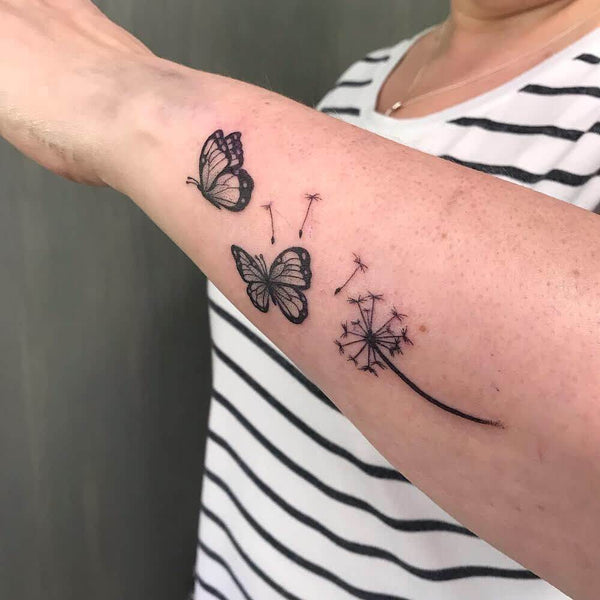 Image Source: instagram 
Yellow dandelion Tattoo
One of the most well-liked tattoos is the yellow dandelion. The tattoo of a fully opened dandelion blossom stands for optimism, development, and youth. It is also renowned for having a warm, breezy vibe that exudes joy. What I Need is the dandelion in the Spring, a phrase that eloquently captures the person's fear of walking into a yard full of golden dandelions. This lovely tattoo is appropriate for both man and women that choose green dandelions over brown ones.
Minimalist Dandelion Tattoo
Dandelion tattoos with a minimalist aesthetic are typically modest and straightforward. They represent adversity and the fact that you succeed at attaining your objectives despite it. This particular dandelion tattoo symbolizes your fantastic ability to accomplish even when things are difficult.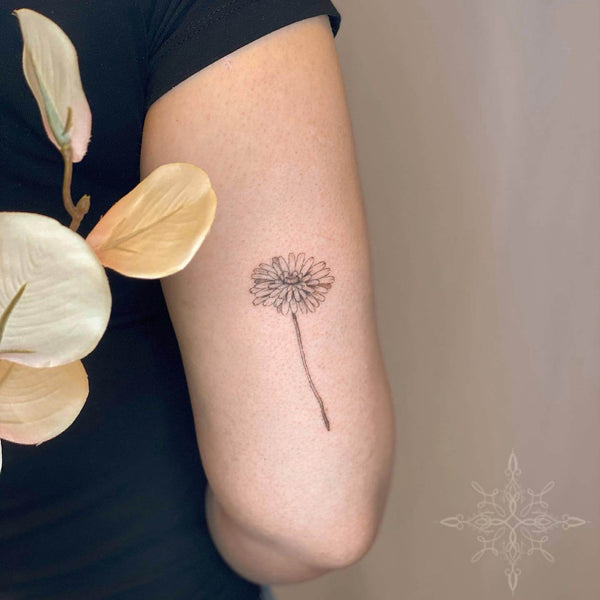 Image Source: instagram  
Dandelion Quotes Tattoos
Dandelion tattoos can often be constructed around a phrase or a quote and have fluffy seeds dispersed as if it were a breezy day.
Depending on the wording used, this type of tattoo can symbolize various things, but usually, it's a tattoo that inspires.
A tattoo of a dandelion with words or letters represents your hopes for the future and your confidence in your ability to succeed.
On the other hand, depending once more on what the words say, there are infinite meanings for this particular tattoo.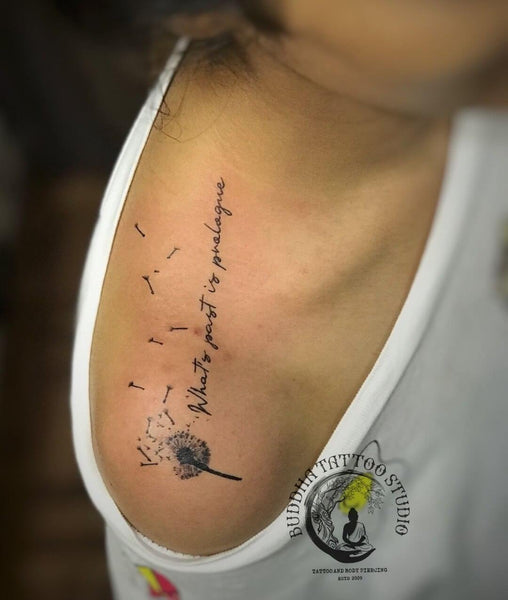 Image Source: instagram 
Dandelion Tattoo on Wrist
A dandelion pattern distributed across two wrist tattoos has recently gained popularity.
Essentially, two tattoos of the same image have been created. On one wrist, there is typically a full-blown dandelion tattoo; on the other, there are generally only a few dandelion seeds.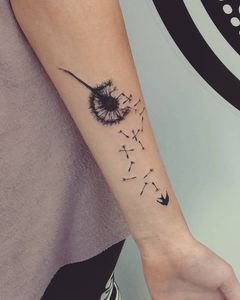 Image Source: instagram 
Dandelion Flower Tattoo
The dandelion flower is not just a regular flower; it's a symbol of hope, dreams, and desires. A tattoo of a dandelion flower speaks about your inner wishes. It shows that you are a person who believes in dreams and the power of thought. 
Blowing Dandelion Tattoo
A blowing dandelion tattoo represents the journey of life. It's about how each seed starts a new adventure when the wind takes it away. Like those seeds, our dreams and ideas can grow beautiful if we let them fly.
Dandelion Miscarriage Tattoo
A dandelion miscarriage tattoo is a touching way to remember a lost child. It shows that love never dies. Even in the saddest times, this tattoo can give hope and strength. It reminds us that, like a dandelion's seeds, our loved ones never truly leave us. They are always a part of our life's journey.
Dandelion Seed Tattoo
A dandelion seed tattoo stands for new beginnings. It shows that you are ready to accept changes and start a fresh chapter in your life. This tattoo design often suggests growth and transformation. It can inspire you to pursue your dreams and achieve your goals.
Just Breathe Dandelion Tattoo
The "Just Breathe" dandelion tattoo reminds us to slow down and enjoy the simple things in life. Taking a moment for yourself amidst the rush is a gentle nudge. It's like a personal mantra etched on your skin, reminding you to breathe, let go, and let life flow.
Simple Dandelion Tattoo
A simple dandelion tattoo can be as meaningful as the more intricate designs. It's about elegance and the idea that beauty lies in simplicity. This type of tattoo is perfect for those who appreciate minimalistic and chic designs.
Dandelion Tattoo with Names
A dandelion tattoo with names is a meaningful way to honor loved ones. It's like saying, "You are a vital part of my life, like the seeds of a dandelion." It's a charming way to keep someone close to you, right on your skin!
Dandelion Shoulder Tattoo
Want to make a style statement? A dandelion shoulder tattoo might be what you need. Shoulder tattoos stand out and can be a great conversation starter. With its simple elegance, the dandelion fits well on the shoulder, making you look chic and trendy.
Dandelion Finger Tattoo
For a subtle yet striking tattoo, consider a dandelion finger tattoo. It's like carrying a small symbol of hope and dreams wherever you go. Plus, it's trendy and a perfect choice for first-timers in the tattoo world!
Dandelion Tattoo on Foot
A dandelion tattoo on the foot signifies a journey or path in life. It shows that you're moving forward like a dandelion seed that travels with the wind. This tattoo can be a daily reminder of your progress and growth.
Female Dandelion Tattoos
Female dandelion tattoos are all about embracing femininity and grace. They often have soft lines and delicate shading, reflecting the gentle strength of womanhood. Whether it's a simple dandelion or one with a butterfly, it's about the power of transformation and beauty.
Fine Line Dandelion Tattoo
A fine-line dandelion tattoo is about precision and detail. It's for those who appreciate art and subtlety. This tattoo style can create a stunning dandelion image with just thin lines, showing your love for intricate designs.
Delicate Dandelion Tattoo
A delicate dandelion tattoo is all about softness and simplicity. It's about carrying a gentle symbol of hope and dreams on your skin. This tattoo design often uses light shades and graceful lines, making it a perfect choice for those who love tender and elegant designs.
Forearm Dandelion Tattoos
Forearm dandelion tattoos are bold and visible. They tell the world about your hopes, dreams, and love for freedom. Whether a simple dandelion or a scene with blowing seeds, these tattoos can constantly remind you of your inner strength and determination. 
Tiny Dandelion Tattoo
Tiny dandelion tattoos are for those who appreciate the beauty in simplicity. Small but meaningful, these tattoos remind us that dreams and hopes can be found in the simplest things. Plus, their size makes them perfect for any spot on the body!
Dandelion and Dragonfly Tattoo Meaning
The combination of dandelion and dragonfly in a tattoo symbolizes change and the power of the mind. While dandelions represent hopes and dreams, dragonflies stand for transformation and adaptability. Together, they make a powerful symbol of personal growth.
Dandelion Tattoo Behind Ear
Try a dandelion tattoo behind the ear for a subtle and cute statement. It's a secret little spot, a personal reminder of your dreams and hopes. And it's trendy too!
Dandelion Tattoo with Words
A dandelion tattoo with words adds an extra layer of meaning to the design. The words could be a quote, a name, or a simple message like 'hope,' 'dream,' or 'fly.' It's like writing your mantra on your skin with the gentle touch of a dandelion.
Sunflower and Dandelion Tattoo
A sunflower and dandelion tattoo blends the symbols of joy and dreams. While dandelions represent dreams and hope, sunflowers stand for happiness and positivity. Together, they create a joyful image that uplifts your spirit daily.
Dandelion Back Tattoo
A dandelion back tattoo can be a powerful and bold statement. With a bigger canvas, the design can be more detailed and intricate. It's a beautiful way to carry a symbol of freedom and dreams on your back.
Dandelion Hand Tattoo
You can carry your hopes and dreams at your fingertips with a dandelion hand tattoo. It's a visible and bold choice, a constant reminder of your goals and aspirations.
Realistic Dandelion Tattoo
Realistic dandelion tattoos are for those who admire the beauty of this flower in its true form. With detailed lines and shades, this tattoo style brings the dandelion to life on your skin. It's like carrying a piece of nature with you!
White Dandelion Tattoo
A white dandelion tattoo is about elegance and purity. It's a subtle design that uses white ink to create a soft and delicate image. This tattoo design can be a unique way to express your love for simplicity and purity. 
Dainty Dandelion Tattoo
Dainty dandelion tattoos are about finesse and elegance. With delicate lines and a minimalist approach, these tattoos are perfect for those who appreciate life's smaller details and softer side.
Dandelion Semicolon Tattoo
A dandelion semicolon tattoo merges the symbol of hope (dandelion) with the symbol of mental health awareness (semicolon). It's a strong way to show support for mental health issues and convey the message of resilience, hope, and the importance of keeping going.
Fairy with Dandelion Tattoo
A fairy with a dandelion tattoo brings a touch of magic and enchantment to your skin. It can represent your belief in miracles and your love for fantasy. It's a perfect design for dreamers and believers!
Dandelion Bouquet Tattoo
A dandelion bouquet tattoo shows your love for this unique flower. It's like carrying a bouquet of dreams and hopes on your skin. Plus, it's a chic design that stands out.
Dandelion Memorial Tattoo
A dandelion memorial tattoo is a touching tribute to a loved one. It's a way to keep their memory alive, reminding us that they're always with us, like a dandelion seed that travels with the wind.
Dandelion Sleeve Tattoo
A dandelion sleeve tattoo is a bold and elaborate design. It covers a large part of the arm, making a strong statement. If you're looking for something dramatic and eye-catching, this design is for you!
Dandelion Spine Tattoo
A dandelion spine tattoo is both sensual and symbolic. Running along the backbone can symbolize strength, resilience, and the will to stand tall. Plus, it adds a unique touch to your style.
Dandelion Tattoo Black and White
A black and white dandelion tattoo is about elegance and simplicity. Without colors, the focus is on the design and the shading, making it a timeless and classic choice.
Matching Dandelion Tattoos
Matching dandelion tattoos are a wonderful way to connect with a friend, partner, or family member. It's like saying, "We share the same dreams and hopes." It's a beautiful symbol of unity and connection.
3D Dandelion Tattoo
A 3D dandelion tattoo brings the flower to life on your skin. Skilled shading and detailing create an illusion of depth, making the dandelion look real. It's a unique design for those who love to stand out.
Further Advice on Dandelion Tattoos
Your choice of a dandelion tattoo will depend on why you want to be inked.

Yellow dandelions are a good choice if you want something new and vivid. 

Different things can mean dry dandelions. They can transmit anything, including life.

Avoid getting dandelion tattoos that are too little. The tiny details may be lost when the ink ages and fades.

Including motifs like butterflies or birds can give your design more depth.
Conclusion
We sincerely hope you adore these lovely dandelion tattoos. They certainly are an excellent way to express your love of nature. One of the most potent flowers in the world is the dandelion. They may flourish anywhere, from the tiniest road crevices to vast farmlands. Nothing can more accurately depict you than a pretty dandelion if you are a person who can adapt to any circumstance and adjust the game to suit your rules!
Dandelion Tattoo FAQ
What is the best place for a dandelion tattoo?
The best place for a dandelion tattoo depends on your personal preference and the design you choose. Smaller designs look great on the wrist, ankle, or behind the ear. Larger designs can be placed on the back, shoulder, or as a sleeve on the arm.
Does a dandelion tattoo hurt?
The pain level of getting a tattoo depends on the individual's pain tolerance and the location of the tattoo. Areas with more fat, like the upper arm or thigh, may hurt less than areas with less padding, like the wrist or ribs.
How do I care for my dandelion tattoo?
Your tattoo artist will provide you with specific care instructions. Generally, you should keep your new tattoo clean and moisturized. Avoid swimming and sun exposure until the tattoo has healed completely.
How long does a dandelion tattoo take?
The time it takes to get a dandelion tattoo depends on the size and complexity of the design. Small, simple designs might take an hour or two, while larger, detailed designs could take several hours spread over multiple sessions.
Can I customize my dandelion tattoo?
Absolutely! Your tattoo should be unique to you. You can customize it with colors, add names, words, or other symbols to make it more personal. Discuss your ideas with your tattoo artist to create a design that tells your story.
Is a dandelion tattoo for men or women?
Dandelion tattoos can be for anyone, regardless of gender. It's the meaning behind the tattoo that matters. If the symbolism of the dandelion resonates with you, then it could be the right choice for your tattoo.
Remember, the decision to get a tattoo should be well thought out. Take your time to choose a design that resonates with you and find a professional tattoo artist who can bring your vision to life. Happy inking!
Related Products