Do you recall the days when it was amusing to throw dandelion seeds into the air? These soaring flowers were thought to reach the spirits of the deceased in the skies and offer them luck! Do you have any fond memories? Yes! Our childhood fantasies included dandelions, which helped us make enduring memories. You may permanently express your passion for these lovely flowers with a dandelion tattoo!
Dandelion Tattoo Meaning
The Latin word dandelion means "treatment for illnesses." Dandelions' vivid yellow blossoms are a quick fix for depression. They are related to Greek mythology and are renowned for their healing abilities. Even a deceased Dandelion communicates a profound message of letting go of the past and bolstering our faith in rebirth. The symbolism also differs depending on the kind of dandelion that is utilized.
A tattoo style that is rich in symbolism is dandelion tattoos. Dandelions are renowned for their airy, wind-resistant seeds, which flutter away on windy days. This is quite amazing, and almost everyone remembers playing an enjoyable game as a child where they would blow the fluff and scatter the seeds across the lawn.
One meaning of dandelion tattoos is that you are a survivor and do well even in trying conditions since these seeds renew.
Tattoos of dandelion are also associated with second chances.
Making wishes is one of the reasons kids blow the dandelion fluff.
Therefore, these tattoos also convey good fortune and a wish for a brighter future for you and the rest of the globe.
The significance of dandelions as a symbol of happiness and good wishes for you and your family should not be overlooked.
If these details have piqued your curiosity, it's time to look into some of the top meaning-filled dandelion tattoo designs.
Related Knowledge: Want to know what tattoo designs look good on you? Temporary tattoos 🔗 are appealing because it lets you try out body art without the permanent commitment. It is also a fun way to change your appearance or experiment with different placements before taking the plunge and getting inked for real. This is an excellent choice for anyone thinking about getting a tattoo but wants to see how it would look first, or for someone who cannot get inked for whatever reason, including pain tolerance or health problems. The temporary tattoo is also cheap, easy to apply, and lets you express yourself without hassle. Choose from a wide range of symbolic designs or something simple or cute. The choice is yours, so have fun with it. 
Dandelion Tattoos Ideas
Here are a few tattoo designs of dandelion that you may browse through if you're considering getting one.
Dandelion Bird Tattoo
Dandelion and bird tattoos are used to represent the loss of loved ones. Along with birds soaring upward, the tattoo features a single large flower that blooms into multiple smaller flowers. It helps us understand how fleeting life is and how we must let go of things out of our control. One of the best Dandelion tattoos for women, this design may be inked on a large region like the back.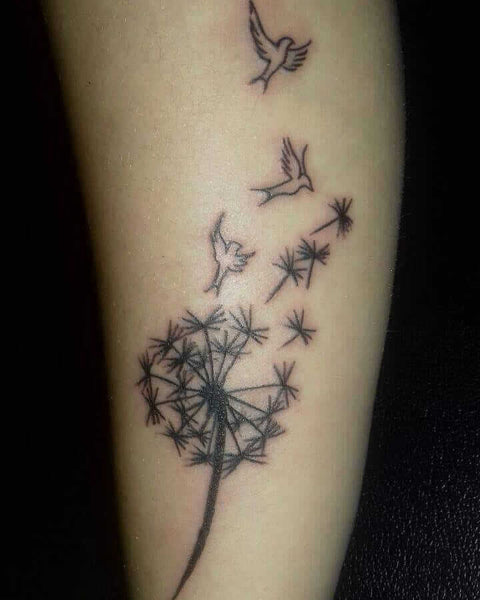 Image Source: instagram
Small Dandelion Tattoo
Small dandelion tattoos stand for beauty and joy. They frequently appear on the forearm, ankle, or even collar bone. Though small and detailed, this cheerful tattoo has the potential to make you quite happy. This understated tattoo is all about the joy that flowers like dandelion can bring to all of us.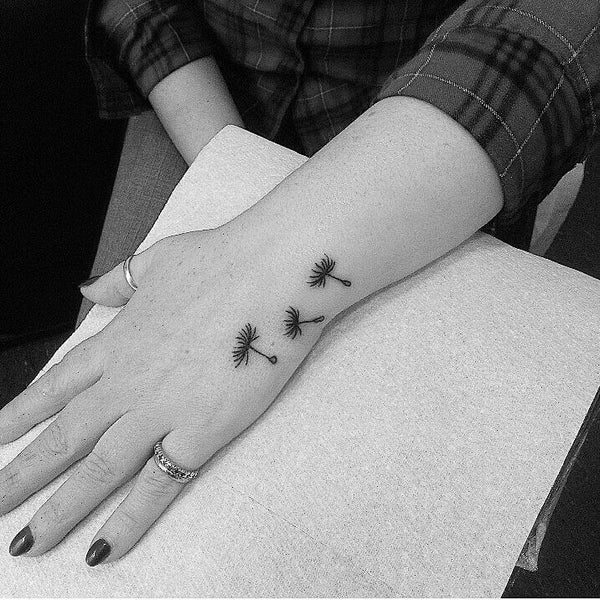 Image Source: instagram 
Watercolor Dandelion Tattoo
Are you interested in getting a tattoo of a watercolored dandelion? A stunning design with multi-color effects is seen here. The tattoo comes in various dark and light colors and has a striking appearance on the back or shoulder. The colors represent the ability of these seeds to release a brand-new type of life. The dandelion tattoo on the shoulder symbolizes the possibility of a fresh start and the fact that life is still very much alive.
Women who enjoy experimenting with color symbolism will appreciate this multicolored Dandelion tattoo.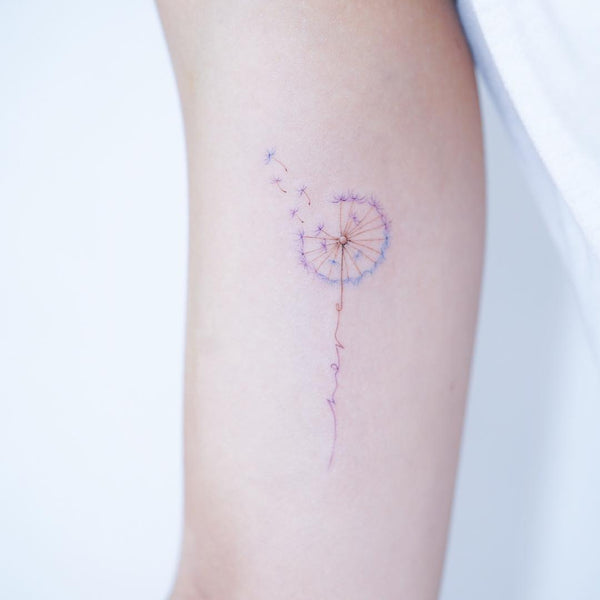 Image Source: instagram  
Dandelion Butterfly Tattoo
A dandelion's wrist tattoo provides the user an opulent appearance when butterflies are added to it. The tattoo is inked with blue and purple ink, signifying the owner's spirituality, freedom, sensuality, innocence, etc. Using birds as a substitute is another option. The dandelion's view of life and death is intimately tied to the beauty of butterflies in nature. Women typically favor dandelion tattoos due to the inclusion of butterflies.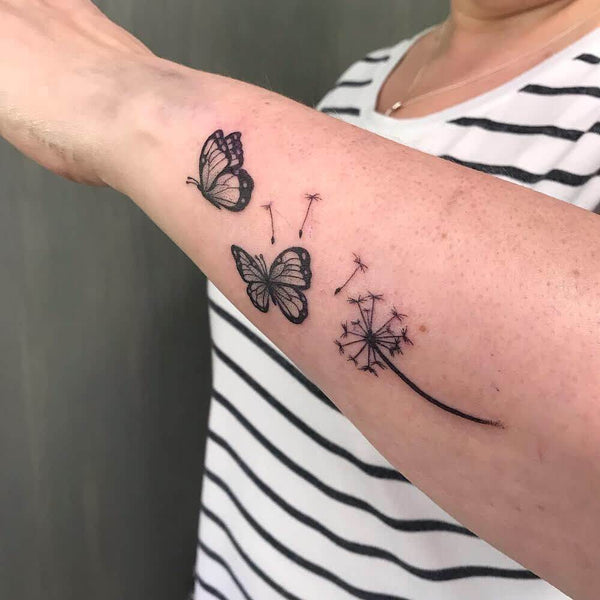 Image Source: instagram 
Yellow dandelion Tattoo
One of the most well-liked tattoos is the yellow dandelion. The tattoo of a fully opened dandelion blossom stands for optimism, development, and youth. It is also renowned for having a warm, breezy vibe that exudes joy. What I Need is the dandelion in the Spring, a phrase that eloquently captures the person's fear of walking into a yard full of golden dandelions. This lovely tattoo is appropriate for both sexes that choose green dandelions over brown ones.
Minimalist Dandelion Tattoo
Dandelion tattoos with a minimalist aesthetic are typically modest and straightforward. They represent adversity and the fact that you succeed at attaining your objectives despite it. This particular dandelion tattoo symbolizes your fantastic ability to accomplish even when things are difficult.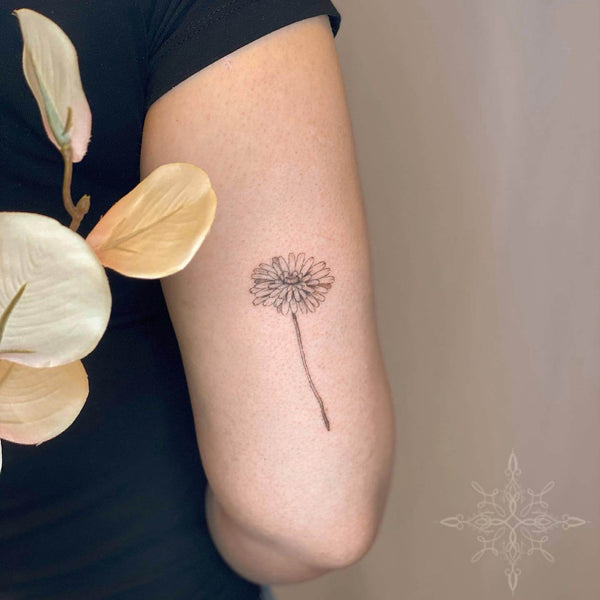 Image Source: instagram  
Dandelion Tattoo with Quotes
Dandelion tattoos can often be constructed around a phrase or a quote and have fluffy seeds dispersed as if it were a breezy day.
Depending on the wording used, this type of tattoo can symbolize various things, but usually, it's a tattoo that inspires.
A tattoo of a dandelion with words or letters represents your hopes for the future and your confidence in your ability to succeed.
On the other hand, depending once more on what the words say, there are infinite meanings for this particular tattoo.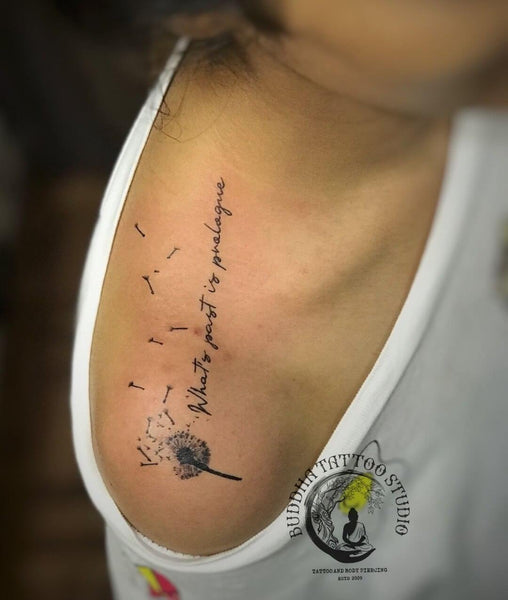 Image Source: instagram 
Dandelion Wrist Tattoos 
A dandelion pattern distributed across two wrist tattoos has recently gained popularity.
Essentially, two tattoos of the same image have been created. On one wrist, there is typically a full-blown dandelion tattoo; on the other, there are generally only a few dandelion seeds.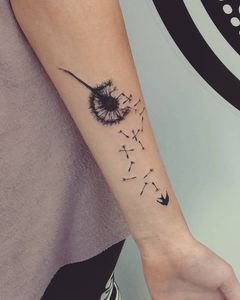 Image Source: instagram 
Further Advice on Dandelion Tattoos
Your choice of a dandelion tattoo will depend on why you want to be inked.

Yellow dandelions are a good choice if you want something new and vivid. 

Different things can mean dry dandelions. They can transmit anything, including death.

Avoid getting dandelion tattoos that are too little. The tiny details may be lost when the ink ages and fades.

Including motifs like butterflies or birds can give your design more depth.
Conclusion
We sincerely hope you adore these lovely dandelion tattoos. They certainly are an excellent way to express your love of nature. One of the most potent flowers in the world is the dandelion. They may flourish anywhere, from the tiniest road crevices to vast farmlands. Nothing can more accurately depict you than a pretty dandelion if you are a person who can adapt to any circumstance and adjust the game to suit your rules!
Related Products