Jellyfish Tattoo: Meanings and Ideas
Would you like to know what a jellyfish tattoo means? Then you're on the right page. Jellyfish tattoos have been popular for some time, but they have gained in popularity over the past few years thanks to innovative techniques that enhance the appearance of the creatures on the skin. If you're not sure if permanent tattoos are for you, consider temporary tattoos first.
This tattoo looks great no matter where it is positioned. Jellyfish tattoos are suitable for all roles, regardless of whether you're looking for a substantial back tattoo or a small wrist tattoo. The tentacles of jellyfish have an iridescent appearance and spread all over. They can either make a piece of jewelry look extremely large or blend into it.
Jellyfish Tattoo Meaning
Getting a jellyfish tattoo could be a perfect way to honor a meaningful relationship or love in your life. Humanity's connection is symbolized by the tentacles of the jellyfish, which remind us that we can never wholly separate ourselves from the people we love. According to folklore, jellyfish are thought to be a positive omen, encouraging you to follow your heart and listen to your inner feelings.
Due to their ability to clone themselves and come back. Medusa shares many characteristics with jellyfish, representing tranquility and elegance. Consequently, this creature is surrounded by a lot of natural energy.
Tattoos of jellyfish are popular with people who enjoy sea life or live near the water. Furthermore, its distinctive features and vibrant ink colors contribute to its popularity. In addition to representing a person's love and care for the ocean, this tattoo represents their life on the sea.
Jellyfish tattoos can be a powerful choice as a powerful sign of acceptance, calm, and inner peace. Unlike other animals, jellyfish live in total surrender to nature, letting the water currents guide them along the way. A jellyfish tattoo may be the perfect symbol for those seeking more acceptance and peace in their lives.
Related Knowledge: Want to know what tattoo designs look good on you? Temporary tattoos 🔗 are appealing because it lets you try out body art without the permanent commitment. It is also a fun way to change your appearance or experiment with different placements before taking the plunge and getting inked for real. This is an excellent choice for anyone thinking about getting a tattoo but wants to see how it would look first, or for someone who cannot get inked for whatever reason, including pain tolerance or health problems. The temporary tattoo is also cheap, easy to apply, and lets you express yourself without hassle. Choose from a wide range of symbolic designs or something simple or cute. The choice is yours, so have fun with it. 
Jellyfish Tattoos Ideas
There are many different types of jellyfish tattoos, so here is a list of some of the most popular styles. The type of jellyfish tattoo you want on your body will be easier to decide if you do this.
Small Jellyfish tattoo
Small jellyfish tattoos are among the most mysterious tattoos you'll ever encounter. It's small but cute. These tattoos have grown in popularity among tattoo enthusiasts, and they leave you with some fantastic body art. Jellyfish are mystical because they are among the oldest and most unusual water organisms. A tiny jellyfish tattoo can have several magical and practical meanings.
Watercolor Jellyfish Tatto
Because jellyfish live in the ocean, a watercolor jellyfish tattoo seems natural. The jellyfish tattoo is fanciful and enchanting in watercolor, adding to the tattoo's mystery significance. It's possible to be lulled into a trance by a jellyfish's movement. It's a peculiar species, so having it tattooed in this style only adds to its mystery.
Realistic
 Jellyfish Tattoo
Upon finding the artist and spotting the real jellyfish tattoo, you can't help but marvel. This tattoo gives you the feeling of being next to a jellyfish, and the sight may be pretty captivating. If you are looking for an artist to do your realistic jellyfish tattoo, make sure they know about the realism style. If you don't do this, you might have a tattoo that you dislike.
Jellyfish Ocean Scene Tattoo
The ocean scene complements the jellyfish tattoo perfectly. This tattoo is commonly seen in tattoos that require a large amount of space to be filled. The ocean scene and jellyfish can be the subjects of a gorgeous mural on your body, whether you're covering your back or a considerable portion of your leg. Other species or coral reefs are frequently depicted in these tattoos.
Geometric Jellyfish Tattoos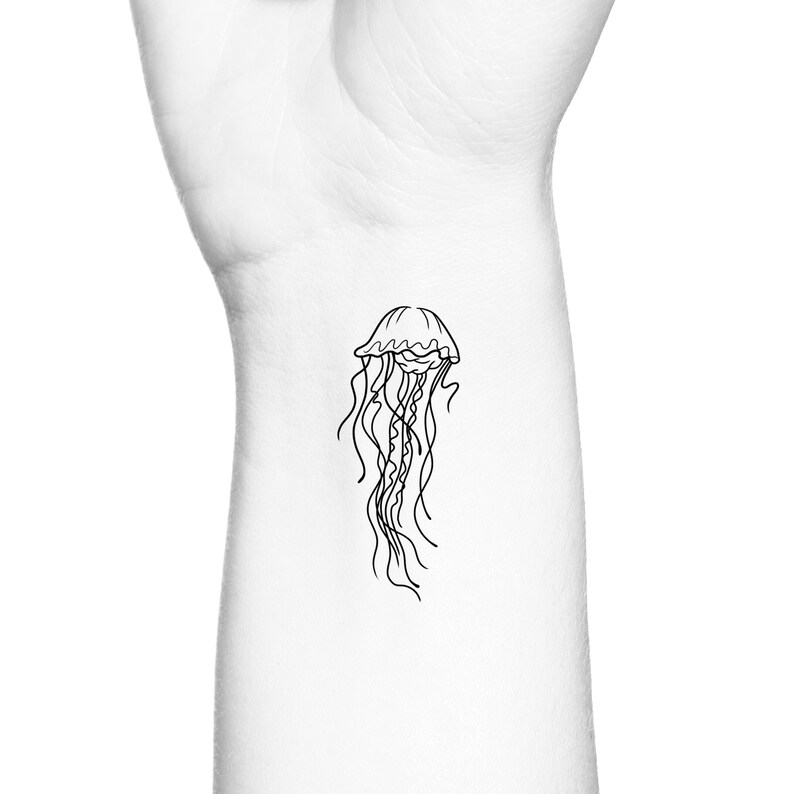 Geometric tattoos are one of the hottest tattoo trends right now. The majority of geometric tattoos are light and airy. However, they can also be used to create artistic designs. In this example, the visual is contained within a rectangle, almost as if we're looking through a window into an ocean scene. This type of jellyfish tattoo has the quality of a peephole into another universe if you've ever desired one. You may also use a circle, triangle, or another geometric form to get this effect. you can also try geometric temporary tattoos first.
Traditional Jellyfish Tattoo
The classic jellyfish tattoo is well known to fans of the traditional American style. It's an appropriate tattoo since many original American traditional tattoos feature sea images. This tattoo will often use colors that aren't usually associated with a classic American style, giving it a neotraditional vibe.
Black and White Jellyfish Tattoo
This black and white jellyfish tattoo is a good choice if you want a tattoo with a tangible and lasting impact. This tattoo is shaded in black and white. It gives the impression that the tattoo was drawn directly on the skin. The sketch-like effect provides this tattoo with a one-of-a-kind look.
Because the shading and contouring of this tattoo are what makes it so unreal, you should get it done by a qualified and skilled tattoo artist. A person may tell the tattoo's powerful, bold emotions by looking at it, which may also show up in your style. On your arm, this tattoo would look fantastic.
Tribal jellyfish tattoo
You've arrived at the right place if you're seeking a tribal jellyfish tattoo. This tribal jellyfish tattoo is perfect for conjuring up intense feelings of the past. This jellyfish tattoo has a different design than previous jellyfish tattoos. The head of the jellyfish looks to be different from others, with a range of colors. Many people would get this tattoo simply because of the interesting pattern. This arm tattoo will look fantastic on you. Tribal temporary tattoos are good choice.
Jellyfish in Space Tattoo
Tattoos featuring jellyfish are often depicted in space tattoos, usually large. Large jellyfish tattoos always feature an alien-like aspect. This Jellyfish in Space tattoo is an excellent choice for someone looking for something ordinary. The tattoo features a colored jellyfish with a galaxy background in black and blue ink. Jellyfish tattoos with their cosmic elements stand out against the galaxy background. You will enjoy this tattoo if you enjoy reading about galaxies, the universe, and the mysteries of space. Space temporary tattoos are also popular. Both men and women can wear this tattoo on their arms and thighs.
Ideal Placement for Jellyfish Tattoos
Since jellyfish are long and giant creatures, they are typically large tattoos, and if other elements are added to them, they become even more extensive and more descriptive. Backs and thighs are the best places to get large jellyfish tattoos. Because they work with practically every jellyfish tattoo design, these two places are ideal. A Jellyfish's head appears on the corner top of your back, but its testicles flow in a slanting motion if it appears on your back. Additionally, many people get on their chests and ribcages.
Getting a small or medium-sized jellyfish tattoo on your arm is ideal. The placement of this tattoo on the arm makes it more visible. You should choose the back or thigh if you want your jellyfish tattoo to be more adventurous and unique. Your Jellyfish tattoo will look fabulous anywhere you ink it on your body. After you have a general idea of the look you want to achieve, you will be able to select the proper placement.
Final Words
You will undoubtedly want to get a jellyfish tattoo after viewing the different jellyfish tattoos in this post. Jellyfish have diverse designs, so it's easy to see how magical and unusual they are, and it's certainly impossible to ignore. It makes a lot of sense to get this tattoo as soon as possible if you can relate to its meaning. Stop second-guessing yourself and order your temporary fake tattoos today. You will be blown away by the final effects.
Related Blogs

15 Best Behind the Ear Tattoos